02/01/2020

Live in a state with predominately rolling hills and mountainous terrain, both covered in dense tree growth, populate it with deer and black bear and the occasional moose, and you will quickly see the appeal of the little Ruger 77/44 carbine. Chambered for the 44 Remington Magnum, with shooting distances inside 100 yards, the combination is fully capable of taking down any of the previously noted game.
Lightweight, compact and ready to go with metallic sights as shipped from the manufacturer, the scope was installed solely to measure accuracy potential at 100 yards, without evaluating my eyesight / open sight proficiency in the process.
Ruger 77/44

Manufacturer
Ruger – Newport, NH
Model Number
7416
Type
Bolt Action
Caliber
44 Remington Magnum
Mag Capacity
4
Barrel

18.5″ 11/16″-24 Threads

Rifling
1:20″
Weight
5.2  Lbs

Overall Length
38.5″
Stock Material
Walnut
Hardware
Blued Alloy Steel
Length of Pull
13.5″
Drop at comb
0.5″
Drop at heel
1.0"
Sights
Adjustable W/E
Scope Mounting
Ruger Rings – Included
Trigger Pull

5 Lbs. 2 Oz.
Safety
3 Position – Swing
MSRP
$999
Background of an arcane and recondite nature
The Ruger 77/44's origins go back to the Ruger 77/22, a dedicated 22 LR rimfire design. Thanks to the persistent efforts of Ruger's Jay Jarvis, and his desire for the new rifle to accommodate the longer 22 Winchester Magnum cartridge, the rifle's design incorporated a number of adaptable elements.
The 77/ series receiver can be cast in varying lengths. Paired with breech blocks of various length, the 77/ Series can accommodate different length and diameter cartridges. All models within the 77/ series share a common size bolt handle, with forward twin lugs that engage the rear receiver ring. Magazine length and capacity vary for the same purpose.
The receiver for the 44 Magnum is 1/2″ longer than the 22 rimfire version. Prior to November 2009, 22 LR, 22 WMR and 17 HMR rifle barrels were slip fit to the receiver and secured with a V block. Barrels for all other chambers, and all production since, are threaded to the receiver.
The Ruger 77/ series anthology goes something like this: Ruger 77/22 22 LR 1989, Ruger 77/22 Magnum 1990, Ruger 77/22 Hornet 1994, Ruger 77/44 Magnum 1997, Ruger 77/17 HMR 2002, Ruger 77/17 Hornet, Ruger 77/357 Magnum 2011, Ruger 77/17 WSM 2018. Available chambers ebb and flow with market demand, but the good ones always return after a hiatus. Models are available with walnut and synthetic stocks.
Joe, can you elaborate? Sure, stranger… Yes, I am pretending someone asked

The bolt is constructed as two main assemblies, the bolt body, which is comprised of the bolt handle, locking lugs and striker related assembly and the non-rotating breech block. The breech block smoothly guides the bolt on cycling by riding in machined grooves in the walls of the receiver. It also holds a cartridge in battery and extracts with twin extractors.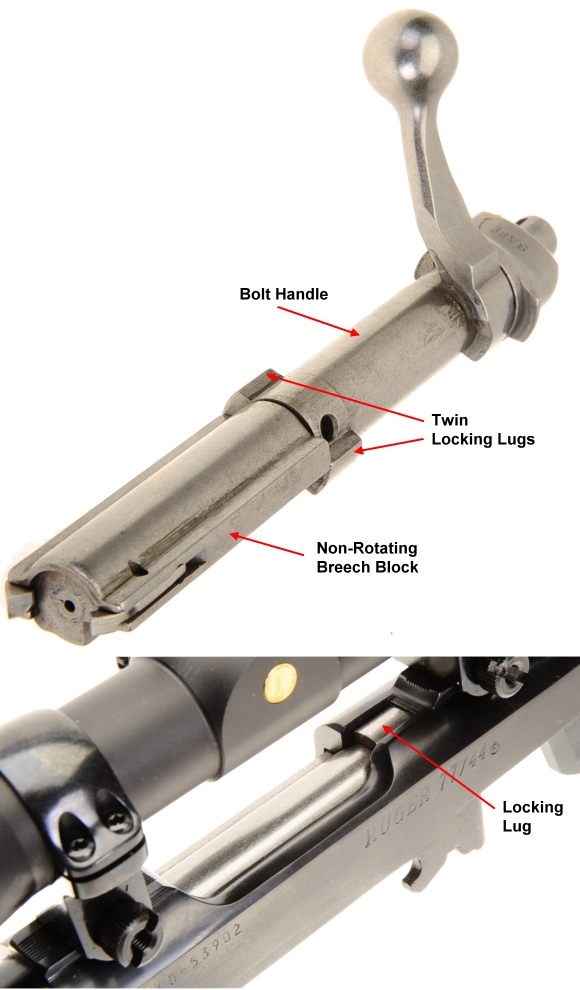 The bolt handle is short, creating an action length… capacity, approximately midway between a 22 LR rimfire and the 223 Remington. As can be seen in the lower frame, locking lugs in battery are seated against the rear receiver ring.
The magazine is anchored aft at the latch assembly, which is part of the Ruger 77/44's trigger guard and to the receiver at the front. This forms a rock solid retention system that releases easily when required. The rotary magazine holds four cartridges and is compact enough to hold spares in a jacket pocket.

CNC inletting and machine cut checkering are clean and concise, positively locating the barreled action to the bottom metal. The forward action screw passes through a brass ferrule which restricts longitudinal movement. The barrel channel is inletted to float the barrel with the exception of the speed bump at the forend.
The rear sight is drift adjustable for windage and screwdriver adjustable for elevation and indexed in 1″ at 25 yard increments. The brass bead front sight is mounted at the top of a post that is serrated to kill glare. Muzzle threads are 11/16″-24, permitting mounting brakes and silencers.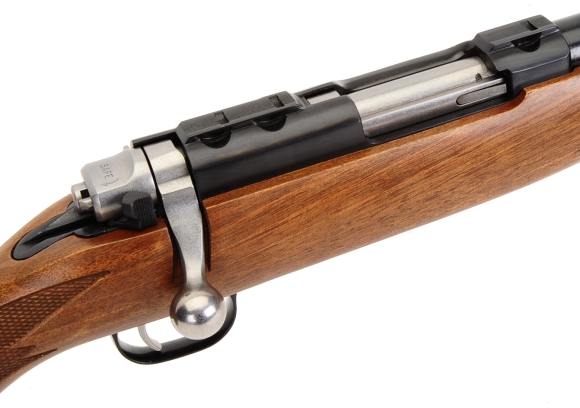 In addition to the metallic sights, the Ruger Model 77/44 has scalloped reliefs at three points on the receiver that accept proprietary scope rings included with the rifle. Alternatively, owners can use aftermarket rings from a variety and rails to suite their preferences.
How about that 44 Mag-a-num?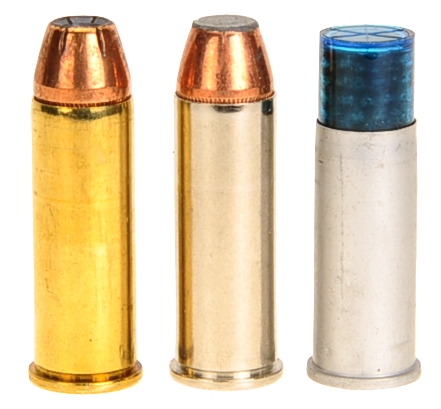 Pictured above, L-R, Hornady 180 grain JHP/XTP, Speer 270 grain JSP, CCI 170 pellet shot shell. The 44 Remington Magnum apparently is aging right along with me. When we were both very young in 1955, the 44 Remington Magnum was a beast, the most powerful handgun in the world. Perfect for shooting engine blocks out of bank robbers' getaway cars and for shooting through brick walls. Now, from what I read, it is a marginal cartridge for rabbit hunting. Fortunately, feral hogs, deer and bear are competently and routinely dropped with the 44 Rem Mag. Apparently, they don't read the same magazines.
The 44 Remington Magnum began life as Elmer Keith's hot loads for the 44 Special. However, case length was increased from the 44 S&W Special's 1.160″ to 1.285″ when the 44 Remington Magnum came into existence as a commercial cartridge. The increase in case length was not an accommodation for larger powder charges, but rather a way to prevent the then new 44 Magnum case in a less stout firearm chambered for the 44 Special.
The 44 Mag is an excellent hunting revolver cartridge, but an even better hunting rifle cartridge. A revolver has a comparatively short barrel that diminishes ballistic potential and generates muzzle bark well above the level of easy listening rock. A rifle's longer sight radius takes less effort to achieve accurate sight alignment. Shot cantilevered, a revolver lacks gripping and support surfaces conducive to a steady hold. In numerical terms…
Ammo
Bullet
Weight
Grains

Muzzle
Velocity
FPS 4.6″


Muzzle




Energy




Ft/Lbs




4.6″



 Muzzle
Velocity
FPS 18.5″


Muzzle




Energy




Ft/Lbs




18.5

"

Gain
In
FPS

Gain
in
Ft-Lbs

 Federal Classic
 180
1482

 878
2110

1780

628

902
 Hornady Custom

180

1535

942

2254

2031

 719
1208
 Federal Fusion

240

1333

947

1820

1766

487

819
 Speer Gold Dot

270

1227

 903
1593

 1522
366

619
One of the good points with heavy bullets is that it does not take a huge increase in velocity for significant gains in kinetic energy and momentum. Additionally, the Ruger 77/44 handles cast as well as jacket bullets and both produce accurate results. Part II, up soon, will provide expanded coverage of live fire performance.
Overall
Thinking about what is standout about the Ruger 77/44. It is a very fast handling firearm; lightweight, well balanced, excellent stock geometry, quick shouldering. Accurate… yes, from the bench, but also an easy rifle to stand up and shoot. Slick… The short throw, rear lugs and guided breech block make for a very smooth bolt stroke. Wood and metal finish and workmanship are very clean. Recoil is modest, but enough to remind the shooter it is a stout centerfire rifle. Fun… yes, it is a fun rifle to shoot.
We'll be back in Part II with live fire and, hopefully, more extensive use of the little carbine.