02/08/2020
It is 11:30 AM and snow has not fallen for at least one hour. The forecast was for a snow storm that began at 3:30 AM to continue on until 5:00PM. History offers two outcomes. The first is that clearing snow now will result in the snow resuming at the conclusion of the effort and require a second snow removal effort after 5:00 PM. The second historical outcome is that no effort to remove snow will be undertaken until after 5:00 PM, it will immediately begin to rain, converting the current snow on the ground into 6″ of solid ice. The latter will remain on the ground until spring. In Maine, that is the end of May.
In the interim, until the future becomes the present and the reality of the situation makes itself known, I will continue working and occasionally shout at Nancy Pelosi, who appears on my TV as a deranged robot, with eyebrows at the top of her forehead, hands and arms flailing in all directions with no particular intent, and further denying her personal animosity toward the President. If she were a fictional character, and she may be, it would be Lieutenant Commander Philip Francis Queeg in Herman Wouk's novel "The Caine Mutiny".
Marlin Model 1894 – 45 Colt


Manufacturer
Marlin Firearms – Madison, NC
Model / Number

Model 1894 / 70445

Type
Lever Action Side Eject
Caliber
45 Colt

Magazine Capacity
10
Barrel Length
20″
Twist Rate
1:38″ Ballard Type
Weight
6.5 Lbs

Overall Length
38.5″
Stock
Black Walnut – Cut Checkering
Hardware
Blued Carbon Steel
Length of Pull
13 3/8″
Drop at comb
*1 1/2″
Drop at heel
*2″
Sights
Semi Buckhorn – Hooded Ramp Bead
Scope
Receiver Drilled and Tapped
Trigger Pull
*5 lbs. 7 oz.
Safety
Cross Slide – Hammer Block Safety
MSRP
$835.94
The Marlin Model 1894 was introduced as a substantial upgrade of the Marlin Model 1889; Marlin's first short action, closed top – side eject receiver design. Initially offered in .32-20, .38-40 and .44-40 chambers, the .25-20 was added sometime later. Manufactured between 1894 and 1906, an inventory of original parts were assembled into finished good between 1929 and 1933 as the company came out of its 1924 bankruptcy. Approximately 46,000 units of all types of Marlin Model 1894s were produced.
The current generation Marlin Model 1894
The modern Marlin Model 1894 was introduced in 1969. Chambered for the 44 Remington Magnum, the Model 1894 replaced the Marlin Model 336 version chambered for the 44 Magnum as a platform more suitable for reliably feeding short cartridges typically associated with revolvers.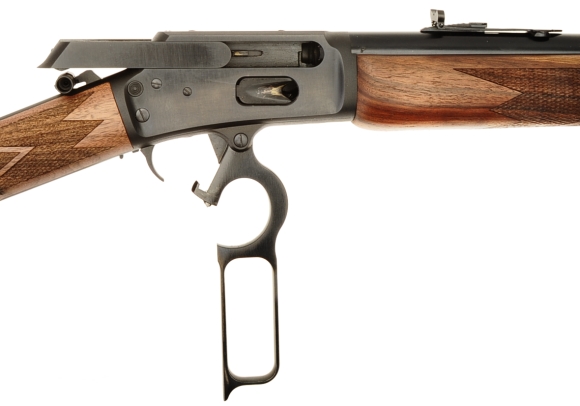 The reintroduction of the model designation stayed true to the original Hepburn design with a solid receiver top, side eject, locking square bolt, two piece firing, and one piece trigger. However, there with a few, but very significant enhancements that included refined materials and finishes, improved tooling and process and Micro-Groove rifling. During the years following, the Model 1894 has been chambered in: .25-20, .32-20, .22 WMR, 357 Magnum, 41 Magnum, 44 Magnum, and 45 Colt.
In 1973, the rifle's carrier assembly design was revised permitting a maximum cartridge length of 1.710″. In 1974, the plain ramp front sight was changed to a Wide Scan hooded. In 1975, the forearm barrel band was replaced with a forend cap with with swivel stud. By 1978, all of these parts were forged: receiver, trigger plate, hammer, locking bolt, carrier, and lever.
In 1980, the "gold" trigger was changed to blue. In 1982, the 44 Magnum version was approved also for 44 Special ammunition. In 1984, a cross bolt safety was added. The rifling has since been changed from Micro-Groove to Ballard type rifling to better accommodate case lead bullets.
At the close of 2007, Remington completed its acquisition of Marlin and, by the end of 2008, Remington had brought the manufacturer of Marlin lever action rifles to Ilion, NY and progressively moved to new tooling. After a brief learning curve and refinement, the rifles being produced today are of excellent quality and a Marlin Custom Shop has been added.
The Colt 45
The 45 Colt, not unlike the venerable 45-70 Gov't, has evolved into a very modern cartridge by progressively taking advantage of improvements in bullets, powder, brass, and firearms over a span of nearly one hundred and fifty years. Unlike social media opinion, the progression in 45 Colt performance is measurable, demonstrable, and wide ranging.
The 45 Colt cartridge was introduced in 1873 for use in the Colt Peacemaker single action revolver. Adopted by the U.S. Army, its run lasted seventeen years, from 1875 through 1892 For cowboy action shooters, affectionados of antique and reproduction firearms and 45 Colt chambered firearms in search of soft shooting and/or target ammunition, SAAMI standard loads are the answer.
Originally loaded with a 255 grain lead bullet and 40 grains of black powder for approximately 900 fps of muzzle velocity, the modern standard pressure smokeless powder equivalent specified by SAAMI is a 255 grain bullet at 900 fps with a maximum average pressure of 14,000 psi. At the other end of the performance spectrum is non-standard 45 Colt factory ammunition, typically referenced as "+P" or "+P+" ammunition.
There is no SAAMI standard for a 45 Colt +P cartridge, so the standard and stewardship of pressure levels of this type of ammunition resides with the individual ammunition manufacturer. Firearm manufacturers do not approve the use of their firearm with this type of ammunition, because there is no standards organization oversight of operating pressure or testing. Users of +P and +P+ ammunition can only go on the recommendations of the ammunition manufacturers who make these products to guide them as to suitability of firearms for this application.
The rationale behind +P and +P+ ammunition can be traced back to Elmer Keith and others of his time who pushed handloads for many types of big bore handgun ammunition to the peril of many single action Colt revolvers and to the seminal work of John Linebaugh who did an excellent job of articulating the subject. Linebaugh's work was the basis for my handload development for the 45 Colt in concert with modern firearms of exceptionally strong design.
"Joe, give me a break. Why are you pontificating in such a garrulous and sometimes pleonastic fashion?" Well, the heart and soul of a firearm is wrapped in its chambered cartridge. The Marlin Model 1894 is an exceptional firearm when used in concert with standard pressure ammunition, which is what Marlin approves for use. However, the Marlin Model 1894 is an excellent deer, black bear and hog woodland hunting rifle. When loaded with modern high pressure 45 Colt factory ammunition, and handloads as prescribed by a number of ammunition (Buffalo Bore) and handload component manufacturers (Hornady), it becomes a hard hitting big bore.
Standard pressure loads are excellent for recreational target practice and competitive cowboy action events, where high pressure loads are excellent for hunting and hunting proficiency shooting. The Remington Model 1894 is built like a tank and seems to digest all without issue. Below, a small but diverse ammunition types, standard and high pressure.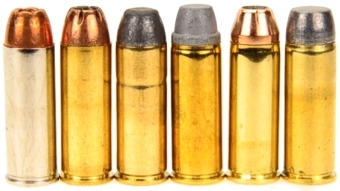 Cartridge
Bullet
Grains
Mfg
Rated
FPS
Recorded
FPS
20″ BBL

Energy
Ft. Lbs
50 Yard
3 shot
Group"

Winchester PDX Defender

225
850
1137

646

1.9

Remington HTP
230
850
1113

633

1.4

MagTech CAS
250
761
1001

556

2.2

Buffalo Bore +P

255
1000
1279

926

2.0

Buffalo Bore Heavy Colt +P
260
1450
1954

2205

1.5

Grizzly Big Bore +P

265
1400
1602

1511

2.1
There are approximately sixty types of readily available 45 Colt factory ammunition; standard pressure, high pressure, solid projectile, shot capsule; there are types for hunting, target shooting, cowboy action shooting, and self defense. Factory ammo bullet types range from 78 grain fragmenting at 1,800 fps from a handgun to 335 grains at 1,200 fps. Groups were shot with metallic sights from a rest. If I work up handloads for a Part II, I will scope the Marlin to get a better look at the rifle's potential and reshoot factory groups as well.
Buffalo Bore 260 Grain 45 Colt

Near-Zero – Yards

17

Mid Range – Yards

87

Far-Zero – Yards

150

Max Ordinate – Inches


+3.0

Point Blank – Yards

159
Best Zero : Range 0 – 200 yards

Yards

0

50

100

150

200

Velocity – fps

1954

1749

1561

1393

1251

Energy – ft.-lbs.

2204

1766

1406

1121

903

Momentum – lbs-sec

73

65

58

52

46

Path – in.

-1.50

2.09

2.83

-0.01

-7.35

Drift – in.

0.00

0.00

0.00

0.00

0.00

Time Of Flight – sec.

0.00

0.08

0.17

0.27

0.39
Above – Some pretty impressive performance from an ancient handgun cartridge when loaded to modern high pressure levels and shot though a 20″ barrel. With a point blank range of 159 yards, that means no holdover or worrying about range estimating at three times the typical shooting distance in Maine and areas of similar topography.
Closing thoughts… Head scratch, head scratch
The Marlin Model 1894 is a well made firearm; fit, finish and performance. For folks who like something a bit different than the subject model, there are ten versions with walnut or hardwood/laminated stocks, blued or stainless steel barrels and receivers, hex or round barrel with lengths of 16.5″ to 20″. Sights run from semi buckhorn to ghost sights or rail, chambers available are 357 Mag, 44 Mag and 45 Colt.
The Marlin Model 1894 has excellent geometry for a woodland hunting rifle with open sights, although I have shot them well with a scope or red dot sight in place.  Quick to shoulder, quick to cycle and sight settle naturally on a target. Recoil is modest, report is as well. For those who like to tinker, there are lots of aftermarket parts; sights, stocks, recoil pads and butt plates, oversize levers, spring kits, etc. Personally, when I grow up and can afford the indulgence, I'd like to get a Marlin Custom Shop Model 1894. Nice rifle.