02/18/2020

Ruger American Ranch Rifle – 6.5 Grendel


Company

Ruger

Model Designation

36926

Point of Manufacture

Newport, NH, USA

Type of Action

Bolt Action 3 Lug 70º Lift

Caliber

6.5 Grendel


Magazine Capacity

10

Magazine Type

AR Style

Barrel Length

16.10″

Rifling Twist Rate

1:8″ 5 Groove

Barrel Muzzle Threads

5/8″ – 24

Barreled Action

Alloy Steel – Blued

Stock Type

Flat Dark Earth Synthetic

Length of Pull

13.75″

Drop at comb

5/8″

Drop at heel

3/4″

Open Sights

None

Scope Accommodation

Receiver Top Rail

Trigger Pull

3 To 5 Lbs

Weight of Firearm

6.1 Lbs

Overall Length

36″

Safety

Tang

MSRP

$549
Ruger introduced the Ranch version of its American Rifle in September of 2014. The Ranch gave Ruger customers a truncated American Rifle that weighs only 6.0 lbs.+/- depending on caliber, and has an overall length of just 36″.
Initially chambered and barreled for the moderate 5.56 NATO/223 Remington and 300 Blackout cartridges, it is currently also available in 6.5 Grendel, 7.62×39 non-colluded Russian, 350 Legend, and 450 Bushmaster.
In other words, whatever you want to hunt in North America, the Ruger American Ranch has a version to kill it competently and confidently. You prefer "Harvest"? Sure, lets go with that.
In the words of Lloyd Price – Personality
While the Ruger American Ranch Rifle lineup may give the appearance of martial jelly beans, thirteen models with a common look and feel, the various chambers and their associated nuance features exhibit quite different personalities, but the performance within the Ruger American Ranch Rifle offerings are universally excellent. That assessment is based upon previous Real Guns® reviews and evaluations of the: 5.56 NATO, 7.62×39, 300 Blackout, 350 Legend, and 450 Bushmaster versions of the Ranch.
Beginning with common design elements…
Below, the threaded muzzle of the Ranch 6.5 Grendel with thread protector, an AAC Blackout flash suppressor with 90T quick mount feature and AAC SR-7 silencer.
All Ruger American Ranch Rifles are threaded to accommodate muzzle devices and are supplied with thread protectors. The larger bore 450 Bushmaster barrels are flared behind the threads to provide an adequate thrust surface for muzzle devices. Other versions have a continuum barrel taper that stops at the threads, with thread diameter and pitch varying with bore size.
Cartridge

Nominal




Groove




Diameter "

Muzzle




Thread

Barrel




Length "

5.56 NATO

0.223

1/2″-28

16.12

6.5 Grendel

0.264

5/8″-24

16.10

300 Blackout

0.308

5/8″-24

16.12

7.62 x 39

0.308

5/8″-24

16.12

350 Legend

0.355

1/2″-28×0.4″

16.38

450 Bushmaster

0.451

11/16″-24

16.12
Lobes and cams
All Ruger American Ranch Rifles have a full diameter body bolt, three lugs, a sliding ejector and a spring loaded plunger ejector. Lift is 70° and they lockup like a bank vault, enclosing the cartridge case head. The full diameter body fills the receiver bore and makes for a smooth bolt stroke.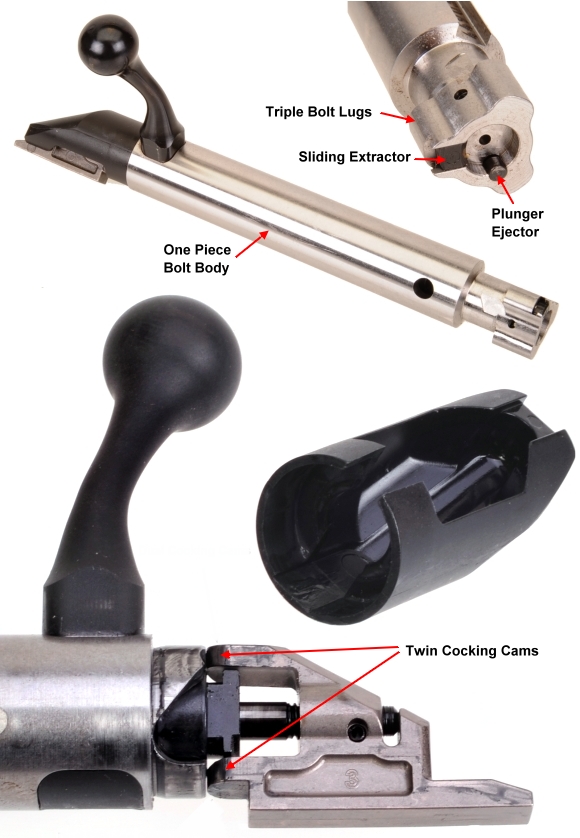 Twin cocking cams provide increased mechanical advantage which eases effort required to cock the rifle. The Ruger American
Adjustable trigger and bedding V blocks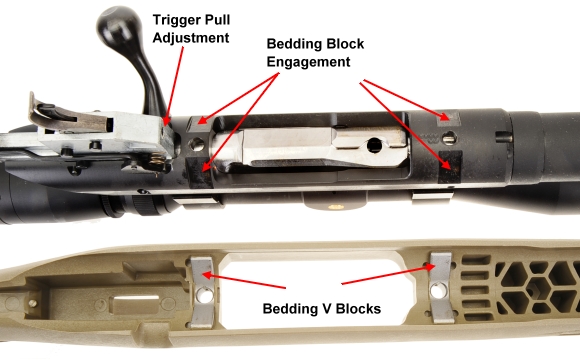 Ruger American Ranch Rifles produce exceptional sporting rifle accuracy. The heart of that performance is found in the stock bedding design. The Ruger Power Bedding System® utilizes the stability of the rifle's synthetic stock to prevent rotational and longitudinal movement between the barreled action and stock. The rifle's barrel floats in the barrel channel. Must be good as Ruger makes a commitment to sub one MOA accuracy for the Ranch rifle. Trigger pull weight is adjustable within a range of three to five pounds, adjustment is made with the stock removed.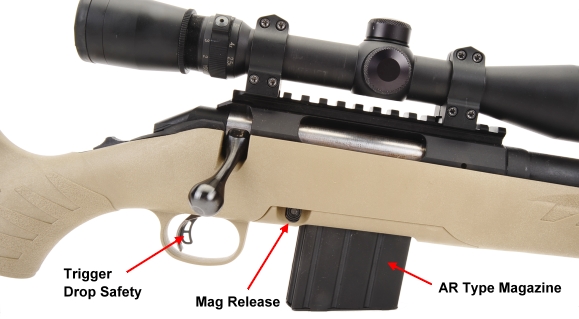 The departure from the Ruger scope ring system to installed Picatinny rail is a little more flexible in ring placement and sight type accommodation. While the Ranch does not have an open sight option, it is certainly easy enough to mount a red dot for a fast brush gun set up, or a scope on models with reach… like the 6.5 Grendel.
Some Ruger American Ranch Rifle magazine system are modular to supports the use of AR or 30 Mini type magazines as seen on the 5.56 NATO, 6.5 Grendel, 300 Blackout, 7.62×39 versions, and 350 Legend versions. These have a side mag button release. The 450 Bushmaster  utilizes a self centering stacked box magazine with mag front release. Early 300 Blackout versions were also not modular, using a flush fitting, five round rotary type magazine.
No it's not Hansel and Grendel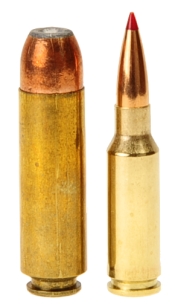 Far left, 50 Beowulf next to 6.5 Grendel. I never quite understood the Alexander Arms cartridge naming convention, at least in the context of their 50 Beowulf and 6.5 Grendel progeny. It is not like Grendel was Beowulf's younger sibling who kept borrowing Beowulf's car without asking permission, or who tried to use Beowulf's driver's license to buy beer.
In mythology, Beowulf was a human of normal proportions and Grendel was a huge ogre like monster. On size alone, the names should have been swapped with the Grendel being the big dog. Even then, the relationship defined by names between the two doesn't work because Beowulf killed Grendel.
Just spit balling here, but I think the cartridges should have been called the 50 Beowulf and the 6.5 Wiglaf. I guess they could have gone the other way, dropped Beowulf all together and named the big cartridge the 50 Grendel, but then the other would become… the 6.5 Grendel's Mother? I'm just saying, there is a lot to consider. Greek or Roman culture, rather than Anglo-Saxon, would have yielded better name results. Anyway…

The intent of the 50 Beowulf and 6.5 Grendel, beside turning a profit for their company of origin, was to bring in order of notation, power and range to the anemic 5.56 NATO powered AR platform.
The 50 Beowulf arrive in 1999, based on extending the 50 AE pistol cartridge and going to a tiny rebated rim. The 50 Beowulf retained the 33,000 (approximate) MAP of the 50 AE, no doubt in an effort to not bolt thrust and pressurize the AR into early retirement.
My experience with the 50 Beowulf is almost as long as the cartridge's existence; shooting, hunting and handloading. I found it to be close in power to the modern 45-70 Gov't round at shortish distances, easy to handload and the AR platform reliable when utilizing this cartridge. The biggest cartridge shortcomings were, and remain, bullets with the ballistic coefficient of a barn door and a too short of cartridge overall length to allow the use of anything better.
My experience with the 6.5 Grendel has been only… casual. On paper, it appears to be one of the most efficient small cartridges on the market, with excellent range on medium size game and varmints. Previous experience with the cartridge suggests that performance is legitimate, losing very little in shortish rifle barrel applications like the Ruger American Ranch Rifle. What might that performance look like? Glad you asked.
Hornady Custom 6.5 Grendel 123 Grain SST

Near-Zero – Yards

23

Mid Range – yards

124

Far-Zero – Yards

220

Max Ordinate – Inches

+3.0

Point Blank – Yards

235
Best Zero : Range 0 – 500 yards

Yards

0

50

100

150

200

250

300

350

400

450

500

Velocity – fps

2580

2494

2410

2327

2247

2168

2090

2015

1941

1868

1798

Energy – ft.-lbs.

1818

1699

1586

1479

1378

1283

1193

1108

1029

953

883

Momentum – lbs-sec

45

44

42

41

39

38

37

35

34

33

32

Path – in.

-1.50

1.36

2.82

2.79

1.15

-2.21

-7.42

-14.62

-23.97

-35.61

-49.75

Drift – in.

0.00

0.00

0.00

0.00

0.00

0.00

0.00

0.00

0.00

0.00

0.00

Time Of Flight – sec.

0.00

0.06

0.12

0.18

0.25

0.32

0.39

0.46

0.54

0.62

0.70
No, the Grendel is not a barn burner in terms of muzzle velocity, but it has an impressive 235 yard point blank range on a 3″ ordinate. Additionally, a factory 123 grain load holds onto 1000+ ft.lbs of kinetic energy beyond 400 yards and stays supersonic beyond 1000 yards. It is a very efficient 6.5mm cartridge. It is an eastern and western medium size game cartridge.
The 6.5 Grendel in the greater scheme of things
Cartridge

H2O




Capacity

SAAMI




MAP




KPSI

Standard




Bullet




Grains

SAAMI




Standard




Velocity

SAAMI




Test Barrel"

6.5 Grendel

37.5

52

123

2580

24

6.5 Creedmoor

53.5

62

120

2900

24

260 Remington

53.5

60

120

2880

24

6.5 x 55

57.0

51

129

2750

24

6.5 x 284

66.0

58

130

2900

24

6.5 PRC

72.0

65

147

2900

24

264 Win Mag

82.0

64

140

3015

24
Cartridges pictured above, appear on the table top to bottom. So with all of larger 6.5 cartridges, why bother with the peep squeak? As a rifle for deer or similar size medium thin skinned game, the exterior ballistic table illustrates that the 6.5 Grendel is convincingly lethal and flat shooting out to 400 yards.
Yes, the others are even more powerful, but I would have to ask, how dead does the deer you're hunting need to be? Especially when your collecting the benefits of low recoil, low report, high degree of accuracy, and a light and compact firearm.
For handloaders, there is greater potential to extract from applicable firearms. The case holds only modest amounts of power and primers are run of the mill small rifle type. The cartridge is easy to reload, easy on brass and easy on firearms and shooter.
With the exception of the 6.5 Grendel, 6.5 x 55 Swede and 264 Winchester Magnum, the others listed on the table were designed and developed for long range precision shooting, 800 yards to 1,000+ yards and adapted to hunting.
The 6.5 x 55 Swede, a Swedish military cartridge from 1894 and persisting in service for 100 years, became popular in North America when it arrived in the '60s through '80s in a flood of military surplus Mausers with tons of cheap ammunition. It is an excellent cartridge that can drop large thin skinned game, but is available in only a minuscule number of modern firearms.
The 264 Winchester Magnum, with us from 1968, is an excellent long range medium and big thin skinned game cartridge. It is loud, brash and tough on firearms and shooter. Because of the large powder charge and small bore cross section, they do best with a 26″ barrel. Great fun and a huge overkill for the deer hunter.
So where does that leave us…
Well, with a nifty little carbine and a very interesting cartridge and onto a second phase of this project that entails a good deal of handloading and assessment and more than a little experimentation. Shooting factory ammunition to break in the rifle, Hornady BLACK 123 grain match ammo went 2431 fps at the muzzle with the rifle's 16.1″ barrel. This in comparison to the Hornady 24″ barrel rating of 2580 fps. Five shot groups at 100 yards ran between 0.5″ and 0.7″. A lot to work with. Be back soon.