2/24/2020

This weekend, there were three things on the must do agenda. The first was filing taxes, the second was a photo shoot for a firearm project on Real Guns and the third was to update our Ford Escape's software. Yes it is suppose to update automatically, if the car is operated continuously long enough to download a 1.2 GB *tar.gz file over wireless and then installs the files… approximately one hour.
So we made sandwiches, filled a thermos with coffee, and sat in the running car in our driveway, listening to oldies on Sirius while the software updated. Outside ambient temperature 5°F, inside the car 70°F my side, 72°F on my wife's side. When life hands you tuna and slow driveway Internet, have a picnic. It is a lot more fun than filing tax returns.
A furniture, automobile analogy
I am what some industry insiders refer to as a "Wood Stocker", by age associated with an event of a similar name and by appreciation and preference for aesthetically pleasing wood gun stocks.  AR snobs will say wood stocks are superfluous to function and an unnecessary expense… as they install trend of the week handguards, redundant sighting systems, folding and morphing butt stocks, etc. etc, on an anemic $3,000 AR.
How many wood stock deniers, beyond the ages of adolescence, would furnish their home dining room with an orange crate table and chair ensemble? Pragmatically speaking… writing, that is more than enough for the purpose.
How many wood stock deniers, beyond the ages of adolescence, would prefer a Renault Twizy over a Porsche 911 Turbo S? Nope, we work hard to have nice things because they are… nice.
Remington's Model 700 CDL


Manufacturer

Remington – Ilion, NY

Order #

27047

Action


Long Action Bolt

Caliber

7mm Remington Mag


Magazine Capacity

3

Barrel Length

26″


Twist Rate

1:9 1/4″

Barrel/Action material

Carbon Steel

Finish

Satin Blue


Weight

7 lbs 10 oz.

Overall Length

46.5″

Stock

American Walnut


Pull

13.5″

Drop at comb

1.125″

Drop at heel

1.375″

Sights

D&T For Scope Mounts


Trigger

X-Mark Pro


Trigger Pull

3 Lbs. – 5 Lbs


Safety

Two Position Thumb


MSRP

$1,159
The only thing I can say about the subject Remington Model 700 CDL is that it is a lot nicer than the Model 700 I borrowed to hunt with in the mid to late 60's. That one was not checkered, had a varnish finish and a stamped steel trigger guard with no hinged floorplate. I can also say that it is considerably nicer than my personal mid 1970's Remington Model 700 BDL 7mm Remington Magnum which gives off a bit of a disco vibe.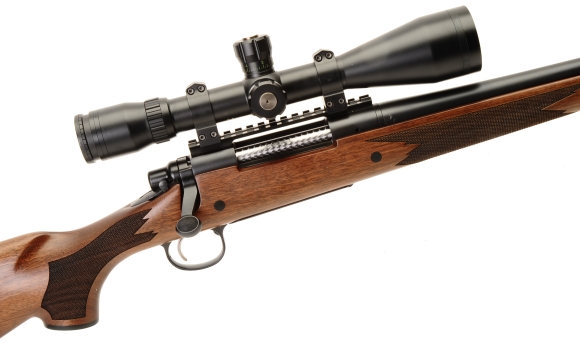 Looking at the subject rifle, metal and wood finishes are nice and complimentary, both satin. The bluing is uniformly black and the walnut is dark and straight grained, but with good contrast. The action is slick; throw and feed. The thumb safety is positive in engagement and release, the trigger is crisp and breaks cleanly. The receiver top is drilled and tapped for scope mounting to accommodate any of a myriad of sight / sight mounting systems available. A rail was installed to facilitate the use of a short tube, high magnification scope for accuracy checking. The spacing between mount points on a long action are too wide for a scope of this type.
The Remington Model 700 has a spring loaded plunger ejector and hardened steel spring clip extractor. Simple assembly, fits inside the bolt face and is rock solid reliable. There are lots of approaches to fitting the bolt with hinged and sliding extractors, wing safeties and extra power striker springs for folks with time on their hands and dare to be different. They don't make a measurable difference, but they do make for fun time on the lathe and/or milling machine. Remington's Mike Walker and his crew apparently knew a thing or two about firearm design.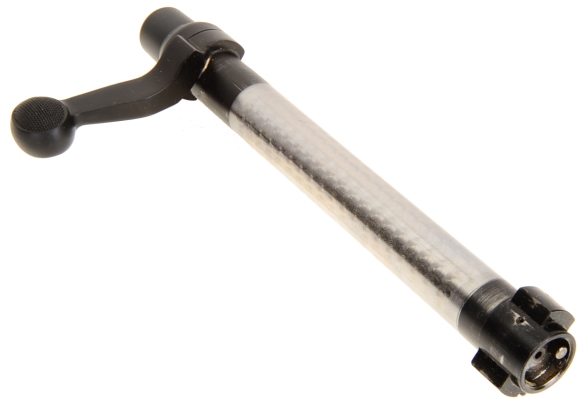 The Remington's bolt is a twin lug design with a 90° bolt lift. The bolt face is recessed to contain a cartridge case head and form the inner portion of Remington's three rings of steel cartridge containment; recessed bolt, barrel shank, receiver walls.The bolt is not full diameter or near lug diameter, but the lack of receiver wall contact reduces friction and makes the Remington light cycling.  This does not weaken the action's resistance to bolt thrust as that force is always taken by the lugs and lug seats, not the bolt body.
The Remington X-Mark Pro trigger is loaded with hard plated, micro smooth surfaces. Its pull weight is adjustable between 3 lbs and 5 lbs, which is done without removing the rifle's stock. Take up is short, there is no creep and no measurable overtravel.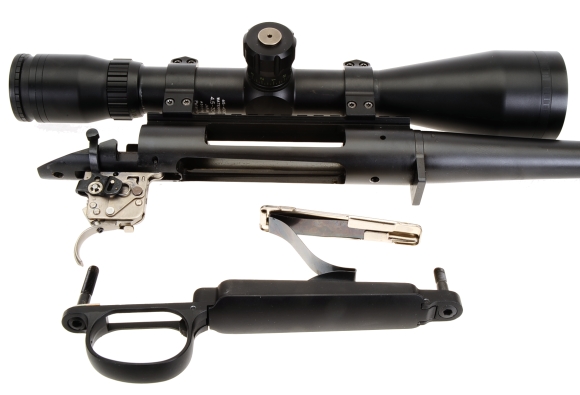 The barrel and receiver are fashioned from carbon steel. The longitudinal load under firing is absorbed by two fasteners through the trigger guard and a large recoil lug sandwiched between barrel shank and receiver. The magazine box, not pictured, is blued carbon steel, rather than the typical nickel finish. The trigger guard and hinged floorplate is made of aluminum with a black finish that closely matched steel parts bluing. The follower is steel.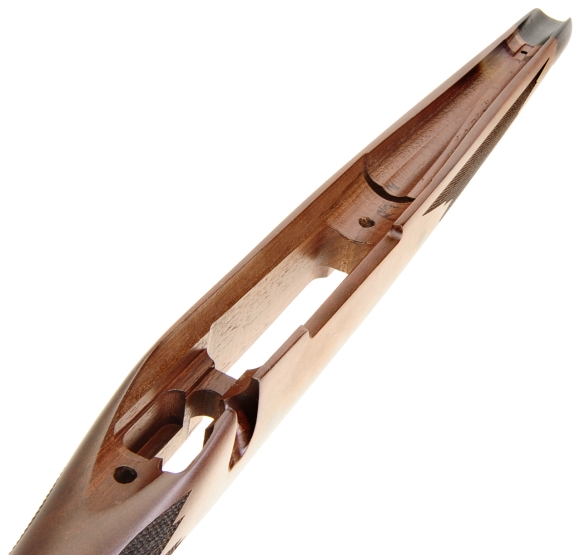 The Remington's American Walnut stock is cleanly finished inside and out, all wood surfaces filled and sealed against the elements. The barrel floats in the channel the entire length ahead of the recoil lug. Best part, the stock scaled 1 lb 15 oz including recoil pad, or about a 1/4 lbs less than a synthetic stock with similar geometry.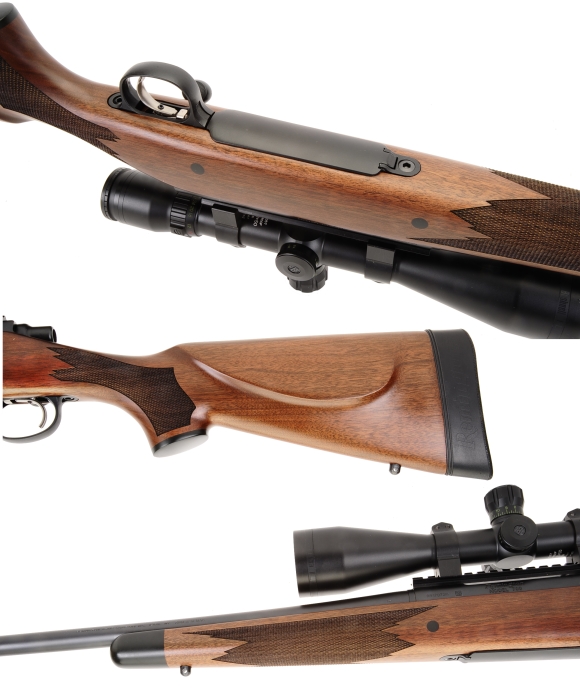 Above: The hinged floorplate lays pretty much flush against the bottom of the stock and clearly out of the way of hands. Checkered grip panels are well sized and placed, the machine cut checkering provides a substantial non slip surface. The CDL does not have a high comb like the BDL, yet the comb is about as high because of significantly less drop at the heel. The cheekpiece supports a shooter's face and moves away under recoil. The forearm is slender in height, but hand filling. Swivel studs and polymer forend and grip cap are cleanly fitted.
The 7mm Remington Magnum
In terms of bore longevity, the 7mm Remington Magnum rates a 17.6 on the Real Guns Barrel Burner Index. By comparison, the 300 WSM scores 16.8 and the 257 Weatherby Mag a 20.9. In reality, much of barrel life is determined by how the rifle is shot and how it is maintained. My personal 7mm Rem Mag, a Remington Model 700 BDL with 24″ barrel, is 40+ years old and it is used only for proficiency shooting and hunting. I keep it clean, I don't shoot it until the barrel glows red and it sees on the average 60 rounds of ammo each year. It still shoots MOA to sub MOA.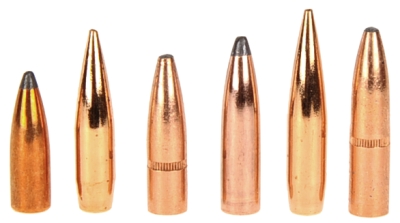 Six bullets were selected for the Remington Model 700 CDL handload effort. All are hunting bullets, if perhaps optimal at different ranges and velocity levels. In my experience, I can take the scope off of my 7mm Rem Mag, use its metallic sights and hunt inside 100 yards with all but the two Berger VLD bullets. Those I would reserve for longer range hunting as they will rapidly expand in game at even 1,500 fps and longer ranges are where a very low drag very high ballistic coefficient bullet are most useful.
Warning: Bullet selections are specific, and loads are not valid with substitutions of different bullets of the same weight. Variations in bullet length will alter net case capacity,  pressure and velocity. Primer selection is specific and primer types are not interchangeable. These are maximum loads in my firearms and may be excessive in others. All loads should be reduced by 5% as a starting point for development where cartridges have greater than 40 grains in capacity and 10% for cartridges with less than 40 grain capacity following safe handloading practices as represented in established mainstream reloading manuals. Presentation of these loads does not constitute a solicitation for their use, nor a recommendation.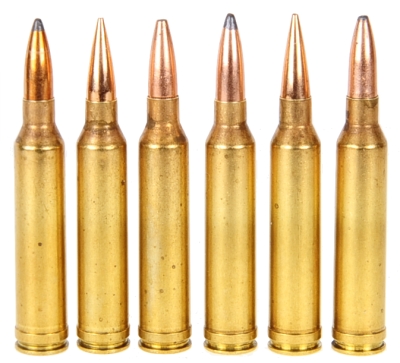 7mm Remington Magnum – MAP 61KPSI



Firearm
Remington Model 700

Barrel Length
26.00″
Max Case Length
2.500″ +0.000″/-0.020″
Min – Max COL
3.150″ – 3.290″

Primer
CCI 250 (LRM)

Bullet Diameter
0.2845″ +0.000″/-0.0030″
Reloading Dies
RCBS

Bullet Type

Bullet
Weight


Grains

Net H2O




Grains




Capacity

COL"

Powder Type

Powder
Charge


Grains

Muzzle
Velocity


fps

Muzzle
Energy


ft/lbs

100 Yard
3 Shot
Group"


Sierra Pro Hunter

120

78.7

3.250

AA MagPro

77.0

3405

3090

0.6

Sierra Pro Hunter

120

78.7

3.250

Re 16

65.0

3468

3205

0.5

Sierra Pro Hunter

120

78.7

3.250

Hybrid 100V

66.0

3375

3036

0.7

Berger VLD Hunting

140

74.5

3.250

AA MagPro

73.0

3307

3401

0.8

Berger VLD Hunter

140

74.5

3.250

Re 23

68.0

3302

3390

0.6

Berger VLD Hunter

140

74.5

3.250

Norma MRP

70.0

3305

3396

0.8

Remington PSP

140

76.4

3.225

AA MagPro

73.0

3107

3002

0.5

Remington PSP

140

76.4

3.225

Re 23

69.0

3339

3467

0.7

Remington PSP

140

76.4

3.225

Norma MRP

70.0

3288

3362

0.4

Speer Spitzer SP

160

75.0

3.280

AA MagPro

71.0

3117

3453

0.7

Speer Spitzer SP

160

75.0

3.280

Re 33

79.5C

3136

3495

0.8

Speer Spitzer SP

160

75.0

3.280

Norma MRP

68.0

3082

3376

0.9


Berger VLD Hunter

168

72.8

3.280

AA MagPro

69.0

2876

3086

0.6

Berger VLD Hunter

168

72.8

3.280

Re 23

68.0

3189

3795

0.7

Berger VLD Hunter

168

72.8

3.280

Norma MRP

68.0

3051

3473

0.7

Remington PSP Core-Lokt

175

73.4

3.250

AA MagPro

69.0

2810

3069

0.9

Remington PSP Core-Lokt

175

73.4

3.250

Re 25

67.5

2830

3113

0.8

Remington PSP Core-Lokt

175

73.4

3.250

Norma 217

72.0

2957

3399

0.5

Remington PSP Core-Lokt

175


73.4

3.250

H870

77.0

2897


3262

0.6


Remington PSP Core-Lokt

175


73.4

3.250

Retumbo

73.0

3122


3788

0.9
What North American game can be hunted with a Remington Model 700 7mm Remington Magnum? Just about any type of medium to big and dangerous game with factory loads from 125 grains to 180 grains. For the handloader, the weight range is even wider and the cartridge can be loaded down to 7mm-08 Rem levels of performance if detuning for lighter game is desired.
More numerically, the output of the Remington Model 700 CDL and 7mm Remington Magnum combination is quite exceptional in down range retained velocity, energy and flatness of trajectory. The right bullet weight and construction would reward any hunter.
Best Zero Results – 168 Grain Berger

Near-Zero – Yards

29

Mid Range – Yards

154

Far-Zero – Yards

274

Max Ordinate – Inches

+3.0

Point Blank – Yards

292
Best Zero : Range 0 – 500 yards

Yards

0

50

100

150

200

250

300

350

400

450

500

Velocity – fps

3189

3111

3034

2959

2884

2811

2739

2668

2598

2529

2461

Energy – ft.-lbs.

3793

3609

3433

3265

3103

2947

2798

2654

2517

2386

2260

Momentum – lbs-sec

77

75

73

71

69

67

66

64

62

61

59

Path – in.

-1.50

0.91

2.42

2.99

2.57

1.10

-1.47

-5.20

-10.14

-16.38

-23.97

Drift – in.

0.00

0.00

0.00

0.00

0.00

0.00

0.00

0.00

0.00

0.00

0.00

Time Of Flight – sec.

0.00

0.05

0.10

0.15

0.20

0.25

0.30

0.36

0.42

0.48

0.54
Conclusion
The reach and power of a 7mm Mag does not come without a price. However, in this case, not a major price. Report is sharp, reflective of approximately 15,000 psi of muzzle pressure. Recoil with lighter bullet weights is moderate. Recoil with heavier bullets is probably closer to a 12 gauge with stout slug loads. That said, the Remington recoil pad and straight comb stock geometry make shooting across the ammunition spectrum reasonable.
The subject rifle was perfect. No assembly or handling caused imperfections or process unevenness. All of the controls worked with precision; no hanging, sticking, roughness, or non-committal engagement. The floorplate latching and unlatching were positive. For me to say the Remington Model 700 is a terrific rifle would be silly. Millions of consumers have already made that statement. If I like the combination so much, why don't I own one? Actually, I do. Going on forty years of use, it still looks great, shoots great and has a personality all its own.