03/16/20
March 19th is the first day of spring. Interesting as the temperature is 0°F, there is snow on the ground as a result of yesterday's brief storm. But then the roads are posted, barring heavy vehicles to prevent damage to a thawing road bed, so what do I know?
The Ruger PC Charger must have been a lot of fun to shoot because, I am told, I was found at the range with a smile on my face, snow drifted against my southern profile, the Charger's magazine empty and its bolt locked open. I was also told I would not relinquish my grip on the Charger, but I think that was more "could not" relinquish than a "cold dead hands" sort of commitment.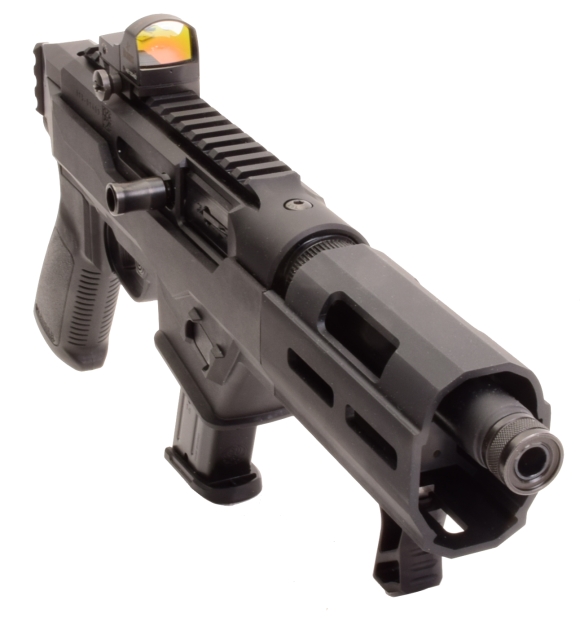 Above, the Ruger PC Charger as shipped with the addition of a compact red dot sight. Left, the Ruger PC Charger suppressed with a SilencerCo Hybrid 46 silencer.
Ruger PC Charger

Company
Ruger
Point of Manufacturer
Newport, NH

Model #

29100
Type of Action
Dead Blow

Caliber
9mm Luger

Magazine Capacity
*17
Magazine Type
Ruger/Glock As Shipped

Barrel Length

6.5″ 1/2″-28 Threads

Barrel Material
Chrome-Moly
Barrel Finish
Black Oxide
Rifling Twist Rate
1:10″ 6 Groove RH

Receiver Material
7075-T6 Aluminum
Receiver Finish

Type III Hard Coat
Chassis Material
Glass Filled Nylon

Sight Mounting
Picatinny Rail
Trigger Type
10/22 Derivative
Weight of Firearm

5.2 Lbs

Overall Length
16.5″

Safety
Cross Bolt

MSRP
$799

* 10 round version Model #29101
The Ruger PC Charger is a natural progression of the Ruger PC Carbine concept; the carbine's function and service in an even more compact package. It may also be a natural progression of Ruger's 1994 MP9 military/law enforcement, blow back operated submachine gun. The overwhelming majority of all civilian defensive and sporting firearms grew from roots in martial applications.
Why?… Why? Why?

Numerous reasons. The obvious; fun and inexpensive to shoot and a new toy to play with. For enthusiasts, that is more than enough. As a compact, it makes for a heck of a camp gun. As a defensive weapon, the Ruger PC Charger pumps out more velocity than a 4″ SAAMI standard pistol barrel, it can deliver greater accuracy and its heft and geometry neutralize recoil and muzzle rise for faster follow on shots.
Suppressed, the PC Charger has good balance, where a suppressed traditional pistol feels like there is a sack of potatoes hanging off the front sight. The PC Charger is not ammunition sensitive and will shoot any legitimate ammunition it is fed without complaint, so locating ammunition and sharing with other 9mm Luger firearms are not problems. In the case of the Ruger PC Charger, it will can be configured to use Ruger or Glock standard magazines.
Easy to clean and maintain. Some detail…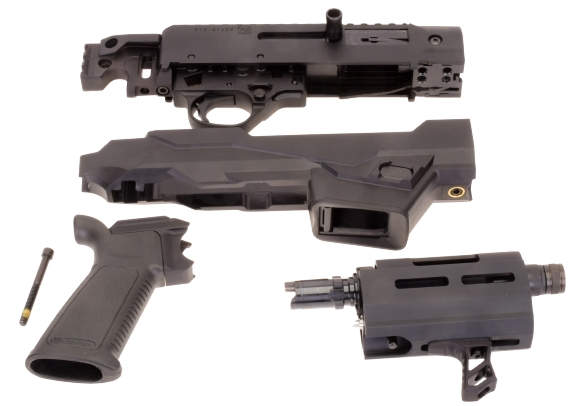 Loosening the forward takedown, push the locking lever forward, rotate the handguard/barrel assembly counter clockwise and remove. Remove the aft grip mount retention screw, remove the A2 style grip and lift the receiver assembly from the chassis.
The lock up between barrel assembly and receiver is not casual. A barrel assembly adjusting knob assures fit is maintained over the life of the firearm. The Charger retained zero even after repeated take down and reassembly. The handguard, fixed to the barrel with an internal frame, is made of aluminum with M-Lok attachment slots.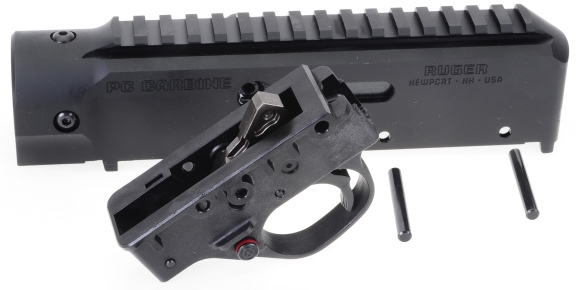 The trigger guard assembly is removed by pushing out the two trigger guard retaining pins. The manuals used the term "drift" pins out, but they are lightly held and solidly retained by the stock when assembled. Trigger pull measured a crisp 5 Lbs 4 Oz.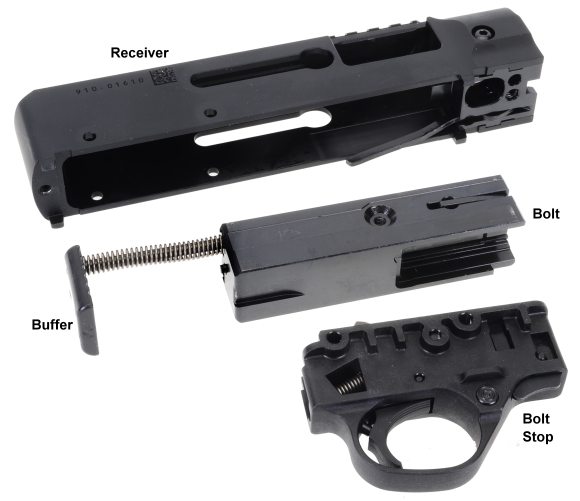 With the charging handle removed, the bolt plops out. Yes, I did use the word "plop", but only for dramatic effect and comedic relief. If you catch the bolt in the palm of your hand, the fall and catch will be virtually silent. Incidentally, the charging handle can be installed on the right or left hand side of the receiver, as can the magazine release. No, I can't describe the sound of those processes.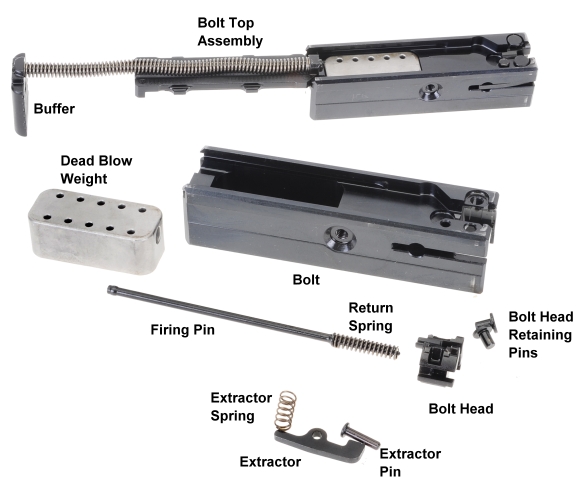 The Ruger PC Carbine is easy to clean and service down to the small parts and the manual provides exceptional step by step detail. The use of a 9.4 ounce tungsten weight recessed into the bolt body reduces required buffer spring rates and greatly dampens recoil. In fact, only a millennial would think the PC Carbine has recoil… and perhaps some engineers.
The PC Charger can be configured for use with three types of magazines by swapping out magazine wells located inside the pistol's chassis. The pistol ships with an SR9/Security9 magazine compatible well installed and a Glock G9 magazine compatible well in the box. A third is available through the Shop Ruger site that is compatible with Ruger American Pistol magazines.
Velocity and accuracy in a variety of forms
9mm Luger Ammunition

Bullet


Type


Bullet




Weight




Grains

Rated
FPS
4″
Pistol


Actual




FPS




3.4″




Pistol




Actual


FPS
16.12″


Barrel

Actual




FPS




6.5″




Barrel




25 Yard




3 Shot




Group"



American Eagle Syntech

TSJ


115

1130

1062


1281

1192

1.3

Remington HTP +P

JHP


115

1255

1016


1334

1302

1.5


IMI Systems

JHP


115

1150

1126


1329

1314

0.6


Remington UMC

FMJ

124

1100

1027


1151

1121

1.1


Remington Ultimate Defense

BJHP

124

1100

1081


1232

1262

0.7


Speer Gold Dot +P

GDHP

124

1220

1098


1376

1310

1.5

American Eagle Subsonic

FMJ

124

1030

1033

1105

1074

1.9

Grizzly +P

JHP

147

1050

1045

1193

1130

1.0

Always like to record barrel length velocity differences. The Ruger PC Charger delivers substantially greater velocity than a traditional 9mm Luger chambered pistol and a little less than the carbine. One thing for sure, the Charger is a reliable piece of hardware.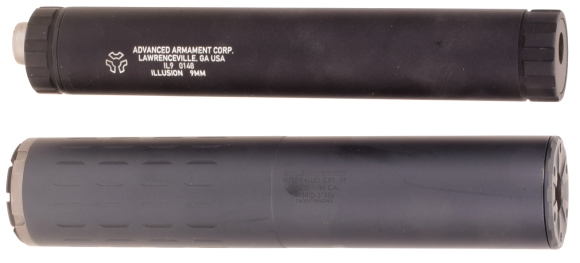 With the thread protector in place with no muzzle device mounted, or with a piston mount AAC Illusion 9mm or SilencerCo direct mount Hybrid 46, the Charger never failed to function properly. The larger capacity Hybrid 46 was significantly more effective in knocking down dBs, but neither were all that quiet with Federal Suppressor ammo as 1074 fps at 0°F is supersonic. The sonic crack was always there, but only about 22 Long Rifle equivalent.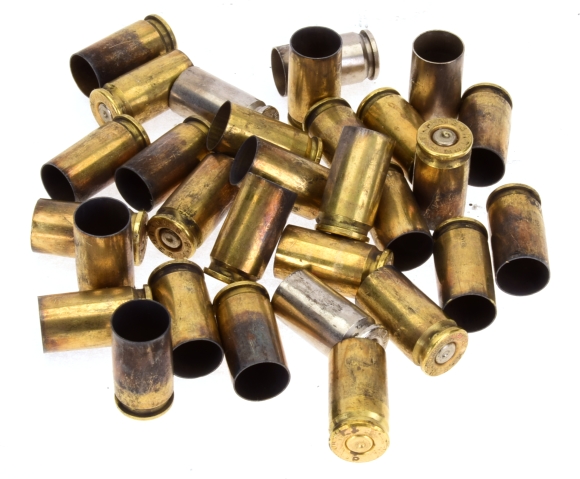 Using a silencer deposits a good deal of residue in most any firearm's chamber, as well as areas inside and outside the receiver. The PC Charger was no exception. Mixed ammo in the magazine, standard pressure and +P, brass or nickel plated made no difference.
Above, shot at 25 yards from a rest: left IMI Systems 115 grain 0.6″, right  Remington Ultimate Defense 124 grain 0.7″. Yes, those are official 25 yard NHRA targets. Only 2¢ per target and they are weather proof.
And then, and then… along came Jones?
Eventually, curiosity got the better of me and I had to find out what the Ruger PC Charger would sound like with actual subsonic ammunition. Subsequently, some was assembled at the reloading bench.
Warning: Bullet selections are specific, and loads are not valid with substitutions of different bullets of the same weight. Variations in bullet length will alter net case capacity,  pressure and velocity. Primer selection is specific and primer types are not interchangeable. These are maximum loads in my firearms and may be excessive in others. All loads should be reduced by 5% as a starting point for development where cartridges have greater than 40 grains in capacity and 10% for cartridges with less than 40 grain capacity following safe handloading practices as represented in established mainstream reloading manuals. Presentation of these loads does not constitute a solicitation for their use, nor a recommendation.
9mm Luger 35,000 PSI MAP



Firearm
Ruger PC Charger

Barrel Length
6.50″
Max Case Length
0.754″ +0.000″/-0.010″
Min – Max COL
1.000″ – 1.169″

Primer
CCI 500 (LPM)

Bullet Diameter
0.3555″ +0.000″/-0.0030″
Reloading Dies
RCBS Carbide

Bullet Type
Bullet
Weight
Grains
Net H2O
Grains
Capacity
COL"
Powder Type
Powder
Charge
Grains
Muzzle
Velocity
fps
Muzzle
Energy
ft/lbs

3 Shot




25Yard


Group "

Hornady XTP


124

7.0

1.060

Win AutoComp


4.2

979

264

1.7

Hornady XTP

124

7.0

1.060

CFE Pistol


4.2

1006

279

1.3

Hornady XTP

147

5.8

1.100

Win AutoComp

3.5

779

198

1.8

Hornady XTP

147

5.8

1.100

CFE Pistol

3.3

729

174

1.9

 
What came out of the muzzle was suppressed and not objectionable without ear protection. That said, like all auto loaders, the action still makes a bit of a racket with the bolt cycling and ammo feeding and any other reciprocal mechanical part that is party to such an action. Outside of a bolt action, single shot or gas blocked auto loader, there is no method I am aware of that can remove that generation of dB. The quick 1:10″ rifling seems to stabilize even heavier bullets launched at modest velocity levels.
The Hornady bullets were selected for weight, not expansion qualities at low velocity. If I were assembling subsonic loads for close in defense, I would probably select something like Federal Hydra-Shok as the 147 grain bullet. In lighter weights. I would skip subsonic and go with lightweight… 90 grain – 100 grain frangible bullets at supersonic velocity. No, that is not an opinion of what people should do, it is only a thought of what I might do.
Soooo…
Interesting. Compared to bolt action, break action and AR action pistols shot previously, it did not take long to find a comfortable hold. Between the ease of shooting with a red dot sight and support from the hand stop, I did OK shooting from an off hand position. Taking the time to shoot from a rest, it was clear to me that the Ruger PC Charger had a lot more accuracy potential than I could utilize.
The PC Charger was at all times enjoyable to shoot and, especially with a silencer in place, it made a great plinker. As a defensive weapon, I could see carrying the Charger and a compact 9mm without feeling they were redundant in purpose or accommodation. I am not an arm brace kind of guy, so I would not affix one to the Charger, but I also think it is unnecessary to hit targets within the range of the 9mm Luger cartridge. Nice firearm.