04/19/2020

The Model 1885 was invented by John M. Browning in 1878 and patented in 1879 as a generic Browning Brothers single shot rifle. Approximately six hundred rifles were produced by the Browning Brothers of Ogden, Utah Territory between 1880 and 1883, before the manufacturing and sales rights were sold to Winchester and it became the Winchester Model 1885.
Chambered for cartridges from the .22 Short to the .50-90 Sharps, and a limited number in 20 gauge, the Model 1885 was produced in low and high wall versions and as sporters, carbines, muskets, and Schützen rifles. Between 1885 and 1920, approximately 140,000 units of all types of Model 1885s were manufactured.
Under the current Browning – Winchester business structure, the Model 1885 was placed back into production, in varying degrees, since 1985. While availability of specific configurations and calibers change with production runs, the current Winchester line up is:
Winchester 1885 High Wall Hunter, High Grade: 220 Swift, 22-250 Rem, 243 Win, 6mm Creedmoor, 6.5 Creedmoor, 6.5 PRC, 264 Win Mag, 270 Win, 270 WSM, 28 Nosler, 308 Win,  30-06 Spfd,  300 WSM,   300 Win Mag, 300 PRC
Winchester 1885 Hunter Rimfire: 22 LR, 22 WMR, 17 HMR, 17 WSM
Winchester 1885 High Wall Hunter: 22-250 Rem, 243 Win, 6mm Creedmoor, 6.5 Creedmoor, 270 Win, 308 Win,  30-06 Spfd,  300 Win Mag
Winchester 1885 Traditional Hunter High Grade: 38-55 Win
Winchester Model 1885
Traditional Hunter Deluxe

Item Number

534271117

Caliber

38-55 WCF

Action

Falling Block

Action Finish

Color Case Hardened Steel

Capacity

Single Shot

Barrel Length

28″

Barrel Finish

Polished Blued Steel

Barrel Contour

Full Hex

Twist Rate

1:15″

Overall Length

44″

LOP

13 1/2″

Drop At Comb

3/4″

Drop At Heel

1 1/2″

Weight

9 Lbs 0 Oz

Stock

Black Walnut Grade III/IV

Checkering

20 LPI

Stock Finish

Oil

Rear Sight

Peep Tang & Semi Buckhorn

Front Sight

Post – Brass Bead

Scope Ready

Drilled & Tapped

MSRP

$1,869.99
The Winchester Model 1885 Traditional Hunter Deluxe in 38-55 shares features and traits with other Model 1885s and a number that are unique. A common trait? Sure. Opening any Winchester Model 1885 is like a opening a thoughtful birthday gift. Nice shipping carton, rifle well wrapped and protected and a detailed, high quality manual. They are always absent of handling imperfections that seem to plague many other manufacturers' products.
In the case of the subject Traditional Hunter Deluxe, the bluing was flawless, as was the chemical case hardened receiver, lever and buttplate. The black walnut had a good deal of color and contrast, nice touches of figure, and cleanly cut checkering. The crescent buttplate makes for accurate shooting and its lack of resilience was not an issue with the 38-55 WCF. The folding tang sight was a useful touch, especially when taking advantage of the 28″ barrel's long sight radius and potential for longer distance shooting.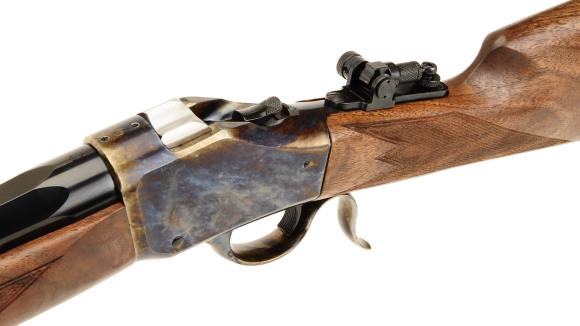 Below – The Winchester Model 1885 Traditional Hunter Deluxe provides a number of sighting systems to accommodate a wide range of shooters and applications. The folding tang mounted peep sight has a 0.055″ aperture, which is good for target shooting and most hunting situations. With the disc removed, the sight's aperture measured 0.160″ and has Marble Arms standard threads. This allows use of a variety of aftermarket disc aperture sizes.The peep sight adjustment, elevation and windage, is in 1/2 MOA increments.
The selective shell deflector located in the hammer well is handy. With the tab centered, empties are caught and held for hand removal. Turned right or left, empties eject opposite of the tab position selected. The Model 1885 is drilled and tapped 6-48 for traditional scope mounts, two on the receiver's front ring and two on the barrel just aft of the rear open sight. No, not a historical travesty as even the original 1885 had long legs and benefited from the use of a scope.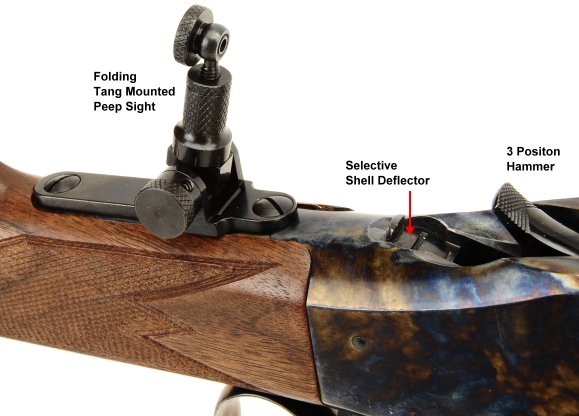 The 1885 is a stout firearm; 0.465″ of steel wall thickness surrounds a cartridge. The breech block is a major chunk of inverted U shaped steel with a 1″ wide x 0.840″ deep x 0.840″ high crown. The legs projecting downward are 0.805″ deep and 0.150″ thick, part of the 2.100″ tall breech block. For as stout as the Model 1885 action is, it is also very compact. Even with its 28″ barrel, it is still shorter than a 24″ barrel bolt action rifle.
The Winchester Model 1885 has a wide, ribbed target trigger with 3 1/2 lbs of clean breaking pull; no perceptible creep or overtravel. At a time when elastic band like triggers with aerobic pull weights are common, the Winchester Model 1885 trigger is a standout.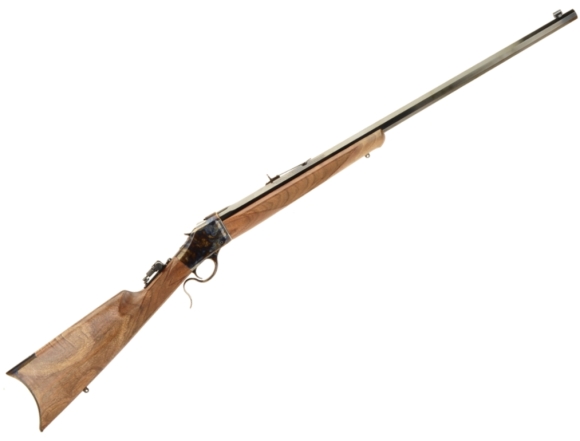 As would be suspected, the long hex barrel makes the rifle a bit nose heavy, but not by much. For me, I found the bit of weight on the muzzle to be steadying. Combined with the long sight radius. the rifle can comfortably shot accurately even from a standing position.
The 38-55 Winchester
Some of the other cartridge that were popular during the last quarter of 1800s and opening years of the 1900s in both lever action and single shot firearms L-R: 30-30 WCF, 32 Winchester Special, 35 Remington, 38-55 Winchester, 45-70 Government. The 30-30 Winchester is, in fact, a hot rodded version of the 38-55 Winchester. Necked down and with a lighter .30 caliber 160 grain bullet, it initially had a muzzle velocity of 1,970 fps. The 32 Winchester Special shares a common rim and body diameter with the 30-30 Winchester. The 38-55 Winchester has 52 grains of water capacity compared to 79 for the 45-70 Gov't, but the 38-55 Winchester operates at approximately 6,000 psi greater chamber pressure.
For non-handloaders, there are four brands of 38-55 Winchester ammo: Black Hills, Buffalo Bore, HSM and Winchester. Bullet weights are either 240 grains or 255 grains. Standard pressure 240 grain is rated at 1,500 fps, 255 grain standard pressure is rated at 1,320 fps and Buffalo Bore high performance 255 grain ammo is rated at 1,950 fps. The latter with a price tag as big as its performance; $64/20. HSM ammunition is the lowest in cost at $27/20.
For the handloader, any level of performance indicated here can be matched or bettered and at a significantly lower cost. Plus, bullet weights from 200 grains to 300 grains, with appropriate jacket thickness and cannelure placement are readily available.
Thoughts before Part II?
Out of the box and not sighted in, the target on the left was shot with the first three Black Hills Ammunition 255 grain cast bullets down the rifle's barrel; 1″ grid. It was shot with the precision V notch in the rifle's semi-buckhorn rear sight and post mounted brass bead front sight. Yes, the rifle was securely rested, but aimed with my eyes and my bifocals and an orange smudge of a bullseye 100 yards out. Amazing what a long sight radius and a well made rifle can achieve.
The Winchester Model 1885 Traditional Hunter Deluxe seems appropriate for a geezers collective day. One of those nice warm days, when the air is clear, the 200 yard range is open and you are one upping the 65 year old kid in the group.
The Winchester Model 1885 Traditional Hunter Deluxe reminds me of bitter cold hunting days in South Dakota, taking a successful 300 yard shot at a prairie deer and watching it drop where it stood. It reminds me of a rifle I would not mind cleaning after an outing or showing off to friends. It leaves me with the good feeling that quality traditional rifles are still being made.