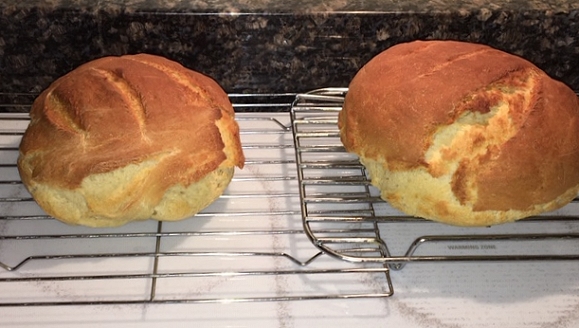 Baking, cooking is a lot like reloading ammunition; start with a basic recipe, combine a bunch of ingredient… components,  add some personal refinements, and always work toward something better. Being of Italian ancestry, Etruscan long before those Roman upstarts, homemade bread is always high on the list of things to make. Above, two 10″ loaves made for this past Friday's dinner.
Most important when cooking is an understanding wife, who allows you to mess up her kitchen, always praises your amateurish attempts, even when they manifest themselves in the form of oil soaked, burned black doughnuts and an attempt to use powdered sugar as Oil-Dri.
The passage of time always makes us look silly…
"There is no gun so generally useful for all descriptions of shooting on the American Continent, in my humble opinion, as one of the following dimensions: viz. twenty-six inches long in the barrel, ten bore, and weighing about eight pounds. These dimensions are those of my and well-tried constant old companion, and I have never met with a gun that could perform better." Sage advice for 1869; Gun, Rod, and Saddle – Personal Experiences, By Parker Gilmore.
Perhaps the following will provide as much entertainment value as the preceding passage in the year 2171 but, more than likely, the 357 Magnum revolver will still be a popular choice. So let's open with, the 357 Magnum Revolver is the most useful firearm in the world, perhaps the entire universe!…!!

Experts have determined that revolvers have lost popularity and predicted their near eminent demise… the revolvers, not the experts. Fortunately, that seems not to track to ammunition supply and demand. Pictured above, fifteen of the seventy-five factory loads available for the 357 Magnum. Those pictured range from (Left) Winchester Personal Protection 110 grain jacketed hollow point to the HSM Bear Load 180 grain hard cast.
Of course, 357 Magnum revolvers also accept 38 Special and 38 Special +P ammunition; available in one hundred-two factory loads. That seems like a lot of corporate dedication to firearm/cartridge combinations that is supposedly heading into the sunset.
In fact, only the 9mm Luger outsells the 38 Special/357 Magnum round, but 9mm Luger ammunition is purchased mostly by Eurocentric men sporting hair buns. I know. it is a lot to take in. So let's take a break, drink some coffee or grab a beer, and then meet back here in ten.
A classic gun for a classic cartridge
The Smith & Wesson Model 586 was introduced in June of 1980 as the 357 Distinguished Combat Magnum and remained in regular production through 1999. In 2012, the Model 586 was reintroduced as part of Smith & Wesson's Classic product line.  A stainless steel version, the Model 686, also introduced in 1980, remains in production. A Model 686 Plus seven shot version was introduced in 1996 and also remains in production.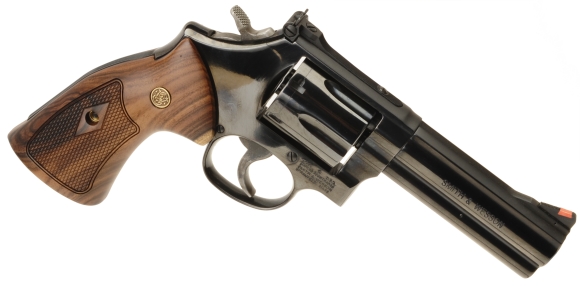 The Model 586 is built on the carbon steel, square butt target L Frame. The revolver was available in blued or nickel finish, however, the current classic run is blued finish only. Originally offered in 4″, 6″ and 8 3/8″ barrel lengths, the current Classic version is offered with 4″ or 6″ full lug barrels.
The Model 586 has a target profile barrel, an unvented rib runs from frame to muzzle. The rear sight is white outlined and adjustable for windage and elevation. The front sight is a ramped 1/8″ Baughman type with red insert.The top surface of the revolver is matte finished with longitudinal striations on both frame and barrel to reduce glare.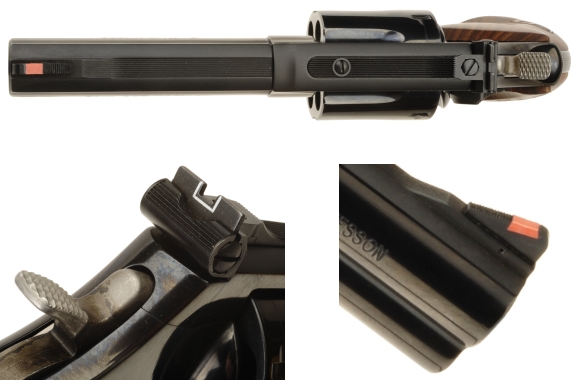 The hammer is a 0.375″ semi-target type, matched with a 0.312″ smooth trigger.

The back and grip covered front strap are grooved. The wood grips are… hand filling target type. Without pulling our calipers to measure, I believe the current target grips are more full than the same type of even a few years ago.
The Model 586's cylinder is 1.620″ long, allowing for the heaviest bullet loads with plenty of clearance. The SAAMI maximum cartridge overall length is 1.590″, but this includes 0.060″ rim thickness which resides aft of the cylinder. Only 1.530″, at the most, needs to be accommodated in the 1.620″ cylinder.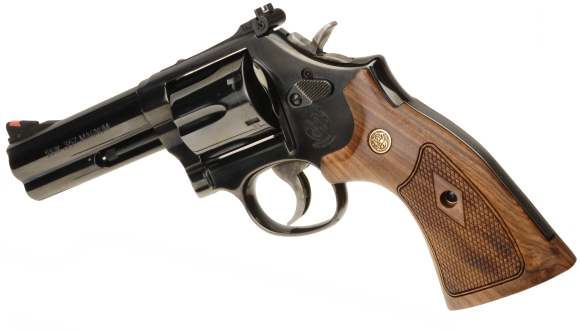 Hornady FTX component bullets are significantly longer in the ogive than a conventional bullet, which gives the FTX an improved ballistic coefficient, which improves down range ballistics for handgun or rifle hunting. At 0.805″ long, the FTX a full 0.200″ longer than even Hornady's HP/XTP bullets.
The overall length of the ammunition is kept within the SAAMI maximum cartridge overall length by shortening the case length to 1.240″, below the SAAMI 357 Magnum minimum case length of 1.270″. My point, the S&W Model 586 will handle any factory 357 Magnum ammunition and handloaders can use Hornady FTX component bullets.
Model – S&W Model 586 Classic


Company
Smith & Wesson
Point of Origin
Springfield MA
SKU #

150909

Type of Action
DA/SA Revolver
Caliber
357 Magnum / 38 Special +P
Capacity
6
Barrel Length
4″
Hardware
Carbon Steel

Finish
Blue Gloss/Matte
Rifling Twist Rate
1:18.75″
Grips
Wood
Front Sight
Ramped – Pinned Blade

Rear Sight
Adjustable – White Outline

Weight of Firearm
41.3 Oz.
Overall Length
9.3″
Overall Height
6.0″
Width
1.56″
Key Lock
Yes
CA Certified
Yes
MA Certified
Yes
MSRP
$851
When the Model 586 is not posing for pictures…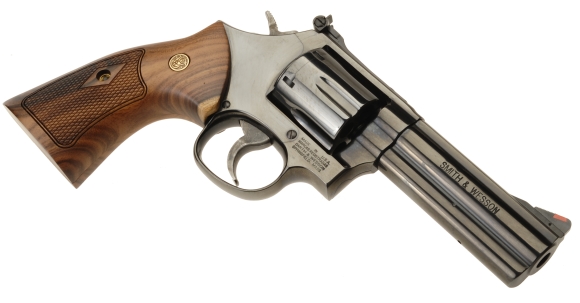 Cartridge
Bullet
Weight
Grains
Bullet
Type
Rated
MV
FPS
Recorded
MV
FPS
50′
5 Shot
Group"
Barnes TAC XPD
125
HP
1200
1395
1.8
Hornady LeverEvolution
140
FTX
1440
1459
1.5
Remington WheelGun
158
JHP
1235
1227
1.9
HSM Bear

180
JSP
1200
1068
2.1
The Smith & Wesson Model 586 has been a costar in twenty six movies including Cockneys vs. Zombies… my favorite in the group. The 586 is a model that is frequently seen at the range, frequently carried for self defense and often serves as a home defense firearm. It also makes for an excellent trail gun.
The Model 586 is not a lightweight,  which makes it comfortable for almost anyone to shoot. In fact, it is one of the easiest 357 Mag revolvers to master. Operation is simple, which keeps the person holding the revolver focused on the situation at hand and not wondering if there is a chambered round or if the safety is on or off; double action, squeeze the trigger.
The sight picture is crisp, the red insert stands out against most any target and sight adjustment stays put. Double action trigger pull is heavy at just under twelve pounds, but smooth. Single action pull measured just under four and one half pounds. The big target grips are nice. They are hand filling and they spread recoil over the shooter's hand.
A quality revolver at a more than reasonable price.