07/20/2020
Between 1869 and 1870, Vingt mille lieues sous les mers was published in serialized form in the French periodical Magasin d'Éducation et de Récréation. In 1872, a compilation in the form of a novel was published in English as Jules Verne's 20,000 Leagues Under the Sea. The story is written as a first person narrative, through the character Professor Pierre Aronnax, a French marine biologist.
The feel of the story is quite like Herman Melville's novel Moby Dick, also narrated in first person by the character Ishmael, but published in 1851. Both novels open to a search for what is believed to be a monstrous whale; Verne with Captain Nemo, Melville with Captain Ahab. The details of the journeys are different, but the conclusions in the long strokes are quite the same.  And movie versions have ruined both stories in each studio's effort to reduce them to a child's tale or a political puppet show.
What always keeps me engaged in 20,000 Leagues Under The Sea is the title. Verne was a futurist, an expansive thinker and a very descriptive writer of great specificity. A league is 3.452 miles. 20,000 leagues is 69,040 miles. In 240 BC, a Greek named Eratosthenes determined the earth to be 29,000 miles in diameter, which was later refined to 24,900 miles at the bulging waistline at the equator. Was Verne's 20,000 leagues a metaphor for the expansiveness of the unknown, or was he just uninformed? I know. Keeps me awake at night too.
What is the point of my Nautilus V. Moby intensely analytical dissertation? I think that is obvious. Neither Verne or Melville incorporated the Ruger Hawkeye Hunter, or the 6.5 PRC, into their novels. Coincidence? Maybe. Maybe not.
Yes, PRC is an acronym for Precision Rifle Cartridge…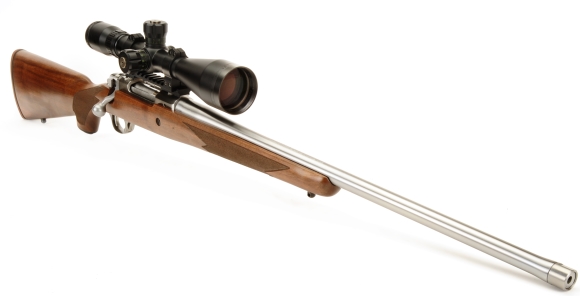 Ruger's Hawkeye Hunter


Manufacturer
Sturm Ruger & Co., Inc.
Model
57105
Caliber
6.5 PRC

Magazine Capacity
3
Barrel Length
22″ (5/8″- 24 Threads)

Twist Rate
1:8″ 5R RH

Weight
7 lbs 2 oz.
Overall Length
42″
Stock
American Walnut
Pull
13.5″
Drop at comb
3/4″
Drop at heel
1″
Sights
None – Picatinny Rail

Trigger
LC6™ Non- Adjustable
Trigger Pull
4 lbs. 6 oz.
Safety
Three Position
MSRP
$1,099
I like this Ruger company; firearms based on century plus proven designs with refinements, modern materials, precise manufacturing processes and aesthetically pleasing. The result is durability, reliability and excellent accuracy.
While the subject rifle is a 6.5 PR, the Ruger Hawkeye Hunter is also available in: 204 Ruger, 6.5 Creedmoor, 7mm Rem Mag, 308 Win, 30-06 Springfield, and 300 Win Mag. The Creedmoor and Win Mag are available also in left hand configurations.
The 6.5 PRC was previously covered on Real Guns in depth and in detail previously, including handload data, in the form of The Hawkeye Long Range Target 6.5 PRC Part I and Part II . However, the Long Range Target model carries considerably more weight and its barrel is 4″ longer. The Hunter would seem the model with greater hunting applications.
The Ruger Hawkeye Hunter and Long Range Target differ in numerous other ways. The Long Range, appropriately for its intended application, is four pounds heavier. Its stock is comb adjustable to accommodate various target shooting positions. The heavy contour barrel and receiver are fashioned from alloy steel. The Long Range has a two stage adjustable trigger.
The Hawkeye Hunter has a slender and with geometry appropriate for a scoped hunting rifle. It is a comfortable stock shooting from standing, kneeling, sitting, and prone positions. However, at my age, assuming the sitting position should only be attempted when you are in no hurry to stand up again, and never in the presence of anyone who thinks a little push to the shoulder would provide great entertainment.
The Ruger comes with swivel studs and very cleanly checkered gripping surfaces. The forearm is narrow, but deep enough in profile to be hand filling.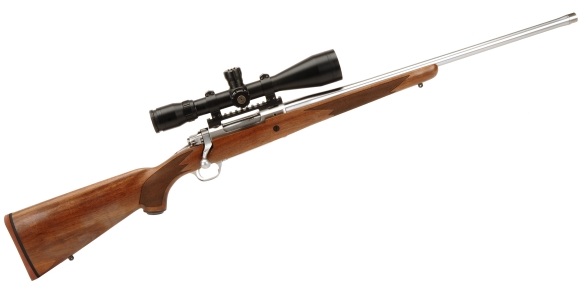 The pull length is comfortable at 13.5″. Shorter than some, but handy when the weather is cold and more than a t-shirt and jeans are worn. The comb is high at 3/4″ below bore centerline and a 1″ drop at the heel.  The scope is sitting high in even in low 30mm rings, but that is how I set up when primarily shooting from a bench is planned.

The light sporter contour Hawkeye Hunter's barrel is flared behind the muzzle threads. This allows maximum thread size to mount a muzzle device like a brake or a silencer, while providing adequate shoulder surface for secure device backing. In this case, the device was a SilencerCo Hybrid 46. Muzzle pressure with the 6.5 PRC is well within the range of other cartridges listed with the silencer. The barrel is hammer forged and features a tight twist 5R rifling.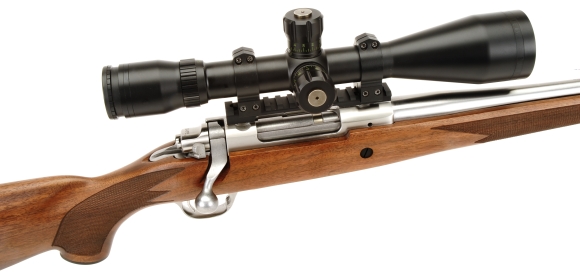 The Hunter has a three position safety to either lock the bolt closed or to facilitate safe bolt cycling to unload the rifle. The Hunter also has a hinged floor plate for easy and safe unloading.
The Hunter is supplied with a 20 MOA offset rail that is secured with four, #8-40 screws for increased long-range elevation capabilities.Why the big hardware? Under recoil, the rifle moves rearward… quickly. The scope wants to remain where it is. For the long range shooter with big optics made my Celestron, the larger rail mounting fasteners won't shear when stressed.

Shooting at longer distances, 600+ yards, most scopes on standard rails would run out of upward elevation adjustment. The 20 MOA rail is canted down at the front, which elevates the rifle's muzzle relative to a scope's optical center line. So, at 600+ yards where it is needed, a scope will have an additional 20 MOA of adjustment.
But what if you hunt in Maine, or many other locations, where the bragging long shot is 125 yards and you don't want your rifle's muzzle at launch inclination? Easy, you remove the rail and use the proprietary Ruger mount system where the rings are secured directly to scallops and cross slots milled into the receiver.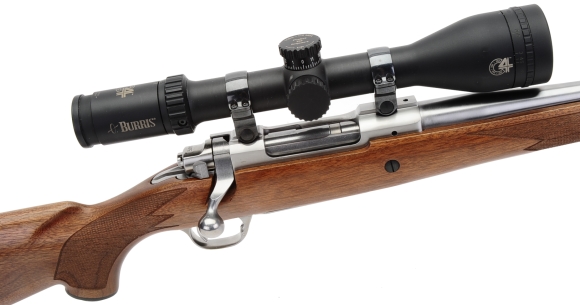 Using medium height Ruger Rings brings even scope with larger objective bells down closer to the rifle's bore centerline where even face planted to the stock, line of sight passed through the scope's optical center. All technical terms that are being mildly misused for the sake of verbal imagery.
Yes, PRC is an acronym for Precision Rifle Cartridge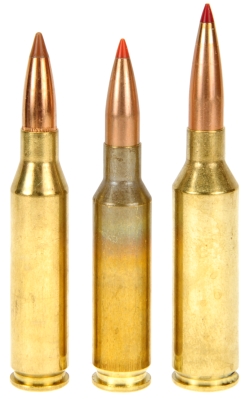 Many new cartridges are designed in excess to simplify marketing messaging, "Bigger! Better! Faster! Faster!". Hornady designed cartridges tend to reflect restraint and work toward efficient, optimal performance. Where some companies promise the firearm equivalent of an instant cure for male patterned baldness, Hornady advises applications and invites potential customer to examine relevant ballistic tables. Pictured L-R 260 Remington, 6.5 Creedmoor, 6.5 PRC
Hornady's approach to the 375 Ruger was to remove the 0.513″ diameter belt present on the 375 H&H cartridge and increased the case body diameter to the original belt diameter. As a result, with less body taper and sharp shoulders, even when case shortened to 2.580″, the Ruger has greater powder capacity. The 6.5 Precision Rife Cartridge case is derived from the 375 Ruger.
Shortened and necked down to accommodate 0.264″ bullets, the finished 6.5 PRC case is 0.015″ longer than the 308 Winchester and 0.110″ longer than the 6.5 Creedmoor. The 6.5 PRC cartridge overall length is 0.155″ greater than the 6.5 Creedmoor, it holds 37% more powder and it delivers higher velocity; somewhere between the 6.5×284 Norma and the 264 Winchester Magnum.
Hornady 6.5 Precision Hunter 143 grain ammunition, muzzle velocity rated at 2960 fps from a 24″ test barrel, produced 2895 fps from the Ruger Hawkeye Hunter's 22″ barrel.
Table of 6.5mm Context
Cartridge

Capacity




H2O




Grains

MAP




KPSI

Case Web




Diameter"

Shoulder




Diameter"

Case




Length "

Cartridge




Length "

6.5×47 Lapua

48.0

63.0

0.470

0.456

1.850

2.795

260 Remington

53.5

60.0

0.471

0.454

1.850

2.795

6.5 Creedmoor

54.0

62.0

0.470

0.462

1.920

2.825

6.5-284 Norma

66.0

58.0

0.500

0.476

2.170

3.228

6.5 PRC

72.3

65.0

0.532

0.516

2.030

2.955

264 Win Mag

82.0

64.0

0.517*

0.491

2.500

3.340

6.5-300 Weatherby

98.0

65.0

0.517*

0.492

2.825

3.600

26 Nosler

99.0

65.0

0.550

0.528

2.590

3.340

*Measurement taken just forward of belt
The primary reason for running handloads developed with the 26″ barrel Ruger Hawkeye Long Range Target through the 22″ barrel Ruger Hawkeye Hunter was to examine the influence of 4″ of barrel. Below, the same bullets were used with both and the same handload data. The Long Range Target data appears in Part II of the articles previously cited.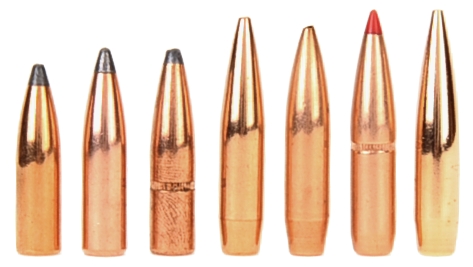 Bullet
Type
Weight
Grains
Typical
Length
Inches
Loaded
COL "
Application
Typical
$ Per
Bullet
Sierra Pro-Hunter
SP
120
1.087
2.810
Hunting
0.30
Nosler Partition
SP
125
1.183
2.875
Hunting
0.76
Hornady Interlock
SP
129
1.178
2 .800
Hunting
0.29
Lapua
HP
136
1.360
2.870
Target
0.49
Nosler Competition
HP
140
1.310
2.875
Target
0.32
Hornady SST
Poly
140
1.400
2.800
Hunting
0.32
Berger Target
HP
140
1.394
2.900
Target
0.50
Warning: Bullet selections are specific, and loads are not valid with substitutions of different bullets of the same weight. Variations in bullet length will alter net case capacity,  pressure and velocity. Primer selection is specific and primer types are not interchangeable. These are maximum loads in my firearms and may be excessive in others. All loads should be reduced by 5% as a starting point for development where cartridges have greater than 40 grains in capacity and 10% for cartridges with less than 40 grain capacity following safe handloading practices as represented in established mainstream reloading manuals. Presentation of these loads does not constitute a solicitation for their use, nor a recommendation.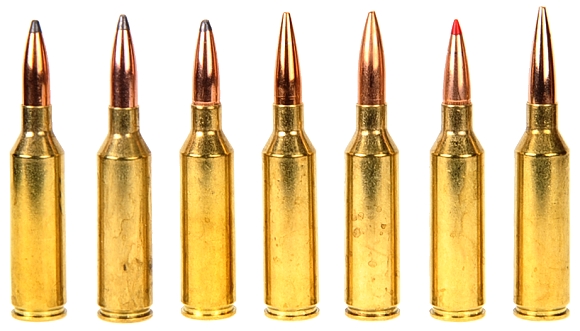 Cartridge – 6.5 Precision Rife Cartridge



Firearm
Ruger Hawkeye Hunter

Barrel Length
22.00″
Min – Max Case Length
2.030″ +0.000″/-0.030″
Min – Max COL
2.775″ – 2.955″

Primer
CCI 250

Bullet Diameter
0.2644″ +0.000″/-0.0030″
Reloading Dies
Hornady
Bullet Type 

Bullet
Weight
Grains

Net H2O
Grains
Capacity

COL"

Powder
Type
Powder
Charge
Grains

Muzzle
Velocity
fps

Muzzle
Energy
ft/lbs

100 Yd
3 Shot
Group"

 Sierra Pro-Hunter SP

120

63.8

2.810


Retumbo

61.0

3203

2734

 0.8

 Sierra Pro-Hunter SP

120

63.7

2.810

H1000

59.0

3019

2429

 0.3

 Nosler Partition

125

63.5

2.875

Retumbo

60.0

3237

2909

 0.8

 Nosler Partition

125

63.5

2.875

H1000

58.5

3025

2540

 1.0

 Hornady Interlock

129

62.2

2.800

Retumbo

60.2

3136

2818

 0.5

 Hornady Interlock

129

62.2

2.800

H1000

58.5

3028

2985

 0.8

 Lapua

136

61.4

2.870

Retumbo

59.5

3082

2869

 0.6

 Lapua

136

61.4

2.870

Re25

59.0

3021

2757

 0.6

 Nosler Competition

140

61.8

2.875

Retumbo

59.5

3019

2834

 0.9

 Nosler Competition

140

61.8

2.875

Re25

59.0

3034

2862

 0.7

 Hornady SST

140

59.3

2.800

Retumbo

59.5

3103

2994

 0.5

 Hornady SST

140

59.3

2.800

Re25

59.5

3054

2900

 0.9

 Berger Target

140

61.3

2.900

Retumbo

60.0

3107

3002

 0.6

 Berger Target

140

61.3

2.900

Re25

60.0

3059

2910

 0.4
Wrapping up for now
The Ruger Hawkeye Hunter and 6.5 PRC are an excellent combination that is not done justice with my handloads. Accuracy was good, but powders selection were narrow and there are better bullets for hunting with the 6.5. The good news, from my perspective, is that the 6.5 PRC will produce with a 22″ barrel. There are many large capacity, overbore magnums that assume 260 Rem like performance when barrel length drops below 26″.
The Ruger Hawkeye Hunter has a good feel… like every good hunting rifle, every memorable hunting rifle I have carried over the years. It is well made, tough, made in America with American labor. Nice one from Ruger.