08/31/2020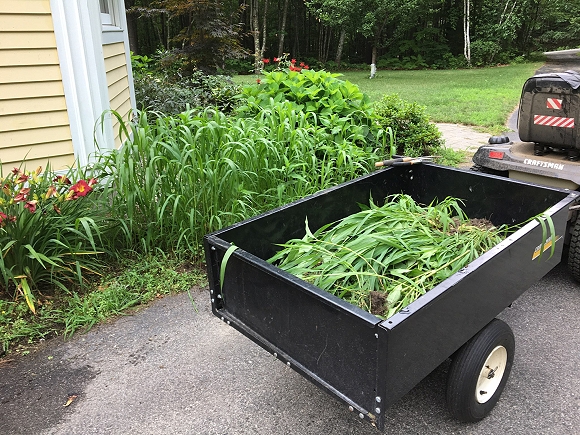 Maybe it is just Maine, but it seems that getting things to grow in a garden is easy, but getting things to stop growing… not so much. My wife and I prepped the garden in early spring and went on to time consuming home projects. To say the garden became overgrown would be an understatement; along side the driveway, across the front of the house and down to the end of the porch, 500 square feet of rain forest. Trees, shrubs and flowering plants, complete within their own ecosystem, even closing our eyes while driving in and out of the garage could not shield us from garden shame.
The first cleanup effort was manual weed culling; grasping a clump of weeds and attempting to pull them out by the roots… just before they snapped off close to the ground and required crawling around in the dirt with a hand weeder to remove the remnants. The problem with weeding a garden on hands and knees is the loss of height advantage and quick retreat when confronted by fauna. Spiders, ticks, bees, and assorted and sundry beetles were expected and did not disappoint. Leaping frogs, slithering snakes, a fox cub that was using the garden for al fresco dining, and a very angry community of chipmunks all came as a bit of a surprise.
All went quietly with simple "move it along" requests in the forms of whirling weed whackers, reciprocating hedge trimmers, clicking pruning shears, and intensive ground raking, with the exception of the chipmunks. Unlike the run of the mill chipmunks that are satisfied with scampering across highly trafficked roads, this group had a very defiant, aggressive and hostile chipmunk for a spokesperson. It was pretty much a standoff. Unfortunately, a debate my wife would not let me conclude with a Husqvarna clearing saw.
Consequently, negotiations were protracted and animated and ran through lunch… we ordered in on my dime. Eventually, we settled on a community relocation to a southern tree line stone fence that offered expansive burrowing and housing opportunities, lots of food sources, and with a variety of entertainment venues near by. I omitted the part about it being in the path of marauding coyote, fox and bobcats, which falls outside the guidelines of Maine's real estate disclosure laws. However, there is no coming back as their old housing complex has been leveled.
Browning
Browning is one of those companies that keeps their history and heritage intact and treats their customers respectfully. The proof of those assertions are found in the products they make and in the support they provide.
The Browning auto loading rimfire began with John M. Browning's 1914 design, which became the Colt Woodsman, a product that played out in three versions from 1915 through 1977. The pistol, under the Browning brand, received a redesign and refinement under the guidance of Bruce Browning and was manufactured in Belgium in two versions between the years 1962 and 1974 as the Browning Nomad. In 1974, under then Browning President John Val Browning, the Nomad was discontinued as too costly to produce and, subsequently, priced too high to be competitive.
The U.S. made Browning Challenger was introduced in 1962 and continued on through 1975. The Challenger was distinguished from the Nomad by its reduced grip angle, revised manufacturing processes and a revised mechanical design.The Challenger employed a cast frame to eliminate numerous machining operations and the newer design reduced piece part count, giving Browning a price competitive rimfire pistol.
The Challenger II ran from 1976 through 1983 and the aluminum frame Challenger III ran from 1983 through 1985 when the Challenger product was discontinued.
The aluminum frame Browning Buck Mark, an evolutionary design, was introduced in 1985 and continues on today. Enhanced aesthetics, improved trigger and sights over the Challenger product and has seen only finesse changes over its years in production.
In the beginning…
My ownership experience with a Browning rimfire pistol began with the purchase of a used, but near new Browning Challenger II. Manufactured in 1976, and heavily used by myself and family members, the Challenger II has held up well; it is still accurate and it still looks good and remains mechanically sound.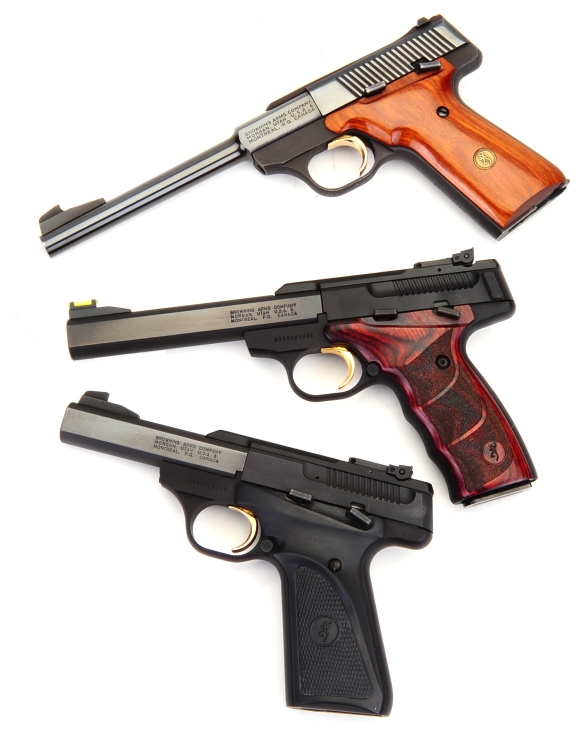 In 1985, the bottom Buck Mark was purchased. In those days our family was living in California and subsequently spending a good deal of time at indoor shooting ranges.The indoor range was 8 miles away and it opened early and closed very late.The closest outdoor range was 32 miles with restrictive days and hours of operation. The Browning provided many hours of practice and informal competition with then plentiful and inexpensive ammunition. This one still gets a workout. Fancier versions were added in more recent years, like the Browning's Buck Mark Plus Rosewood UDX, above center.
Buck Mark Field Target Suppressor Ready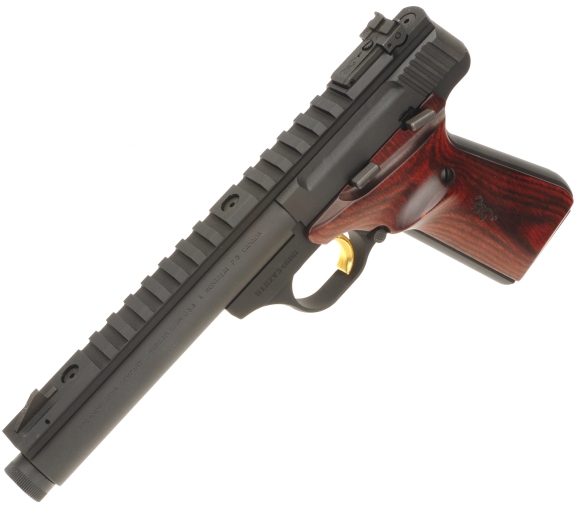 As of this writing, there are twenty-three Buck Mark models, each differing in barrel contour and length, sights, optical sight accommodation, grips, and the presence of under rail and/or muzzle end barrel.threads. The Buck Mark Field Target pistol, clean or suppressor ready, was introduced as a 2016 Shot Show Special. However, the model's popularity made it a standard Browning catalogue item. Some of the features and characteristics are unique to the Buck Mark Field Target, while others are shared across the Buck Mark product line.
The Buck Mark is a very adaptable firearm, which is probably why it is available in so many purpose built configurations. Nothing radical or gimmicky in the placement of controls, so proficiency comes quickly to anyone who has experience with most centerfire and rimfire auto loaders. The interior angle between bore centerline and vertical grip centerline measures 110° which places it close to the 1911 design.

Up top is a selection of sighting options. The Pro-Target rear sight is matte finished to kill glare. The notch aperture is 0.125″ and sight adjustment is finely incremented with 16 clicks per revolution, approximately 25% finer increments than typical.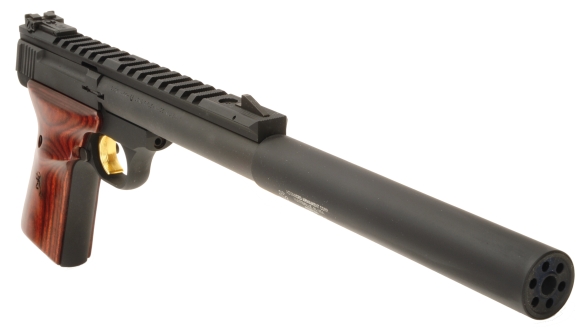 The face of the front sight is perpendicular to the pistol's bore to provide the sharpest outline against a target and the minimal amount of glare. The sight radius is a long 8″. The sight set is actually low profile as mounted to the rail, however, the rail elevates both for more than sufficient clearance over a silencer as pictured above.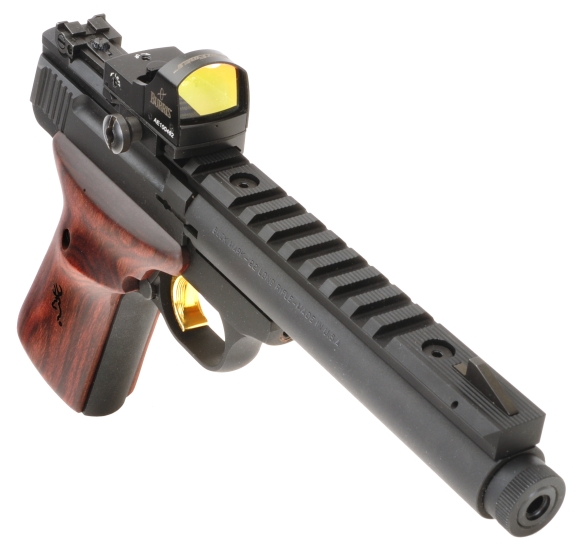 The Picatinny rail provides easy mounting for reflex sights and scopes. My personal preference is a well used Burris FastFire II with a 4 MOA dot that makes for quick, both eyes open shooting without the aid of two pairs of eyeglasses and an eye loop.
The Browning slide has gripping surfaces, but it also has ears at the back which make it easy to grasp and rack the slide.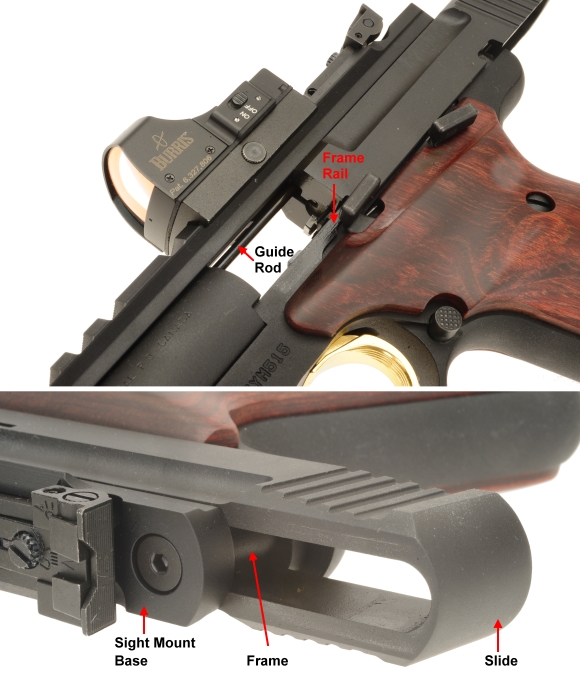 There is not much in the way of reciprocating pieces. The barrel is anchored to the frame, the slide assembly is trapped between the sight mount base and the frame and moves longitudinally along a recoil spring guide rod. The slide provides the pistol's breech face and home for the firing pin and extractor. The ejector is located in the frame. The result is a very stable assembly that produces repeatably accurate results.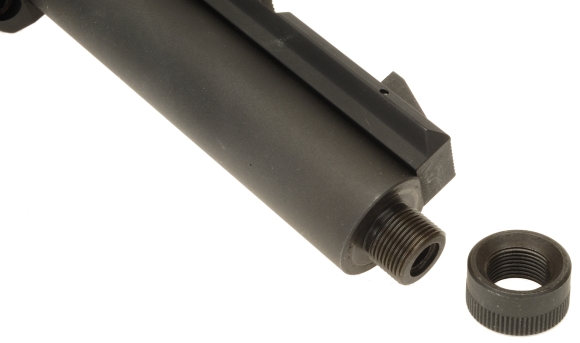 The target barrel is alloy steel, not a sleeved shroud, which is very steadying without being excessive in weight. All Buck Mark pistol chambers are hand reamed. The 1/2×28 threads are silencer standard for a 22 LR, a thread protector remains in place when the pistol is not suppressed. Non suppressor ready Buck Marks have a target crown. The thread protector installed forms a… recessed target crown. With subsonic ammo, in the absence of a supersonic crack, the loudest sound is the action cycling.
Buck Mark Field Target – Suppressor Ready

Manufacturer

Browning

Item #

051527490

Country of Origin

U.S.A.

Type

Single Action

Operation

Blow-Back Auto Loader

Caliber

22 Long Rifle

Mag Capacity

10

Barrel Length

5 7/8"

Rifling

1:16″

Weight

2 Lbs 6 Oz.


Overall Length

10″

Grips

Laminate Cocobolo target

Frame

7075 Aircraft Aluminum

Rear Sight

Adjustable Pro-Target

Front Sight

Pro-Target


Trigger Pull

4 Lbs. 7 Oz.

Safety

Thumb & Mag Disconnect

MSRP

$599.99

Suppressor Ready threaded barrel (1/2-28)
Packaged in pistol rug
Standard catalog Buck Mark pistols, depending on configuration, have an MSRP between $359.99 and $699.99, a range that falls about mid range within the 22 LR pistol market. Because the core design is the same, the accuracy and reliability of the $699.99 is present in the $359.99 model.
The price difference buy aesthetic upgrades, accessory accommodations and shooter preference features. In the case of the Buck Mark Field Target SR: Laminated Cocobolo target grips, a threaded barrel to accommodate a silencer and precise, micro adjustable target sights on a long sight radius.
Personality
For me, buying a firearm is like buying a car… except without the doors. I only buy firearms that truly appeal to me, some intangible ratio of price to features and overall appearance that is motivational enough to pry open my wallet. The Browning Buck Mark Field target is that kind of a rimfire.
The combination of matte black finish and Cocobolo grips, bull barrel and Picatinny rail make the Field Target look substantial. The heft makes it easy to hold on target, but not slow to get on target. The longish sight radius assist in sight alignment.
The plan was to shoot for chronograph times, then some targets for accuracy and wrap up the project. I made the mistake of asking my wife to log data, which somehow turned into a bit of an informal competition, that concluded with me cooking dinner and washing the dishes. The latter isn't important, but the fact we shot through two bricks of ammo before the smoke cleared solely because the Buck Mark was fun to shoot.
In more meaningful terms
Cartridge

Bullet Weight




Grains

MV FPS SAAMI




24″ Barrel Rating

MV FPS




5.875″ Actual

50 Foot




5 Shot Group "

Federal Champion

36

1280

1103

0.8

Rem Thunderbolt

40

1255

971

0.6

Rem Target

40

1150

975

0.9

Rem Golden

40

1255

1019

0.6

Winchester Super Speed

40

1300

1083

0.7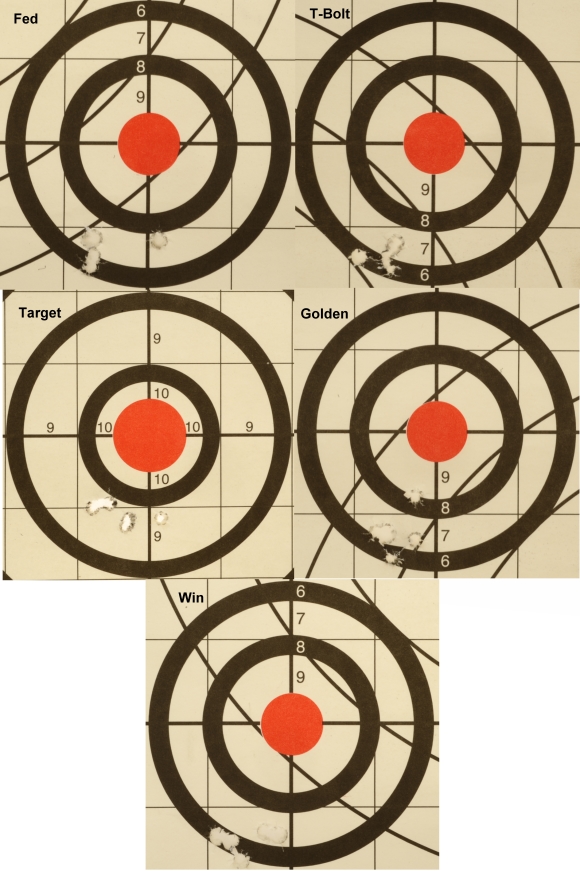 Yes, low and left. When I shoot for group size, as long as I have a consistent point of aim, close enough. While group size varied by ammo type, general point of impact shifted little. The Browning has greater mechanical accuracy but, shot from sand bags, I was pleased the results.
Wrapping up…
There are aftermarket pieces for the Buck Mark, but I would classify them more as personalizing products rather than performance enhancing. I don't believe a large loop at the back of the slide is useful and the same would apply to a flat trigger. There might be a case made for a broad selection of sight types as selection can be quite subjective, but there are enough configurations to please most everyone.
If there was any change, enhancement or refinement I wouldn't mind, it would probably be a one-half to three-quarter pound reduction in trigger pull and… No, I guess that is it. Nice pistol.