One downside to living and working in an area that permits safe shooting out behind the house and shop, is that self-reliance looms large in the associated life style. With late October temperatures dropping to 20
°F this morning, and precipitation in the forecast, it was time to stop procrastinating and get the tractor changed over for snow blowing. This usually involves crawling around on a cold garage floor for a few hours and the creative use of the English and several foreign languages.
So in the slipstream of a propane fired heater, my wife and I went at the tractor, hammer and tongs, until the job was done. This was a year for changing skid plates and belts and for ferreting out and changing worn out hardware bits and pieces. The types of parts you'd rather not have fail while digging out after a two foot snow fall. Afterward, every piece of outdoor motorized equipment was fired up, warmed up, topped off with fuel and returned to shelter. Sacks of salt and sand and snow rakes were put out near the garage door. The fruit tree trunks were wrapped and the junipers were bagged in burlap. And…
Every year, this time of year, my wife and I always have a discussion regarding living in a warmer climate. We tick though all of the reasons for relocating, beginning with nice climates being less physically demanding and the cost of living being lower. Then we look out the window at New England's fall foliage surrounding the house and the familiar flock of wild turkeys passing through the yard and well… I guess this is home and I guess there are worse things than being self-reliant.
A rimfire fit for the woods of Maine…
Ruger Model 77/17

Manufacturer

Sturm, Ruger & Company. Inc.

Model

77/17 Rotary Magazine Rifle

Caliber

.17 Hornady Magnum Rimfire

Magazine Capacity

9

Stock

American Walnut

Hardware

Blued Alloy Steel

Barrel Length

22″

Twist Rate

1:9″ RH

Weight

*5 lbs 13 oz.

Overall Length

*41 1/4″

Pull

*13 1/2″

Drop at comb

5/8″

Drop at heel

1″

Non-optical sights

None

Trigger Pull

6 lbs. 11 oz.

MSRP

$777

RealGuns Store

Retail $595 Member's Price $565

* Actual weights and measures
The .17 Hornady Magnum Rimfire cartridge is a purposeful round. It is a power bridge between a conventional .22 rimfire and a small centerfire like the .223 Remington. The .17 HMR is quite deadly on small game and more than accurate enough for recreational target shooting with an easy reach of 100 – 150 yards. Additionally, it utilizes bullets of durable centerfire rifle type construction. I've owned two firearms chambered for the .17 HMR, a Marlin 17 heavy barrel varmint rifle and a Savage 93 sporter. Both very good guns, but neither was exactly what I wanted in a personal firearm for this chamber. Something a little more refined. Something a little more substantial. Something made of blued carbon steel and stocked in checkered walnut. I'm an old guy.
Ruger accomplished good things when they chambered their rotary magazine Model 77 for the .17 HMR. They validated the cartridge as being here to stay and they provided an upscale bolt action rifle that would instill pride of ownership that most enthusiasts would appreciate. Ruger's Model 77/17 is a rimfire with the solid look and feel of centerfire rifle, but properly scaled in weight and size for use with a rimfire cartridge.
If it doesn't quack, or walk like a rimfire design, it probably isn't…
Chambered for the .22 Rimfire, .22 Magnum, .17 HMR, .22 Hornet, and .44 Magnum, Ruger's Model 77 rotary magazine rifle is built to withstand heavy use with high bolt thrust, high pressure centerfire cartridges. Subsequently, the rimfire model buyer gets all of the gun's strength benefits and the Ruger 77/17 is devoid of the usual stamped steel parts that typically define rimfire rifles. The Model 77/17 also utilizes Ruger's proprietary integral scope base and ring system. Rings included with purchase of a rifle. Unlike other Rugers, the rings are uniform in height as there is no front / rear ring receiver step in this series.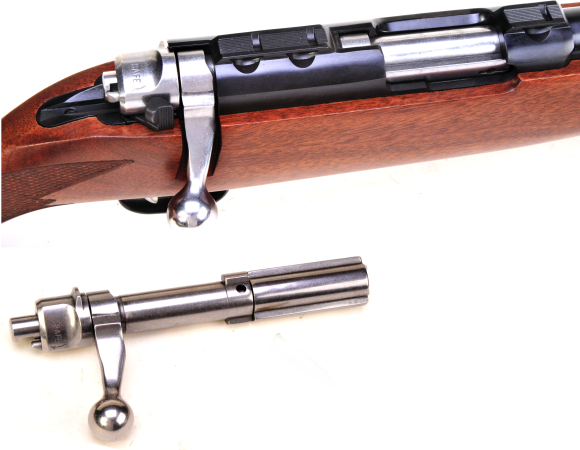 Substantial locking lugs, midpoint on the bolt body, lock up in the rear receiver ring. The breech block assembly, forward of the lugs, travels on the bolt ways for smooth guided travel, but is not part of the locking scheme. Each cartridge type is matched to a specific breech block, bottom metal and magazine. The bolt handle and basic action remain as common pieces regardless the cartridge. Bolt stroke is 1.875 which adequately covers the 1.365″ .17 HMR, the 1.610″ .44 Remington Magnum and the 1.720″ .22 Hornet. 90

° bolt handle lift clears even large ocular lens scopes with only moderate height rings, so the scope remains closer to bore centerline.
When is a gun magazine not a gun magazine?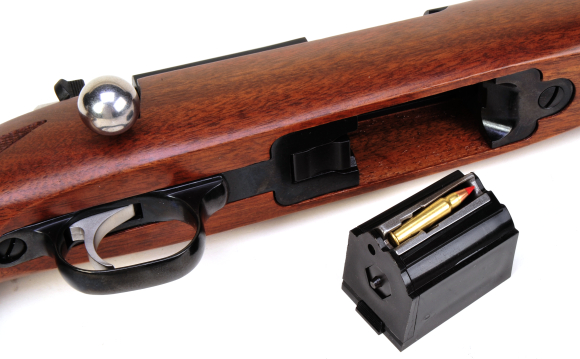 Ruger's rotary magazine is a time tested method of getting a lot of rounds into a small envelope, by utilizing both horizontal and vertical space within the stock. The Ruger magazine is a very positive feeding device and there is no protrusion below the stock's surface. Pictured right, the cartridges ride in a spring loaded helically formed magazine rotor – a minute to disassemble and the same to reassemble… except for the first time, which took me two, maybe three weeks. Sometimes simple concepts are the most difficult to grasp.
Precise even where it doesn't show…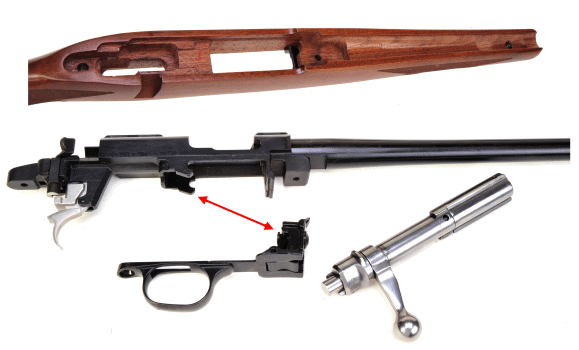 The stock inletting is clean, well fitting and sealed to avoid humidity related accuracy problems. The barrel floats down the channel and rests on the radiused boss that makes up the last forward half inch of the forearm. The barreled action drops into the stock and is retained by the hooks in the trigger guard assembly, a threaded fastener at the rear of the trigger guard and a second that passed through the magazine well liner. It is a very solid lock up. Again, this is a rifle chambered for a rimfire cartridge, but built like a centerfire.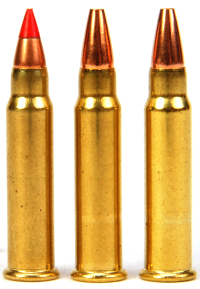 Left to right – Hornady Varmint Express, 17 grain 2550 fps, Hornady 20 grain XTP 2375 fps and CCI 17 grains 2550 fps. The cost of ammunition fell between $12 and $14 for each box of 50 rounds, compared to $3 to $5 for .22 LR and $8 – $20 for 50 rounds of Winchester Magnum Rimfire from the same discount source.
Glad you asked. I loaded up a small cardboard box with 500 rounds of ammo, one of the benefits of shooting the tiny .17 HMR and headed for the range… the cleared area in the woods, out behind the shop with a mountain for a backstop.
The shooting distance was a wind sheltered 100 yards. It was drizzling and 58
°F. Shooting was done from a rest with an aft bunny bag. I had no coffee during the session that might introduce tremors, however, I was distracted by the line on the NY-Dallas game. I'm just trying to write enough to finish at the bottom of the picture.

Three targets, left to right, were shot in the order of the cartridges pictured. The fourth was shot with the first cartridge, far left, above…. which is immediately adjacent to the middle cartridge. However, the far right cartridge was not at all a participant in the shooting of the far right target… above. Yes, I did receive formal training in journalism… The Gregory Hines Institute of Classic and Progressive Tap, class of '45.
The Ruger and the little .17 HMR demonstrated a propensity for bunching up bullet holes. Topped with a Weaver Super Slam 2-10x42mm scope, the scope's EBX reticle mil-dot covered the orange nicely, even if my bore sighting job put point of impact a little to the right. Yes, you can click on the reference link without being cookied or traffic counted. We don't do any of that here. The information is meant to be useful.
If there was anything I would have liked to see different in this gun it would be an adjustable trigger that could be tuned for shooter's comfort, or a reduction in pull to something closer to the four pound range. Based on point of impact consistency and accuracy, the trigger couldn't have been too much of a problem, but a little finessing of the trigger assembly would be appreciated.

Yes we are, but I'm not done with the Ruger. The intention was to shoot 25 – 50 rounds to meet data collection requirements and to satisfy my need for more things to photograph. However, two hundred and fifty rounds did not survive the trek to the range. Shooting this combination at one hundred yards instilled the same level of confidence as shooting an accurate, mild centerfire rifle, with none of the distractions of high dB report or recoil. The range session turned into a friendly competition with my lovely wife… who generally outshot me.
The Ruger Model 77/17 is not intended to be a low end beater, it is a legacy rifle. A rifle to buy, shoot frequently and maintain. A rifle worth eventually giving to someone who would also has an appreciation for well finished walnut and blued steel. The Ruger Model 77 is a reliable rifle to carry in the Maine woods, or to the edge of a plowed field, for small game or varmint hunting.