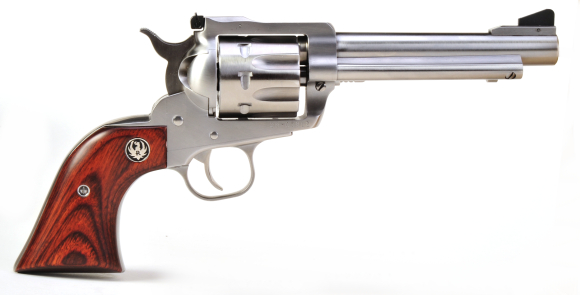 I remember when the Real Guns gun shop sold out their inventory of Ruger Single Six .32 H&R Magnum chambered guns. Seemed as though the last fifty or sixty went during the course of a couple of days, with matching serial numbers in high demand with CAS enthusiasts. For as much as I liked the model, I wasn't a big fan of the cartridge and I always felt the "H&R Magnum" label was a bit misplaced. When Ruger began introducing .327 Federal Magnum models, it became obvious why the .32 H&R would sunset and the how this cartridge would deliver everything that was missing in the earlier model. The .327 Federal Magnum clearly warrants the "magnum" label and, with Ruger's addition of this eight shot, longish barrel Blackhawk single action revolver, Ruger offers a variation for every conceivable application for the cartridge.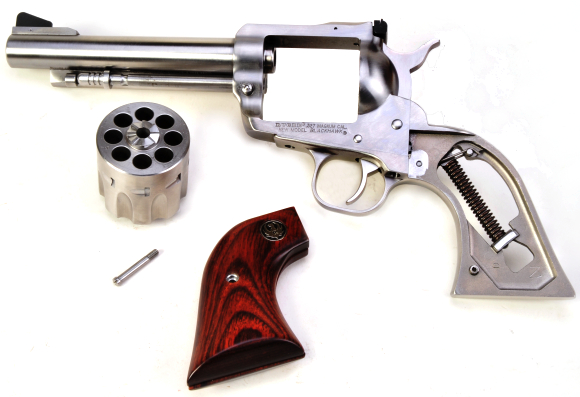 Built as a Blackhawk, this version is a bit different than other Ruger models like the Vaquero. While the Blackhawk doesn't get the Vaquero's reverse indexing pawl, large crescent ejector rod head or the pre 1962 XR-3 grip frame favored by CAS participants, this Blackhawk does get a heavy duty frame with thick top strap, a beefy cylinder, no under grip key lock and an an excellent set of fully adjustable sights. All Rugers mainsprings are coil type.
I've owned a number of Blackhawks over the years. None that have been particularly fancy… more like owning high quality mechanic's or carpenter's tools that last a lifetime. From .327 Federal Magnum to .44 Magnum, the Blackhawk is tough, reliable and strong enough to handle a heavy workout. Rugers are quite elegant in their simple and purposeful design.
OK, "quite elegant" sounded a bit… lofty, but everything I said is true. I just write what I think. Hmm… now I'm thinking about the truck that's going to drop off a generator today and wondering if I have to help unload. Can't imagine what flights my wife booked for our all meet in Texas family holiday. She always books flights at like 4AM which makes me grumpy. Hey! What do you get when you cross a rooster with a duck? A bird that gets up at the quack of dawn. That quacks me up… Sorry, comes with having grandchildren. Anyway… Ruger.
On my way to the Blackhawk…
Cartridge Comparative Performance

Distance

Muzzle

25

50

100

32 S&W Long – 98 grain

Velocity

780

764

749

719

Energy

132

127

122

113

Trajectory

–

0.0

-2.9

-20.4

32 H&R Magnum – 85 grain

Velocity

1120

1067

1023

953

Energy

237

215

197

171

Trajectory

–

0.0

-1.0

-9.4

327 Federal magnum – 85 grain

Velocity

1400

1306

1221

1091

Energy

370

322

281

225

Trajectory

–

0.0

-0.4

-5.7

38 Special – 125 grain

Velocity

830

776

727

641

Energy

191

167

147

114

Trajectory

–

0.0

-2.7

-21.1

357 Magnum – 125 grain

Velocity

1440

1335

1240

1096

Energy

575

494
427
333

Trajectory

–

0.0

-0.3

-5.4
My appreciation for the .327 Federal Magnum developed while writing a review of the Ruger SP101 small frame revolver. The physical package represents the difference between a viable carry revolver and trying to conceal a… toaster. The .327 Federal Magnum round bridges the gap between the anemic .38 Special and the sometimes "a bit too much" .357 Magnum when fired from a compact and lightweight revolver.
I was enjoying shooting the little SP101 when the medium frame GP100 was released. The extra heft, and extra inch plus barrel length, made the GP100 a great house gun and a gun for small game hunting and recreational target shooting for both my wife and me.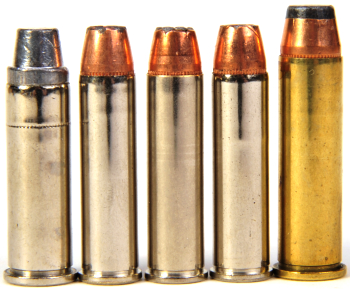 L-R .38 Special, followed by 85, 100 and 115 grain .327 Federal Magnum rounds and the 125 grain 357 Magnum. The 327 Federal Magnum easily outperforms the .38 Special and closes in on the .357 Magnum.
While both the SP101 and GP100 are excellent guns to wrap around the Federal cartridge, the GP100, with a longer barrel length than the SP101, produces significantly higher muzzle and down range velocity. The Ruger Blackhawk eight shot, with its 5.50″ barrel produces even higher velocity than the GP100 which means the .327 Federal Magnum has even greater potential to extract.
I'll have one single and two doubles to go…
Ruger Model Comparison – 327 Federal Magnum

Model

SP101

GP100

Blackhawk

Caliber

327 Federal Magnum

327 Federal Magnum

327 Federal Magnum

Action

Double – Single

Double – Single

Single

Capacity

6

7

8

Material

Stainless Steel

Stainless Steel

Stainless Steel

Barrel Length (0.00″)

3.06

4.20

5.50

Sight Radius (0.00″)

4.60

5.65

7.25

Overall Length (0.00″)

8.00

9.50

11.38

Overall Height (0.00″)

5.00

6.25

5.50

Weight (ounces)

28

40

47

Number of Cylinder Locks

3

3

Center Pin + Latch

Cylinder Diameter (0.000″)

1.360

1.543

1.735

Cylinder Length (0.000″)

1.581

1.615

1.645

Cylinder Wall Thickness (0.000″)

0.084

0.082

0.155

Cylinder Chamber (0.000″)

0.342

0.342

0.340

Cylinder Throat (0.000″)

0.315

0.315

0.314

Trigger Pull – Double/Single Action

10 lbs 9 oz / 5 lbs2 oz

11 lbs 4 oz / 4 lbs 5 oz

NA / 3 lbs 14 oz

MSRP

$607

$701

$681
RealGuns – Typical

$465

$516

$503

All weights and measures are actual
While the Blackhawk represents an increase in overall size and heft, the increases go directly to improved cartridge performance. The longer barrel extracts greater velocity from the .327 Federal cartridge and increases sight radius for improved accuracy. The eight shot capacity is a big plus. The Blackhawk's cylinder rotates about a solid axial pin for greater support, the cylinder walls are considerably thicker for greater strength and longer to easily accommodate maximum COL cartridges. The chambers are a tad tighter than those of the SP101 or GP100.
Factory ammo and factory data…
Brand

Current .327 Federal Magnum
Factory Loaded Ammo

Bullet
Weight
Grains

Bullet Type

Muzzle
Velocity
FPS

Muzzle
Energy
Ft/Lbs

Federal

American Eagle

85

Jacketed SP

1400

370

Federal

Premium Personal Defense

85

Hydra-Shok HP

1400

370

Federal

American Eagle

100

Jacketed SP

1500

500

Speer

Gold Dot LE Personal Protection

100

Gold Dot HP

1500

500

Speer

Gold Dot LE Personal Protection

115

Gold Dot HP

1380

486

All data based on 4″ barrel performance
Ammunition Manufacturers' Data
.327 Federal Magnum
4″ Barrel Performance

Distance

Muzzle

25

50

100

Federal Low Recoil
85 grain

Velocity

1400

1306

1221

1091

Energy

370

322

281

225

Trajectory

.5

0.0

-0.4

-5.7

Gold Dot Personal Protection
100 Grain

Velocity

1500

NA

1324

1181

Energy

500

NA

389

310

Trajectory

.5

0.0

-0.2

-4.5

Gold Dot Personal Protection
115 grain

Velocity

1380

NA

1240
1130

Energy

486
NA
393
326

Trajectory

.5
0.0
-0.4
-5.5
As indicated on the table above, both Federal and Speer offer a number of .327 Federal Magnum products. The concentration of application is personal defense, however, this may be more of a reflection of the typically associated firearm and bullet selection than a matter of potential.
Looking at three of the factory loads, the .327 Federal Magnum looks to be a flat shooting round with 2x to 3x the energy level at one hundred yards as the .38 Special has at the muzzle.
The long and short of it… and after the dust settled
The problem with factory released ballistic information is that it may or may not apply to a particular gun. The data is honest and it may not even be optimized through firearm selection, it is just that there is no formula or averaging that will tell anyone how barrel length and breech type will alter the performance of a cartridge. So I broke out the chronograph and fired enough rounds with the short barrel SP101 and the long barrel Blackhawk to get a better feel for the performance difference between the two revolvers.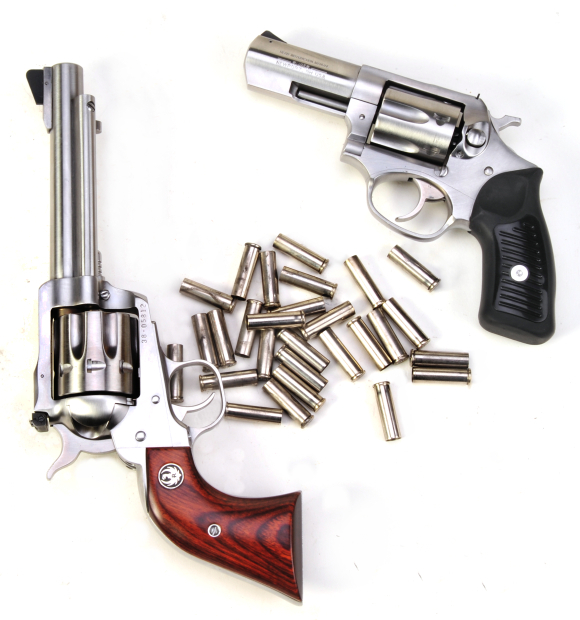 The above is a basically a gratuitous photograph of the subject Rugers with a pile of empties to suggest, quite accurately, that I shot both guns. I also thought it was a pretty nifty picture that I thought was worth showing off a bit. More seriously, Ruger is making some quite artful firearms these days, guns that are very affordable.
Factory Cartridge
Bullet WT
Grains
4″ Barrel
Rated
FPS
4″ Barrel
Rated
Ft/Lbs

Chronographed

SP101
3.06″ Barrel
Blackhawk
5.5″ Barrel

FPS

Ft/Lbs

FPS

Ft/Lbs

Federal Hydra Shok

85

1400

370

1409

375

1502

426

Gold Dot Personal Protection

100

1500

500

1447

465

1595

565

Gold Dot Personal Protection

115

1380

486

1346

463

1457

542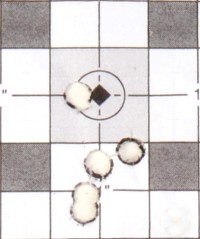 I came away from the data collection effort thinking the compact SP101 gave up little from the spec data and that wasn't anticipated. If you've ever clocked a snub nose .38 Special or short barrel .45 ACP you know that those perform so far below published ballistics standard data there are few performance similarities. On the other end of the spectrum, the extra inch and one half over baseline Blackhawk barrel length delivered a significant performance boost. It's a boost that is well worth the small increase in weight and size.
Accuracy of the Blackhawk was quite good. This inch and one quarter size 25 yard group was shot off of a rest with 115 grain ammo, however, other bullet weights with the exception of the 85 grain loads delivered about the same. The Hyrda-Shok loads shot a best of two inches, for me, at the same distance.
A terrific trail gun and small game getter
This Blackhawk has a lot going for it as a trail gun or out working the land gun. The physical firearm reflects excellent quality of production and a time proven design. While this is a good looking Blackhawk as pulled from its hard case, when Ruger's wear from use and handling, they just have more character. It is a gun to use. The extra shots are appreciated, especially because they come without an increase in weight or bulk or sacrifice in strength.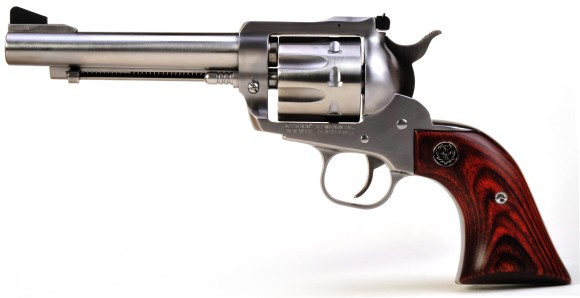 Ruger single action revolvers are complete and accurate as shipped, however, they also represent a starting point for enthusiasts who wish to personalize a gun. The Ruger Store offers a variety of recoil dampening and fancy grips, holsters and easy to see light pipe front sights. Brownells extends possibilities with custom hardware for triggers, hammers, frame types, cylinders, sights, etc.
If I were to change anything on this Blackhawk it would be to add Hogue Monogrips which are a bit more hand filling. I have a general problem with single action western style revolvers. My pinky always feels unsupported as does the grip at the top of my palm. A Hi-Viz green front sight would narrow the front sight. The factory part is a good utility width at 0.128″ but a little wide for popping squirrels at a distance. The combined cost of these two changes is about $70 from Brownells. Trigger and springs I would leave alone as there really is no deficiency to correct.
I hadn't planned a part II for this gun, however, the velocity it added to the .327 Magnum cartridge shows a great deal of potential. If I can dig out from under the project backlog a bit, I'd like to put together some jacketed and cast handloads that would be more conducive to hunting. We'll see.