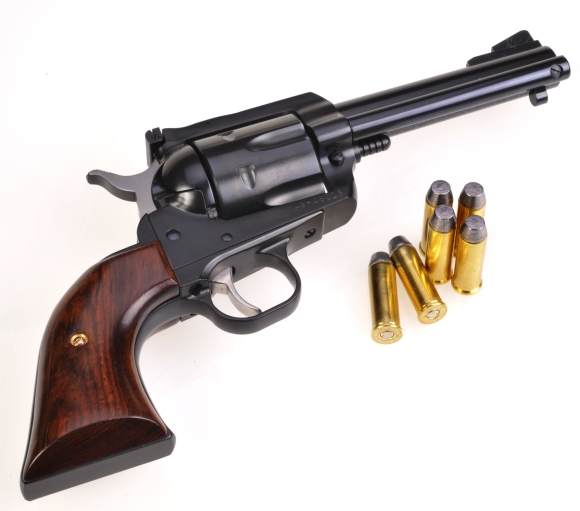 A lot of firearms pass through the RealGuns shop. The general procedure is to open the box, place the gun on a table and fiddle with it until its personality becomes obvious. Then I can figure out what I want to do with the gun, lay out a project plan and begin work on the gun and the story. All guns don't have a personality. Sometimes I stare at them for a few days, can't find anything special and all I want to do it put the gun back in a box and return it to the sender… which happens. Sometimes a gun has so much personality, I end up adding yet another gun to my personal collection and my wallet gets a bit lighter. A Ruger Blackhawk chambered for the 41 Remington Magnum is an example of just such a gun.
Ruger New Model Blackhawk

Manufacturer

Sturm, Ruger & Company, Inc.

Model

Blackhawk Catalog #BN-41L

Type

Single Action Revolver

Caliber

.41 Remington Magnum

Capacity

6

Barrel Length

4.62

"

Twist Rate

1:20″

Weight

*2 lbs 7 oz.

Overall Length

10.5″
Grips

Black Checkered Hard Rubber

Hardware

Blued Steel & Aluminum Grip Frame

Sights

Adjustable Windage and Elevation

Trigger Pull

*4 lbs. 11 oz. Average

Safety

Transfer Bar

MSRP

$575
Discount Retail
$450

* Actual weights and measures
As shipped from the factory, the basic Blackhawk is time tested and well proven design and it represents an exceptional value. It didn't take any time at all to spot this gun's personality and, after handloading and live fire evaluation as a 41 Magnum, it became obvious that this is a very special gun. Accurate, flat shooting and lots of penetration. This very compact revolver could easily be a primary hunting firearm for deer, black bear and hogs where shots are taken within fifty yards. It is also an excellent sidearm to carry for defense in a wilderness setting.
While working with the Blackhawk, a list was kept of small modifications I wanted to make to better tailor the revolver to my own personal preferences. All minor, but important to make the gun ideal for me. But mods to the New Model Blackhawk are not so straight forward.
What follows are just a couple of comments about things to avoid when purchasing parts and accessories for current production New Model Blackhawks and a brief explanation of why. Nothing that has been covered probably many times before, but in this case the information is a lead in to a couple of minor gunsmithing projects I have planned.
An internal hammer lock is not always about wrestling…
When Ruger began shipping New Model Blackhawks with a small grip frame and internal lock, a number of drop in components no longer… dropped in, so my box of emergency mod parts was no longer relevant.
The new frame utilizes a shorter hammer strut and spring and is located higher from the heel of the grip by the lock assembly. Consequently, assemblies and piece parts are not interchangeable as hammer geometry would be incorrect, spring ratings would be erroneous ratings and/or coil bind would result. A new model with internal lock cannot be converted to the old configuration. Pictured left, the current frame is too wide to retain a mainspring seat and the frame casting is notched to clear the stub on the lock. The correct part number for a Wolff Spring performance kit for the New Model Blackhawk with an internal lock with reduced power hammer spring, two choices of trigger spring and an extra power base pin spring is 969-000-156 30/14 Reduced Power Shooters Pak Mfr. Part: 33250. It is marked for internal lock guns.
Replacement grip panels. Gunsmith may be required…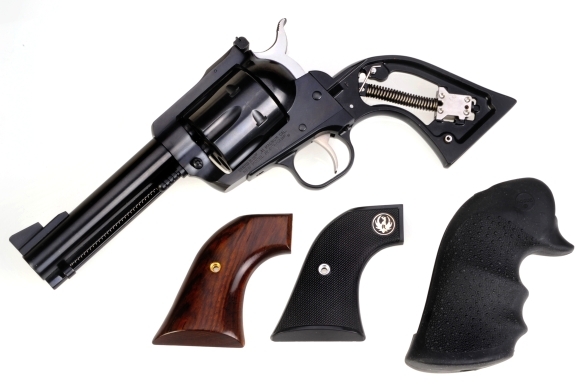 Every nice rifle should come with two stocks, one fancy and one for the woods, it seems every revolver should have three grips; one factory stock, one fancy and one for comfortable shooting. The Ruger comes with a set of checkered hard rubber grips, center, that are perfectly serviceable and durable. The grips to the left are Cocobolo, a warm wood that goes with a classic blued finish and the smooth service removes the cheese grater effect of shooting magnum revolvers. The third set are Hogue Mono Grips, made of shock absorbing Sorbothane, stippled for grip and more hand filling than either of the prior two.
The factory grips were to be put away for posterity and future restoration. The Cocobolo grips were for field carry and general use. The Mono Grips were intended for lots of target practice or when it is time to develop heavy hunting handloads. Unfortunately, the first two grip sets go on without a problem, but the Mono Grip won't work with the Ruger's internal hammer lock because the lock and new style frame cut out that locates the lock allows no room for the required bottom grip hanger.
At the time of this writing, there were no custom grips, or at least accessory grips, available for the internal lock model Blackhawk. However, there is actually an easy modification that can be made to Hogue Mono Grips to get to fit cleanly and look good. This is a small gunsmithing project that is on the list for site production. I wouldn't have bothered from the standpoint of appearance, but the shooting comfort with hot handloads makes this a necessity.