Every once in a while I'll get an email from someone who advises that my stories are too long, too wandering and don't hold enough entertainment value. Gees, tell me something my third grade teacher, Miss Frazier didn't already cover. Besides, I write primarily for me. My work is a way for me to work out my life's anxieties… without sucking my thumb or raking a tiny desktop Japanese garden. One of my favorite Ayn Rand passages from Anthem, " I need no warrant for being, and no word of sanction upon my being. I am the warrant and the sanction". But I sincerely do enjoy your company and you are all welcome guests.
If it were anymore of a brush gun, it would have a lever

Approximately a hundred years ago, a good deal of the rural areas of Maine were clear cut to facilitate logging, sheep herding and farming. The regenerating woodland is filled with a handful of mature hard and softwood trees, joined mostly with dense new growth trees and scrub brush. There is a lot of wildlife; a herd of deer working a clover patch in the back yard, flocks of wild turkeys that hop up on our farmer's porch and peek into our windows, porcupines, skunk, raccoons, bobcat, coyote, fox, moose, and the occasional black bear. There are lots of birds… but outside of a very few, I don't know their proper names. Although, based on my wife's references, at least one turkey is a Sarah and another is a Wendell.
For hunters local to our area, a gun that can be shot accurately inside of one hundred yards is more than enough to get the job done, as a patch of fleeting fur at 25 yards pretty much defines Maine deer hunting. A gun that is sturdy and resistant to harsh environments is even better. The need for a flat shooting, long barreled rifle with telescope like optics definitely doesn't fit into the scheme of things as Maine hunters can serve their purposes with inexpensive, lightweight, accurate, hard hitting carbines.
There are four Ruger K77/ rifle models; K77/17 – 17 HMR, K77/22 – 22 Long Rifle, 22 Magnum and 22 Hornet, K77/357, and the K77/44 – 44 Remington Magnum.
The rotary magazine Ruger 77/44
Ruger Rotary Magazine K77/44

Manufacturer

Ruger Firearms

Model

K77/44-RSP

Type

Bolt Action

Caliber

44 Magnum

Magazine Capacity

4

Barrel Length

18.5″

Rifling

1:20″ 6 Groove RH

Weight

*5 lbs 7 oz.

Overall Length

38.5

"

Stock

All Weather Synthetic

Hardware

Satin Stainless

Length of Pull

*13.5″

Drop at comb

*0.5″

Drop at heel

*1.0″

Sights

Blade Front, Adj Folding Rear

Scope

Ruger Integral Base

Trigger Pull

*4 lbs. 12 oz. Non-Adj

Safety

3 Position Thumb Safety

MSRP

$793
Discount Retail
$636

* Actual weights and measures
Current 44 Magnum rifles are offered in black synthetic as pictured, left, or camo stocks. Bother version have stainless hardware. The camo version has a $26 higher MSRP.
Were there any distinguishing marks? As a matter of fact…

The removable four shot magazine is handy. Spares are available for folks who like to carry extra or different ammo in a coat pocket. The bolt is a two piece arrangement, where the front half is selected at the factory to accommodate the applicable chamber. The gun will feed anything at or below 1.610″ in cartridge overall length with the exception of shot capsule ammunition. It will chamber shot rounds and fire them, quite well, if single shot fed. The shot cartridges contain ¼ ounce of #9 shot, or approximately 170 pellets. At 20 feet the Ruger put 98 pellets in a 12″ circle. Not bad. During the entire time shooting the rifle I had zero problems with feed or ejection with any factory or handloaded SAAMI compliant solid projectile ammunition.
The action is a Ruger precision casting. Ruger is a firearms company with lots of in-house casting technology and capability. It shows. The keyed integral scope mounts are tough and precise and they save the cost of fastener mounted bases. Rings are included with the firearm. The three position safety operation is smooth and positive. It allows for safe, bolt locked, safe, bolt unlocked and ready to fire. The trigger is none adjustable. The synthetic stocks inletting is very tight, action through barrel channel and the barrel only makes contact at the tip of the forearm.
As Frank would say, "Yet I get a kick, yes, I get a kick, yes, outta you!"…
One hundred and eighty grain load recoil is very light, two hundred seventy and three hundred grain hot loads are noticeable; and 8 ft/lbs and 15 ft/lbs respectively… the latter about the same as a typical 308 Winchester load fired from a lightweight hunting rifle. Low velocity, cast 240 grain recreational target shooting handloads generated barely perceptible recoil.

When I say the Ruger K77/44 is compact, I mean it is compact. There is virtually no difference between the Model 77/44 and the Marlin 1895 Guide Gun in length, however, the K77/44 is almost two pounds lighter. Both have an 18.5″ barrel which, for the 45-70 makes for a short barrel rifle that will compromise the round's performance. For the 44 magnum it's a really, really long pistol barrel that will enhance the magnum round's performance and this really shows with handloads using even mainstream reloading manuals.
Performance

Bullet
Grains
Rated
MV FPS
Rated
ME Ft/Lbs
Recorded
MV FPS
Recorded
ME Ft/Lbs

Hornady Custom

180

1550

960

2246

2017

Federal Classic

180

1610

1036

2198

1931

Federal Fusion

240

1290

887

1849

1822

Speer Gold Dot

270

1250

937

1630

1593
The table illustrates factory ammunition ratings using a handgun standard and actual chronograph data when the same ammunition is shot through a rifle length barrel. There is a 25%-30% increase in velocity and the cartridge approaches or exceeds the ton energy mark.
Handload performance and notes…
| | | | |
| --- | --- | --- | --- |
| Bullet | Weight | MV | ME |
| Remington JHP | 180 | 2243 | 2011 |
| Hornady HP/XTP | 240 | 1897 | 1918 |
| Speer JSP GD | 270 | 1662 | 1656 |
| Hornady HP/XTP | 300 | 1453 | 1407 |
Handloads performed as indicated within the table data when loaded to a SAAMI reference maximum pressure of 36,000 PSI. Velocity differences recorded within a population of any given load ran from a low of half of one percent to a maximum of two percent. All bullets were firmly crimped when seated. Yes, there is more potential left in H110 and W296 based handloads. Detailed handload data for the 44 Magnum rifle has been published to the RealGuns handload section.
I had intended to use the Sierra Sports Master jacket soft point for my 300 grain loads, pictured left next to the dual cannelure Hornady 300 grain bullet. The Sierra bullets work well in my Ruger single action revolvers even though the COL is well over spec at 1.735″. Unfortunately, as is the case with my Marlin 1894 44 magnum, they were too long for the Ruger's magazine. They did function well when loaded single shot through the ejection port, so the Ruger has enough throat for the bullet. I did load some by cutting a cannelure that located the bullet for a 1.610″ cartridge overall length. Fun, but too much work. Instead, I loaded 300 grain Hornady HP/XTP using the forward cannelure to achieve a 1.600″ overall length and this worked without a hitch.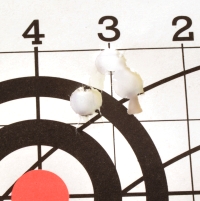 The Ruger Model 77/44 is a brush gun, as was previously defined ad nauseam. Subsequently, I mounted a very light, compact Burris 3-9x32mm scope and shot all groups at fifty yards. The group, pictured right, measures 0.650″ on centers and, yes, the thousandths digit is… titular. The group is representative of 240 grain bullets. The 270 and 300 grain ran from about the same to a high of 0.800″. The 180 grain loads shot about the same as the 270 and 300 grain bullets.
I didn't have the opportunity to shoot many cast bullets, but generally the feel was like handloading and shooting a mini .45-70 rifle. They were all accurate and leading seemed not to be a problem. If you check the ballistics, the 44 Remington Magnum when fired through the Ruger outperforms the old deer slayer 30-30 WCF and it leaves a much bigger hole. This has to be a great hog gun.
Is it too pretty to hunt?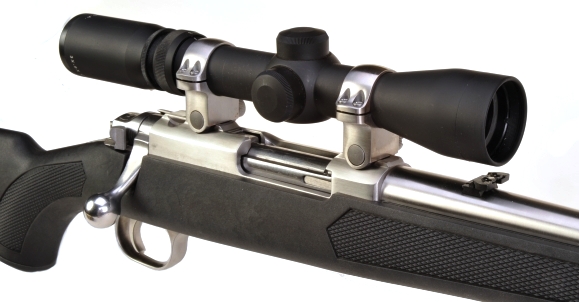 It should be, but it's not. The selection of type and finish of materials ends up as an attractive package, but also durable and low in maintenance. There are only two items on my wish list for this gun. The first would be a laminated stock and target gray finished stainless as is available on the K77/22. Actually, the colorful Ruger Predator laminated stock would look great. The second item would be an adjustable trigger, like the Ruger target and varmint set up. The current trigger is very good so both issues are picking very small nits.
My wife had the opportunity to shoot the Model 77/44 also and found it to be comfortable in regard to recoil and light and easy to handle. Her shooting experience in terms of accuracy was as good as.. OK, better than mine. For this part of the literal woods, the K77/44 would make a lot of sense as a one gun solution. Personally, I'd like to take it hog hunting because of the big bore, low recoil and light weight features. The K77/44 is a rare combination of an excellent value and a premium rifle.