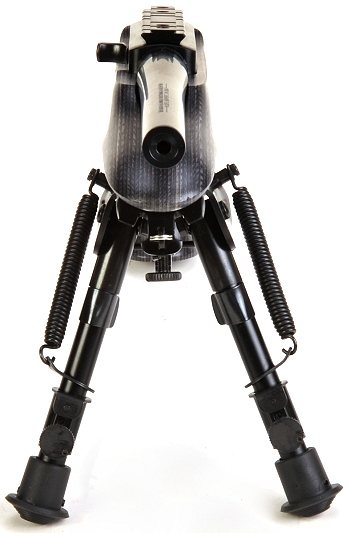 At first it seemed that the Charger was a demand from Ruger for all earthlings to surrender… but I've since attributed that interpretation to my recent preoccupation with H.G. Wells.
The 10/22 rifle, the tree this particular apple fell from, has been popularly in production for decades. In fact, I recently assembled a target rifle based on the 10/22 for one of my grandsons. The positive attributes of the 10/22, both accuracy and reliability, can also be assigned to the 2007 introduced Charger, but there are obviously differences between the two guns.
| | |
| --- | --- |
| Specifications | Ruger |
| Model | Charger 4901 |
| Caliber | 22 Long Rifle |
| Type Action | Semi-Auto |
| Receiver/Barrel | Aluminum/Steel |
| Stock | Laminated Birch |
| Capacity | 10 |
| Barrel Length | 10.0″ |
| Rifling | 1:16″ RH |
| Sights | Weaver Base |
| Overall Length | 19.25″ |
| Overall Height | 5.38″ |
| Weight Lbs | 3.5 |
| MSRP | $380 |
Fun is a good enough reason…
Lots of folks wonder what the heck they would do with a Charger. Based on the experience accumulated during this project, my answer would be, have a heck of a lot of rimfire shooting fun. Low report, no recoil, high rate of fire and dead on accuracy. Of course the Charger is a natural for hundred meter small bore silhouette competition which, I suspect, was what Ruger had in mind when they introduced the gun. Additionally, the Charger's compact size, performance and easy field carry makes it also a wise choice for small game and varmint hunting.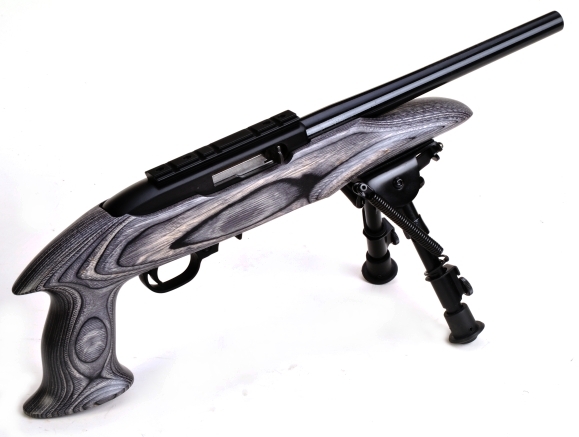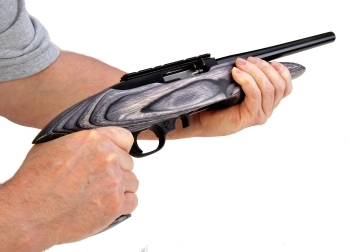 Probably, because of the praying mantis look, the Charger is almost always photographed with the bipod in place. However, with the bipod removed, Ruger accomplishes something Thomson Center has not been able to accomplish with their Encore and Contender pistols, a handgun that is comfortable and steady to shoot from virtually any traditional rifle shooting position. I'd attribute this accomplishment to the grip angle and form as well as to the forend projection that places the left hand far enough forward to make the gun feel properly balanced.
Making up my mind is a small task, but sometimes not so easy…
I do not see holding the Charger with extended arms when attempting to hit a target, game or paper. The most natural standing hold for me came by thinking of the grip as the pistol grip on a rifle, in terms of distance from the body, and ignoring the absence of a butt stock against my shoulder. My left hand was placed under the forearm for support so that my arm was perpendicular to the ground and supported by my chest. The bipod was in place when shooting from the bench, using my left fist under the pistol grip to establish the required muzzle elevation.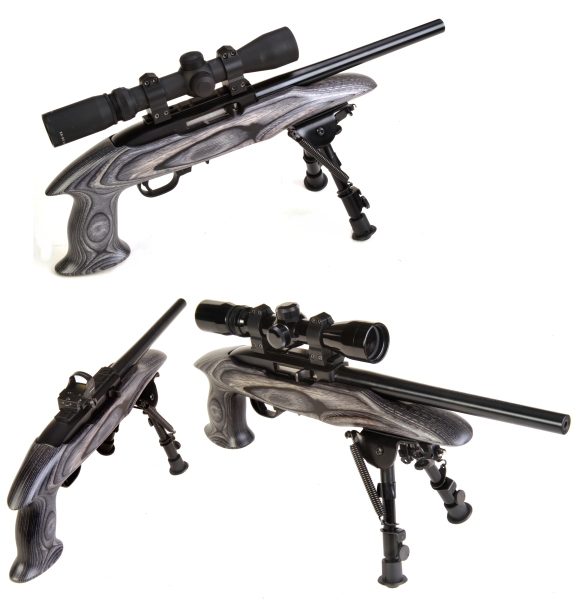 It was not obvious that a pistol scope was the most appropriate selection based on the most comfortable shooting positions. So a compact rifle scope (top) was tried, which was OK from an eye relief standpoint, but it was very difficult to maintain a centered eye – eyepiece alignment at high magnification settings… the scope, not my eye. A Fast Fire II was also tried and worked well for rock plinking and more close in shooting, but the award for most flexible went to… drum roll, a Burris 2-7x pistol scope. Ta-Da.
The included Ruger Weaver base worked fine with Warne 1″ rings that are made for Weaver bases. Unfortunately, this particular Burris FastFire II is made to mount on a Picatinny rail which is really not the same piece of hardware. A Picatinny cross slot is wider fore and aft than a Weaver cross slot so most accessories made to mount on a Picatinny rail will have a locating cross stud that is too large in diameter to allow a device to sit flush on the rail. The clamping heights between Weaver and Picatinny are also different. When I mount Picatinny devices on a 10/22, even when it is a Charger, I pick up a Weigand 10/22 Tactical Picatinny scope base from Brownells #957-000-067. They are inexpensive and flexible in sight positioning.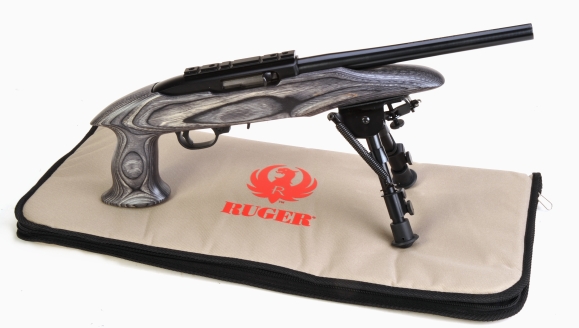 A really nice padded soft case is included with the purchase of a Charger. As a side note, all of the performance parts and accessories that fit the 10/22 Ruger rifle also fit the Charger as long as it does not include putting a rifle barrel on a Charger or putting a pistol barrel on a 10/22 rifle. So everything from lightweight aluminum and carbon fiber wrapped barrels of the right legal length, to hot rod Ruger 10/22 trigger parts available from Brownells, will plop right onto the Charger.
Oh, yeah, the Ruger Charger does go bang, bang, bang, etc., etc….
Wow! I've certainly have been smacked around and put in my place. As you can see, this isn't an official NRA Target… which is OK because it was shot as 50 yards and not 50 feet. I might have tried for 50 meters, but my open reel tape, like me, still doesn't want to grasp the whole metric thing. The group on the left measures 1″ the one on the right measures 3/4″. In both cases I suspect I had something to do with the solo flyers. The left group was shot with hypervelocity 26 grain Winchester TIN hollow points. The group on the right was shot with Remington Target ammo made by Eley Ltd. None of the ammo shot strayed from these measurement brackets. All were shot from the bench with the bipod in place. The Charger shot about the same as a Ruger target model 10/22, straight from the factory.
The Charger handled all of the rimfire ammo it was fed, from low velocity, discount store specials to the very high velocity Winchester and Remington truncated and leadless loads. There were no jams or misfeeds or misfires. Interestingly enough, there was very little point of impact shift, regardless bullet weight and/or velocity which is good news for a rimfire shooter where such a large variety of ammo choices exist.
What is the velocity difference between a rifle and the Charger's 10″ barrel? Glad you asked. I can't think of a small varmint, or rabbit or squirrel that would notice the difference and 22 LR target shooting ranges are not far enough to see this as an issue of concern regarding trajectory. My own experience suggests 22 LR bullets fall to the ground well before they reach the edge of the earth.
Ammo

Bullet Weight
Grains
Factory Rated
Rifle FPS
20″ Recorded
FPS
10″ Recorded
FPS

Winchester 26 Grain

26

1650

1641

1504

Remington Yellow Jacket

33

1500

1452

1311

CCI Mini-Mag

40

1235

1272

1247

Remington Target – Eley

40

1085

1093

1009
No matter how you look at it…
Sorry, couldn't resist. Beyond the fact that no one could walk past the gun in the shop without wanting to talk about it, and I had to wait a very long time to get my turn when I offered to let others try popping steel spinner targets with it at fifty yards, it is an interesting gun to photograph from any angle. Pretty swoopy lines.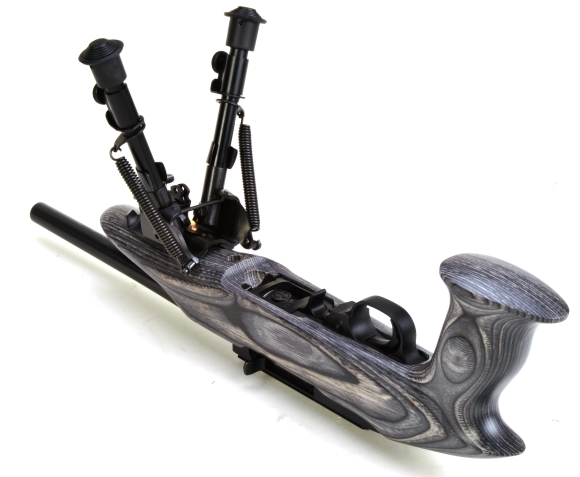 The Ruger Charger is a nifty and inexpensive piece of hardware for firearm enthusiasts. It makes for some friendly weekend organized competitive shooting. The bipod can be left at home, which makes the gun small and an easy sling carry when hiking. It's a great little varmint gun for an inside hundred yard challenges. It's an excellent gun to shoot for fun, if your idea of fun is your wife outshooting you nineteen out of twenty matches. That was a nice break from our typical projects.