The Ruger M77 Hawkeye Compact Rifle is one of those guns where extracting it from the open end of a shipping carton takes a lot less time than expected. In fact, the rifle is so compact (How compact is it, Joe) it might be the basis for a new category of firearm – Truncated. However, while it may be a very compact firearm, the Ruger does have a feature not found on many competitor's products, a good deal of aesthetic appeal.
Just about everyone that picked up the Hawkeye commented on its very light weight and how the gun's forearm shape contributes to its handling stability. Ruger cut the forearm full at the checkering pattern where it is held, then they narrowed the rest and trimmed it short to reduce the rifle's weight. Some manufacturers configured their compact firearms with very narrow and short forearms, which makes for a gun that feels like its mass is at the pistol grip and the gun's muzzle is floating, a phenomena that makes them difficult to shoot from a standing position. This is not at all the case with the Ruger.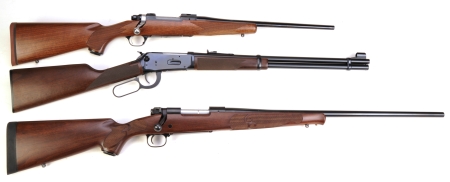 Rifle

Barrel
Length"
Overall
Length"
Weight
Pounds

Winchester M70 Featherweight

24.0

44.25

7.50

Winchester M94 Lever Action

20.0

38.00

6.75

Ruger M77 Hawkeye Compact

16.5

35.50

5.75
I don't believe an Internet survey is required to determine how many people would like to carry which rifle during a woodland hill country deer season. I don't know about you, but it's been a long time since I've felt a need to haul a jumbo high powered musket through the woods. I just want to shoot a deer, I don't need to try to impress it to death.
High levels of utility doesn't mean plain…
I do not know who was responsible for the design of the M77 Hawkeye Compact's stock, but they definitely deserve a pat on the back. The stock features a nice blend of graceful lines and purely functional geometry. Generally, when I install a recoil pad or rework the stock of a personal firearm, I try to get pull length at 13¾", especially when a good deal of recoil is anticipated, as this length makes for a comfortable hold and it seems to reduce the instances of rotator cuff hyperextension. The Compact Rifle's pull is an abbreviated 12½", but in hold it is pulled in close with good arm triangulation and support and recoil is not an issue with any of the chamber options.
The Ruger receiver is a tight precision casting with integral scope mounts, 1″ rings supplied, 30mm available. Unlike the cylindrical form of a Remington, the Ruger is flat bottomed like a Mauser with good locating points and surfaces to insure solid bedding. The Compact's safety is three position; safety on, bolt locked and unlocked and safety off.. Again, the gun is nicely checkered with a hand filling forearm and complete with swivel studs.

The Ruger M77 Hawkeye Compact is assembled with the company's LC6™ trigger. It is non-adjustable, however, it is made with precision parts and well finished bearing surfaces so pull is smooth and repeatable at a field appropriate 4 lbs 6 oz. The bottom metal, trigger guard and floorplate, are well finished and the Ruger logo, while large, is tastefully done. Peeking under the floorplate, the magazine box is steel and sized to keep the cartridges forward for positive feed. The bolt body is vented to the magazine well. The follower is also a long lasting steel part.
The 6.8 SPC Cartridge and short barrel performance

I can best define the 6.8 SPC cartridge by comparing it to the 243 Winchester, an excellent cartridge that is popular with deer hunters. The Winchester cartridge has a sufficient head of steam to provide 250 yards or so of reach and it has low recoil and low report. When loaded with 100 or 105 grain bullets, premium factory ammo generates approximately 2,950 fps of muzzle velocity, approximately a 150 fps advantage over the 6.8 SPC. However, this level of factory ammo performance is based upon a firearm with a 24″ barrel.
Personally, I don't own a 24″ barrel .243 Winchester, because the cartridge's power and range potential doesn't justify the resulting size and weight handicap. My rifles chambered for this round have barrel lengths of 18.5″ and 20″. At barrel lengths of 16.5 and 20″, when loaded with 105 and 110 grain bullets respectively, both the 243 Winchester and the diminutive case 6.8 SPC will produce about the same muzzle velocity; 2,650 fps with a 16.5″ barrel and 2,750 fps with a 20″ barrel.
It would seem the folks at Ruger had on their thinking caps when they put this small gun – 6.8 SPC combination together. Instead of having an excessive capacity cartridge compromised by a short barrel, they ended up with a cartridge that needs only a 16.5″ barrel to attain nearly all of its its full potential. This is a natural combination for this application.
The table below illustrates typical performance that can be expected by taking advantage of the GS Custom bullet's unique design, however, similar performance can be expected with other bullet. The GS Custom is a reduced diameter shank, thin driving band bullet that requires very low start pressure and presents very low resistance to a barrel's rifling. Its solid copper, controlled expansion construction is perfectly suited for deer and other game of similar mass at 110 grains.
Indices

6.8 SPC & GS Custom HV 110 16.5″ Barrel

Range -yds

0

50

100

150

200

250

300

Velocity – ft./sec.

2650

2551

2455

2360

2268

2178

2090

Energy – ft.-lbs.

1715

1589

1471

1360

1256

1159

1067

Path – in.

-1.5

1.3

2.8

2.8

1.3

-1.9

-7.0
Context means everything…
Well, actually, context means, "The parts of a discourse that surround a word or passage and can throw light on its meaning", but I think you catch my drift. Actually, "Catch my drift" is an expression of nautical navigation vernacular. OK. Doesn't matter. The point is, the handload data that follows was generated with the rifle below and accuracy data was collected with the assistance of the somewhat overkill of a scope as pictured and the use of a steady bench and rest.

For use in bolt action rifles only. Not for use in AR type Firearms


Loads Exceed SAAMI COL Specification – Chamber Check COL Before Using

COL and Capacity

Load Data & Performance

Bullet Type

Bullet
Weight
C.O.L.
Inches

Powder

Charge
Grains
Muzzle
Velocity
FPS
Muzzle
Energy
Ft/Lbs
3 Shot
Group
Inches

Sierra 1800

90

2.290

Re 7

28.5

2850

1623

0.6

Sierra 1800

90

2.290

Re 10x

29.0

2820

1589

1.1

Sierra 1800

90

2.290

IMR 4198

27.5

2825

1595

1.1

Hornady 2720

110

2.350

Re 10x

27.5

2650

1715

0.9

Hornady 2720

110

2.350

IMR 4198

26.0

2629

1688

1.1

Hornady 2720

110

2.350

RS TAC
31.0
2533

1567

1.3

GS Custom HV110

110

2.370

IMR 4198

25.2

2608

1662

1.0

GS Custom HV110

110

2.370

Benchmark

28.5

2557

1597

0.7

GS Custom HV110

110

2.370

Win 748
30.7

2537

1572

1.2

Hornady 2730

130

2.310

Re 10x
25.0
2426

1699

1.2

Hornady 2730

130

2.310

IMR 4198
23.5
2387

1645

0.9

Hornady 2730

130

2.310

Win 748
29.0
2447

1728

1.2
All loads were assembled with CCI Large Rifle Primers as is consistent with Remington Brass. Hornady brass is configured for small rifle primers. COL and charges are very much unique to the indicated bullets. Loads indicated for GS bullets are not safe for use with other types of bullets. Outside of those comments, brass and bullets are in ready supply. Care should be taken to select bullets that will locate fully on the shank at the 6.8 SPC noted COL.
The cartridge is really easy on powder and components are inexpensive. Remington brass, at 40¢ each, is about half the cost of other leading brands. From what I experienced from this exercise, I suspect brass will last a very long time.
Lots of fun shooting, but it's the end of a long day…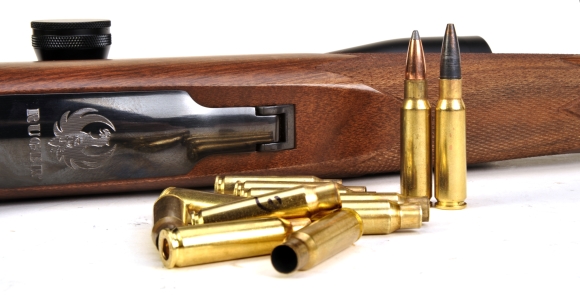 All and all, the little Ruger M77 Hawkeye Compact is a very impressive little rifle… with a very large name. The absence of any real recoil made the gun non-fatiguing to shoot while maintaining concentration. Loading and unloading was straight forward, bolt actuation was a little tight, but not uncommonly so for a new firearm. The barrel heated up pretty quickly… three quick rounds, but then it cooled down quickly, also and heat didn't cause a shift in shot placement or stringing of any kind. After all, it is a hunting rifle, not a range queen. The gun has a decent bark, but not to the point of being annoying and the barrel stays down on discharge.
With an MSRP of $843, Cindy tells me if you give her a call, (207) 655-2183, she will sell you a new one from the RealGuns shop for $663…