I was looking at the Ruger, under the lights on the bench and I started thinking about the lyrics of Johnny Horton's song, "North to Alaska". Specifically the verse:
"Sam crossed the majestic mountains
to the valleys far below.
He talked to his team of huskies
as he mushed on through the snow.
With the northern lights a-running wild
in the land of the midnight sun,
Yes, Sam McCord was a mighty man
in the year of nineteen-one."
Ruger Rotary Magazine K77/357

Manufacturer

Sturm – Ruger

Model

K77/357-RSP

Type

Bolt Action

Caliber

357 Magnum

Mag Capacity

5

Barrel Length

18.5″

Rifling

1:16″ 6 Groove RH

Weight

*5 lbs 8 oz.

Overall Length

38.5

"

Stock

All Weather Synthetic

Hardware

Satin Stainless

Length of Pull

*13.5″

Drop at comb

*0.5″

Drop at heel

*1.0″

Sights

Blade Front, Adj Folding Rear

Scope

Ruger Integral Base

Trigger Pull

*4 lbs. 6 oz. Non-Adj

Safety

3 Position Thumb Safety

MSRP

$793
Discount Retail
$636

* Actual weights and measures
I had the opportunity to spend some time with the 44 Remington Magnum version of the K77 recently, and the K77/357 looks to be more of the same. Yes, I could easily see a person trekking through the Alaskan wilderness, where they would have to live and work in isolation for an extended period of time, selecting the K77/357 as a survival tool. Light, virtually indestructible and with enough power to put food on the table and handle emergencies, without resorting to expensive, bulky ammunition.
By the same token, I could easily see the K77/357 as a utility gun in a rural home setting or as a gun for New England deer season where the woods give up less than fifty yards of visibility.
The 357 Magnum as a revolver cartridge, to some, may seem marginal, but that same round shot through an 18.5″ barrel is something quite different. A 158 grain bullet, pushing 2,000 fps, approaches 30-30 WCF ballistics.
Metallic sights that don't hide a target..

The front sight is a slender blade with a brass bead, the rear sight folds over and is adjustable for windage and elevation. I've become so use to receiving rifles with big ol' blobs for front dots and shallow "V" notch rear that hide a foot diameter target at 50 yards that I normally just slap on a scope before I head for the range. This time, the scope stayed home and I was happy with the results as I found I could still shoot with open sights, if they are the correct open sights.
The 50 yard group on the left, approximately 3/4″, was shot with PMC Bronze 158 grain JSP ammo. The 1″ group to the right was shot with 357 magnum 158 grain cast SWC handloads. It is so easy to put and hold the sight set on target and the rifle and the rifle is so easy to shoot. It barks and kicks just enough do you know you are shooting a centerfire rifle, but it is also easy to keep both eyes on the target on discharge regardless the ammo type. And speaking of ammo types…
Nothing wrong, just an explanation of appropriate ammunition
The K77/357 utilizes the company's proprietary rotary magazine. The benefit of this over a more traditional columnar magazine is that the rifle's width, as well as its depth is use to house cartridges. As a result, five rounds fit into the magazine and nothing projects downward from the rifle. The magazine is easy to fill and load and extra full magazines can be carried in a coat pocket.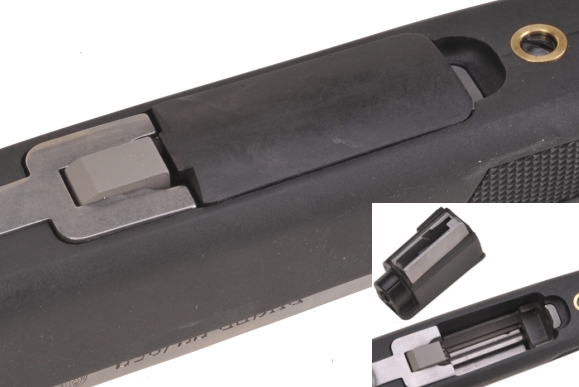 Plopping 357 magnum ammunition into a revolver or single shot is a snap and requires no particular care. Feeding this type of ammo through a bolt action rifle is a whole other animal… Possibly a giraffe. Bolt action magazines need to retain, time and guide the path of a loaded round to make sure a bullet enters the chamber without interference on the way. Subsequently, the length of the cartridge and the form of the bullet are of some importance.
The correct ammunition for the H77/357 Ruger is 357 Remington Magnum where bullets with some nose radius to their form are preferred. I picked a bullet that nothing with bolts or levers likes to feed, one that is only second to wad cutters in presenting a mechanical problem, a solid flat tipped jacketed bullet for illustration.
The 357 magnum initially rides bullet high in the magazine to make sure it clears the end of the magazine. However, as the round is pushed forward by the bolt face, the bullet drops to level the round and move it toward chamber center, but this particular round's flat tip catches on the chamber entrance just below the radiused cut that serves as a short feed ramp. I will say that chambering this ammunition with confidence, normal bolt closing acceleration and without hesitation resulted in no feed malfunction of any type. Shooting anything with a radius at the nose, solid, hollow point or FMJ fed even when I hesitated and closed the bolt slowly to follow the track of the cartridge from the magazine to chamber. Conclusion, shoot the ammunition Ruger took great pains to present and define in the instruction manual.
Ah yes, the old "Energy increases with the square of the…"
Source

Bullet
Type
Weight
Grains
GP100
4.20″ Barrel
FPS
GP100
4.20″ Barrel
ft/lbs
K77/357
18.5″ Barrel
FPS
K77/357
18.5″ Barrel
ft/lbs

PMC Bronze

JSP

158

1244

543

1756

1082

Sierra

JHP

125

1493

619

2,121

1249

Hornady

HP-XTP

140

1338

557

2,057

1316

Hornady

FP/XTP

158

1294

588

1791

1126

Sierra

JHC

170

1168

515

1692

1081
Increasing velocity by approximately 25% with the longer rifle barrel, in comparison to the barrel length of a typical handgun, just about doubles kinetic energy at the gun's muzzle. Not only does the rifle length barrel offer flatter shooting, it also gives a lot more punch to the 357 Magnum cartridge. Tabled above, some recorded data from factory and handloaded ammo, shot from both the Rugers GP 100 revolver and the K77/357 rifle. This is kind of an interesting exterior ballistic table below for the 140 grain rifle load –
| | | | | | |
| --- | --- | --- | --- | --- | --- |
| Range -yds | 0 | 50 | 100 | 150 | 200 |
| Velocity – ft./sec. | 2057 | 1840 | 1637 | 1456 | 1299 |
| Energy – ft.-lbs. | 1315 | 1052 | 833 | 659 | 524 |
| Path – in. | -1.5 | 2.0 | 2.9 | 0.6 | -5.8 |
No, I am not suggesting the K77/357 is a 200 yard deer rifle, but it actually shoots pretty flat out to that range with a 150 yard zero and, at 200 yards, the energy is about the same as muzzle energy with a handgun. Neato.
The K77/357 should be an excellent small game, medium game and varmint rifle in a woodland setting and, unlike a tubular fed lever action rifle, the Ruger is not limited to the use of flat nose bullets.
Anyone who has worked with the 357 Magnum knows there is a vast array of ammunition to select from the very high performance versions to the moderate plinking and recreational target shooting loads.
If they start putting gun racks in pickup trucks again… and I hope some day we can
This is a modern version of the woods rifle concept; moderate range, highly weather resistant and durable package, moderate price, light weight. At a bit over five pounds, it is not a gun that you notice carrying. In use it is surprisingly accurate, just as the rifle in received. If you need a scope, rings are packaged with the gun as they with all Ruger rifles. Feel like the 357 Magnum might be a little light for the 20 point buck that inhabits your back yard? There is always the K77/44 at the same price and in the same package. Nice rifles coming out of Sturm Ruger these days.