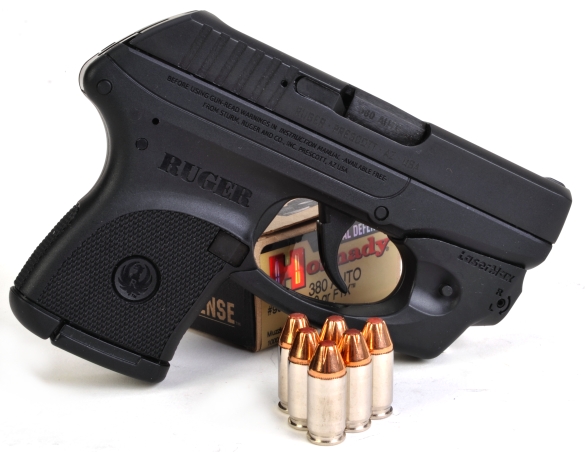 I became a fan of Ruger's little LCP while researching for an article that addressed the subject of very compact firearms. I disassembled the Ruger LCP along side four or five other brands, picked and poked at the pieces and the designs, then shot them all extensively. Finally. I collected opinions regarding the gun's shooting personality and aesthetics from others on staff. There was so much talk about consensus taking and collaborative opinion gathering I began to feel like I was back in California, a land I fled some time ago. Bottom line; I bought and LCP, my wife borrowed it… and the gun was never to be seen again.
But then…
Ruger integrated a LaserMax aiming device into the LCP package. The laser greatly improves the gun's utility as the laser facilitates fast point shooting with at least the precision of conventional metallic sights. For folks worried about a laser giving away their gun's position, under clear air circumstances, the Class 3R laser's low power, narrow beam causes it to be visible only where it contacts opaque surfaces; dot on the target, dot at the laser aperture on the firearm. Additionally, the aperture is recessed, so the only way a person could see the aperture is if they were staring into the barrel of the LCP.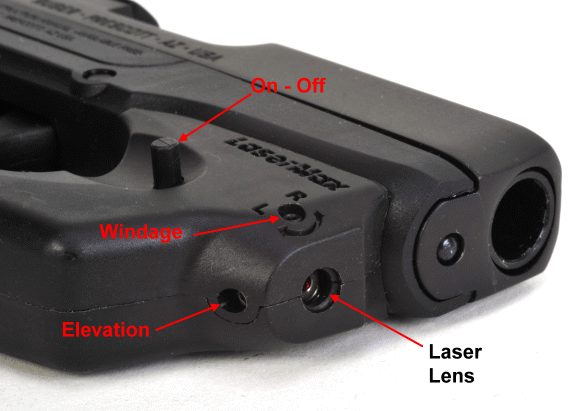 The LaserMax sight mounts to the LCP's trigger guard and fits flush against the LCP's frame. It's a nice integration that leaves no edges or projections to snag on clothing and adds little mass to the LCP. The device weighs less than 1/2 ounce. Its laser wave length is 650 nm – red, and it outputs 5mW. The lithium battery provides five hours of active use – a very long time to be in the dark in a shooting situation. A replacement battery costs approximately $5, however, batteries can be purchased in larger quantities which lowers the single battery cost to approximately $3.50. Laser On/Off is controlled with a simple, easy to access cross slide switch. The LaserMax is aligned to ten yards as it leaves the factory, however, as noted in the picture above, the sight is both windage and elevation adjustable.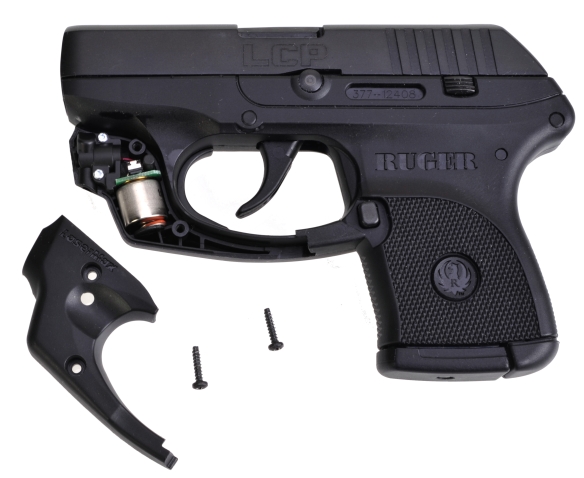 The LaserMax self contained system snaps onto the Ruger LCP's trigger guard and is secured with two screws. The side panel is removed to change the battery and the whole unit can be removed if desired. In fact, owners of a non-laser sight LCP can upgrade to laser sights by purchasing an LCP® LaserMax Laser or LCP™ Crimson Trace™ LaserGrips® from the Ruger Store.
Laser Sights on a micro pistol – Why? Why? Why?
I'm old. Very old. A hundred and six… maybe seven. I forget which. Where was I going with this? Oh yeah. It takes me a while to embrace new technology; cartridge firearms, that new 357 SIG round, or IMR7828. I have avoided laser sighting devices like the plague because they aren't like physical metallic sights. I mean, where do they go when you turn them off? But at least now I know where they belong, on any pocket pistol with nub like sights where point shooting is beneficial.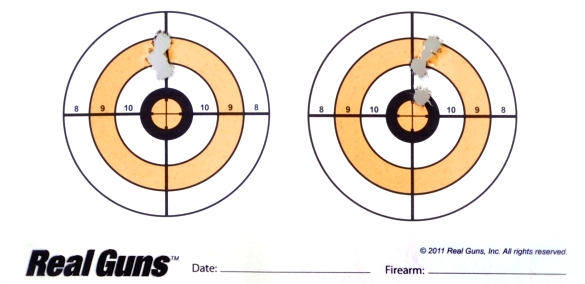 The 1/2″, three shot group on the left was shot with 102 grain Remington Golden Saber ammo. The 3/4″ group on the right was shot with 90 grain Hornady Critical Defense ammo. Both group were shot at seven yards with a two hand hold, gun at a level half way between my chest and where my waist use to be. The best I was able to do with an LCP, aiming through the gun's open sights was 2″ three shot groups at seven yards, regardless the ammunition. All I had to do was accept a little pin point laser dot warble on the target and concentrate to best the long trigger pull that comes with all hammer pulling preset action pistols.
An interesting perspective when shooting the LaserMax equipped Ruger LCP. Initially, by sight picture and trigger feel, I kept expecting pie plate size groups, but every group looked as good as above. After a few magazine reloads, the gun felt intuitive and much more comfortable. For details on the LCP's internal operation and break down, you might want to take a look at Ruger's Lightweight Compact Pistol.
At the end of the day…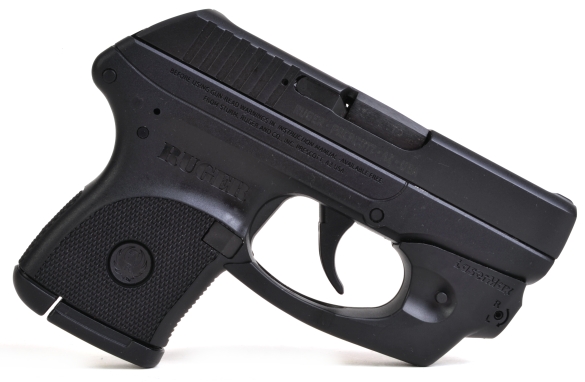 | | |
| --- | --- |
| Indicies | Ruger LCP-LM |
| Manufacturer | Ruger |
| Model | LCP-LM |
| Caliber | .380 ACP |
| Magazine Capacity | 6 Rounds |
| Construction | Nylon & Aluminum frame, Steel Slide |
| Action | Recoil Operated, Locked Breech |
| Weight | 9.9 oz. |
| Barrel Length | 2.75″ |
| Length | 5 ⅛" |
| Height | 3 ½" |
| Width | ¾" |
| Trigger pull | 6 lbs 5 oz. |
| Trigger Reach | 2 ½" |
| Sights | LaserMax |
| Supplied with | Magazine, soft case, mag extender |
There is a variety of LCP models available; commemorative, gold, silver, etc. One of the least expensive models is the LCP-LM with laser sights. With a Manufacturer's Suggested Retail Price of $443, this model can be readily be found selling for as little as $343. A terrific bargain.
The gun is supplied in a kit with the Ruger LPC, LaserMax sight, magazine extension for pinky support, soft case, and manuals. The Ruger Shop carries useful LCP accessories in the forms of: holsters, magazines & loaders, grip extenders, and laser sights for those who own a laser-less LCP. The gun is reliable, feeds hollow point ammo without hesitation and it is accurate. Excellent concealed carry weapon, primary or backup.