A hundred years or so ago, I rode an 850 cc Norton Commando. The Commando was inexpensive transportation that got me back and forth to work and it was, in the context of those days, fast and fun to ride. For all of the very sophisticated, rocket sled like motorcycles I've owned and ridden since… American, British, Japanese, and Italian, the Norton stands out as an iconic performance motorcycle.
Hunting rifles are a bit like motorcycles in that regard. Some are fancy, expensive and made to impress friends and family, some are more purpose built and intended to reliably kill game and endure within the associated environment. Today, if I had to offer an excellent example of a hunting rifle, I'd probably hold up the Ruger American Rifle which, unlike the British Norton, is all American.
Ruger American Rifle

Manufacturer

Sturm, Ruger & Co., Inc.

Model

Ruger American Rifle

™

Caliber

30-06 Springfield

Magazine Capacity

4

Stock

Black Composite

Hardware

Black Oxide – Alloy Steel

Barrel Length

22″

Twist Rate

1:10

"

Weight

*6 lbs 4 oz.

Overall Length

*42.50″

Pull

*13.75″

Drop at comb

0.75″

Drop at heel

0.75″

Non-optical sights

None

Trigger Type

Adjustable

Trigger Pull As Received

3 Lbs 15 Oz

Trigger Pull As Tested

3 Lbs 8 Oz.

MSRP

$449

RealGuns Store

$399

* Actual weights and measures
The first impression I got from the American Rifle was that it is a good looking firearm. Extremely well executed and aesthetically pleasing form, fit and function design. The American Rifle is light, its grip is narrow at the wrist, broadening at the palm, which makes for a very stable and secure hold. The pull length is longish, but comfortable and not enough to extend the shoulder. The forearm is modern narrow, tapering from 1.75″ just forward of the magazine to 1.45″ at the far end of the contact area. I have short biceps so, when I get my forearm straight up and down, my palm is just forward of the magazine. Even after a couple of cups of morning coffee, the image through a scope was rock steady and the 70° bolt rotation and stroke is easy to manage without a lot of bouncing around.
Some details…
And a more general note. The Ruger American Rifle is black, stock and hardware. Sometimes photographic lighting can make it hard to distinguish black from gray. Or at least with my photographic lighting.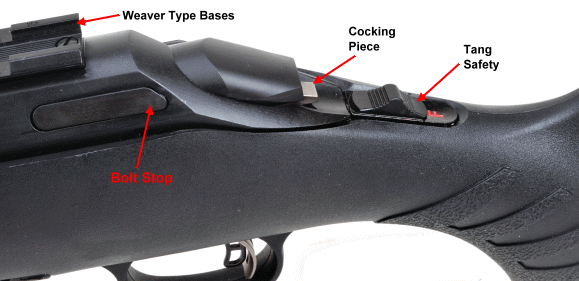 The American Rifle is supplied with #46 Weaver type bases front and rear. It is a popular standard used by Kimber, Marlin, a variety of FN Mauser based firearms, Savage, Stevens, and Winchester; some for front and rear, some for just front. I checked Brownells and found lots of #46 Weaver type bases in steel and aluminum, matte and gloss, low, medium, high, and extra high.
The American's bolt is removed by depressing the aft portion of the bolt stop and pulling the open bolt strait back. The cocking piece, as shown, served as a cocked indicator. The tang safety is a two position type, positive and handy in actuation.
Very comfortable contour and geometry. The grip surface serrations are comfortable and look much better than when a manufacturer attempts to mould in checkering. I'd like to see the front serrations drop down a little lower onto the surface of the forearm to improve cold weather grip. The American Rifle respectfully wears the brilliant Red Eagle designed by Alex Sturm in 19491.
The bolt handle is slender and formed at a good angle, far enough from the stock so winter gloves won't be a problem. I have handled a lot of guns over the years, but I have to say that this is the slickest action I've ever encountered in a factory rifle. The bolt body diameter is large, but the assembly is light, so maybe a large bearing surface contributes to the feel. In fact, it took a couple of magazines worth of cycling before I stopped checking to make sure a round fed. It always had, it was just that the cartridge was stripped from the rotary magazine with such low effort.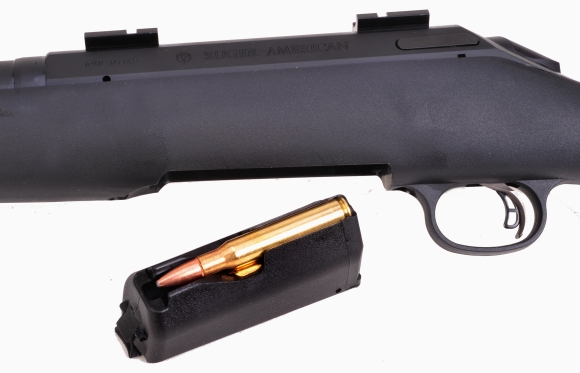 The detachable magazine is a rotary type so instead of a vertically compressed follower, there is a magazine blade that is rotated downward incrementally as each cartridge is loaded to a capacity of four, for the 30-06 Springfield guns. The result is very reliable and smooth feed and a magazine that pops out when desired and allows loaded spare magazines to be carried in a jacket pocket.
Push feed…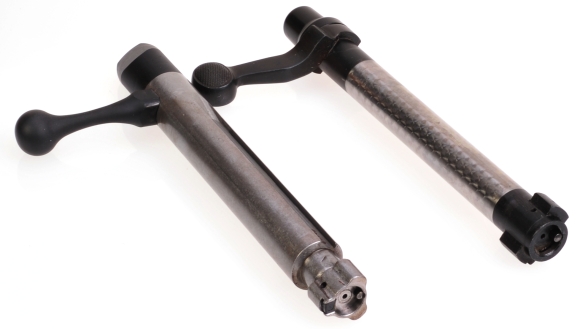 The Ruger American Rifle is push feed which is not a problem for me. I understand there may be an associated risk when attempting to discharge the firearm from an upside down and underwater position, but under any other circumstance "push" makes for a very slick and reliable feed. For the sake of a comparison from a lazy guy… The American Rifle's bolt body is full diameter, which means it is larger in diameter than the span of the three locking lugs. Subsequently, the surface inside of the receiver that supports the bolt body is a full bearing surface, unbroken by locking lug key ways. The Ruger bolt body diameter is 0.850″, the diameter formed by the three locking lugs is approximately the same. A Remington Model 700 bolt diameter is 0.696″ and the two lug span is 0.993″. Both use a plunger type ejector and a claw type extractor.
I believe Ruger is sending mixed signals in the gun's manual. Under bolt disassembly instructions they refer to a "bolt shroud", then they get all Mauser..y and refer to it as a "bolt sleeve." Ruger isn't very casual with their documentation, so I'll bet they would say it is only a bolt shroud when functioning in that capacity, but a bolt sleeve when it is removed as a piece part.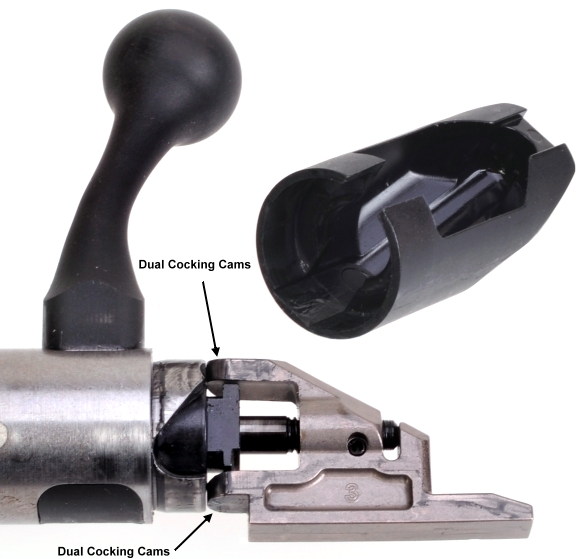 The American has two cocking cams which should reduce the effort required to cock the assembly through increased bearing surface area, greater mechanical advantage and balanced loading on adjacent contact surfaces. No, I have no idea what that means either, but the use of the term "adjacent contact surfaces" is pretty exciting. Substance is greatly overrated.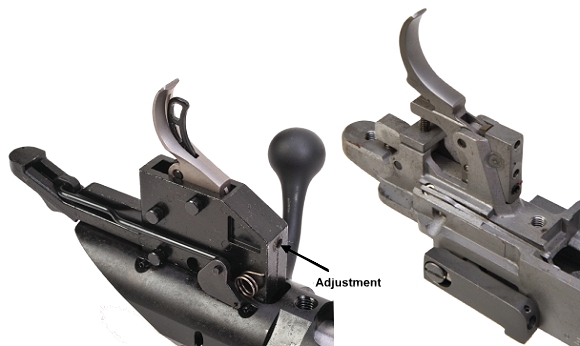 The American Rifle trigger, foreground, is adjustable for pull weight and is not the same adjustable trigger found on the Target and Predator models. The American Rifle's trigger is adjustable from three to five pounds in half turn increments, over six complete turns. Additionally, a trigger release lever, hinged into the face of the trigger, effectively blocks the trigger unless the shooter has completely depressed the release lever.
Ruger's Power Bedding™ System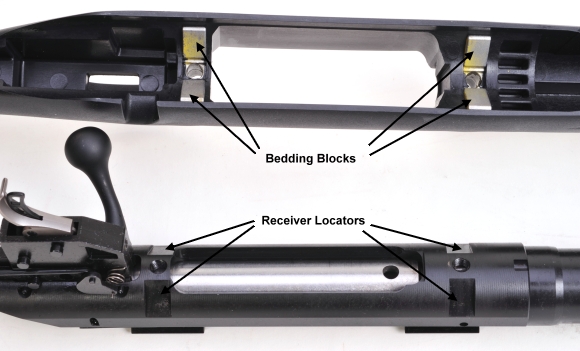 It's like peeling an onion, uncovering a mystery, solving a Rubik's Cube… OK, I got a little carried away. But I am a mechanical geek. Some people look at a Ferrari and talk about its sleek body panels. Some people pull up the carpets and remove access panels to see how the body is bonded to the frame. I thought this was interesting, round bottom receiver, rather than the traditional flat bottom… but is it really, because the inserts bonded into the stock are "V" blocks and the locators on the receiver are "V" locators and the barrel is floating on air? The inside of the stock is reinforced with some radial ribbing and egg crate making the whole assembly very rigid.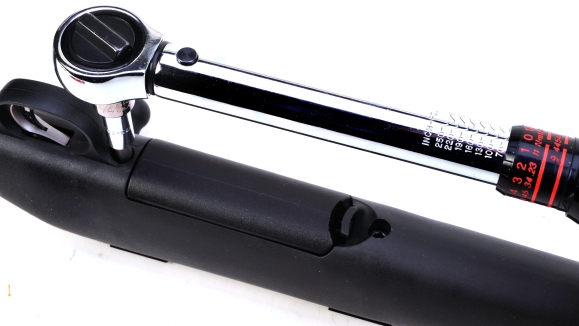 There are two hex head fasteners, fore and aft of the magazine, that secure the stock to the barreled action, or at least the bedding blocks to the locator slots in the receiver with 60 – 80 in-lbs of torque. Even and equal force may be the primary goal here as an educated wrist seem to yield the same accuracy as the torque set to 70 in-lbs. But I was so excited about knocking dust off the in-lb torque wrench, that I actually torqued the rings when I installed the scope.
Yes, it does shoot, also. Thank you for asking…
It was cold and there was still a foot of snow cone slush on the ground, but I was still able to wander out in the back, post some targets on plastic pails, put out the chronograph and set up with a lead sled to shoot three shot groups.
Ammunition/Bullet

Bullet Weight
Grains
Recorded
MV FPS
Rated
MV FPS
Group
Size"

Remington Core-Lokt

150

2884

2910

1.2

Remington Core-Lokt

180

2693

2700

1.2

Winchester Supreme

168

2781

2790

1.0

Barnes TTSX

130

3156

–

1.1

Sierra SPBT

165

2880

–

0.8

Berger VLD Hunting

175

2781

–

0.6

Nosler Partition

180

2696

–

0.9

North Fork Bonded

200

2629

–

1.4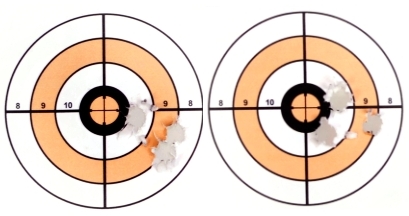 There were a couple of more group with Sierra 165 grain, both under 0.8″, that were shot at the end of the range session. The gun stayed tight and remained comfortable to shoot.
I did take it off the rest to get a feel for recoil and how well the gun moved with a target and it always felt balanced and… compact.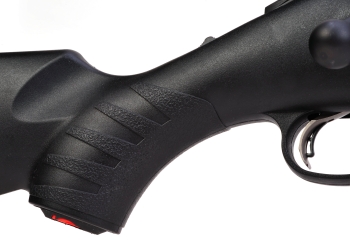 The Ruger American is a new generation, innovative rifle and an excellent value. This is the first in a crop of manufacturer's value priced firearms I've been tracking that doesn't project what is normally associated with lower cost firearms. The gun looks right, feels good and shoots straight. It will be interesting to see how this platform evolves.
Wish list? A short one. Extend the front serrations downward to assure a good grip and change the plastic bolt sleeve to something made of metal.