I like take down guns when the feature is supported by a sound design. They serve good and useful purposes; easy to ship to a destination, convenient when backpacking to a camp site, they make an excellent stow away survival rifle and, when left together, they serve as a more traditional firearm. Offering a take down version of the popular Ruger® 10/22 platform was a good move on Ruger's part and fortunate for Ruger customers.
Model

Ruger 10/22

Take Down

Caliber

.22 Long Rifle

Action

Autoloading

Operation

Recoil

Receiver
Matte Aluminum

Stock

Black Composite
Mag

Capacity

10 Rotary / 25*

Barrel

18.5″

Twist Rate

1:16″ RH

Rear

Sights

Folding Adjustable

Front Sight

Gold Bead

Drilled & Tapped for Scope

Yes

Weight

4 lbs 10 oz

Overall length

37″

Take Down Length

20″

Pull Length

13.50″

MSRP

$389

*25 round accessory magazines available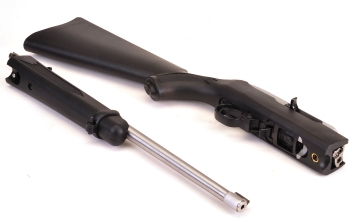 As you can see above, Ruger wasn't kidding. The Ruger® Take Down 10/22® really…. well, takes down and it does so easily. Better yet, it goes back together just as easily and continues shooting where it left off. As Foghorn Leghorn would say, allow me to elucidate, illustrate and possibly explicate further.
It comes with its own luggage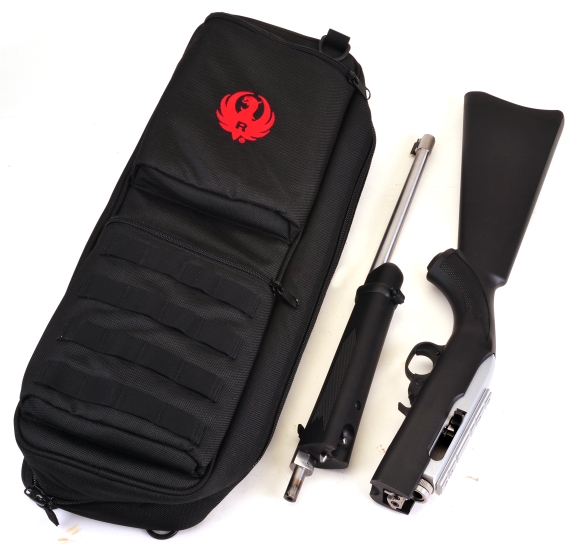 I've worked with a few Rugers that include similar quality cases. A thoughtful inclusion on the part of Ruger and very practical in design for this application. This one is a mini backpack that securely holds each half of the taken down 10/22 in fitted interior pockets and there is an extra interior pocket that could hold a scope or similar product. Large exterior pockets and lots of web loops hold magazines, ammunition and accessories. A carry strap and multiple carry points allow the case to be carried on its own or attached to other packs and cases.
Take Down mechanisms…
As a practical matter, the barrel assembly is removed by releasing the locking lever and twisting the barrel counter clockwise approximately 45°. Installing the barrel assembly only requires inserting the barrel into the receiver at the same angle of rotation and twisting it clockwise until it is aligned with the receiver and the locking plunger pops into place.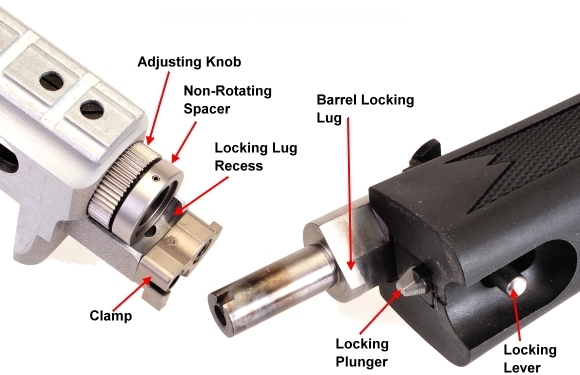 There is one step that is necessary only the first time the rifle is assembled or, perhaps, after a very large number of assembly/disassembly cycles. Once the barrel is installed, the adjusting knob is rotated counterclockwise until it is tight. Then the barrel assembly is removed and the adjusting knob, which provides adjustment tactile feedback in the form of clicks, is rotated counterclockwise one or two additional clicks and the barrel is reinstalled. This fine adjustment assures a tight lock up between the barrel and receiver assemblies. The adjusting knob requires no further attention during subsequent take down – reassemble cycles.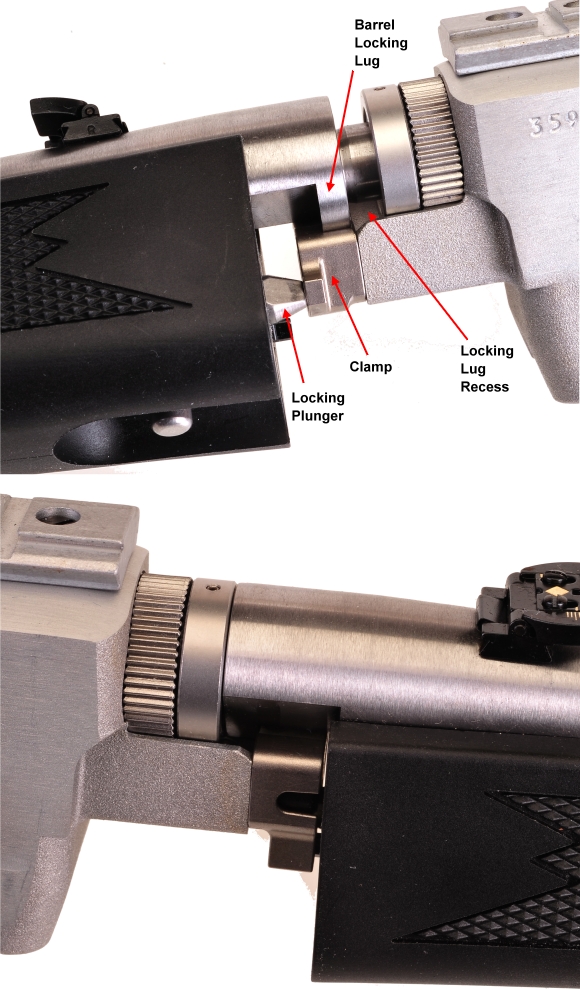 Above, top image is forearm rotated 45° counterclockwise to align flat on barrel to clear the clamp. Bottom image, barrel fully inserted and rotated to vertical alignment with the receiver and the barrel lug engaged and secured between the spacer and the clamp.
Still very much a Ruger 10/22


With the exception of the take down feature, this model has the familiar 10/22 look, feel and operation. The stock form and dimensions are essentially the same as the carbine synthetic model, as are control locations and operation.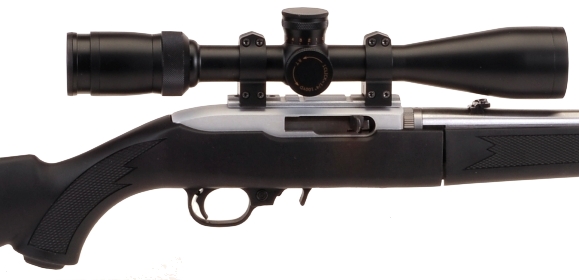 The Ruger 10/22 Take Down receiver is drilled and tapped for scope mounts. The Take Down model includes a combination Weaver-type base that can be used for any number of optical, electronic and/or mechanical sight systems. A 2-10x42mm scope with a large 50mm objective bell was installed on the Take Down using medium height Warne's rings. After making a few adjustments in scope positioning for proper eye relief, and to accommodate a short neck, the barrel could still be removed with the rear sight folded down, without disturbing the scope.
I only planned an hour of shooting, but…
I've shot a number of Ruger 10/22's and built a few specialized versions for the shop, children and grandchildren. Besides the utility of a good camp gun, they are typically very accurate, very reliable and fun to shoot in friendly competition. The same applies to the Take Down. The weather and residual snow prevented shooting long distances, so data at fifty feet and fifty yards was collected. Shot from a cradle with a 10x scope –

Fifty feet: 1) Federal 40 grain – 0.25″, 2) Winchester Super X 37 grain – 0.20″, 3) Remington Target 40 grain – 0.18″, 4) Winchester X 40 Grain – 0.28″, 5) Winchester X 40 grain – 0.39″ ten shots, barrel removed and reinstalled after the first five shots following the empty gun bolt cycling recommended by Ruger.

Fifty Yards: 1) Federal 40 grain – 0.70″, 2) Winchester Super X 37 grain – 0.60″, 3) Remington Target 40 grain – 0.62″, 4) Winchester X 40 Grain – 0.70″ ten shot group, 5) Winchester X 40 Grain – 0.90″ five shot group with a barrel remove and install after the second shot and no empty gun cycling in between.
The Ruger 10/22 Take Down wasn't fussy when it came to ammo. I could juggle ammo and perhaps shrink group size by a bit, but the gun definitely didn't need a diet of expensive target ammo to shoot straight. Snapping the bolt closed on a empty chamber after a barrel reinstall made a difference in a measurable and verifiable way. However, this only seems to have an effect on the first couple of shots after a barrel reinstall because shooting two or three shots, instead of cycling the bolt on an empty chamber, also caused the gun to settle down group tightly and remain that way.
So….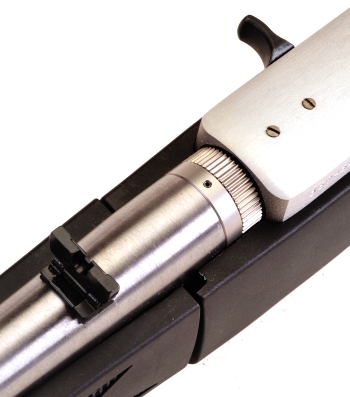 I've owned take down rimfire rifles before, but they either had a forearm that rotated unexpectedly and a buttstock that didn't follow, or they shot pie plate size groups at fifty yards. In this regard, the Ruger 10/22 Take Down has neither of those problems.
With a synthetic stock and aluminum and stainless hardware, the 10/22 Take Down would make a reliable camping or hiking gun, a nifty rifle to tuck away in a boat or small plane, or just good rimfire dedicated for dispatching garden pests, varmints, and/or small game hunting. I'm sure it would make a good rimfire to teach a youngster firearm safety and marksmanship.
I guess I would have to sum up by saying Ruger took a logical and useful step toward further filling out the 10/22 product line and they did it with a spiffy new rifle at a reasonable price.