I know who Jeff Cooper was, I know what Gunsite is and I know the intent of a scout rifle. While I may not have an immediate need for a "fighting carbine", I always have a need for a good hunting rifle and I've been around long enough to know that these two type of guns can often be one in the same. In fact, when I was very young and just developing an interest in firearms, many of the older kids hunted with "sporters" made from cut down and slicked up 1903 Springfield, 1917 Enfield and British Enfield military issue firearms. Proven in times of war, these guns were of course trusted for hunting use, with a few modifications to make them lighter and faster handling. Subsequently, the metallic sighted Ruger Gunsite Scout Rifle is a familiar concept; a fast handling, solid bolt action rifle that can withstand a lot of use and abuse and still perform its mission.
Model

Ruger Gunsite Scout Rifle

Caliber

308 Winchester

Action

Bolt action

Hardware

Matte Black Alloy Steel

Stock

Black Laminate

Mag Capacity

10

Barrel

16.5″

Twist Rate

1:10″ RH

Rear Sights

Ghost Ring – Adjustable

Front Sight

Post

Scope Mounting

Integral Ruger Mount System

Weight

7 lbs

Overall length

38″ – 39.5″*

Pull Length

12.75″ – 14.25″*

MSRP

$999

*Includes recoil pad spacers
Left hand model also available
An adaptive firearm
The Ruger scout rifle can be configured to suit different shooters and different situations. Spacers provides an inch and one half of pull length adjustment. Integral scope mounts provide a place to locate a ghost sight, included with the Scout Rifle, or a traditional scope. A Picatinny rail permits mounting a scout scope or any number of optical-electronic sighting systems.
The gun's steel detachable magazine holds ten rounds as shipped from Ruger. However, light weight polymer ten, five and three shot magazines are also available as an accessory from the Ruger Store and other outlets. The latter two are good options for anyone who is a passable shot and doesn't need ten shots to drop a deer, hog or black bear or wants a magazine that fits closer in to the stock.
The Scout Rifle is approximately 3″ longer than the Hawkeye Compact, which also has a 16.5″ barrel. The difference can be found in the scout's thicker recoil pad and flash suppressor. The 1.25 lbs increase in total weight over the Compact model can be found in the same physical differences and in the addition of a heavier and more rigid barrel, the extended magazine and the rear ghost sight.
Keep it simple…

A little detail on the brush guarded front post sight and flash suppressor and the ghost type rear sight that is mounted in the aft Ruger integral scope mount. The front post sight is pinned in place on the barrel, the rear sight is adjustable for windage and elevation. The suppressor is removable.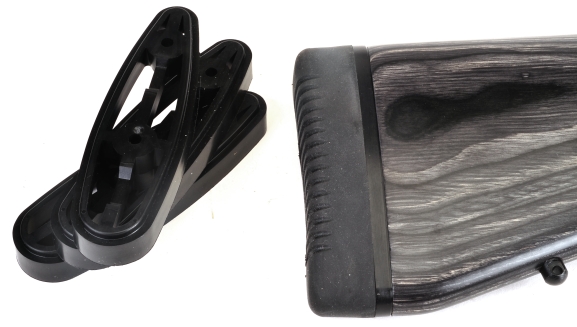 The Ruger Gunsite Scout Rifle ships with three interlocking butt pad spacers and removal of all, or any number added in combination, can be used to adjust pull length from 12.75″ to 14.25″. In this case, because I was planning on reenacting Audie Murphy's role in "To Hell and Back" while conducting the live fire portion of the Scout Rifle's evaluation, I removed all of the spacers for a short pull length and greatest shooting flexibility.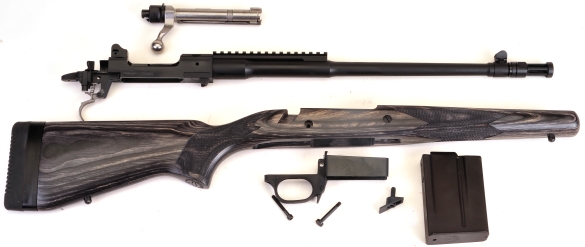 Disassembly for cleaning and routine maintenance is straight forward. Two hex head fasteners secure the barreled action to the stock and the aft cross slot head – cross bolt secure the gun's poly trigger guard/magazine well assembly to the stock. The forward cross bolt is just that, a cross bolt and the barrel floats to the last one inch of the forearm.

A momentary pause while I gather up ammo….
From a pistol grip cap perspective. Ruger put together an interesting firearm. It has a paramilitary look and I am sure it would be an excellent defensive security firearm. I also think it makes a great woods rifle, particularly in the dying days of the lever gun that seem to be losing their appeal as they put on weight and attempt to "almost" perform as a centerfire bolt action rifle.
The 308 Winchester chamber that Ruger selected for this scout rifle is the same that I frequently knock as being less than exciting. In reality, it is probably the best all around hunting cartridge next to the 30-06 Springfield. I'm rounding up ammo and targets and I am going to spend some time seeing how theRuger Gunsite Scout Rifle holds up.
Ruger's Gunsite Scout Rifle – Part I
Ruger's Gunsite Scout Rifle – Part II