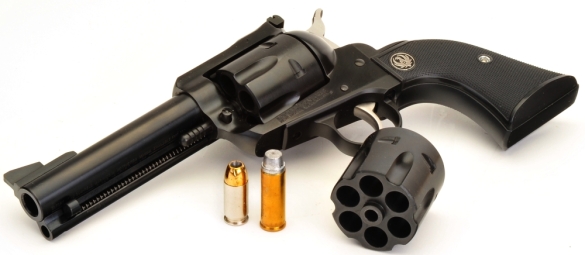 Ruger Blackhawks touch at the core of what makes us firearm enthusiasts. The alloy steel Blackhawk, in the world of hardware gadgets, is the equivalent of a really nice hammer; it has a purpose and it is finished and configured to serve that purpose. The Convertible version of the Blackhawk, theoretically at least, extends that utility by allowing the use of two different types of cartridges. In this case, the cartridges are the .45 Colt and the .45 ACP. Another version of the Blackhawk Convertible is 357 Magnum and 9mm Luger capable.
But why, Joe?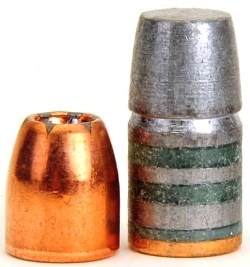 Economy – 45 ACP ammo, in general is inexpensive. Good jacketed hollow point ammo is widely available for under $20 for 50 rounds similar ammunition for the 45 Colt is typically priced 50% to 100% more.
For handloaders, components have a similar and proportional disparity. New, good quality 45 ACP brass can easily be purchased for 16¢ per where as 45 Colt brass begins at 22¢. 45 ACP bullets, defense type and quality, run about 20¢ ea. Bullets for the 45 Colt of the same type are priced at 32¢ ea. With an average charge of 6 grains, there are 1,100 45 ACP reloads in every pound of powder. The 45 Colt charge is approximately 18 grains or approximately 400 rounds to the pound.
Dual Performance – The 45 ACP will comfortably push a 185 grain bullet to 1,180 fps from a 5″ barrel. The 45 Colt will push a 300 grain bullet 100 fps faster.
Of course there is the opportunity for geeks like me to experiment with the 45 ACP. With a 1.703″ long cylinder, the autoloader length restriction of 1.275″ no longer applies, so bullets can be seated out to use slower powders for greater velocity at lower peak pressure and heavier bullets could be seated without the bullet heel coming in contact with the case web. Probably most important, with an MSRP of $669, and a discount retail price of $521, the Blackhawk Convertible is a good way to cover both cartridges and get two levels of ballistic performance from one quality firearm.
Not the same Blackhawk of days of old…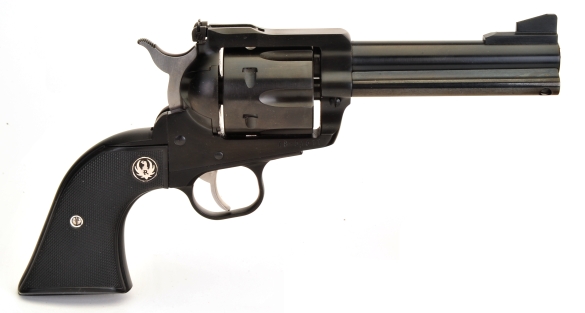 The Blackhawk is a relatively light weight revolver, even by Ruger standards. A blued 45 Colt Blackhawk weighs just 39 ounces. A Super Blackhawk with the same barrel length weighs in at 45 ounces. The difference is in the respective gun's grip frame which is black anodized aluminum on the Blackhawk and steel on the Super Blackhawk. Both guns have a steel cylinder frame.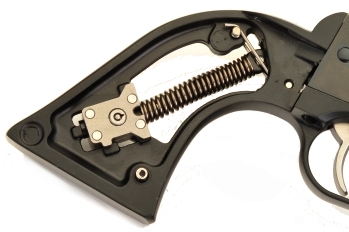 The New Model Blackhawk has a key actuated hammer lock concealed under its grips. An access hole must be drilled in the grip if the lock is to be accessed externally. Personally, I think the lock detracts from the gun by adding a superfluous, politically correct assembly that Ruger was probably forced to include to gain access to a liberal state's gun market.
The hammer strut and spring are not the same as earlier, or some other current Ruger single action models. If performance springs are installed, the part number must reflect this configuration.
Find a wheel and it goes round, round….
Cylinders supplied with convertible models are inscribed with the last three digits of the gun's serial number as they are not interchangeable with other serial number frames. In this case, "611". Each cylinder is fit and timed to a specific frame to insure proper alignment and indexing. Cylinders are changed by depressing the base pin latch and pulling the base pin free of the cylinder; a task measured in a handful of seconds.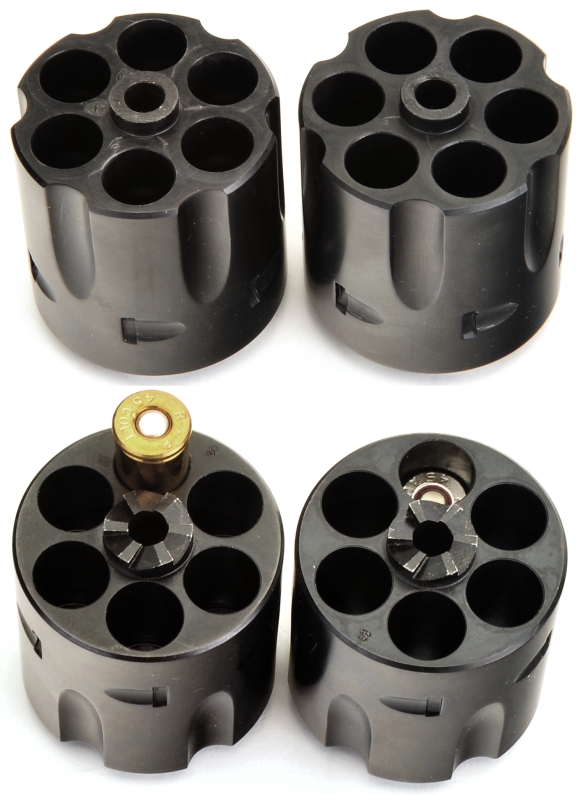 A person would be hard pressed to mix up ammo and cylinders as 45 ACP would drop into the 45 Colt chamber and away from the gun's firing pin and the 45 Colt would protrude from the back of the 45 ACP cylinder.
| | | |
| --- | --- | --- |
| Cartridge | 45 Colt | 45 ACP |
| Cylinder Length " | 1.706 | 1.703 |
| Cylinder Diameter" | 1.730 | 1.731 |
| Throat Diameter " | 0.452 | 0.451 |
| Headspace Surface | Rim | Mouth |
The tight throat dimensions add to the gun's performance with both cartridges, but this is most easy to demonstrate with the 45 ACP cylinder. Loaded with 230 grain Remington HD Ultimate Home Defense ammo, a 1911 5″ barrel gun produced an average velocity of 842 fps. The same ammunition, fired from the 4.62″ barrel of the Ruger Convertible, produced an averaged velocity of 924 fps. The Ruger's 82 fps gain is attributed to the 0.816″ of freebore ahead of the cartridge in the gun's chamber. Add that to the barrel length and the gun has a barrel 5.436″ long. Nifty.
Sights even I can see…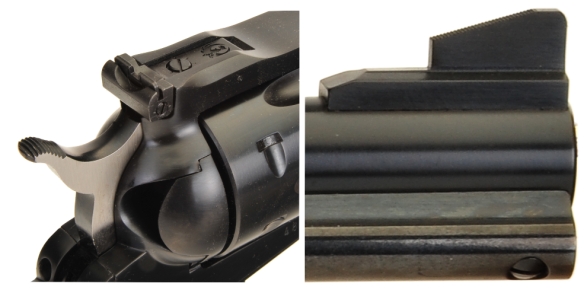 The combination of adjustable rear sight and ramped front sight is a good one and actually, a bit more precise to shoot than fiber optic sights. The micro adjustments are positive and uniform and they stay put. I've seen accessory sets of rugged sights, but I think you'd have to be using the gun for a hammer to need anything more. The only change I would make, have made, is to substitute a white outlined rear blade. Brownells carries them as #780-020-001WB Sight Blade, Rear, High, White Outline Mfr. Part: H07203A. The cost is $6.
OK, Joe. Sounds good so far, but can it hit anything?
The Blackhawk is very easy to shoot even with high performance 230 grain defensive 45 ACP ammo. The gun's personality changes when stepping up to performance 45 Colt ammunition. Some of my favorite 255 grain hard cast 45 Colt handloads, used for both rifle and handgun, produced 1288 fps in the Blackhawk. Not a hard to shoot gun at all, but you won't fall asleep at the firing line.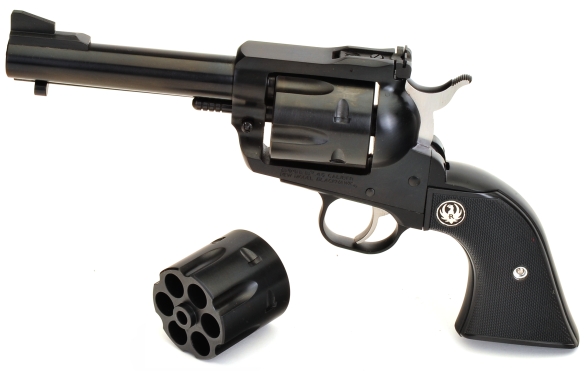 Accuracy, from my perspective and ability with handguns, is good. From a rest, 6 shots just over or just under 2″ was doable with either cylinder. The 45 ACP was easier for me to contain. Trigger pull was light at 3 lbs or just under. I am not a single action revolver kind of guy. I own them and I shoot them and their light weight and compact size make good sense as a hunting side arm, but I'd rather carry a gun that will shoot without doing anything more than pull the trigger and suffer the weight and size problem. My carry gun at this moment is a Redhawk 45 Colt.
Conclusion…
New Model Blackhawk Convertible

Manufacturer

Sturm, Ruger & Company, Inc.

Model

Blackhawk Catalog #BN-44XL

Type

Single Action Revolver

Caliber

.45 Colt

Capacity

6

Barrel Length

4.62

"

Twist Rate

1:16″

Weight

39

oz.

Overall Length

10.5″
Grips

Black Checkered Hard Rubber

Hardware

Blued Steel & Aluminum Grip Frame

Sights

Adjustable Windage and Elevation

Trigger Pull

*2 lbs. 9 oz. Average

Safety

Transfer Bar

MSRP

$669
Discount Retail
$521

Supplied with two cylinders – 45 Colt and 45 ACP
The Ruger Blackhawk is a sportsman's, a hunter's utility gun. Powerful enough to serve as a defensive handgun with either cartridge, there are not many places where the 45 Colt wouldn't have enough punch.
The New Model Blackhawk is one of the few bargains still on the table for gun owners. It hasn't been cheapened, it is reliable as ever and it is accurate. Best of all, with two cylinders it is like getting two guns for the price of one.
The Ruger New Model Blackhawk is a well finished, classic American, big bore single action revolver. Yes, cowboys and Indians, winning the west, you know, our history before we became preoccupied with everyone else's history at the expensive of our own.