Manufacturers have tried to attract a new generation of shooters by producing some of the homeliest guns ever; ARs pretending to be deer rifles, lightning bolts stamped into triggers, camouflaged zombie killers. All intended to appeal to the Xbox 360 generation that thinks, at least for the next fifteen minutes, that they want to try real firearms. So the guns have taken on the appearance of those appearing in SciFi and action adventure movies and video games.
Fortunately, some companies still make guns that traditional firearm enthusiasts can appreciate. Working with the Ruger Hawkeye Standard allowed me to detach myself from someone else's idea of a dream gun and spend time prepping a hunting rifle for the coming fall season. The Ruger M77 Hawkeye Standard is an understated, walnut stocked and blued hardware hunting rifle that doesn't conjure images of warfare or video games, It reminds me of years past when I could clear a rise without hocking up a lung or without triggering an ass cramp that might send me rolling back down a hill with only a near frozen mountain stream to break my fall… theoretically speaking, of course. Good times! High Five.
Haven't we previously seen this Ruger?
Model

Standard

Caliber

7mm-08 Rem

Magazine Capacity

4

Stock

Walnut

Hardware

Lustre Blue

Barrel Length

22″

Twist Rate

1:9.5

"

Weight

7 Lbs

Overall Length

42″

Pull

13.50″

Drop at comb

¾"

Drop at heel

1

½

"

Sights

Clean Barrel

Trigger Type

Non-Adjustable

Trigger Pull

4 lbs. 2 oz.

MSRP

$859
Discount Retail
$657
Well, yes we have, and thank you for noticing. We've covered the Ruger M77 in many chambers and model configurations, including the Standard in 7mm-08 Remington. However, those were structured product reviews and, this time, the notion is to take a look at the rifle within the context of summer prep of rifle, ammunition and target practice for the coming fall hunting season. This also afforded us an opportunity to examine an unfamiliar scope and to develop some new handloads.
Selecting this rifle, for this purpose, was not without thought and consideration. There is little stress when it comes to picking, poking and shooting firearms for the sake of ballistic and handling curiosity, but a hunting rifle has a more critical set of requirements. The gun has to be easy to shoot, accurate, rock solid reliable and durable. No magnum overkill for deer or black bear hunting required and no added weight of accessories that don't contribute directly to the mission.
A note on stubby barrels
Some M77 Hawkeye Standard models have 24″ barrels. Most notably, belted magnum chambers and two long distance shooters, the 204 Ruger and the 6.5 Creedmoor. The balance have 22″ barrels. The 7mm-08 Remington M77 Hawkeye Standard's 22″ barrel is more than sufficient for 308 Winchester and 308 Winchester derivative cartridge capacity.
Cartridge

Bullet
Diameter"
Grains
Capacity
243 Winchester
0.243
54.0
260 Remington
0.264
53.4
7mm-08 Rem
0.284

55.0

308 Winchester
0.308
56.0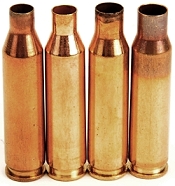 A 22″ barrel M77, chambered for the 7mm-08 Remington and utilizing a 145 grain flat base bullet, has an expansion ration of 8.1; the volume of the chamber and bore area divided by the chamber area, the volume available for gases to expand behind an accelerating bullet. With proper powder selection, the degree of propellant burn is 99.8%. The muzzle velocity is approximately 2,900+ fps and muzzle energy 2,700+ ft/lbs. A 30-06 Springfield rifle, with appropriate powder and 165 grain bullet, would require a 24″ long barrel to achieve the same level of powder burn efficiency.
There are pros and cons to shorter barrels, although these seem to be issues of finesse more than obvious benefits. Where barrels are the same profile, a shorter barrel is more rigid, harmonics are dampened and shot to shot placement is theoretically more consistent. You may have noticed all of the heavy 20″ barrel tactical rifles that are so popular these days. There is some weight and handling benefit.
The difference in the weight of two barrels with common chambers and bores, one 24″ and one 22″, is approximately 2.6 ounces. However, the 7mm-08 M77 is based on a Ruger short action, an action that is 3/4″ shorter than the 30-06 Springfield cartridge counterpart. In aggregate, the weight savings from length reduction of the: barrel, action, floorplate, and follower is worth about 3/4 of a pound.
The Vortex Viper HS LR
For some, the selection of this scope might represent an overkill. However, where rifles are chambered for a cartridge that can handle short and long range hunting, and there is no significant weight FOV penalty affixed to a scope, the wide adjustment range makes for a flexible combination. Backing off magnification would work well for deer and black bear hunting in heavily wooded Maine, but cranking up the magnification would work well for varmint hunting or out of state open spaces deer or antelope hunting.
Attribute

Vortex
Viper HS LR

Country of Origin

Philippines

MSRP – Typical Retail Price

$649 – $549

Magnification range

4-16 x 44mm

Objective Bell

52mm

Objective Lens

44mm

Side Focus

50 Yds – ∞

Tube Diameter

30mm

Adjustment Increments W/E

.25/.50 MOA

Weight oz.

20.0

Length

13.7″

FOV Max – Min – Magnification

27

' – 7'

Minimum Eye Relief

4.0″

Eyepiece Diameter

42mm

Exit pupil

11- 2.7 mm

Range of Adjustment W/E

75/50 MOA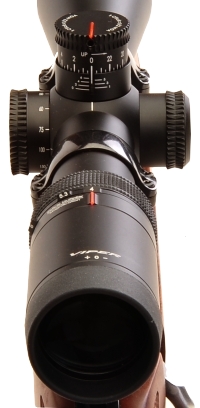 We've been trying to cover as many good mid price range scopes as possible and the Vortex seems to have some interesting features that go beyond the typical specification table.
As an example the magnification ring index is angled up toward the shooter for increased visibility and the speed ring is more appropriately sized. Some of the current model scopes have a huge speed ring that forces the use of high rings to achieve adequate bolt handle clearance. This moves the optical centerline away from the bore centerline, which amplifies the degree of change with each click of scope adjustment.
Both elevation and magnification position marking indicators are light pipes and the elevation turret, with integral rotation counter is not capped to facilitate ease of adjustment.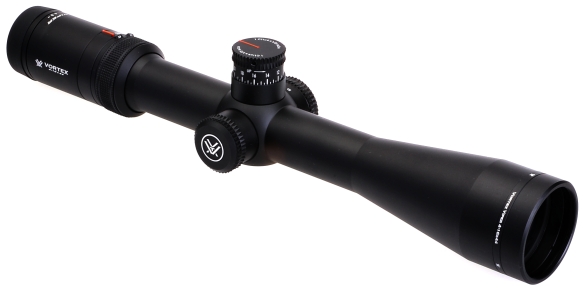 The Viper, and its documentation, appear to be the product of a company that pays a good deal of attention to how their products are used. Subsequently, there is more detail documentation regarding the use of the product, particularly when it comes to setting up and utilizing some of the scope's unique features like CRS and the Dead-Hold BDC reticle. I don't know if I pay that much attention to these types of scope features once it is installed and the gun is zeroed, but I think some folks like and use distance estimating reticles and some folks are always looking for improvements in equipment and put them to use as they become available.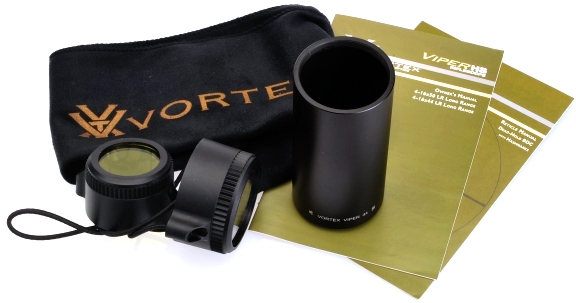 For my purposes, I seem to be able to look through a scope at game and the immediate surroundings and get a pretty good sense of the size of the animal and what holding over or leading a few inches would look like through a scope. So, while I might not need the Viper for its BDC reticle and CRS shims, I do like the Viper for its bright optical clarity, crisp contrast, preciseness and predictability of adjustment and its rugged construction. A no fog, non-leaking scope that won't break when bounce off of a tree holds a special place in my heart. The left ventricle, I believe. Plus, Vortex includes a see-through lens caps, a sunshade, a wipe cloth and user documentation in useful form.
Better BC, Berger Bullets… Say that three times
The thing I've always liked about Berger Bullets is the absence of splashy ads and extravagantly stated benefits of their products. Berger seems to mostly just list the many, many, competitive shooting events their bullets win and the long list of competitive shooters who use them. Of course, they also post lots of pictures with successful hunters who use Berger bullets. As a consumer, what impresses me most about Berger Bullets products is the absolute uniformity of bullet weight and form, from one lot to the next, and how Berger hunting bullets perform on game.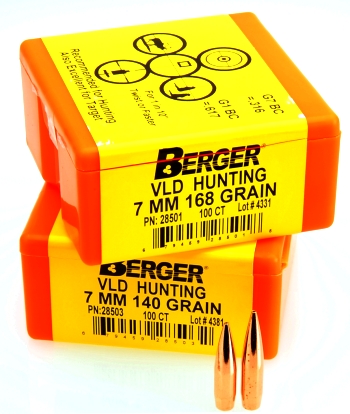 Since the 7mm-08 Remington round has both close-in and longer range potential, I thought investing some time into developing load data for two good VLD hunting weights would be useful. While the result of the bullets' sharply tapered ogives in long for weight bullets, their length is well within the stabilizing capabilities of the gun's tight 1:9.5″ rifling twist rate.
The BC for the 168 grain bullet is 0.617 and the BC for the 140 grain bullet is 0.486. By comparison, the excellent 160 grain Sierra GameKing has a BC of 0.455 and Sierra's 140 grain Pro-Hunter has a BC of 0.377. My point is that they are slick.
The bullets are moderate in cost, about 40¢ per, which isn't bad when loading premium ammunition. As previously noted, the VLD Hunting bullets are a little long for bore size, which takes something away from case capacity, but there are ways to recover.
Theoretically speaking…
Running the data through the Real Guns Exterior Ballistics Calculator, even though the Sierra GameKing's lighter weight and shorter length give it an initial velocity and energy advantage, by the time the bullets reach the hundred yard mark, the Berger is already out performing the Sierra.
Indices
Range 0 -400 yards Berger 168 Grain VLD Hunting
Range -yds
0
50
100
150
200
250
300
350
400
Velocity – ft./sec.
2650
2578
2507
2437
2368
2300
2234
2169
2105
Energy – ft.-lbs.
2619
2478
2343
2214
2091
1974
1861
1754
1652
Path – in.
-1.5
0.9
2.0
1.7
0.0
-3.3
-8.2
-14.9
-23.4
Indices
Range 0 -400 yards Sierra 160 Grain GameKing
Range -yds
0
50
100
150
200
250
300
350
400
Velocity – ft./sec.
2680
2582
2485
2391
2300
2210
2122
2037
1953
Energy – ft.-lbs.
2551
2367
2194
2031
1878
1734
1600
1473
1355
Path – in.
-1.5
0.9
2.1
1.8
0.0
-3.4
-8.7
-15.8
-25.1
The 140 grain comparison yields very similar results. We used a common velocity in the the tables below for the sake of BC illustration, however, the Sierra bullet was not able to reach the same level of velocity as the Berger bullet in combination with available powder.
Indices
Range 0 -400 yards Berger 140 Grain VLD Hunting
Range -yds
0
50
100
150
200
250
300
350
400
Velocity – ft./sec.
2950
2852
2756
2663
2571
2481
2393
2307
2223
Energy – ft.-lbs.
2705
2529
2362
2204
2054
1913
1780
1654
1535
Path – in.
-1.5
0.6
1.5
1.4
-0.0
-2.7
-6.8
-12.4
-19.7
Indices

Range 0 -400 yards Sierra 140 Grain
GameKing

Range -yds
0
50
100
150
200
250
300
350
400
Velocity – ft./sec.
2950
2824
2702
2583
2467
2354
2245
2138
2035
Energy – ft.-lbs.
2705
2479
2269
2074
1892
1723
1566
1421
1287
Path – in.
-1.5
0.6
1.6
1.5
0.0
-2.9
-7.4
-13.6
-21.6
Meanwhile, in the real world…
Part of the task of developing handloads is creating a baseline for the purpose of comparison. In this case, I selected five brands – types of factory ammo and shot each to collect accuracy and velocity performance data. For a handload to qualify as an improvement, it would need to cost less than factory ammo and perform at least as well. For a handload to qualify as an unqualified success, it would have to cost less and outperform factory ammunition.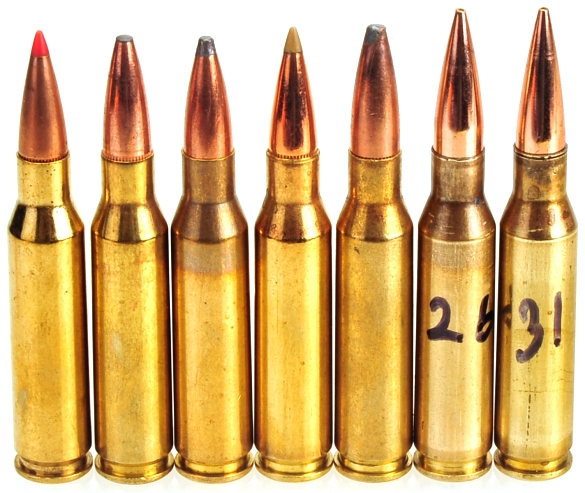 Checking availability, most discount retailers stocked an average of twenty-five factory loads for the 7mm-08 Remington. Bullet weights ranged from 120 grains to 168 grains, price from a low of $17 to a high of $60 per twenty rounds. In evaluating the cost if handloads, based on the Real Guns handload cost calculator, and assuming five times use of brass, very good ammunition can be loaded for $12/20. The same grade of ammunition as factory product selling in the $25 – $35 range. Add another $3 to the handload cost for a total cost of $15 per box of twenty, yields ammunition with premium bullets like the noted Berger product, the equivalent of factory ammo that sells for $45 – $60. Ammunition chronographed as seen below, left to right is listed top to bottom order on the table.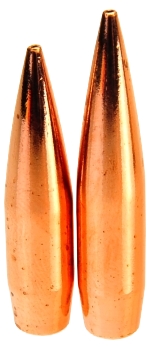 Ammunition

Bullet
Weight
Grains

M

V
FPS
100 Yd
Group"
Hornady Superformance
139
2907
1.2
Federal Fusion
140
2891
1.0
PRVI
140
2731
1.3
Remington AccuTip
140
2874
0.9
Remington Core Lokt
140
2876
1.1
Berger VLD Hunting – Handload
140
2937
0.4
Berger VLD Hunting – Handload
168
2671*
0.7
* Factory ammo with 160 to 168 grains bullet weights
and 22″ barrel are rated at 2,550 – 2,600 fps.
Honestly, there is no bad ammo here, but some is markedly better. The barrel heated up bit after a handful of shots, which caused me to think the cartridge would rank high on the Barrel Burner Index. However, the round actually ranked as relatively mild with and index of just 11.3, in comparison to 14.8 for the 280 Remington and 17.5 for the 7mm Remington Magnum. Over a period of several days, with varying temperature and huge swings in humidity, the gun shot the the same point of impact with the same ammunition.
The handloads were assembled to a cartridge overall length of 2.875″, which is 0.075″ longer than SAAMI maximum. There was lot of mag well clearance ahead of the bullets, a check with a COL gauge showed the sharply tapered bullets had plenty of rifling leade clearance and approximately one to one and one half grains of net case capacity was recovered. The handload data has been added to the 7mm-08 Remington load table.
Bottom line…
It's summer time and there are so many family activities to consider. Travel, vacation, projects around the house that were waiting for better weather all need tending. Still it isn't to early to start evaluating and planning what will work best during hunting season and to take the time to get familiar with the combination under live fire conditions.

The Ruger and the 7mm-08 are naturals. The gun is easy to shoot, light on recoil and flat shooting. The Vortex Viper is definitely a scope to add to my short list of good mid priced products that I would trust under hunting conditions where equipment failure could be very costly. Berger Bullets are rocket science; streamlined, low coefficient of drag, reduced time in flight for higher retained velocity and corresponding energy. Also good jacket design for transferring maximum energy to game. I believe I have a good base to build upon.