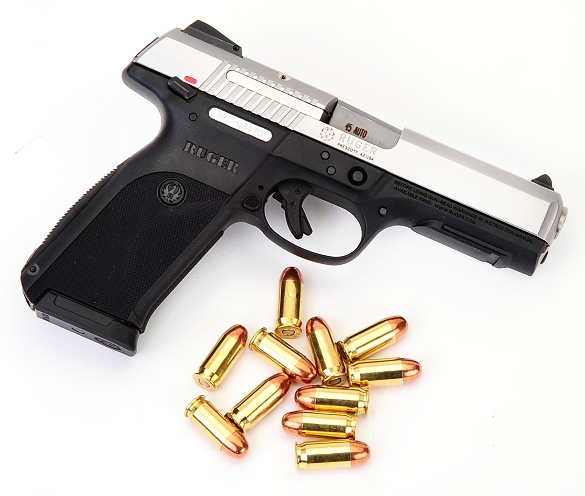 The Ruger SR45 is a 2013 addition to Ruger line of preset autoloaders. It joins the SR9 and SR40 as the mid, or near Commander size big bore within the group and represents a preset alternative the Ruger's Commander size SR1911 single action autoloader. Ruger describes the SR45 as a centerfire, striker fired, magazine fed, autoloading, recoil operated pistol. Saying that outloud makes me feel as though I should be standing at attention,… wearing fatigues, bracketing the statement with "Sir", and hoping my TI will accept that explanation. Good times.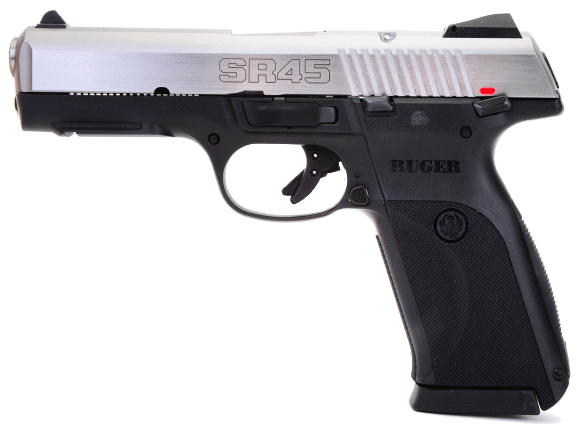 Simple inner workings…
The SR45 requires no tools for field stripping; checked for clear, magazine out and uncocked, the slide is locked open, the takedown pin is pressed out and the slide is released and eased off the grip frame. The guide rod and barrel can then be lifted from the slide.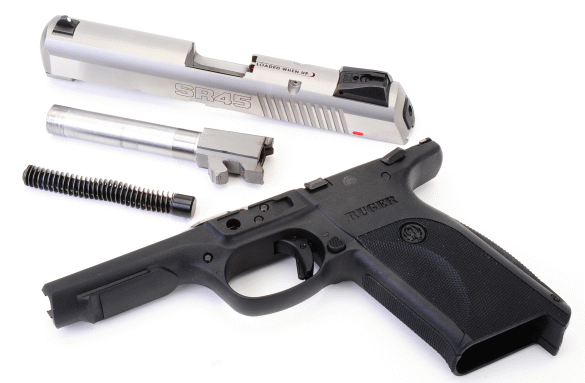 The SR series uses the rectangular raised surface above the barrel's chamber as a large locking lug. Gone are the radial locking lugs of a 1911 type for the sake of reliability and simplicity of manufacture and the design is robust. The SR45 Ruger approved ammunition includes: standard velocity, high velocity and +P loads. Bullet type can be ball or hollow point and casings can be brass, aluminum or steel. No incidence of failure to feed, fire or eject, even with magazines containing mixed types of ammunition were experienced during live fire check out.

The grip frame assembly is modular in construction. The complete steel cam block assembly: barrel locking system, recoil absorption block, steel slide rails and the SR's trigger assembly can be removed as complete units.
Little touches like a reversible backstrap do a lot for shooter's comfort and accuracy. It is possible to flip the backstrap around to go from curved to flat by just pushing out a friction fit retaining pin.
I believe I… over arrowed this one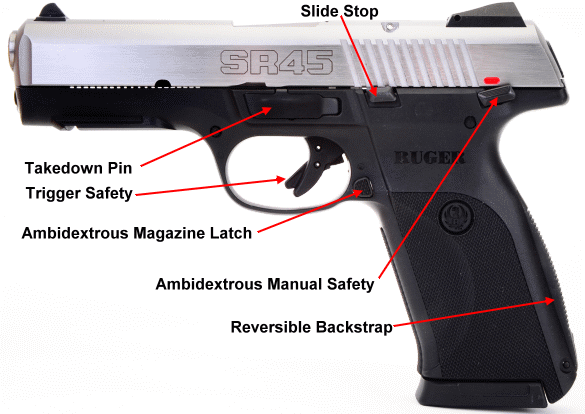 The layout of SR45 controls is 1911 type like. Everything is a thumb swipe away, with handy ambidextrous magazine release and thumb safety. Actuation is crisp and positive.
The SR45 has a complement of safety features that don't get in the way, which makes it a good defensive firearm in high stress situations. A trigger block remains in place until the trigger safety is depressed, so rough handling the firearm will not cause accidental discharge. The loaded chamber indicator and cocked indicator provide the SR45's state of readiness at a glance.
Shooting… Isn't that what we are here for?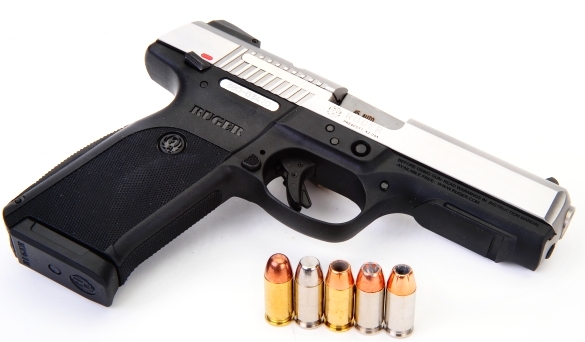 The SR45 was test fired with an assortment of 45 ACP ammo (L-R): Remington UMC 230 grain FMJ, Federal Guard Dog 165 grain home defense ammo, Federal 185 grain JHP, Speer 185 grain Gold Dot and Hornady TAP 200 grain +P. All of it functioned without a problem, all locked the slide open on empty, all fed without a problem even when mixed in a magazine.
Ammo

Bullet
Type
Bullet
Weight
Grains
Recorded
MV-FPS
5″ Barrel
Rated
MV-FPS
7 Yard
3 Shot
Group "
Remington UMC
FMJ
230
804
835
3.0
Federal Guard Dog
FMJ*
165
986
1140
2.2
Federal Personal Defense
HP
185
978
950
2.6
Speer Gold Dot Personal Protection
HP
185
950
1050
2.0
Hornady TAP FPD +P
HP
200
1004
1056
2.3
*Quick expanding – limited drywall penetration round for indoor home defense.
Slow fire, three shot groups were easy to put together. The Ruger is pretty soft on recoil, which is a bit of a surprise because the SR45 has a narrow backstrap in its single stack frame. My wife shot perhaps 20 rounds or so and really liked the Ruger and its shooting personality. Something to think about for folks who might want to move up from a 9mm or 40 S&W.
Ruger SR45

Manufacturer

Sturm Ruger
Item #

KSR45

Type

Autoloader – Preset

Caliber

45 ACP

Mag Capacity

10

Barrel Length

4.5″
Rifling

1:16″

Weight

30.15 Oz
Slide
Stainless steel
Grip Frame
Glass filed nylon

Overall Length

8.00″
Overall Height
5.75

"

Width

1.27″

Sights

Three Dot Adjustable

Trigger

Safety Trigger

Safety

Thumb – Ambidextrous

MSRP

$529

Nominal Weights & Measures
The SR45 is typical Ruger fare; ruggedly designed, quality assembled and accurate. The stainless slide and nylon frame are durable and assure a long operational life.