I notice as I get older, and my sense of hearing has lost a db or two, I sometimes find I am speaking with someone, but we are not having the same conversation. When my wife recently came in from shopping, and said she had picked up some low fat, Babybel cheeses, I spent the evening trying to find out where she stashed the newly purchased Reese's Pieces. I live in a far better world than reality affords.
Ruger Guide Gun

Manufacturer

Sturm, Ruger & Co., Inc.
Model #

47114

Action Type
Bolt Action

Caliber

300 Ruger Compact Magnum

Mag Capacity

3

Barrel Length

20″
Rifling

1:10″

Weight

8.1 Lbs

Overall Length

Adjustable 40.5″ – 42.0″

Stock

Green Mountain Laminate

Hardware

Stainless Steel

Length of Pull

Adjustable 12.75″ – 14.25″

Drop at comb

3/8″

Drop at heel*

3/4″

Sights

Adjustable Rear

Scope

Drilled and Tapped

Trigger Pull

4 Lbs. 9 Oz.

Safety

3 Position Thumb

MSRP

$1,199

Nominal Weights & Measures
"Guide Gun" is a label that has come to mean a light, short barreled, fast handling rifle that might be carried by a wilderness guide for the purposes of backing up a client who is hunting dangerous game, or perhaps when fishing in territory shared with hungry bears.
The term "Guide Gun" is usually applied to big bore lever action rifles, even though actual wilderness guides more often carry short barreled, heavy caliber, bolt action rifles. Ruger's Guide Gun is substantially the latter. The subject rifle is chambered for the stout 300 Ruger Compact Magnum, however, the Ruger Guide Gun is also available in 300 Winchester Magnum, 30-06 Springfield, 338 Ruger Compact Magnum, 338 Winchester Magnum, and 375 Ruger Magnum.
You can let your eyebrows return to the stowed position on the big cartridge/short barrel issue. Very large dangerous game is rarely shot at very long distances and little is being surrendered in velocity with a couple less inches of barrel. Besides, when scrambling around rough terrain, or defending yourself close up, the last thing a person needs is four feet of rifle that gets tangled up in brush and tracks fast moving dangerous game like raised waving arms at a Neil Diamond concert.
Range appropriate sights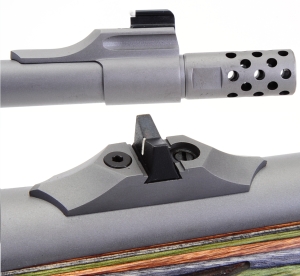 The Guide Gun is supplied with express sights even though I'd guess the rifle would typically be used with a scope in place. Scope or no scope, it is always nice to have a backup sight system in the event of a failed scope, or where there is a need to shoot in close proximity to quarry. No, not "close to a quarry"… but I knew you would go there. The sights are adjustable for windage and zeroed at 50 yards for elevation. But what if you want to shoot farther than 50 yards? Glad you asked.
165 Grain Hornady Superformance 300 RCM

Yards

0

50

100

150

200

250

300

Velocity –

fps

3047

2938

2831

2727

2624

2525

2427

Energy – ft.-lbs.

3401

3162

2936

2723

2523

2335

2158

Bullet Path

-1.5

1.0

2.5

3.0

2.3

0.3

-3.1
A 50 yard zero results in a maximum 3″ ordinate and point blank range of 300 yards as illustrated on the table. Carried out to 400 yards, drop is still only 17″, but chances are a scope will be in play well before the rifle runs out of point blank range. But the bigger bore versions of the Ruger Guide Gun like the 375 Ruger must have rainbow trajectory? Not at all. In fact we have a 20″ barrel 375 Ruger that is heavily used and its ballistics look like this –
260 Grain Nosler Ballistic Tip 375 Ruger

Yards

0

50

100

150

200

250

300

Velocity – fps

2965

2864

2766

2669

2575

2482

2392

Energy – ft.-lbs.

5074

4736

4415

4112

3826

3557

3302

Bullet Path

-1.5

1.1

2.6

3.0

2.1

-0.0

-3.6
With a 3″ ordinate, the big 375 Ruger has a point blank range of 293 yards and that gem is still putting out over a 3,000 ft-lbs of kinetic energy at 300 yards.
What's up with that flashy stock and all of that stainless steel…
The Ruger Guide Gun has adjustable pull length. By juggling the combinations of spacer thicknesses under the recoil pad, the pull length can be adjusted between Adjustable 12.75″ – 14.25″ and the rifle's overall length to a saddle carbine short 40.5″.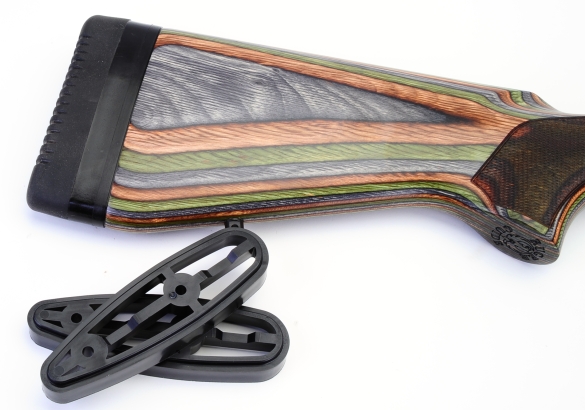 The stock is the color of nature and it is ideal camouflage. I know in this area there is oak, birch, elm, and fir trees and lots of gray granite outcroppings. So this multicolored birch laminate stock and non-reflective stainless steel hardware, blend right into surroundings and the combination looks… snazzy. Yes, you read that right, snazzy. The recoil pad looks a little… harsh but it works really well. Muzzle brake on or off this is a soft rifle to shoot. 30-06 Springfield like with the brake off, 7mm-08 Rem like with the brake in place.
And seamlessly segueing into…
The brake on the Ruger Guide Gun is very effective. I found shooting even Hornady Superformance 300 RCM ammo was like popping away with a light bullet and the 7mm-08 Remington round. So what are all of those other pieces? There is the perforated brake, a long tube which acts as a weight and a muzzle or thread cap in the event the shooter wants the presence of neither the brake or weight.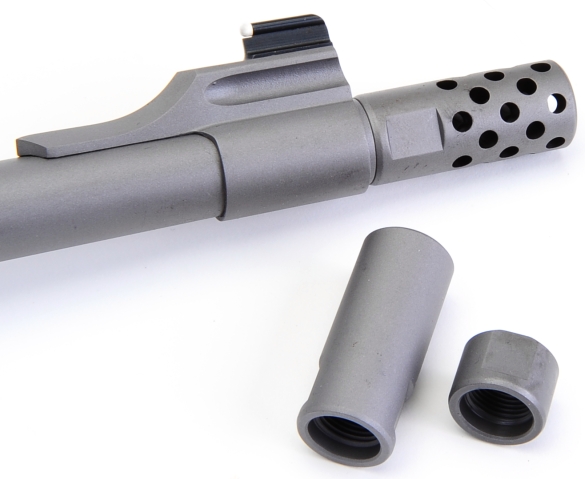 The notion advanced is that if the rifle is sighted in with the brake in place, then removed for hunting, installing the weight would simulate the presence of the brake, which would result in approximately the same barrel dynamics and a common point of impact. Use of the thread cap would suggest sighting in with the cap in place and hunting with the cap in place.
OK, Joe, but what about that muzzle brake? Won't its use make my head explode and/or cause premature baldness? Some of you may recognize the low budget sound level meter, pictured left, from our ground breaking 10′, long range silencer project. We often hang the meter 50′ behind or to the sides of the shooting bench so levels of report will be within the operating range of the meter, but we are still able to measure changes in report levels from one firearm to another. To people in the shooting vicinity, and as far as the meter in its limited capacity is concerned, there was a negligible difference between the sound level of the gun, brake on our off. Perhaps there is some high frequency range above 8kHz….
Ruger is kind of a gun geek company; they wear their artful engineering on the outside. Subsequently, I have no doubt that there is a tangible benefit for all of this hardware, even if only to deal with public perception and to do what good customer oriented companies do; address the perception and give customers a choice. If the prevailing winds have people concerned with brake sound levels, give customers a brake/no brake option. If perception says brake weight and tension alter point of impact, give them a well thought out substitute weight. If a customer is an old guy like me and thinks men have become girls over the issue of recoil, they include a thread protector so they can stow the brake in the glove compartment of the truck. Perhaps another way to look at this is best illustrated with shot targets?
Shot on 1″ square grids with different size bullseyes. Brake installed and weight installed yielded very similar results, brake and weight removed, thread cap on, pushed point of impact down between 3/8″ and 1/2″ and all of these patterns and points of impact were consistent when repeating the test. The three shot groups measure 3/8″ to 1/2″ and were shot at 50 yards. It is mud season here and an unexpected hail and snow storm made the trek 100 yards downrange somewhat perilous and messy.
I did try installing the brake, weight and cap with an open end wrench without tightening to a torque specification and then again using the manual's 20 ft-lb torque specification, however, there was no noticeable difference in group size or point of impact. I may have just gotten lucky on hand tightening near the 20 ft-lb mark. Personally, I think this whole brake approach is well thought out, clean in execution and easy to work with.
Other nifty stuff…
Ruger is a 90º bolt rotation firearm, however, the bolt handle is tucked in and relative short so it doesn't cause a problem with large eyepiece riflescopes. Some rifles, like the CZ 550 series, have a high lift and often need higher rings for sufficient eyepiece clearance, even when there is excessive clearance at a scope's objective bell.
The bolt stop is mounted on the left hand side of the receiver; easy access when pulling the gun's bolt. Ruger integral ring mounts, the aft position appearing at the top of the picture, means no extra mount bases, and a side and front to back interlocking union between rings and receiver.
The swing safety is a three position type; safe with bolt locked, safe with bolt unlocked and fire position with full operation of all assemblies. The Guide Gun has a Ruger L6 trigger. It is a non-adjustable type, but it is smooth, breaks cleanly and has no perceptible creep.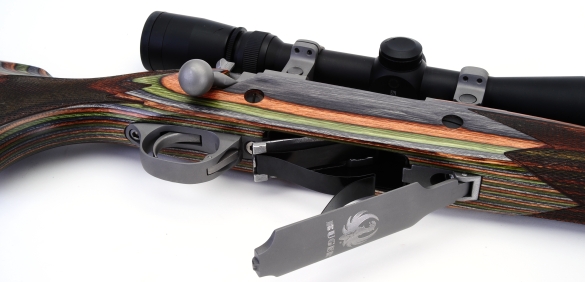 The Ruger Guide Gun has a hinged floorplate to facilitate unloading the rifle without working the bolt. The floorplate release is recessed into the front of the trigger guard to prevent accidental release. The Guide Gun Model is fitted with two stock cross bolts to reinforce the stock against recoil.
Always watch out for the short stocky guy…
Left to right… 30-06 Springfield, 300 Ruger Compact Magnum, 300 WSM, 300 Winchester Magnum, 300 Weatherby Magnum, 300 Remington Ultra Mag.
America does like its 30 caliber magnum cartridges. From a need for more power than the 30-06 Springfield could provide sprung a series of full length magnums based on the 375 H&H Magnum. Some of the more notable early cartridges are the 300 H&H (1925) and the 300 Weatherby (1944). Then there was the shortened belted version, approximately 30-06 Springfield length, 300 Winchester Magnum (1963). This was followed by larger capacity cases like the 30-378 Weatherby based on the very large 378 Weatherby Magnum case (1998) and the 30 Remington Ultra Mag based on the 404 Jeffery case (1999). Finally, someone realized that there were lots of hunters who wanted power with less recoil and in a more compact rifle form, which yielded the 300 WSM based also on the 404 Jeffery (2000) and , on a proprietary case, the 300 Ruger Compact Magnum (2008).
Cartridge

Max Case
Length"
Max
Cartridge
Length"
Case
Capacity
Grains*
Pmap
PSI

30-06 Springfield

2.494

3.340

68

60000

300 RCM

2.090

2.840

75

65000

300 WSM

2.090

2.860

81

63817

300 Winchester Magnum

2.620

3.340

94

62366

300 H&H Magnum

2.850

3.600

85

62336

300 Weatherby Magnum

2.824

3.560

98

63817

300 Remington Ultra Mag

2.850

3.598

112

64977

*Approximate Case Capacity
While the Ruger RCM does not outstrip the other cartridges in capacity with the exception of the 30-06 Springfield, it does have the highest operating pressure. The combination means powder charges that can burn in a short barrel and pressure that will crank up velocity. As an example, 165 grain SST 300 RCM Superformance ammo is listed at 3185 fps with a 24″ test barrel. The 300 Winchester Magnum version of the same ammo is rated at 3100 fps.
Lots of personality
The external ballistic example at the opening of this article represents the Guide Gun's chronographed performance with a 20″ barrel and Hornady SST 165 grain Superformance ammunition, 3047 fps. To statistical significance, the Ruger Guide Gun delivered the same velocity brake on, weight on, or cap on.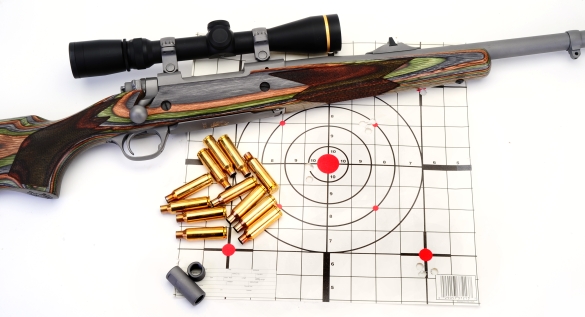 The rifle feels very compact due to its short length, however, at 8 lbs it is not a lightweight. The weight can be attributed to the Guide Gun's dense laminate stock and magnum profile barrel. The gun's beefiness kind of "makes" the gun, giving it good shooting manners and not beating the shooter with severe recoil. I would guess the weight would really be appreciated by folks selecting any of the larger magnum chambers.
Cycling is quick and positive, the action is smooth feeding these chunky 300 RCM cartridges and the rifle has a very natural point. The Guide Gun is accurate, perhaps due in part to the short. rigid barrel. The smallest 100 yard group with factory ammo was a tiny 3/4″, the largest was 1 1/4″, all shot with a Leupold VX-3 2.5-8x36mm scope, an ideal size and magnification for the Guide Gun. The scope did not take away from the rifle's balance and it fit in well with this compact rifle. Now, with a bunch of empty brass in hand, we'll see how well it performs with some exceptional bullets.
Ruger's Guide Gun in 300 RCM Part 1
Ruger's Guide Gun in 300 RCM Part 2