For a rifle to be special, it has to do more than cough up bullets on demand. To be special, a rifle has to have some style, some projection of interesting history, some characteristics that piques the imagination. The first iteration of Ruger African was a very nice rifle, a bit fancy even, but it needed just a bit more to make it feel exactly right with that model name. I guess it was just the addition of an ebony forearm tip and a second stock crossbolt because the first thought that came to mind when I opened the box was…
"Thus occurred my first experience of man eating lions, and I vowed there and then that I would spare no pains to rid the neighbourhood of the brutes. I little knew the trouble that was in store for me, or how narrow were to be my own escapes from sharing poor Ungan Singh's fate" The Man-Eaters of Tsavo, ~ Lt. Colonel J.H. Patterson, D.S.O.
A long time has passed since 1907, but I think that daydreaming about Africa and dangerous game hunting still fuels early interest in firearms and firearm history. The Ruger M77 Hawkeye African projects that express rifle image, but without the bits and pieces that have become irrelevant since the advent of more modern flat shooting cartridges and the presence of appropriate scopes.
M77 Hawkeye African Rifle

Manufacturer

Ruger Firearms

Model

HM77RSB

Type

Bolt Action

Caliber

300 Winchester Magnum

Capacity

3+1

Barrel Length

23″+Brake

Rifling

1:10″ 6 Groove

Weight

8 lbs 0 oz.

Overall Length

44.88″

Stock

Walnut

Hardware

Blued Gloss

Length of Pull

13 1/2″

Drop at comb

3/8″

Drop at heel

3/4″

Sights F/R

Post/Windage Adj.

Scope

Drilled & Tapped

Trigger Pull

5 lbs. 1 oz. LC6™

Safety

3 Position Thumb

MSRP

$1199

Nominal Weights & Measures
The three folding blade express rear sight has given way to the 50 yard zeroed single blade. The guppy belly magazine once necessary to hold three 0.600″ diameter cartridges is long gone, replaced with a more slender and lighter weight magazine with the same capacity and hinged floorplate.
A removable brake on this 8 lb Ruger M77 Hawkeye African more than replaces the recoil dampening heft of a 10 – 12 lbs express rifle and effectively reduces recoil by 50% – 60%. The result is a light weight and fast handling sporter that can handle big game cartridges and not punish the shooter.
Ruger has positioned the African to be a model, or class of rifle if you will. While it is chambered for the heavy hitting 375 Ruger and 416 Ruger, including a 375 Ruger in left hand version it is also chambered for the more moderate 300 and 338 Winchester Magnums and the relatively diminutive 223 Remington. The latter a 5 shot and without brake or ebony forearm tip. All configurations fall into the 7 3/4 – 8 lb range and all have a 23″ barrel.
Compared to the M77 Hawkeye Standard, the African has the cross bolted and ebony tipped stock and a 1″ shorter barrel in magnum chambers. The African is chambered for more powerful cartridge and it ships with good set of metallic sights. In similar chambers the Standard and African weight is about the same.
Sights and Slings
As previously noted, the rear sight elevation is preset at 50 yards which puts the 300 Winchester Magnum with 180 grain loads point blank out to 200 yards, a range where a scope would normally take over. The rear sight is adjustable for windage and the front post is secured with a fastener and made to be interchangeable. The African has a barrel banded front swivel, but it also comes with a sling swivel mount that can be screwed into threads in the rifle's forearm… or maybe to mount a tripod.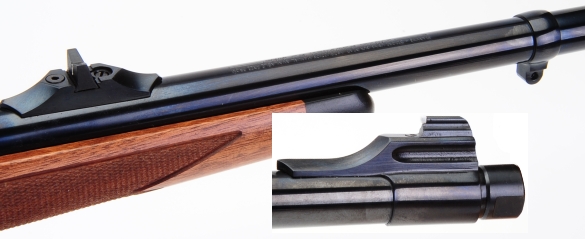 A system that makes everyone happy…
Let me go on record by saying brakes are good, regardless their spelling. They are good to take, they do wonders for your car and they allow many more shooters to haul along a magnum rifle on a hunting trip without suffering mule kicking recoil. The problem is the politics of brakes; brakes are noisy, brakes give your PH a headache, rifles shift point of impact when brakes are removed as mass removed from the end of the rifle's barrel alters barrel harmonics.
The African comes with a muzzle cap for manly men who don't need no stinking' brake and the rifle can be shot with just the thread protector in place. The brake can be installed when sighting in or taking target practice and left on while hunting. The rifle can be shot from the bench with the brake in place to spare your fragile shoulders, then removed for the hunt by substituting an included weight that simulates the brake mass at the end of the barrel so that point of impact does not shift.
Yes, the system works as proven on a Ruger Guide Gun wring out. The point of impact shifts about 3/4″ at 100 yards between a brake and no brake gun. Installing the weight restore point of impact and cuts db.
That stock isn't going anywhere…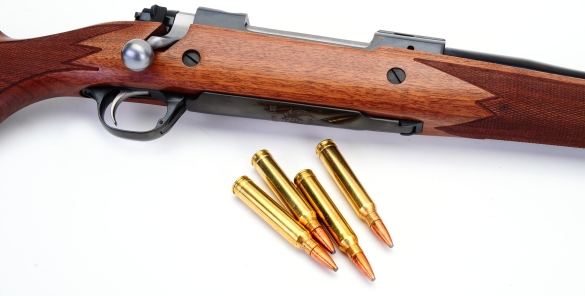 Reinforced recoil lug, positive locating of the action and stress relieving cross bolts make this stock and barreled action a permanent relationship. Good for reliability and durability as well as for accuracy. Separating the barreled action from the stock by removing three fasteners; two at the trigger guard and one at the floorplate hinge.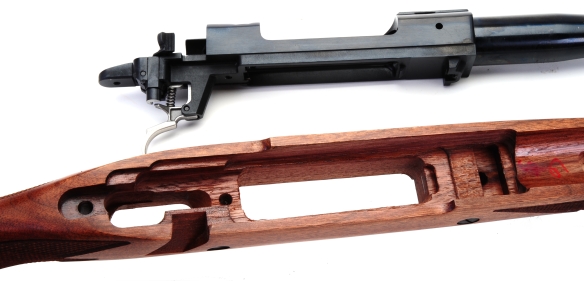 The action is flat bottom with an integral recoil lug. The stock is inletted to locate the action at a number of places, on a number of planes, over a considerable amount of surface area. The wood is well sealed to assure stability as humidity changes. The barrel floats in the barrel channel, contributing to the rifle's accuracy.
How does it shoot?
The Ruger Hawkeye African, thanks to its relatively light weight and excellent balance, handles like a good deer rifle. The 23″ barrel tracks to moving targets without a sense of excessive muzzle momentum. The sights are crisp, front and back and the curved bolt handle allows for scope clearance without going to high mounting rings.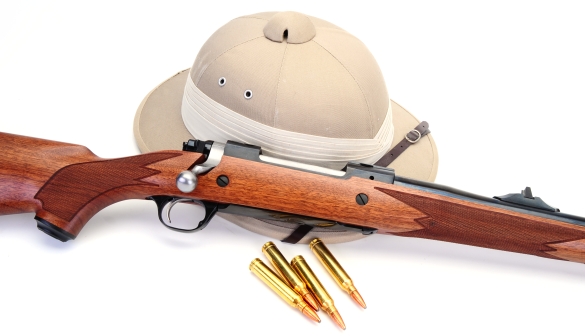 Accuracy in 300 Winchester Magnum is very good, excellent as a sporter. Factory ammo, in this case Remington Core-Lokt 150 grain ammo, shot consistently slightly under and over 1 MOA without a lot of prep or set up. Recoil with the brake in place was moderate… 308 Winchester like. With the brake removed, recoil was a bit more than 30-06 Springfield like, particularly in heavier bullet weights, but still nothing serious. The rifle has a good feel to it and it is comfortable to shoot. For further details drop by the Ruger site.