After a Feinstein – Obama "Disarm America" debacle in the Senate, after a week of listening to the press and liberal politicians screaming in defense of a terrorist bomber's Constitutional Rights and after hearing Feinstein say with a straight face, "If we do not honor and protect rights guaranteed under the Constitution, what will we be as a nation?" I decided I needed a break from the cow patties and a chance to enjoy myself.
SR-556VT
Having the opportunity to spend time with several versions of the SR556, including one chambered for the 6.8 SPC, I think I have a pretty good sense of what the gun is all about. Some were fully dressed with quad rails and battle sights, some based on the E (Essentials) series that allowed for more personal touches and, now, the VT, Varmint Target version.
Ruger SR-556VT (Varmint-Target)

Manufacturer

Sturm, Ruger & Co.
Model#

5914

Type

gas-operated, piston

Caliber

5.56 NATO

Mag Capacity

5 (3Mags Included)

Barrel Length

20.00″
Rifling

1:8″

Weight

8.50 Lbs

Overall Length

38.25″

Stock

Fixed A2 Type

Hardware

Aircraft Aluminum – Steel

Length of Pull

13.75″

Sights

None
Accessory Mount
Full Length Picatinny Rail

Trigger Pull

4 Lbs. 1 Oz.

Safety

Rotating Select

MSRP

$1,995

Nominal Weights & Measures
Key VT version key differences:
1:8″ twist rate compared to 1:9″ for all other models. The tight twist helps stabilize 62+ grain bullets that are prevalent in long range 5.56mm shooting. The barrel is hammer forged, 20″ long rather than 16.12″ and made of 410 stainless steel. The carrier group is chrome plated.
The VT has a round handguard with full length top Picatinny rail rather than a quad rail type and is supplied with finger grooved rail covers. The buttstock is a fixed A2 type with a MagPul Moe pistol grip.
The charging handle has an oversize tactical latch to facilitate the use of a scope with a large eyepiece. The target trigger is two stage; short take up and crisp, light pull with no creep or overtravel.
All SR 556 models are piston driven. Rather than bleed gas passing through a tube and driving the gun's carrier, a combination of a piston and transfer rod actuate the SR556's carrier. Gas and residue are exhausted at the gas block rather than inside the carrier/receiver. As a result, the SR556's system runs cooler and is much cleaner. Additionally, the SR556's gas block has a finger tip adjustable, 4 position gas regulator that allows setting for various types of ammunition or for configuring the rifle for single shot operation. Check out the Ruger matrix for model specifics.
The Burris Eliminator LaserScope
For people who embrace laser sights, range finders, reflex sights, and night vision, or do not live in fear of technology, the Eliminator from Burris Optics is a good choice. It combines quality Burris optics and computerized functions to form a hybrid product. The Eliminator is a good 3.5x-10x scope with rangefinder capability that overlays distance to target at the top of the eyepiece image.
The Eliminator II bumps power to 4x-12x and increases clear objective diameter. The Eliminator II also has a refined range finder function that factors in angle of inclination to arrive at a true horizontal distance, a significant factor in longer range shooting in hill country or mountainous regions. The Eliminator II is also programmable and uses specific cartridge bullet trajectory to properly locate a red dot, an aiming point, along the vertical axis of the scopes reticle.
The Eliminator III bumps power to 4x-16x, increases the clear objective diameter further and adds wind drift compensation to the scope's trajectory programming capabilities. The Eliminator II was selected as a good fit for the SR556's capabilities.
| | | | |
| --- | --- | --- | --- |
| Burris Model | Eliminator | Eliminator II | Eliminator III |
| Type | 3.5x-10x-40mm | 4x-12x-42mm | 4x-16x-50mm |
| Reticle Type | 38 Dot | X-38 | X-96 |
| Auto Compensating | N/A | Incline | Incline/Windage |
| Laser Range (yards reflective) | 800 | 999 | 1200+ |
| Laser Range (yards deer) | 550+ | 700+ | 750+ |
| Laser Accuracy +/- Yards | 1 | 1 | 1 |
| Battery Type | CR-2 | CR-2 | CR-2 |
| Battery Life – Cycles | 1100 | 1100 | 5000 |
| Operating Temperature | -15° +140°F | -15° +140°F | -15° +140°F |
| FOV – ' High/Low X | 25 – 9.6 | 25 – 9 | 25 – 7 |
| Adjustable Parallax (yards) | NA | N/A | 50 – |
| Exit Pupil (mm) Low – High | 11.4-4.0 | 10.5-3.5 | 12.5-3.1 |
| Click Value @ 100 yards) | 1/4 MOA | 1/4 MOA | 1/4 MOA |
| Maximum Adjustment | 50 MOA | 40 MOA | 40 MOA |
| Weight with mount & battery | 26 Oz | 26 Oz | 26 Oz |
| Optimum Eye Relief (Inch) | 3.0 – 3.5 | 3.0 – 3.5 | 3.5 – 4.0 |
| Objective Bell Diameter (mm) | 60.0 | 60.0 | 65.5 |
| Clear Objective Diameter (mm) | 40.0 | 42.0 | 50.0 |
| Ocular End Diameter (mm) | 39.0 | 39.0 | 39.0 |
| Overall Length " | 13.00 | 13.00 | 15.75 |
| Mounting Rail Length " | 5.7 | 5.7 | 8.5 |
The Eliminator mounts with two simple mount cross bolts, seen on the Picatinny riser in the lower image. The outside clamps grip the dovetail surfaces on the Picatinny rail and on the bottom of the Eliminator. The rectangular cross bolts key into the slots on the rail and on the scope mounting surface, locking both together and preventing forward movement. Because the Eliminator II is not held within rings that permit the scope to rotate within, the scope and the scope's reticle always ends up square to the rifle; no canted reticles.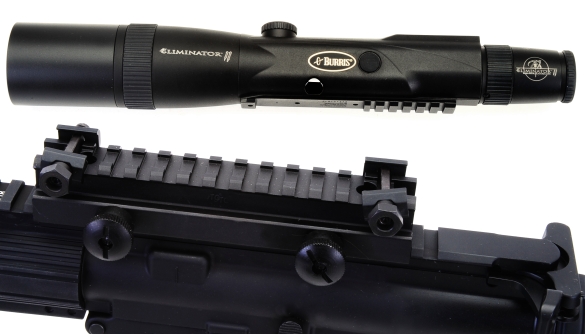 For the sake of proper eye – eyepiece alignment, and because the Eliminator II has a 42mm clear objective and a 60.0mm objective bell, it needs to be raised off of a flat top's rail for clearance. In this instance a medium height riser was installed, which is actually a little high. A low riser will be installed at the range to see which height is most comfortable and provides more natural alignment.
Under the Eliminator II's electronics shrouding beats the heart of an optical sight so, not surprisingly, the first step after mounting the scope is bore sighting. A standard inexpensive laser boresight was used with the scope's magnification dialed down for a more precise projected reference dot. The windage and elevation adjustment caps come off, the scope is aligned. Adjustment resolution is 1/4 MOA with a total range of 40 MOA.
Utilizing the Eliminator II's electronics… or not
If desired, or in the event of a dead battery, the Eliminator is a fully function, high quality optical rifle scope. As an example, in static range testing, there was little reason to utilize the scope's electronics. However, after range testing, when shooting at random distances and targets in a wooded area, the electronic capabilities were used extensively.
I know, lots of arrows and labels, however, most are controls commonly found on conventional rifle scopes that control windage and elevation, fine focus the reticle and select the degree of magnification. The "Main Switch" powers up the electronics and either the same button or the Remote transmitter is depressed to read range to target. The information is displayed for 8 seconds and can be displayed again by pressing either button. The range displayed is horizontal distance, auto adjusted to take into consideration ascending or descending grades.
The Eliminator II's X-38 Reticle… I knew him when he was only an X-37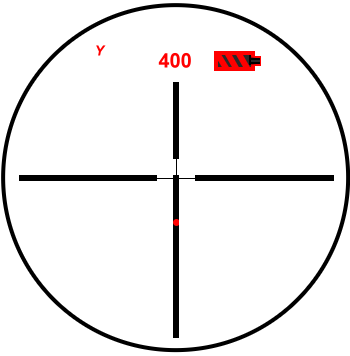 I apologize for the cave drawing quality of this illustration. Looking through the scope and pressing the power button to power up, and again to read, yields a reticle display that looks like this. The remote button supplied with the scope will serve the second function also.
The "Y" indicates that the scope is reading in yards rather than meters, as selectable. The "400" indicates yards to the target. The form next to the yardage is the battery condition.
Approximately 1/3 down the lower reticle post is a red dot. Programmed with the cartridge's trajectory information, the scope checks angle of inclination, calculates horizontal range, corrected for angle of inclination, then illuminates a red dot on the reticle that represents the proper point of aim.
Again, the scope can also be used as a conventional optical scope, used as a range finder or programmed to calculate proper point of aim. I have to admit, it is pretty nifty looking through the scope and seeing it light up with this much information.
As a combination…
It only took squeezing off a few rounds and attempting to get comfortable to realize the original riser selection was too high, so I switched over to low riser and, finally, to a two piece low riser. The combination gave me all of the clearance I needed, good stock support and eye – eyepiece alignment.
The Eliminator II… I only had a brief opportunity to try shooting at random longer distances, a maximum of 347 yards, to try the auto point of aim compensation feature. Point of aim, as determined by the scope, was good within a few inches of elevation, which is well within reason for real world accuracy. Bullet trajectory can change that much with ammunition minor inconsistencies, shifting elevation and changes in humidity and temperature.
Unlike some relatively expensive stand alone range finders that only permit selecting a cartridge from a list they provide, Burris offers an extensive list of factory loaded ammunition, but custom data can easily be entered. Hitting a couple of buttons, only three single digit numbers must be entered; the sighted in zero range, 0) 50, 1) 100, or 2) 200 yards and, based on that zero, bullet drop expressed in inches at 500 yards. The drop information can be taken from the bullet maker's trajectory tables, a ballistic calculator or from live fire data collection.
I selected a Speer TNT 55 grain with a muzzle velocity of 3200 fps and a 200 yard zero and entered "251" into the scope for cartridge information; 200 yard zero with a drop of 51″ at 500 yards. Worked like a champ at 100, 225, 280 and 347 yards for elevation, even though cross wind was getting the better of me. I think if I was out for the day with my favorite varmint-predator loads and an unfamiliar landscape of critters to explode, I'd spend five minutes programming the Eliminator and save what could be a lot of missed shots.
The star of the show. Tah Dah…

At the risk of being graffitied in place by AR lovers all over the world, I am not a fan of run of the mill AR -15 type firearms. On the plus side, they can be an accurate class of firearm, the type of accuracy that would make a guy with a custom bolt action rifle nod his head in appreciation. On the flip side, a colloquialism once understood by more than me and six other old guys, run of the mill ARs are usually about as comfortable to carry as an open Swiss Army knife, they are often quite heavy and they run hot, very quickly. But the SR556 is not a run of the mill AR-15 type firearm, as previously noted anddetailed.
As a varmint/target rifle capable of remarkable accuracy, the SR556VT weighs a full two pounds less than my bolt action, heavy barrel varmint rifle. Which is why it was matched up with a high power, auto range finding scope. It isn't for show.
The finger grooved rail guards included with the SR556 VT provide just the right hand span for a comfortable hold and they keep hands away from any surfaces and edges that might be uncomfortable in use. The SR556, in the world of ARs is a bit of mechanical art.
As pictured, I swapped a 40 round magazine for the factory 5 round, and loaded it up with a wide range of loads and never touched the gas regulator setting. Ammo ranged from 40 grains and 3600 fps to Hornady 75 grain ammo at 2710 fps and every thing cycled. The gun definitely ran cleaner than my direct impingement ARs and it seemed to run cooler, however, I did not take an infra red read during testing.
I only checked accuracy with target ammo I typically run in my 20″ barrel guns, Hornady 68 grain BTHP @ 2800 fps and 75 gain BTHP @ 2700 fps. The 68 grain shot a best of 3/4″ at 100 yards and a best just under 1 1/4″ at 200 yards. The 75 grain shot a best of 1/2″ at 100 yards and a best of 1 3/4″ @200 yards. All three shot groups. The 75 grain BTHP is about the longest bullet that can be fed through an AR magazine. All groups were shot with the regulator set at the #2 position.
The SR-556 VT is a fun gun to shoot and the Eliminator adds to its potential. Certainly not a bargain basement firearm, but also not one without a presence and precision that justifies its price. It is truly a modern varmint / target rifle that will hold up to a lot of use and instill pride of ownership. Stop by the Ruger site for further information on the SR556 line of Ruger products. Stop by Burris Optics for more information on the Eliminator riflescope.
Additional SR556 reading:
The Ruger SR556E
Ruger's SR-556 – What comes after an AR-15?
Ruger's SR-556/6.8 Part I
Ruger's SR-556/6.8 Part II