Ruger 10/22 Carbine

Point of Origin

U.S.A.

Catalog #

10/22-RPFLM

Type Action

Semi Auto

Caliber

22 Long Rifle

Rotary Mag Capacity

10

Barrel Length

18.5″

Rifling Twist

1:16″ RH

Weight

5 Lbs 0 Oz

Overall Length

37.00″

Stock

Black Synthetic

Receiver

Anodized Aluminum

Barrel

Blued Alloy Steel

Length of Pull

13.50″

Drop at comb

1.25″

Drop at heel

2.00″

Rear Sight

Adjustable

Front Sight

Gold Bead

Scope

Drilled & Tapped

Trigger Pull

6Lbs 6 Oz

Safety

Cross Bolt

MSRP

$399

Nominal Weights & Measures
Ruger is doing their part to keep firearm sports interesting and affordable. The 10/22 is well made, accurate, reliable, and inexpensive right out of the box. Additionally, the Ruger 10/22 can be a bit of a modern hot rod for folks without the time, funds or inclination to build a race car in the garage. A little room on a work bench, a few hand tools, some pieces from the Ruger Store and the result can be a custom firearm closely tailored to its owner's requirements. The LaserMax® version is a good example of both factory standard and an owner upgrade.
Shinning a light on the subject
Okay, maybe I do watch a little too much Sci-Fi Channel, but am I the only one who sees the similarities between this LaserMax® unit and a highly maneuverable space vehicle? For those who insist on keeping their realities a little more… realistic, we'll go ahead and identify this as the LaserMax® 10/22 Laser.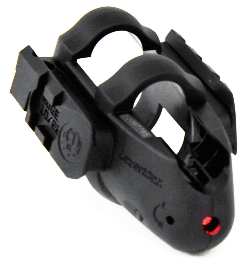 This particular LaserMax® unit is only available through Ruger, either attached to a Ruger 10/22 Carbine as pictured left or as a $129 standalone accessory that can be added to any barrel banded 10/22 rifles. The laser sight mount replaces the rifle's barrel band and adds a second to assure full support and consistent zero retention. The LaserMax®, on or off the rifle, ships preset to a 25 yard zero.
No assembly required
While the independently sold LaserMax® is a good solution for laserless Ruger 10/22 owners who would like to upgrade to this capability, the rifle and laser can be purchased as a $399 MSRP package deal under Ruger catalog #10/22-RPFLM. Lettering and arrows are optional.

More than a laser sight, the 2 ounce LaserMax® adds further utility to the Ruger 10/22 with a left and right side Picatinny rail for mounting devices like a tactical light or infrared laser. The on/off switch is ambidextrous with center as the off position with a push either way to activate. Windage and elevation settings are easy to adjust with the included hex wrench. While the assembly stays put even under very heavy use, only one screw is loosened to remove the unit from the rifle and only one screw is loosened to change the unit's battery. Batteries are good for 2.5 hours of continuous running, spares are $5/ea.
Not laser system limited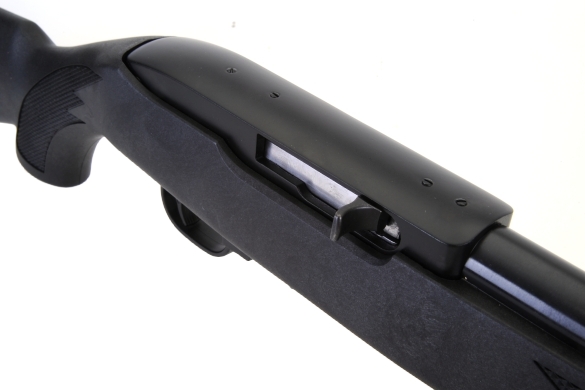 When purchased as a complete rifle with LaserMax® there are other sighting options. The rifle has a brass beaded ramped front sight and a folding rear sight. The rear sight is drift adjustable for windage and slide adjustable for elevation. The receiver top is drilled and tapped for conventional bases. A base rail is included with the package.
I did not take the time to zero the rifle to the bullseye as I was more interested in how it grouped. The left hand group was shot at 25 yard with the rifle's metallic sights from a rest. The group on the right was shot at 25 feet with the laser sight, also from a rest. Not bad for an untouched factory firearm and some inexpensive Remington Yellow Jacket ammo. Those are 1″ squares.
The hardest part of shooting with the laser in place is to stop looking for a rear sight and accept how fast and easy it is to aim with its projected red dot. A bright red 635 nm continuous wave laser with a spec bright sunlight range of 11 yards – 25 yards, I had no problem finding the dot at 25 yards in our well lit, but slightly shaded range. Walking through the woods for more informal shooting, the dot appeared even brighter and was very easy to track across a wooded background.
So what does one do with a laser sighted 10/22?
I think the easiest way to put the laser feature into context, is that it adds even more flexibility to an already highly adaptive rim fire. I kept thinking how the alligator hunters on "Swamp People" could really use this set up as it is so fast and easy to get on target. I shot that right hand group sitting up at the bench, well above the rifle in a rest, and just shooting when the red dot was on target. This set up would also make a good rifle for raccoon hunting and perhaps for a trapper with the right ammunition. For folks willing to accept the rim fire for defensive use, it is a natural in a close quarter setting where high powered rifles and handguns might put neighbors in jeopardy.

When the laser isn't required, it is just left switched off and the rifle's open sights or a fitted scope can be used as a rifle with a more conventional sighting system. In fact, next we are going to mount a scope and some other types of optical sights and see how it performs at longer ranges.