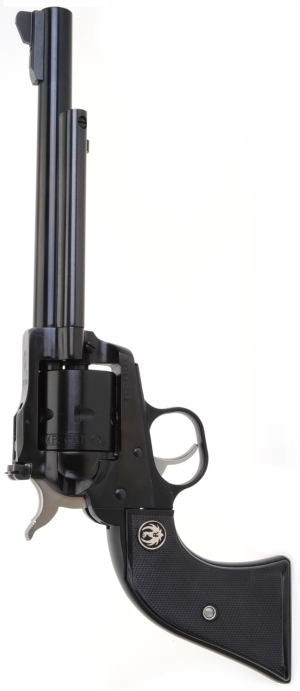 If there was ever a single action six shooter that would have been appropriate for use in the movie "Cowboys and Aliens", it would have been this Ruger Single-Six. A classic single action revolver in 17 Hornady Magnum Rimfire.
Ruger Single-Six™

Manufacturer

Sturm, Ruger & Company, Inc.

Model/Cat #

0661/ NR-6-17

Type

Single Action Revolver

Caliber

.17 HMR

Capacity

6

Barrel Length

6

.50″

Twist Rate

1:7″

Weight

35

oz.

Overall Length

12.00″

Overall Height

5.12″
Grips
Hard Rubber

Hardware

Steel – Aluminum Grip Frame

Sights

Micro Adjustable W/E

Sight Radius

7

.75″

Trigger Pull

4 lbs. 9 oz. Average

Safety

Transfer Bar

MSRP

$569
Ruger's Single-Six was originally introduced in 1953 as a "three screw" model. In 1973 the New Model Single Six went into production, followed by a succession of at least eight refined revisions to that version. Nothing underscores the quality and utility of this revolver more than production measured in millions and the fact it is still going strong after sixty years.
Ruger Single-Six revolvers have been produced in many forms: plain, embellished as special editions and fully engraved. In alloy and stainless steel, the Single Six has been chambered for the 22 Long Rifle and 22 Winchester Magnum and, sometimes, for both. There have also been versions in 32 H&R Magnum and 17 Hornady Magnum Rimfire. Ruger's suggested Single Six applications are plinking, small game hunting and SASS competition.
And what might one do with a 0.172″ bullet six-gun?
The Single-Six .17 HMR has a longish 6.5″ barrel, which makes a lot of sense when it is chambered for a small bottle neck cartridge with a 17 grain or 20 grain bullet, both thriving on velocity. While the revolver can't match the performance of the 24″ test barrels used to set factory ammunition velocity standards, it certainly isn't a slouch.
Ammunition

Bullet
Weight
Grains
Rated
24″ Barrel
FPS
Recorded
Single Six
FPS

CCI TNT Jacketed

17

2550

1933

Hornady Varmint Express

17

2550

2090

Hornady Varmint Express

20

2375

1858
Which means varmint and small game hunting doesn't have to be done at close up ranges typical to handguns or even at distances typical for the .22 Winchester Magnum version of the Single-Six.
Hornady Varmint Express 17 Grain

Yards

0

50

100

150

200

Velocity – fps

2090

1792

1525

1301

1134

Trajectory – in.

-1.0

1.3

0.8

-3.4

-12.7
Winchester Super X 40 Grain JHP

Yards

0

50

100

150

200

Velocity – fps

1407
1181
1035
943
874

Trajectory – in.

-1.0

1.4

-2.4

-14.4

-36.0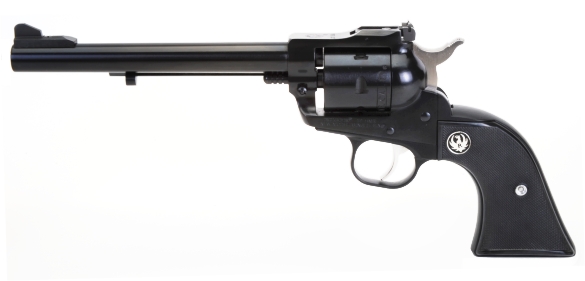 And proper sights for the occasion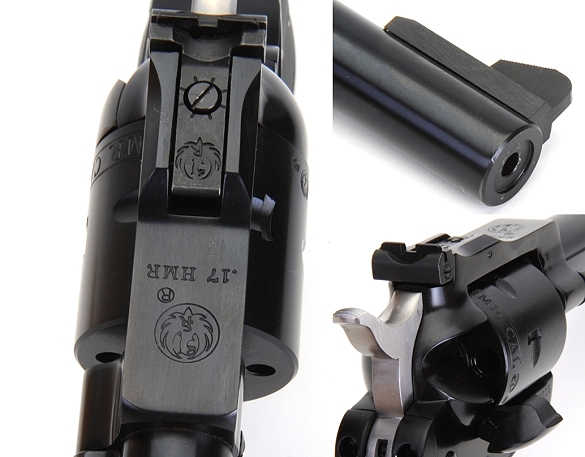 Fully adjustable rear, high ramped blade front, the adjustments are precise, positive in detent and they stay put under fire. For me, the front blade width probably makes these 50 yard sights. I might be temped to pick up a set of Williams Fire Sights from the Ruger store for a bit more range and contrast against a darker background. The long sight radius eases the task of sight alignment.
Trigger squeeze, hammer fall, no recoil to follow…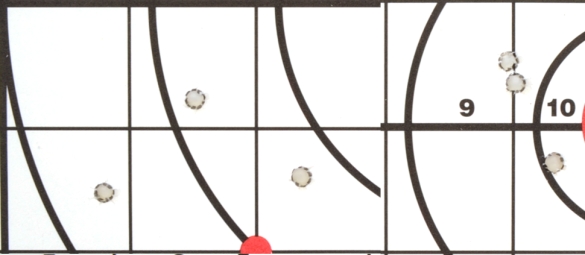 The result of low bullet mass and hefty barrel combine for virtually no recoil and muzzle blast that is relatively muffled. The Ruger Single Six makes it easy to concentrate on the sight picture and target without distractions.
Shot with support, the first 25 yard group, above left, measures approximately 1.5″ with 20 grain Hornady ammo. The second group, right, measures approximately 0.8″ and that was shot with 17 grain Hornady ammo. CCI 17 grain shot about the same. Is this the limits of the Single Six? Surely not the case, but for open sights and 75 feet in the distance, they are OK.
I didn't shoot a lot of rounds, perhaps three cylinders full to get a feel for the revolver, but there was zip for powder residue afterward. Operation was smooth, ejection was easy, and the gun stayed tight. If there was an issue it was bore and cylinder cleaning.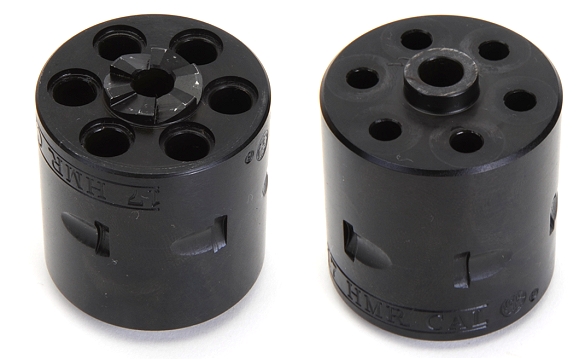 .172″ is a small bore that requires a small jag and patches and some seriously tiny brushes. What can I say, my other small bore revolver is a 45 Colt. I ended up cleaning the back end of the cylinder with 22 Winchester Magnum brushes and patches and the front side with diminutive 17 HMR size gear. Not a Ruger Single Six issue, but rather a 17 HMR cartridge issue. That said, the shooting potential renders the cleaning inconvenience trivial. Great little revolver. Check out the Ruger site for further details.