Ruger is such a prolific producer of centerfire handguns and long guns that it is possible to lose sight of the many successes they have had with rimfire products… especially if you're an old guy whose thoughts occasionally drift to warm milk and tasty pudding.
Ruger's latest release, the Ruger American Rimfire, extends the American product line to include moderately priced, high performance bolt action rimfire rifles. The initial release, available at retailers now, includes both standard and compact 22 Long Rifle and 22 Winchester Magnum versions. A .17 HMR version is due to be released soon. In spec box form…
Ruger American Rimfire™ .22 Long Rifle

Manufacturer

Sturm, Ruger & Company. Inc.

Model

08301 Standard

8303 Compact

Caliber

.22 Long Rifle

Magazine Capacity

10

Stock

Molded Synthetic

Hardware

Blued Alloy Steel

Barrel Length

22″

18″

Twist Rate

1:16″ RH 6 Groove RH

Weight

6 Lbs

5.38 Lbs

Overall Length

41.00″

35.75″

Pull

13.75″

12.50

Drop at comb

1.26 (1.84 high Comb)

Rear Sight
Folding Adjustable "V" slot

Front Sight

Williams Fiber Optic

Scope D&T

3/8″ Grooved and #12 Weaver

Trigger Pull

Adjustable 3

lbs. – 5 Lbs.

MSRP

$329
–
Ruger American Rimfire™ 22 WMRF

Manufacturer

Sturm, Ruger & Company. Inc.

Model

08321 Standard

8323 Compact

Caliber

.22 WMRF

Magazine Capacity

9

Stock

Molded Synthetic

Hardware

Blued Alloy Steel

Barrel Length

22″

18″

Twist Rate

1:14″ RH 6 Groove RH

Weight

6 Lbs

5.38 Lbs

Overall Length

41.00″

35.75″

Pull

13.75″

12.50

Drop at comb

1.26 (1.84 high Comb)

Rear Sight
Folding Adjustable "V" slot

Front Sight

Williams Fiber Optic

Scope D&T

3/8″ Grooved and #12 Weaver

Trigger Pull

Adjustable 3

lbs. – 5 Lbs.

MSRP

$329

–
The Ruger American Rimfire series rifles are built like centerfire rifles. There are no rimfire like stamped steel trigger guards, thin wall tube steel receivers or projecting magazines to be found. The Ruger American Rimfire is more closely aligned with Ruger's own $900 rotary magazine Ruger 77/22, and more nicely finished and with a much better trigger, than CZ's $410 Model 455.
Ruger has incorporated some very innovative features into the American Rimfire to make it as shooter adaptable as possible. They also kept the price tag flat across all models to prevent price differences from becoming the determining factor in model selection. Some of the specific features of the American Rimfire that distinguises it from competitors' products…
Ruger's Marksman™ Adjustable Trigger
The American Rimfire's trigger pull is adjustable within a range of 3 to 5 pounds. Adjustment is affected by turning the socket screw at the front of the trigger housing appropriately in or out. The trigger pull is smooth crisp and creep free. A very good trigger.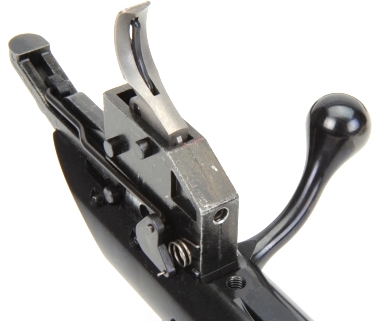 A hinged trigger release lever passes through the face of the trigger. Its job is to block the trigger until the release lever has been depressed by a shooter's trigger finger; a safeguard against dropped firearm induced accidental discharge.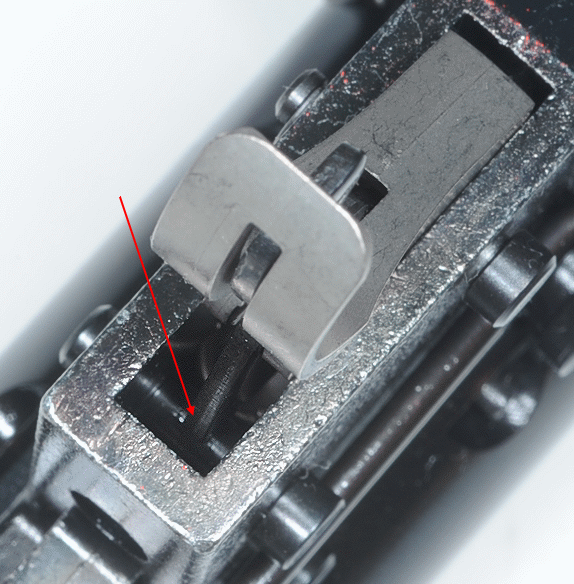 Above, a clean implementation of a safety feature. The lever is hinged to the trigger and spring loaded in an extended position. In this position, the heel of the lever rests on a steel cross pin (arrow), which blocks trigger movement. When the lever is depressed by trigger finger contact, the heel of the lever is pulled forward, away from the cross pin, which allows the trigger to travel rearward. No complex linkage, no interaction with the sear, just a very simple but effective trigger block.
Ruger American Rimfire's version of Ruger Power Bedding®
Anyone who has experience with Ruger American centerfire rifles knows they can demonstrate remarkable accuracy. Ruger accomplished this by going to V block bedding where support is at very specific points on the action and the rest floats, as seen immediately below.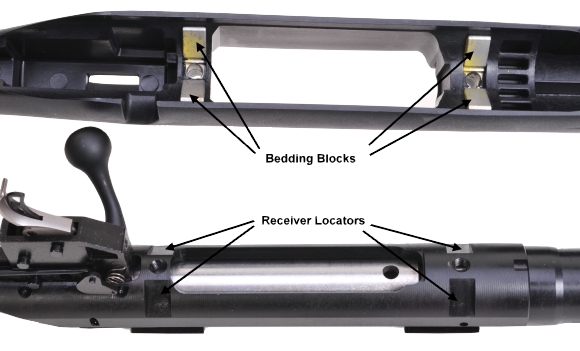 The American Rimfire, below, has a similar system. The front recoil lug provides a V Block system of support for the forward portion of the rifle's action. However, rather than V Blocks, the rear bedding block supports the action at two elongated contact points along the action's radius. The very bottom of the action is formed as a flat and does not contact the bedding block. The effect is about the same as the V Block setup. The rear bedding block also provides support for the rifle's blade ejector.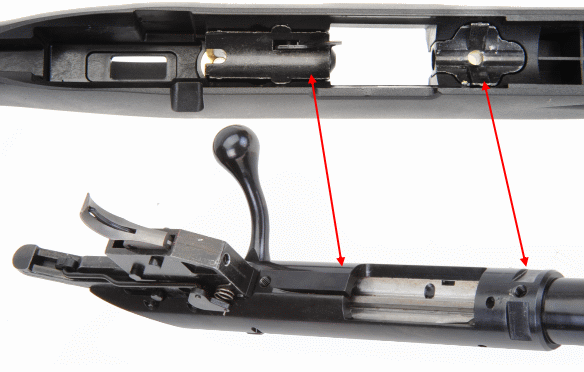 The Ruger American Rimfire's 22″ barrel is a tight press fit and pinned to its receiver. The overall assembly is very rigid. The American's longish sight radius makes precision shooting with open sights relatively easy.
Exciting cites regarding sights… on this site
The American Rimfire is supplied with open sights. The rear folding sight insert has a small 0.070″ "U" shaped aperture and is adjustable for elevation. Windage adjustment may be accomplished by drifting the rear sight.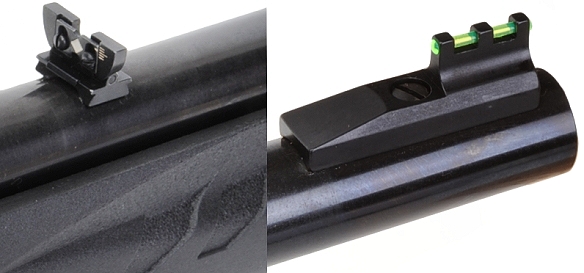 The front sight is a popular Williams fiber optic, a light pipe. It collects ambient light and presents it as a bright green 0.072″ dot that stands out in high contrast against virtually any background. Both the U notch and front light pipe are small enough to not obscure a fifty yard target. But what if you want to take shots at running field mice at 500 yards? Glad you asked…
I fell into a burning ring of fire….1
The Ruger American rimfire gives shooters two ways to set up a scope. Probably many more for folks who don't read instructions. The top of the receiver is drilled and tapped to accept centerfire type Weaver #12 bases, however, the receiver is also grooved to accept standard 3/8″ high crown direct mount rings and devices, as pictured below. My preference would be to use Weaver #12 bases as the most secure mount system and because they offer the greatest selection of ring types.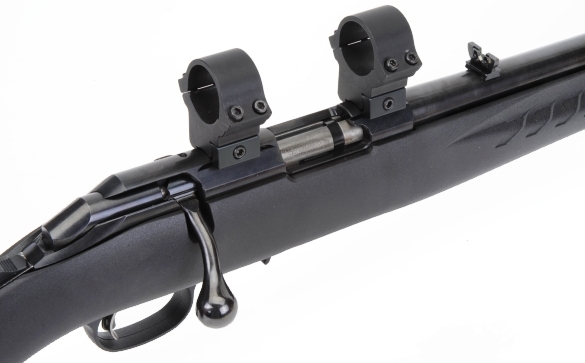 Proper rings for 3/8″ high crown applications are available from quality suppliers. For best fit and scope mount stability, it would be wise to avoid compromise products where 3/8″ high crown, 3/8″ low crown and 11mm air rifle receivers are serviced by the same part number. SAAMI drawing 6-140.03highlights some of the 3/8″ grooved receiver dimensional differences. When in doubt, Ruger customer service and suppliers like Brownells can provide guidance.
The older I get, the less experience I have with combs…
Ruger has always been one of those form-follows-function companies that invests a lot of thought into the nuance of their product. The whole reason for writing the previous sentence was to create an excuse to use the word "nuance". Nuance sounds almost French, which makes me feel almost European, which suggest I might wake up to find I have a different president and I am not a fan of the NY Giants… a team that just dropped its second preseason game. Which is, of course, code for saying that the Ruger American Rimfire comes with two adaptive stock modules to support your Brobdingnagian noggin. Now I feel Irish.
Interchangeable stock modules are removed by simply unscrewing and removing the rear sling swivel stud and pulling the module from its interlocking recess in the main body of the stock and reinstalled by reversing the process. The standard comb is used with metallic sights and similarly low mounted accessory sights. The standard high comb module is used for more traditionally mounted rifle scopes. Ruger put a lot of thought into this very useful feature and extends its flexibility by offering compact versions of both for reduced pull length where useful. Modules are available from the Ruger Store for folks who want to reconfigure between standard and compact rifle pull length.
Stock Module

Type

Comb
Height
Length
Of Pull
Retail
Price

90431

Low Comb Standard Pull

1.26″

13.75″

$19.95

90432

High Comb Standard Pull

1.84″

13.75″

$19.95

90433

Low Comb Compact Pull

1.26″

12.50″

$19.95

90434

High Comb Compact Pull

1.84″

12.50″

$19.95
Clean lines and rotary magazines…
The Ruger American Rimfire utilizes Ruger's rotary magazine feature as found on its M77 and 10/22 rotary magazine fed firearms. The design is compact, so ten rounds fit without the magazine protruding from the underside of the rifle. The separation of cartridges within the magazine make for reliable feed. The American Rimfire accepts all 10/22 rotary magazines including the BX-1 10 round, BX-25 25 round and BX-25×2 50 round. The 22 Magnum version accepts JMX-1 9 round magazines.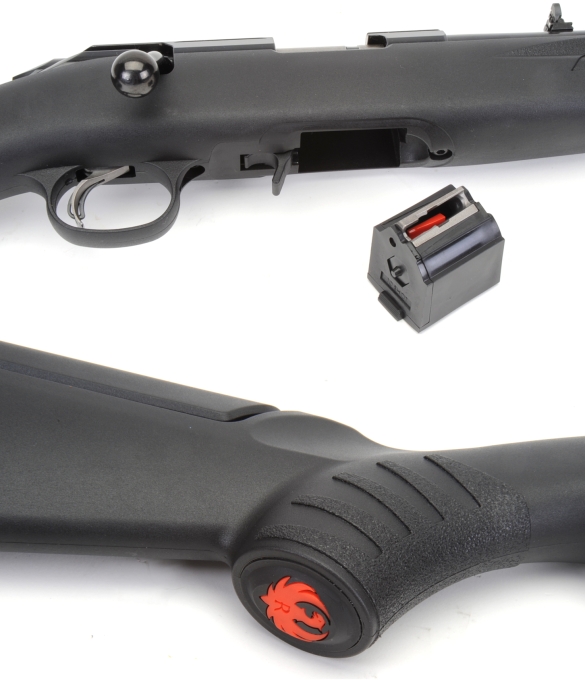 The American's stock has a very nicely done sculptured look. Raised serrations at the grip and forearm replace checkering for a better grip, even under adverse weather conditions. The stock geometry is very good for a rifle that will probably be shot from various shooting positions. The tang safety is a nice touch and easy to use without shifting grip.
With a scope… but only so I could see the target
The American was fun to shoot with metallic sights and it saw a lot of different types of ammunition. The fiber optic sight is a good color. It stood out well against paper targets and when popping dried pine cones in the shaded areas. The rifle cycled reliable, easily, and the trigger felt like one that would be found on a good centerfire rifle. After mounting a Burris varmint scope, the groups below were shot from a weighted sled in the absence of cross wind. I shot the top groups, a person who will remain anonymous (my wife) shot the lower. Looks, to me, like the work of a #2 pencil.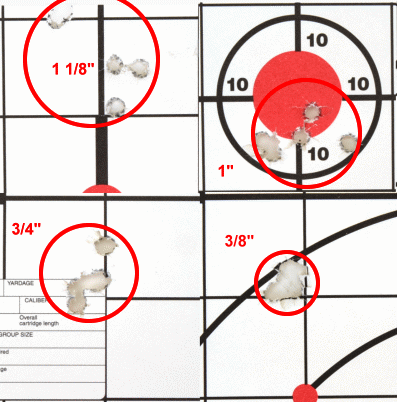 Five shot, 100 yard groups above: Federal Game-Shok 40 grain, Peters Solid Point 40 grain, Winchester SS Round Nose 40 grain, Eley Target 40 grain. These were the best groups shot, however, other Remington, CCI and hyper velocity Winchester products were not much larger. No, I am not suggesting the American Rimfire is a 1/3 MOA firearm, I am merely pointing out the rifle's potential and the need, as is the case with virtually all rimfire rifles, to find ammunition it likes.
I like to write… it's the only place I am assured the last word
Ruger did a good thing with the introduction of the Ruger American Rimfire series. I can't say it made me taller, handsome or fixed my wobbly desk chair, but I can say the American is a quality rimfire rifle for grown up and young shooters; hunting, plinking and recreational target shooting. It is accurate, reliable and an all-around nice rifle.