I am a long term competitive shooter. No, not in a organized events sense, but against the harshest critic of all time… me, and sometimes my wife. For me, participating in organized events is about proving yourself to others or measuring your performance in comparison to others. Refining skills, progressively getting better with improved shooting techniques, finessing firearms and handloads… that can be done without the noise, distraction, fanfare, politics and expense of organized events.
While my hat remains off to the folks who do participate in formal events, I will also say that it doesn't take a professional competitor to appreciate and utilize the features of a good target rifle, like this Ruger M77 Mark II Target.
The Ruger M77 Mark II Target is a different type of Ruger. It's big. This one is 48″ long in overall length with its 6.5 Creedmoor chambered, heavy contoured 28″ barrel. The barrel has an 8″ twist and is finished off with a recessed target crown. The matte gray stainless steel hardware is non-reflective and corrosion and bore erosion resistant. The barrel is full floating in the stock.
The laminated birch stock is wide in the forearm, flaring out from 1.75″ at the floor plate to 2.50″, making it ideal for shooting from a rest or other types of field support.

The pistol grip is almost vertical and wide, formed for a controlled hold with a palm swell.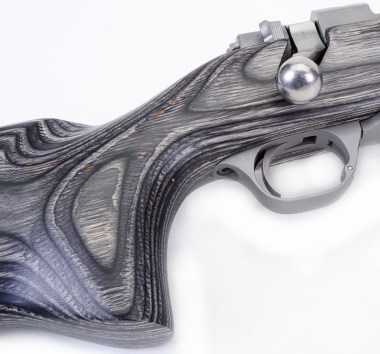 The laminated birch stock is incredibly stable and resistant to harsh environments and exposure to chemicals. Because the stock is shaped to place stress on the edge of the lamination, there is a good deal of structure and no need for a separate metal frame to hold barreled action and stock together. Nicely contoured and finished, it is a very comfortable target type stock. Minimal drop at the comb and heel are suited for the rifle's intended sighting system, a high power scope.
Other things going on in there…
The Ruger M77 Mark II action is 1) flat bottom, which resists torsional strain and makes it easy to uniformly locate the action to the stock with a very large contact footprint. 2) the recoil lug is located squarely to the stock and angle drilled for the fastener that passes through the leading edge of the floorplate. This helps located the action down and back in the stock's inletting. 3) The trigger is 2 stage target type; very light take up until the last 0.120″ of pull. The result is a very crisp let off with virtually no overtravel. The trigger is adjustable, but not consumer adjustable.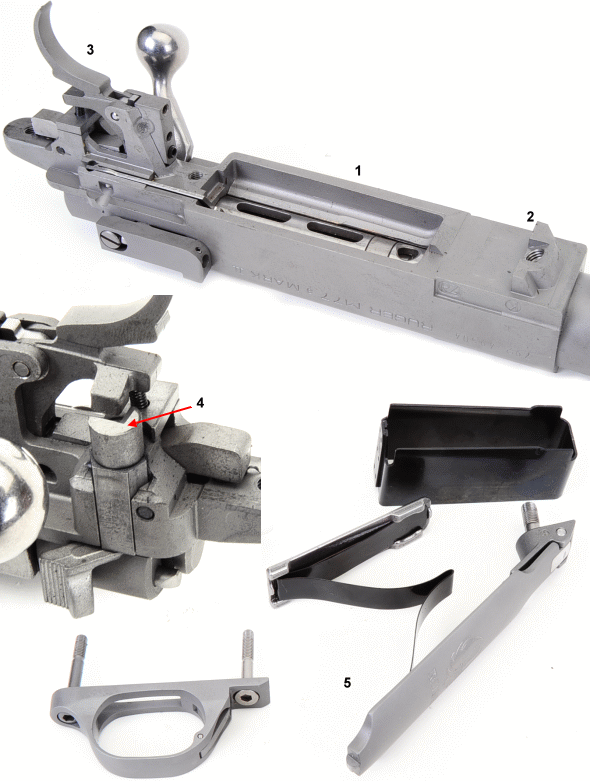 4) The safety is three position; fire, safe load-unload and safe bolt handle locked closed. In the later two positions the safety selector physically blocks the motion of the trigger. 5) The bottom metal is all stainless steel with the exception of the alloy steel magazine box and follower spring. Three fasteners secure the stock between the action and the bottom metal.
Ruger, of course, has its proprietary scope mounts where Ruger rings lock up solid in scallops cut into the Ruger's receiver. A standard set ships with each M77, Low/High 1″ and 30mm" sets are available separately. In this case I wanted to mount my beat up old Burris scope, so I used a set of Burris Ruger – Picatinny adapters and corresponding Warne rings. My only point is that you can pretty much mount whatever system you want on a Ruger.
How do I know it is a target rifle?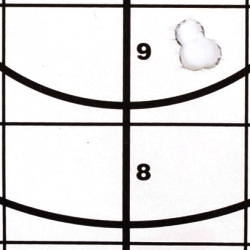 Well, in the world of competitive shooting, my chances of impressing anyone would fall somewhere between slim and none. Still, I loaded up some once fired brass with 100 grain Sierra 100 grain Varminter bullets and Norma URP powder and shot the 0.250″ group pictured left.
Probably of greater consequence, when my wife scoffed at my claim… God, for such a sweet woman she can be so mean, I shot another group of the same size with her leaning over my shoulder. Juggling powder and bullets with bullet weights from 100 to 140 grain yielded further impressive, even if not equal results. Details of all appear in the next part of this assessment.
Shooting from a rest, there was virtually no recoil. The rifle weighs 9.5 lbs empty, 200 lbs – 300 lbs with that scope in place. Even shooting the Creedmoor in a sporter weight rifle shows not muck more in the way of recoil. The two stage trigger was excellent when settled in and concentrating. Taking up the slack leaves a very short pull and there is no creep or perceptible overtravel. I really enjoyed the range time. It is always nice to work with a rifle that makes me perform better than I usually can.
Wish list? I'd like to see taller rings packed with target rifles. Most target glass sports oversize objective bells. I would like to be able to adjust trigger pull, so I could move it around for a couple of weeks before returning it to the same place it was when it left the factory. I'd like to have a picture of me packed in every Ruger rifle, simply because I am a swell guy and I would like to achieve Realty Show Star celebrity status. What does this all mean? I like the Ruger just the way it is.
MSRP $1029, available through discount retail in the $760 – $800 range. While the subject rifle is chambered for the 6.5 Creedmoor, this model is also available in 204 Ruger, 22-250 Remington and 308 Winchester. Check them out in detail at the Ruger site.