A while back we did a review of a Ruger Guide Gun chambered for the 300 Ruger Compact Magnum, a rifle which proved to have a lot of personality. The Green Mountain laminate stock coloration is actually an excellent form of camo that blends in well with nature, the hardware finish is a resilient, non-reflecting matte gray and the rifle is fitted with fast express style sights.
Ruger Guide Gun

Manufacturer

Sturm, Ruger & Co., Inc.
Model #

47

125
Action Type
Bolt Action

Caliber

375 Ruger

Mag Capacity

3

Barrel Length

20″
Rifling

1:12″

Weight

8.12 Lbs

Overall Length

*Adjustable 41.0″ – 42.50″

Stock

Green Mountain Laminate

Hardware

Stainless Steel Hawkeye Matte

Length of Pull

*Adjustable 12.75″ – 14.25″

Drop at comb

3/8″

Drop at heel*

3/4″

Sights

Adjustable Rear – Ramped Front

Scope

Ruger Proprietary

Trigger Pull

4 Lbs. 4Oz.

Safety

3 Position Thumb

MSRP

$1,199

*Rifle included stock spacers
The Guide Gun is all business and, chambered in 375 Ruger, it is a fierce little rifle that is capable of dropping the largest big game close in or at a distance. Ruger placed an emphasis on well thought out practical features and left out the fanfare.
Practical matters…
Big cartridges can lead to substantial recoil and recoil can impact a person's ability to shoot accurately, or even painlessly for some folks with certain physical maladies. On the other hand, some folks dislike muzzle brakes because they are convinced they are louder than an non-braked firearm and because in some way their presence diminishes their manly or womanly… ness.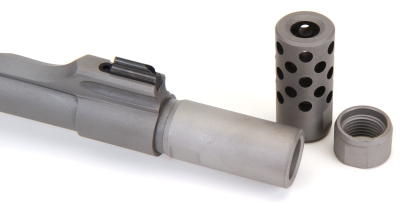 The brake is designed to reduce secondary, or gas momentum recoil. It does this by slowing and redirecting gases radially outward, away from the rifle's muzzle. The brake also represents weight applied to the barrel, which influences barrel harmonics and, to a minor degree, point of impact. For folks who sight in and practice with the brake installed, but desire to hunt without, a supplied weight is substituted to maintain point of impact. Both weight and brake can be removed and the supplied thread protector installed as yet another option.
The Ruger Guide Gun is supplied with pull length spacers. They are inserted between the rifle butt and recoil pad in various combinations to set pull length between 12.75″ – 14.25″. Pull length, in heavy recoiling rifles, can make all the difference between comfortable shooting and a bruising experience. Too long of a length of pull caused a shooter to roll his shoulder forward which can cause a hyper extended rotator cuff, often indicated by a long lasting yellowish bruise. Improper pull length also fosters improper, accuracy diminishing shooting holds.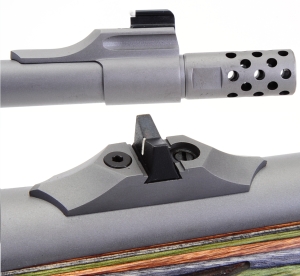 The Guide Gun has a Ruger L6 trigger. It is a non-adjustable type, but it is smooth, breaks cleanly and has no perceptible creep. The horizontal swing safety is a three position type; safe with bolt locked, safe with bolt unlocked and fire position. The Ruger's receiver is scalloped for use with supplied proprietary rings, however, the rifle is also fitted with metallic sights.
Express sights are useful, even though the rifle would typically be used with a scope. It is always nice to have a backup sight system in the event of a failed scope, or where there is a need to shoot in close up. The sights are adjustable for windage with a 50 yard zero for elevation. A run through the ballistics calculator indicates that a 260 grain Nosler Ballistic Tip would hold to -3″ out to 200 yards.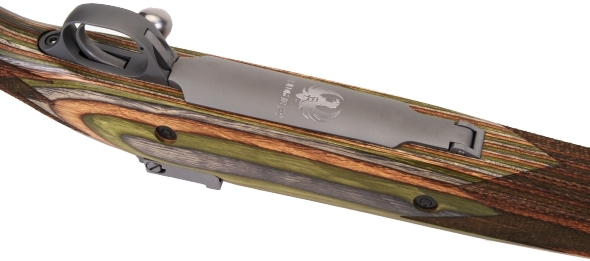 The Guide Gun's floor plate is hinged to facilitate unloading. The release is embedded in the front of the trigger guard and away from accidental contact. The Ruger logo is emblazoned, tastefully on the floor plate. Contrary to some opinion, the bird is an eagle, not a Phoenix, not a hawk. The origins with Bill Ruger's interest in heraldry is covered in several locations "Wilson's Ruger and His Guns" .
The 375 Ruger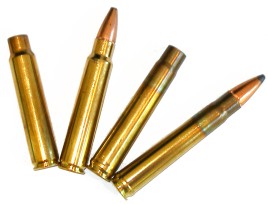 To my French friends, and you know who you are… "Le Roi est mort, vive le Roi!". The 375 Ruger is a more powerful round than the 375 H&H for several reasons. Oh, shut up and wait until I finish my explanation.
The Ruger holds approximately 5 grains more powder, runs at approximately the same pressure and, as a result of it's shorter overall cartridge length, always has 0.260″ more rifled bore ahead of it in same length barrels. The 375 Ruger also makes for lighter rifles as it works with standard 30-06 length actions and performance is good with shorter barrel firearms.
After conducting a lot of controlled live fire assessment, if there were an edge in favor of the 375 H&H it would not be ballistic superiority, but rather the number of companies loading ammunition and world wide availability… which in some circumstances is more than minor. However, the 375 Ruger is a popular round and there are other manufacturers chambering rifles for this cartridge.
Accuracy for the Ruger Guide Gun ran from 3 shot group sizes of 0.50″ at the small end, handloads with 260 Grain Nosler AccuBond bullets, to 1.3″ at the maximum, Hornady Dangerous Game Superformance 270 Grain factory ammo. Brand and type ammunition the same, the rifle shot essentially as tightly with the brake on or off. Point of impact did move around a bit. Using the brake on as the baseline, switching from brake to weight shifted groups approximately 1/4″ to 3/8″ right. Replacing the brake with just the thread protector shifted groups approximately 1/4″ right and 1/2″ down. The change was consistent enough that anyone who put in any range time with their firearm could make that adjustment in point of aim.
The Ruger Guide Gun is not only for guides. Big surprise, right? I am sure the product positioning message is that this rifle is a compact, reliable powerhouse made for hunting. In North America, and many other locations where animals group significantly larger than the average whitetail deer, the Ruger would provide a great deal of people of mind. Its 20″ barrel would in no way restrict the Guide Gun to short range applications, especially in light of the many sub 270 grain bullets that are out there for big 375 cartridges. That said, there are some excellent 300 and 350 grain loads that would be up to the task of hunting large and dangerous game.
Recoil? Contrary to what you might hear from folks who whine about their "owies" when any cartridge with more power than that 243 Winchester is mentioned, the 8 lb Ruger is pretty well behaved. Shooting rifles chambered for beefy cartridges is a two component issue. The first is having a rifle that is designed for the cartridge; straight stocks, maybe a little cast off, a good recoil pad. The other component is practice and developed skill shooting relatively heavy recoiling rifles. I found the 375 Ruger Guide Gun's recoil to be… assuring in the context of its intended application.