The question most often posed when folks familiar with the LCP and LC9 encounter the Ruger LC380, "Why?"… often followed by one of these statements: "The LCP has the same power and it is more compact and concealable", "The LC9 is the same size as the LC380 and offers more power" and "The 380 Auto is not powerful enough for self defense". Which would of course begs the question, If a firearm has no unique purpose, why would a large, industry experienced company invest the millions of dollars required to design and produce one? Because, of course, there are actually sound reasons and there is a demand.
Why a compact firearm?
Compact firearms make sense when concealment is the primary objective, compact to the extent an owner is willing to compromise exterior and terminal ballistic performance. The degree of concealment necessary determines the degree of compromise.
Ruger 380 Auto Pistols

Model

LCP

LC380

Manufacturer

Ruger

Origin

USA

Caliber

.380 ACP

Action

Single Strike Double Action

Magazine Capacity

6+1

7+1

Slide

Alloy Steel

Frame

Nylon & Aluminum

Type
Semi Auto – Recoil

Weight Ounces

9.4

17.2

Barrel Length "

2.75

3.12

Length "

5.16

6.0

Height "

3.60

4.50

Width "

0.82

0.90

Trigger Pull Lbs

6.8

6.2

Sight Adjustment

Fixed

Windage

Thumb Safety

No

Yes

Key Lock

No

Yes

Trigger Safety

No

Yes

Magazine Disconnect

No

Yes

Loaded Chamber Indicator

No

Yes
Compared to the LCP, LC380 picks up half a pound in weight, 7/8″ in length which mostly goes to increased barrel length, and almost an inch in height which all goes to increased grip length. As a practical matter, the LC380 offers a significant boost in 380 Auto performance:
Cartridge

Bullet
Weight
Grains
Rated
FPS
LCP
FPS
LC380
FPS

Hornady Critical Defense FTX

90

1000

979

1040

PMC Bronze FMJ

90

961

826

924

Remington Golden Saber HPJ

102

940

786

907
Increase in the size of a firearm is, of course, relative. Compared to what is considered a compact 1911 Commander, far left, the LC380 weighs a pound and one third less, it is 2 3/4″ shorter in length and 1″ less in height. On the other hand, the increase in size of the LC380 over the LCP brings features that were omitted from the LCP as an accommodation to its diminutive size.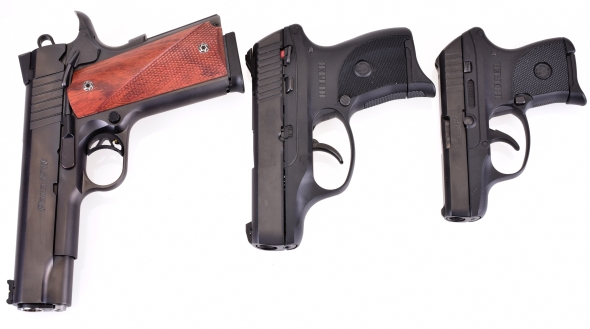 Safety Systems
The Ruger LC 380 has a variety of safety systems that, dependant upon your perspective, add safety under stressful situations or comply with state laws so that our firearm enthusiasts brothers is states that are only vaguely American can still have access to this firearm.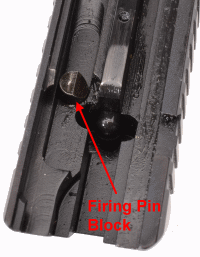 There is a thumb safety, a magazine disconnect and an internal lock that is activated with a supplied key. The LC 380 has a firing pin block, a plunger that physically blocks the forward motion of the gun's firing pin until the trigger is depressed. The intention is to prevent accidental discharge of a chambered round in the event the gun is dropped or struck.
Above, looking down at the frame with the slide removed, the magazine disconnect is deactivated when a magazine is inserted and the disconnect is pushed in. When the trigger is pulled, with the hammer cocked and thumbs safety disengaged, the blocker lever lifts a plunger on the slide to allow the firing pin to move forward when struck.
The loaded chamber indicator provides a secondary tactile and visual cue to indicate if a round is chambered. Instant feed back on a misfeed and a preliminary indication when reaching for a firearm while keeping attention focused on a threat. How silly are arguments against this device? The gunsmith narrating one of the AGO training DVDs indicated that the loaded chamber indicator is less manly than looking in the gun's chamber.
Real sights
Perhaps because the LC380 is so controllable, it is potentially a very accurate compact autoloader and deserves to have a good set of slow profile, non-snagging sights… which it has.

The LC380 has dovetail mounted front and rear sights which form an excellent windage adjustable 3 dot system. The Ruger Shop also offers laser sights, a tactical light, Novak's Tritium and Williams Guns Sight Fire Sights. Other aftermarket sights for the LC380 are available through Brownells.
Attractive form, everything fits and functions
The LC 380 hold one round more than the LCP and the grip length provides room for one more finger to fit on the gun's extended grip. Unlike the LCP, the LC380 locks open on empty to facilitate reloading. The slide can also be locked open manually. The takedown plate slides up and down to cover or expose a slip fit takedown pin that is pressed out for disassembly.
Thumb safety and magazine release are intuitively positioned and positive in operation. The internal lock allows an owner to lock the LC380 when it is to be stowed. The key can also used to push out the takedown pin when disassembling. Checkered grips, front and back straps, as well as the grip shape and profile make for comfortable non-slip shooting.
The 380 Auto cartridge and the compromise of concealment
Reading through message board bravado, the discussion is almost entertaining. So many people speak of cartridge suitability for self defense in such passionate, adamant and absolute terms. Of course, with the rare exception, these people have no related experience, which never seems to stop them from offering life or death consequence advice to others. People who could offer real insight into cartridge usefulness are rare as even within law enforcement, it is unreasonable to expect one person would have the breadth of experience to speak with authority on many firearms.
"Stopping Power: A Practical Analysis of the Latest Handgun Ammunition" – Evan Marshall, Edwin J. Sanow put together an exhaustive, long term study of local state and federal law enforcement shootings, supported by: police reports, evidence technician reports and autopsy reports. Additionally, interviews with victims, emergency room personnel and medical examiners were used to provide further support for other sourced documents.
Within their study, a "stop" is defined as a single hit to the torso on a person who was shot in the act of assaulting someone, where the assailant was unable to fire another shot, or strike the victim and, if fleeing, collapsed within 10 feet. A minimum of ten examples of a specific load were required before being incorporated into the study. Any shootings that required more than a single shot were not considered a stop. Stops in regard to typical compact firearm cartridges were reported as: 22 Long Rifle 40%, 32 Auto 67%, 380 Auto 71%, 9mm < 4″ barrel 87%, 38 Special 2″ barrel 67%.
OK, the 380 Auto is not bad at all, however, the 9mm is better. So why not just skip the LC380 and go to the LC9. Experienced with both, a significant number of people would choose the LC380 because it is soft a shooting autoloader and therefore easy to shoot accurately. Is this a recommendation? Not at all, but it is a recommendation that experience be gathered with both before deciding as there is more to the equation than raw power.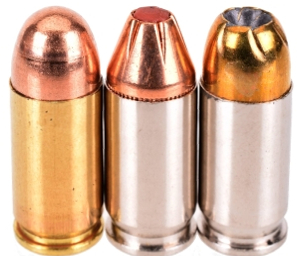 How does the LC380 shoot?
L-R PMC Bronze, Hornady Critical Defense, Remington Golden Saber were fired through the LC380 to collect chronograph data. as previously noted, and accuracy data. There were no jams or failures to feed, nor were there any misfired during the entire process.
At 7 yards, typical defensive shooting distance, a steadied hold could chew the center out of a 1″ bullseye with 6 shots, a two hand hold from a standing position yielded under 2″. The sights are crisp and well defined, the pistol is easy to hold steady and recovery for a second shot is brief.
The LC 380 is a well made concealed carry handgun that is easy to shoot and with all of the beneficial features of a larger autoloader. Certainly one that deserves a first hand look for such a critical application as self defense.