The Ruger Super Blackhawk is the epitome of the one gun solution for safe wilderness passage anywhere in the Americas. No, I didn't say it is the optimal, primary North American big game hunting firearm, nor did I suggest it is right for concealed carry or home defense. What I am saying is that if you were hiking or fishing or around camp anywhere in North America, you could feel safe carrying a Ruger Super Blackhawk chambered for the 44 Remington Magnum. As an addendum to my characterization, very credible folks who are more proficient handgun hunters routinely hunt Brown and Grizzly bear with the 44 Magnum Super Blackhawk.
The Ruger Super Blackhawk has been a mainstay of single action aficionados almost since its introduction in 1959. Elmer Keith felt the Super Blackhawk incorporated all of the enhancements required for this type of firearm, enhancement he had been unable to get Colt to make to their 1872 model, despite a thirty year effort. Like the more modern example pictured above and below, the original Super Blackhawk had a raised frame, adjustable rear sight, 1/8″ wide Baughman ramped front sight and an unfluted cylinder. The pre-1973 Super Blackhawk also differed in a number of ways.
The early Super Blackhawk did not have the transfer bar system that allows the New Model to be carried with 6 full chambers. The original had a 7.5″ barrel, which is still available today, however, this particular New Model has a 4.62″ barrel. The original was available only in blued alloy steel, where now there are both blued and stainless steel versions. The original had a square back trigger guard, where both square and round are available in current production.
The Super Blackhawk's rear sight is anchored within a channel in the frame and is adjustable for windage and elevation. Each click is equal to a 3/4″ shift at 25 yards or 3″ at 100 yards. The front sight blade is a non-game obscuring 1/8″. Accessory sight sets and fiber optic front blades are available for folks who might have a different preference. The 10.5″ barrel Super Blackhawk has 12″ sight radius.
The question may be, how in the world do I carry a revolver this long. Actually there are lots of belt and shoulder holster rigs for these long barrel revolvers, including a relatively inexpensive Triple K belt holster carried on the Ruger Store.
The Super Blackhawk is simple by design and possesses few parts. For the most part, cleaning is limited to pulling the base pin and removing the cylinder followed by very conventional bore scrubbing. Loading and dumping emptied is through the hinged loading gate. Cocking is manual. A coil spring gun, pull is consistent over the long haul and failure is virtually non-existent.
T
he Ruger Super Blackhawk is terrific for handloaders. The long cylinder permits use of heavy 0.429″ 44 Mag bullets… like this 300 grain Sierra bullet assembled to 1.735″. Not all good handloads extend beyond SAAMI spec cartridge overall length, but it nice to have the option.
So what's with the Yosemite Sam length barrel… Dagnabbit?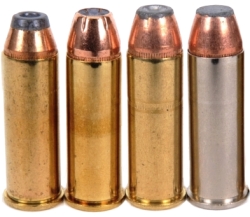 The 44 Magnum is a hunting cartridge with an approximately 40 grain powder capacity, close to the 30-30 WCF rifle cartridge. While pinheads such as myself persist with 4.62″ barrels, shooting almost as much weight in unburned powder as projectile, the 44 Magnum really wakes up with longer barrel lengths.
Ammo

Grains

MV
Rated
ME
Rated
MV
4.62″
ME
4.62″
MV
10.50″
ME
10.50″

Federal

180

1610

1036

1482

878

1863

1388

Hornady

180

1550

960

1535

942

1922

1477

Fusion

240

1290

887

1333

947

1592

1351

Speer

270

1250

937

1227

903

1405

1184
Complimenting the long barrel Super Blackhawk's significant velocity boost and subsequent increase in reach is the revolver's long sight radius. I'll leave longer ranges to younger eyes, but inside 2″ at 50 yards works for me for any deer or hog worth shooting. I am sure there is more accuracy to be found in the gun.
Overview and over and out…
Ruger New Model Super Blackhawk

Manufacturer

Sturm, Ruger & Company, Inc.

Model

0806

Type

Single Action Revolver

Caliber

.44 Remington Magnum

Capacity

6

Barrel Length

10.50″

Twist Rate

1:20″

Weight

55

oz.

Overall Length

16.38″
Grips
Hardwood

Hardware

Stainless Steel

Sights

Adjustable W/E

Trigger Pull

*4 lbs. 02 oz.

Safety

Transfer Bar

MSRP

$769
Discount Retail
$610

–
I don't know anyone who has gone through life without a Ruger Blackhawk or Super Blackhawk, just like I don't know anyone who hasn't had a set of Craftsman tools. There are some things that are so fundamental as equipment and so useful. They are built like a tank, they have a classic look, they are value priced for what they can do, and they are backed by a really good company.
For someone thinking about deer or hog hunting with a revolver, the 10.50″ barrel 44 Mag will make life easy and give the shooter a decisive edge in power and reach. For all others the Super Blackhawk is available in barrel lengths down to 4.62″ and balance to suit.