I am a Ruger Gunsite Scout fan, although my application for such a rifle is purely recreational target shooting and woodland hunting. I am not fearful of an invasion… except perhaps in my reoccurring nightmare of a swarming cyborg army led by "What Ever Happened to Baby Jane" Diane Feinstein, "Leisure Suit Larry" Chuck Schumer and/or "Night of the Living Dead" Harry Reed. That said, I take no exception to folks who avail themselves of situational firearms training… skills well worth developing.
Curiously, the Scout rifle looks and feels like a piece of history. A freshly minted version of the popular midcentury sporterized 1903 Springfield, or 1917 Enfield, or Enfield Jungle Carbine; stock cut down, barrel cut down, simple conversions to receiver mounting sights and drilled and tapped for a scope. A rifle of great utility, purposeful aesthetics and high durability and reliability. I would have gladly carried one in the military if it weren't for the fact I was in the Air Force and not trusted with an issue rifle… just nuclear weapons and half million pound bombers.
The Ruger's Gunsite Scout is a Swiss Army knife of a firearm. Supplied with fully adjustable peep sights, The Scout easily accommodates a red dot sight, a conventionally mounted scope or a forward scout mounted scope. The rifle's magazine is AICS short action standard, so any magazine of this type fits. Rifle pull length is adjustable to suit all occasions with the use of supplied spacers. Expressed in more succinct terms –
Ruger Gunsite Scout Rifle

Manufactured

Newport, New Hampshire

Model Number

6824

Caliber

.223 Rem/5.56 NATO

Action

Bolt action

Hardware

Stainless

steel

Stock

Black Laminate

Mag Capacity

10

Barrel

16.10″

Twist Rate

1:8″ RH

Rear Sights

Ghost Ring – Adjustable

Front Sight

Post

Scope Mounting

Integral Ruger & Scout

Weight

7.10 lbs

Overall length

37″ – 38.5″

Pull Length

12.75″ – 14.25″

MSRP

$

1099
Also available in alloy steel $1039 MSRP
and in left handed configurations.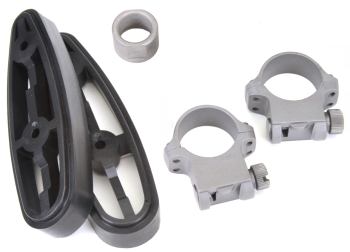 The 308 Winchester version of this firearm has proven to be an outstanding rifle. This 5.56mm version expands the product lines applicability and probably represents an opportunity to shoot more, less expensively. Like the 308 Win version, the 5.56 NATO version is supplied with spacers to adjust pull length, a thread protector for owners who elect to remove the flash suppressor and medium height rings for Ruger's proprietary scope mount system.
A few notes on features…
The ghost sight is fully adjustable, windage and elevation, and it is removed and reinstalled by loosening or tightening a socket head screw that anchors it to the receiver top at the rear Ruger scope ring attaching point. Removing the rear sight provides access to both front and rear ring attaching points. The Picatinny rail provides forward mounting of a scout scope or electro/optical sights.
The Ruger Gunsite Scout rifle is controlled feed. Subsequently, it has a very stout, non-rotating Mauser type claw extractor that controls a round from the time it is stripped form the magazine until it is fired and kicked out by a fixed blade ejector.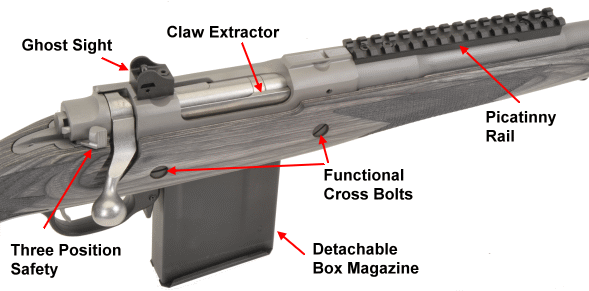 The three position safety provides safety on – bolt locked, safety on – bolt free to cycle and fire positions. The safety mechanically blocks movement of the cocking piece when in the full back, safe-bolt locked position.
Both cross bolts are functional. The forward crosses behind the action's front recoil lug. The aft crossbolt provides reinforcement and locates the magazine well in stock/action alignment.
The detachable magazine is produced to the AICS short action standard. It is the same external size as a 308 Winchester Mag, however, it is fitted with plastic inserts for precise alignment with the 5.56x45mm or .223 Remington cartridge and has sufficient room for any long, heavy bullet cartridge.
The Ruger Gunsite has a traditional Ruger flat bottom receiver that is a very close fit to the inletting in the black laminated stock. It is secures at the front and rear action locating points. The trigger is an LC6 Ruger non-adjustable.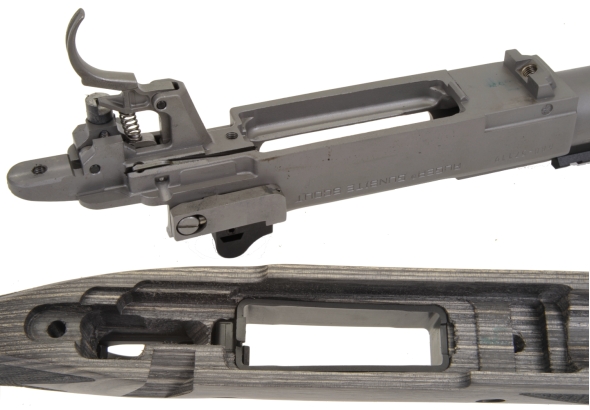 Assembly to the stock is easy, but specific in procedure. The rear fastener is started, the front screw and front mounting lug are started and then torqued to 90 inch pounds. Then the rear fastener is torqued to 10 inch pounds. The front fastener draws the action into the proper bedding position within the stock. The barrel is in contact with the stock to the first taper, and then floats.
The Scout rifle's finish is clean. The stainless pieces, with the exception of the bolt handle have a no glare finish. The trigger guard and magazine box are poly, the magazine latch mechanism is aluminum and very positive in operation. All of the external cuts and recesses are precise, as is the checkering.
Bang, bang… bang
The chamber is suitable for use with 5.56 NATO or .223 Remington ammunition. The freebore is 5.56 NATO spec.; approximately 0.250″ more freebore than a commercial .223 Remington chamber to accommodate longer, heavier 0.224″ bullets. It is the same chamber utilized with Ruger's Mini and SR series firearms. I experienced no problems with either type of ammunition throughout the course of live fire testing.
Looks are nice, but good performance is essential. Rather than work up a bunch of handloads to optimize the rifles performance, we just picked 6 types of commercial ammunition with varying weights. The tight 8″ twist had us assuming good things for the heavy weights, perhaps a little less for the lightweights, but this proved not to be the case. The Scout actually shot everything well. Velocity drop attributed to the 16.1″ barrel, in comparison to the 24″ barrel standard used by manufacturers when rating their ammunition, was modest considering the nearly 8″ of barrel length difference.
Ammo Type

Bullet
Type
Weight
Grains
MV
FPS
Rated
MV
FPS
Chrono
100 Yard
3 Shot
Group "
Winchester Varmint X
PT
40
3700
3561
0.8
Federal American Eagle Tipped Varmint
PT
50
3350
3060
0.5
Remington UMC
JHP
50
3425
3278

0.9

Hornady SUPERFORMANCE Varmint
PT
53
3465
3362
0.8

American Eagle

FMJ

62

3020
2925
0.6
Hornady Superformance Match
BTHP
75
2930
2819
0.8
The groups were shot with 50 rounds on the barrel and after a good cleaning. All targets appearing below are not to scale, a function of clipping segments of targets and assembling them into one image, but they do reflect the patterns within the groups. They appear in the top to bottom order of the table, from left to right, top to bottom.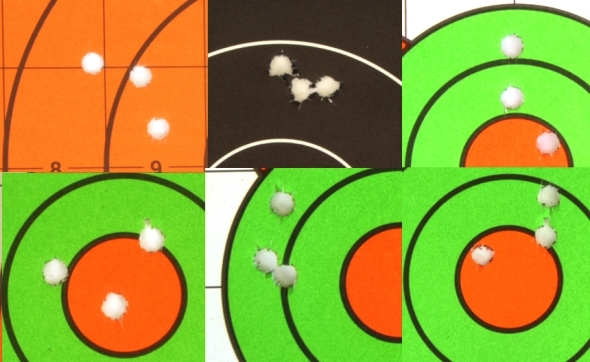 All of the groups were shot from a sled with a traditionally mounted 3-9x40mm scope. The trigger pull was initially a little heavy and there was a little creep. Three boxes of ammo later, trigger pull had smoothed out and dropped from 5 lbs 10 oz to 4 Lbs 11 oz and there was no sign of creep. If accumulative experience with the Ruger LC6 trigger in an indication, with some more modest use, creep free pull will settle in the neighborhood of 4 lbs and a couple of ounces.
Wrapping up…
The Ruger Gunsite Scout is a stout rifle, something right for New England hunting or any dense woodland or brushy terrain. It would make a great companion rifle for the 308 Win version, the two handling just about anything. Yes, it would also make a terrific utility or defensive firearm. It cycles smoothly and with absolute reliability. The detachable magazine permits spares to be carried or magazines of different capacities to be utilized.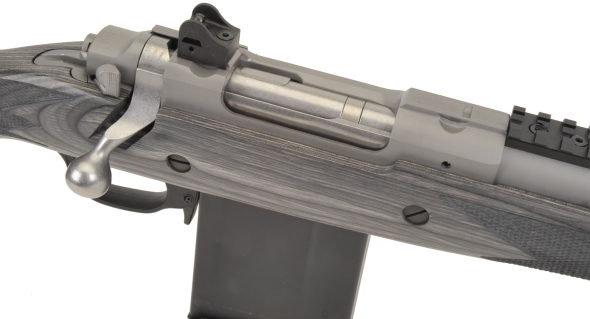 If I were picking nits, it would be in two areas. I'd like to see a pound pulled out of the stock, maintaining the rifles excellent balance, but just dropping weight a little. I would also like to see an adjustable trigger. Neither of those issues would get in the way of me owning this rifle. Nice one from the folks at Ruger.