With the exception of my finger prints on the slide, the Ruger 9e is an almost ideal defensive autoloader. The 9mm Luger cartridge is easy on recoil, adequate in power and this relatively lightweight pistol can hold 17+1 rounds of ammo. There is also a 10 round version for folks residing in states currently under communist control. After weeks of shooting stubby magnum revolvers and sub compact 45 Auto… autoloaders, shooting the Ruger 9e was like taking a vacation. It is a full size, hand filling autoloader offering maximum shooter control.
| | |
| --- | --- |
| Specifications | Ruger 9e |
| Manufactured | Prescott, AZ |
| Model | 3340 |
| Frame | Fiber Filled Nylon |
| Slide/Hardware | Blued Alloy Steel |
| Type Action | Single Strike/Striker |
| Caliber | 9mm |
| Capacity | 17+1 |
| Trigger Pull | 5.14 Lbs. |
| Barrel Length | 4.14″ |
| Rifling | 1:10″ RH |
| Sights | Fixed Three Dot |
| Overall Length | 7.50″ |
| Overall Height | 5.53″ |
| Thickness " | 1.27 |
| Weight Oz. | 27.2 |
| MSRP | $449 |
Ruger defines the 9e as a centerfire, striker fired, magazine-fed, autoloading, recoil-operated pistol, chambered for the 9mm Parabellum. The lock-unlock design is an enhanced link-less type, different from earlier P series products, the fire control subsystems are of a modular construction.
The 9e's action is an improved striker type. So there is the classic locking and unlocking of a tilting barrel design, however, the closing of the slide partially cocks the striker. Pulling the trigger full travel completes cocking the striker and fires the pistol and causes the slide to cycle, loading a fresh round and again partially cocking the striker. The slide locks open when the magazine is empty.
The Ruger 9e has two safeties. The first is the trigger safety that keep a striker block in position until the inner trigger, Ruger nomenclature, is full depressed. The second safety is a manual on/off, ambidextrous thumb safety that can be engaged when the striker is in preset position. In addition to overt safety devices, there are a number of other features that foster safety.

Left to right – At the rear of the pistol is the "Striker Status Indicator". When the striker has been preset by the closing slide, the rear of the striker is visible as in the first frame. The 9e does not have the SR versions' mechanical loaded chamber indicator, however, it does have a chamber inspection port and visibility of a loaded chamber from the side. The 9e, as is the case with others within this SR pistol series, has a magazine disconnect; it cannot be fired with the magazine removed.
SR9 vs. 9e model designations…
The Ruger 9e is listed within Ruger's SR products listing, but not as the SR9e. The 9e, or 9 Essential does differ from the SR9 is several areas. The idea is that non-essentials would be omitted with the "e" product so that SR9 performance could be delivered at a reduced price and the items omitted could easily be purchased at a later date, for less than the price differential.
Model

MSRP
CA/MA
Approv'd
Adjust
Sights
Fixed
Sights
Two
Mags (17)
One
Mag
(17)
Two
Mags
(10)
One
Mag
(10)
Hard
Plastic
Case
No
Case
Loaded
Chamber
Indicator
Visual
Check
Port
Mag
Loader

SR9

$529
No

Y

–

Y

–
–
–

Y

–

Y

Y

Y

SR9 State Compliant

$529
MA

Y

–
–
–

Y

–

Y

–

Y

Y

Y

9e

$429
No
–

Y

–

Y

–
–
–

Y

–

Y

–

9e State Complaint

$429
No
–

Y

–
–
–

Y

–

Y

–

Y

–
But what is going on inside? I bet they left parts out!
Glad you asked… and not they didn't. Inside are the familiar SR9 pieces, including a stainless steel barrel and modular assembly construction that makes service and maintenance easy.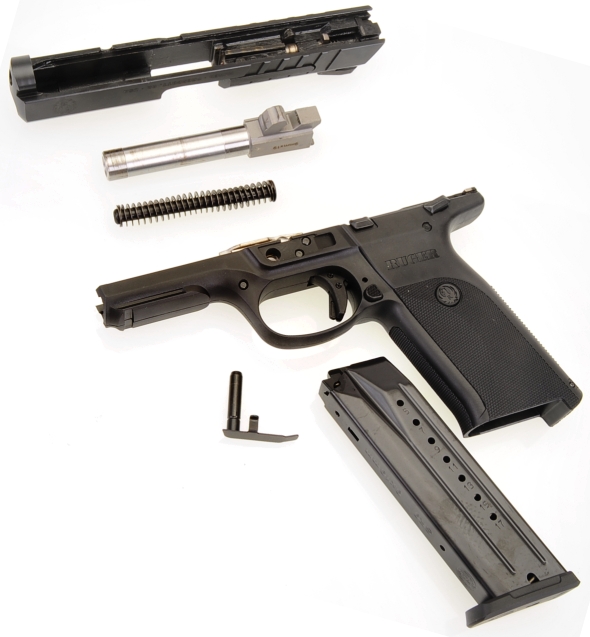 The Ruger 9e is a simple take down – Check for empty, remove the magazine. With the trigger in the forward position, rack the slide open and hold in place with the slide stop. Through the open ejection port, push the ejector down, push out the takedown pin, release the slide and ease it forward and off the frame.

Above – for those who wish to bask in the Ruger 9e's wonderfulness of modularity. Overall, the subsystems are strengthened and assembled more tightly by this approach and it simplifies working on the firearm. For most owners, the only disassembly would be slide removal for thorough cleaning.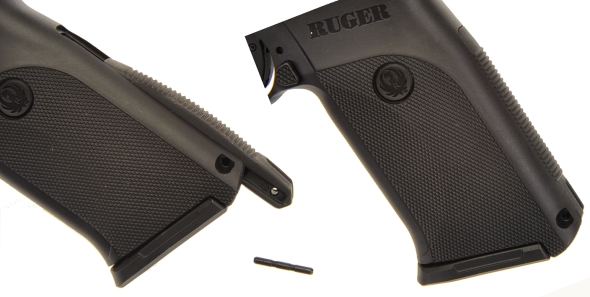 The Ruger 9e does have a reversible backstrap insert that can be switched between raised and flat backstrap by pushing out a friction fit pin and flipping an insert over. I know some folks are sensitive to grip shape so this may be a handy feature. I tried both, but didn't notice any particular advantage with either. I think after many years of shooting many firearms I've become adaptive to most.
Yeah, yeah, yeah. Blah, blah, blah. Did you actually shoot the thing?!… !!
Yes, yes I did and thank you for asking. After spending a week with a lightweight, snub nose 357, the full size Ruger 9mm felt like a pop gun, so the project was seen as an opportunity to burn up as much 9mm ammo as possible. Fortunately, I took copious notes so I actually know what ammo shot which groups… pretty much. These are ten yard, three shot groups shot from a rest which means someone will say that they shoot one hole groups at that distance. But please keep in mind the gun forum factor where groups this size are all reported one hole, three shot groups.
Top Right – Winchester PDX1 Defender 124 grain +P 5/8″
Top Left – Winchester USA 115 grain JHP 1 1/2″
Center – PMC Bronze 115 Grain JHP 1″
Bottom Left – Remington HD Ultimate Defense 124 grain JHP 5/8″
Bottom Right – Federal Guard Dog 105 grain expanding FMJ 1 1/8″
In retrospect, but in a manly context…
There is usually one trait or characteristic that distinguishes one firearm from another. The Ruger 9e is not exception and that trait would be easy to shoot. I can't remember, out side of a 1911 type, a pistol that was easier to shoot cold and still shoot accurately… and I am totally biased toward 1911s because they are my all time favorite design. Usually I spend time during the week shooting review firearms just for familiarization, getting used to trigger and sight pictures, balance, etc. This time I was on a tight catch up schedule so I set up the bench and shot the groups above.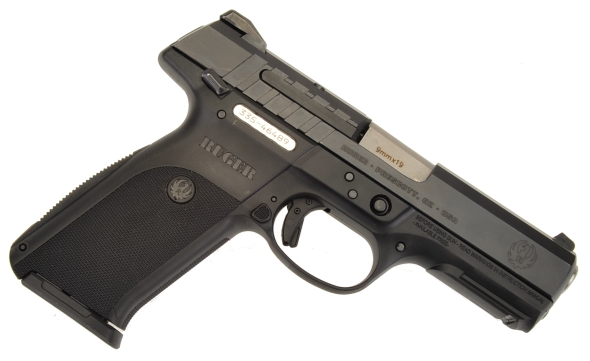 The big grip gives a shooter a lot to hold onto and there is enough heft to keep the muzzle mostly down. If I were starring in a movie, my favorite afternoon nap daydream, and I was trying to shoot my way out of a zombie encroachment with a person with no prior firearm skills, I would hang onto both my silver plated 1911s, slap the Ruger 9e in their hand and say, "Just point it and pull the trigger". I have no doubt we would make it out of there. My wife, who is a very experienced shooter, felt the same way, only in her movie she handed the gun to Kevin Costner.
Life isn't about perfection, so… I really don't have anything. It is important to look at a firearm in context. The 9e is a modestly price striker that isn't pretending to be anything else. For all of the ammunition types and rounds fired by the end of the day, there were no feed or eject problems. While point of impact shifted as any firearm would with different types of ammo, the shift wasn't great and none enough to take any shots out of the critical mass of a target. The finish is durable, the pistol is made right here in the USA and it is backed by Ruger's quality customer service. Nice pistol.