| | |
| --- | --- |
| Specifications | Ruger Blackhawk |
| Manufactured | U.S.A. |
| Model | 0505 |
| Cylinder Frame | Blued Alloy Steel |
| Grip Frame | Anodized Aluminum |
| Type Action | Single Action |
| Caliber | .30 Carbine |
| Capacity | 6 |
| Trigger Pull | 4.3 Lbs. |
| Barrel Length | 7.50″ |
| Rifling | 1:20″ RH |
| Sights R / F | Adjustable / Ramp |
| Overall Length | 13.38″ |
| Weight Oz. | 46.0 |
| MSRP | $609 |
A lot of folks may wonder what possessed Ruger to create a Blackhawk chambered for the 30 Carbine cartridge. There are many more powerful cartridges today. There are a number of handgun cartridges that are less expensive to shoot. There are many cartridges that more readily found on retailer shelves. However, at the time of introduction, M1 Carbines were popular and inexpensive surplus ammo was plentiful. Ruger & His Guns, Wilson, indicates the first time the combination appeared on a Ruger price list was in 1968. I was vacationing in a warm climate in those days, maintaining a primarily green wardrobe and spending a lot of time listening to Joe Cocker, Janice Joplin, The Doors, and Blood Sweat & Tears. It was a confusing time and I was much taller. Anyway…
Sometimes I will get into a discussion with someone about some of the cheap single actions on the market and they will go on and on about price tags and how both are the same. I always think that is an act of self deception as anyone can pick up a cheapo single action and pick up the Ruger and instantly see and feel the difference.
The Blackhawk feels light. It is in fact a few ounces heavier than a steel 1911, coming mostly from a barrel that is 2 1/2″ longer. Ruger keeps the weight down and gets in a little steadying weight at the muzzle by utilizing an aluminum grip frame.
The Ruger's cylinder fit is tight and indexing and alignment are precise. The cylinder is surrounded by a truly stout steel frame. The loading gate snaps open and closed and the "click, click, clicks heard and felt when spinning the cylinder or double click cocking a hammer are sharp, uniform and positive.
The ejector rod does not bind when stroked and the base pin positively locks in place, not to be tossed out under recoil. Fit and finish are those of a quality gun; deep, polished oxide and matte hard coat anodized grip frame. GC on the 30 Carbine Blackhawk is approximately the front of the frame. Pick it up and you are a cowboy.
The enigmatic .30 Carbine
The 30 Carbine seems to be greatly misunderstood. Some folks think it is an oversized rifle cartridge and question its utility. Some folks think it is underpowered and questions its utility. Some people say lots of things and have no actual experience with the combination and question its utility. Some people like the movie Metropolis and insist it is meaningful and not just a trivial German movie sans dialogue and substance… don't get me started. The world is a mysterious place. So a little objective observation may prove helpful.
The 30 Caliber carbine holds only 2 grain more powder than the diminutive 327 Federal Magnum and 4 grains less than the mundane 357 Magnum. However, seat typical bullets in all three and the long overall length and long cylindered .30 Carbine has a net capacity 2 1/2 time greater than the 327 Federal magnum and only half a grain less than the ubiquitous 357 Magnum.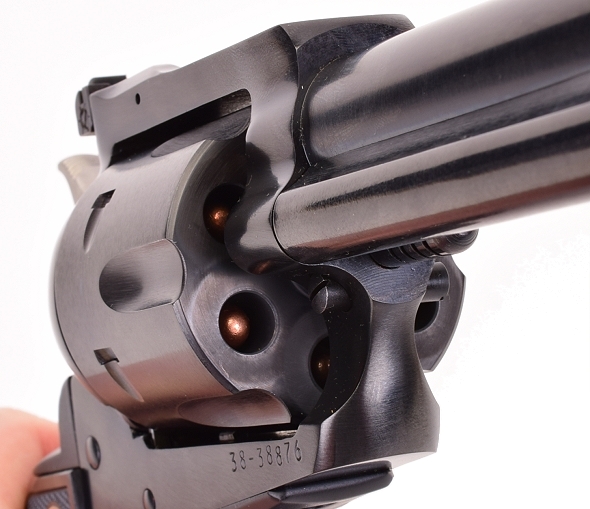 The 30 Carbine also packs more pressure than the other two rounds with 46.4k psi, compared to 44.9k psi for the 327 Fed Mag and 35.0k psi for the 357 Magnum. If the 30 Carbine poses a challenge, it is identifying a powder that will burn efficiently within a revolver's relatively small bore volume; at equal 7.5″ barrel lengths expressed in cubic inches of volume: 30 Carbine 0.559, 327 Fed Mag 0.630, 357 Magnum 0.751.
The 30 Carbine cartridge is intended for a… carbine, a firearm with an 18″ barrel. Subsequently, almost all commercial ammunition contains powder that best serves that application. Shoot the same ammo from a Blackhawk revolver and the result is loud report, a function of high muzzle pressure, and a bloom as unburned powder ignites and burns as it exits the barrel. Hysterics and children caption these conditions as "It is the loudest gun in the world" and "It makes a giant fireball". Load the same cartridge with more suitable handgun powder and the report is greatly reduced and the bloom is replaced with 357 Magnum snub nose revolver like muzzle flash. What isn't said enough is that the 30 Carbine Blackhawk is extremely accurate and recoil is so light, it can be shot all day without a twinge of hand… anxiety.
I have no idea why people change these…
The Blackhawk is fitted…ed with a rear sight adjustable for windage and elevation and a ramped front sight. The rear sight adjustment is positive and settings stay put. Each click, windage or elevation shifts point of impact at 25 yards by approximately 3/4″. I say approximately because this varies with barrel length; the longer the barrel the larger the increment. The front sight has a tall post to keep the longer range potential of the 30 Carbine within the elevation adjustment range of the rear sight.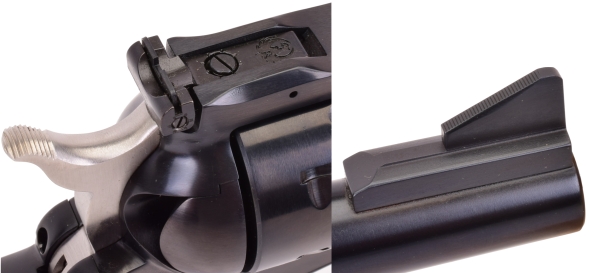 The sights are a basic black on black which, for most,  is the best all around sight. Rear sights are easy to change, although there is little necessity. Front sights are silver soldered in place and, unless this falls into your area of expertise,  require the services of a gunsmith if a change is desired. A number of credible shops install sights that permit blade type interchange and there is always the option of coloring the front sight and outlining the rear.
25 Yards… at least for me.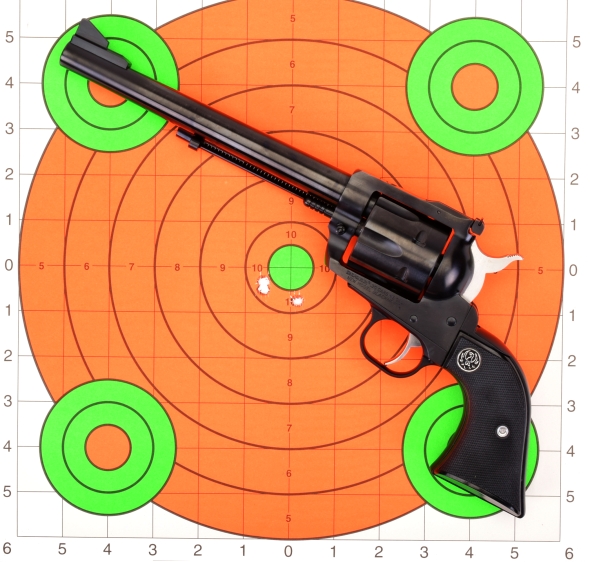 Unless I can lock a handgun in a rest, shooting revolvers and autoloaders with open sights is usually limited to 25 yards. I don't want my open sight handgun skills and vision to mischaracterize a manufacturer's handgun. The top target was shot with Remington UMC 110 grain FMJ ammo, chronographed at 1555 fps. The three shot group size is 7/8″. Aguilla ammo shot within 1/8″ or so of the Remington ammo.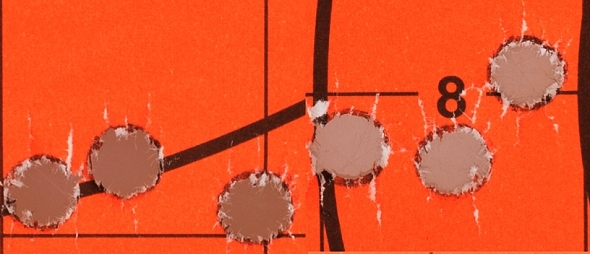 These two groups shot from the Ruger Blackhawk measured 3/4″. Both were 110 grain Prvi RNSP loads. Left, Lil' Gun powder 1620 fps. Right Alliant 2400 powder and 1610 fps. H110 handloads performed approximately the same as Alliant 2400. I did shoot some targets at 50 yards, as well as 100 with results that suggest the Blackhawk is an easy 50 yard gun and 100 yards would not be a stretch. The light recoil and good sights make for good shooting results.
Warning: Bullet selections are specific, and loads are not valid with substitutions of different bullets of the same weight. Variations in bullet length will alter net case capacity,  pressure and velocity. Primer selection is specific and primer types are not interchangeable. These are maximum loads in my firearms and may easily be excessive in others. All loads should be reduced by 5%,  and developed following safe handloading practices as represented in established reloading manuals produced by component manufacturers. Presentation of these loads does not constitute a solicitation for their use, nor a recommendation.



Cartridge: 30 Caliber Carbine

 Firearm: Ruger Blackhawk

 Max COL: 1.680″

 Bullet Diameter: 0.308″

 Primer: CCI BR4


 Barrel length: 7 1/2″

 Reloading Dies: Lee & Factory Crimp Die

 Max case length: 1.290″

 Group: Distance 25 yards – 3 shots

COL and Capacity

 

Load Data & Performance

Bullet Type

Bullet
Weight
C.O.L.
Inches
Case
Grains
Water

 

Powder

Charge
Grains
Muzzle
Velocity
FPS
Muzzle
Energy Ft/Lbs
Group
Inches

Prvi RN SP

110

1.650

15.3

 

2400

12.5

1610

633

3/4

Prvi RN SP

110

1.650

15.3

 

H110

15.5

1607

631

5/8

Prvi RN SP

110

1.650

15.3

 

Lil' Gun

15.5

1620

641

3/4

 
And what would that look like in use?
Prvi 110 Grain Round Nose Soft Point
Yards
0
50
100
150
200
250
300
Velocity – fps
1620
1438
1281
1156
1063
995
941
Energy – ft.-lbs.
641
505
401
326
276
242
216
Momentum – lbs-sec
0.79
0.70
0.62
0.56
0.52
0.48
0.46
Path – in.
-1.5
2.5
2.2
-3.4
-15.4
-35.2
-63.7
Best Zero Results

Near-Zero – yds.
14
Midrange – yds.
73
Far-Zero – yds.
126
Max Ordinate – in.
+3.0
Point-Blank -yds.
147
By Comparison, the 125 grain JHP 357 Magnum….
Remington 125 Grain 357 Magnum
Yards
0
50
100
150
200
250
300
Velocity – fps
1450
1253
1108
1010
940
885
838
Energy – ft.-lbs.
583
436
341
283
245
217
195
Momentum – lbs-sec
0.80
0.69
0.61
0.56
0.52
0.49
0.46
Path – in.
-1.5
1.4
-1.2
-10.9
-29.0
-57.0
-96.1
Best Zero Results

Near-Zero – yds.
16
Midrange – yds.
54
Far-Zero – yds.
88
Max Ordinate – in.
+1.5
Point-Blank – yds.
102
The .30 Carbine Ruger has almost 50% greater point blank range, it carries 15% to 20% more energy and it has significantly flatter trajectory out to 300 yards. For the person who suggests they could hot load the 357 Mag and do better. The same applies to the 30 Carbine. Ballistics and cartridge performance are rarely intuitive, which is why ballistic calculators and chronographs are helpful.
As Mugs McGinnis would say, "So in contusion…"
I've owned and own a number of Ruger Blackhawks. They are light to carry, often big on power, accurate and reasonably priced. My current .41 Mag is often open carried when out in wooded areas for the day or overnight. The 30 Carbine version has a different feel, shooting with close to rifle accuracy, probably better than M1 Carbine accuracy. It's fun to shoot and ear plugs are cheap and I never shoot without ear protection… anymore..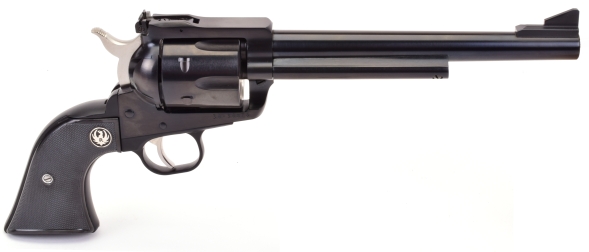 I'd like to see the option of fiber optic sights. They work well against almost any background and they are quick to pick up when aiming. Better yet, going to an interchangeable front sight and offering various types and heights in the Ruger Store would work for me. The trigger had a little creep, but even that seemed to work itself into a slicker state in use. Interesting revolver, whole lot of fun and its price won't break the bank. For further information stop by the Ruger site.