I thoroughly enjoy examining and shooting quality double barrel shotguns, both over and under and side by side, but their use falls a bit outside of my typical applications. I'm not a bird hunter, with the exception of turkey, and I never find myself hunting in shotgun only states. Additionally, the culture surrounding skeet, trap and sporting clay in general is a tad too much like golf for my liking; one group brags about the price of their trendy clubs and gear, the other about the price of their trendy firearms. Fancy lads.
Of course everything I previously wrote is pure nonsense and just an expression of a mind set that makes me feel less guilty about passing over quality shotguns on my way to picking up the next rifle or handgun. In any event, I wanted to take a look at the recently reintroduced Redhawk and spend a little time researching its origins. Ruger has been an innovator and an integral part of the history of the firearms industry in the United States. This is not an attempt at a comprehensive review as many have already been written. These are just my notes from personal research and some handling and shooting experience.
The Red Label shotgun came about because Bill Ruger believed it would be possible to produce a competitively priced over and under shotgun in the U.S. He felt that the key to such a product would be found in the company's machine automation capabilities and their ever evolving manufacturing methods and technology. The would be a shotgun with a level of quality that rivaled expensive hand finished European over and under doubles, but at a substantially lower cost.
Introduced in 1977, first produced in 1978, with experienced based production adjustments made throughout the year, by 1979 the Red Label was a well established product. Production numbers were rising sharply and the product line was filling out with the introduction of additional models. The success of the Red Label shotgun made Ruger a full line firearm manufacturing company.1)
The Red Label was announced in 1977 as a 20 gauge 3″ chamber gun. In 1980, 12 gauge 2 3/4″ version were added then in 1986, a 3″ chamber 12 gauge was introduced. Early guns offered a variety of fixed choke combinations: improved cylinder/modified, full/modified and skeet/skeet. Screw in chokes were introduced in 1988 as an option, but became standard in 1991. In 1994, both gauge offerings received backbored barrels to reduce recoil and improve patterns and choke tubes were lengthened. Barrel lengths ranged from 26″ to 28″. Stocks were offered with a pistol grip and English straight cut configurations.
Ruger continued to expand its shotgun line with more limited production models. In 1994 it was a scaled down version of the Red Label 28 gauge. In 1995 it was the Woodside model with a butt stock that extended forward as receiver side panels. There were a number of limited edition, highly finished and engraved variations of all models. In 2004 there was the Ruger national award winning Gold Label side by side that remained in production only through 2006.
People tend to look at longevity of production as the success or failure of a product. However, success or failure is often more of a reflection of on market conditions. Pure speculation on my part, but it appears Ruger was producing a high quality, competitively priced shotgun. Unfortunately, by 2007, we were in the midst of a war, the U.S. economy was rolling over, unemployment climbing, there was a low demand for costly shotguns, and the Ruger shotgun was growing more costly with each year's rise in material and labor costs.
No Ruger shotgun related product announcements were made after 2006, at least until the end of 2013. In 2011 the Red Label went on hiatus, even though that year's catalog listed 14 versions of the Red Label over and under, 28, 20 and 12 gauge with prices ranging from $2,015 to $2,245. All other shotguns models had already been discontinued.
You can't keep a good product down…
The Ruger Red Label had been a successful product for 32 years, however, its 32 year old design and manufacturing process had driven the price ever higher until it no longer fit into a competitive market place. Ruger modernized the design, modernized the process and reintroduced the Red Label at the end of 2013. The initial and current product line is limited to the highest demand product, the 12 gauge 3″ chamber gun with a choice of three barrel lengths: 26″, 28″ or 30″. The MSRP for all versions is $1,795, a price that is a full $220 less than when the Red Label went out of production in 2011. When was the last time you saw a firearm drop in price?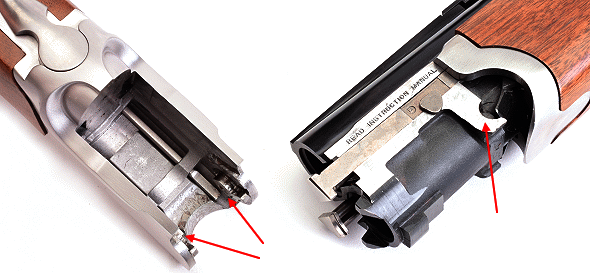 The Ruger Red Label's barrels are silver brazed to the attaching monoblock at the receiver end of the barrel set. The vent rib atop the barrel is silver brazed also. Combined they make for an extremely durable assembly. The trunnions (arrows) the pivot points for receiver/barrels, are made integral to the receiver and located high at the bore centerline of the lower barrel.
The Red Label receiver, trigger, top lever and forend hardware are made of stainless steel. The shotgun's trigger guard, safety selector and barrels are fashioned from alloy steel. The top lever as received is off slightly rotated right. This is intentional and is intended to allow for the slight wear that occurs during a life time of use.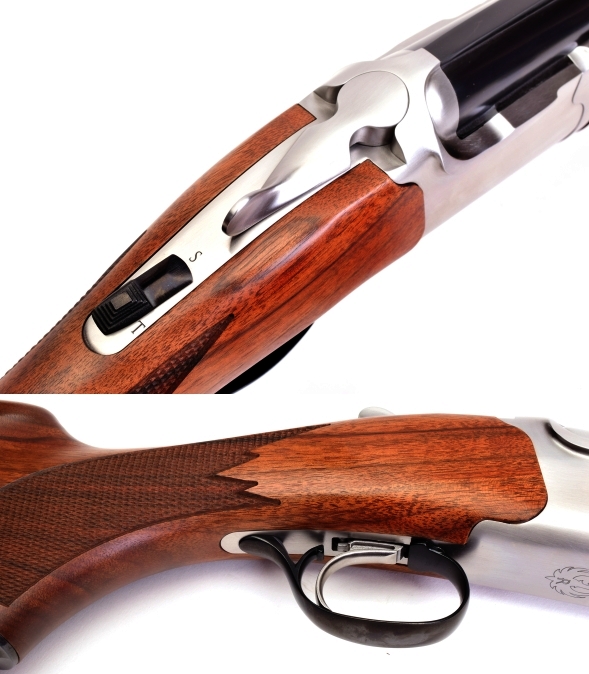 The Red Label's safety can be place on or off with the shotgun cocked or not cocked. Opening the breech and pivoting the barrels down cocks the action. The Red label as a single selective trigger. Priority of fire, top or bottom barrel first, is selected by pivoting the safety left or right to expose "B" or "T". The Ruger is really nicely finished. Inletting is clean, checkering is a tight 20 lines per inch, and the tight, straight grain walnut stock has plenty of color and contrast.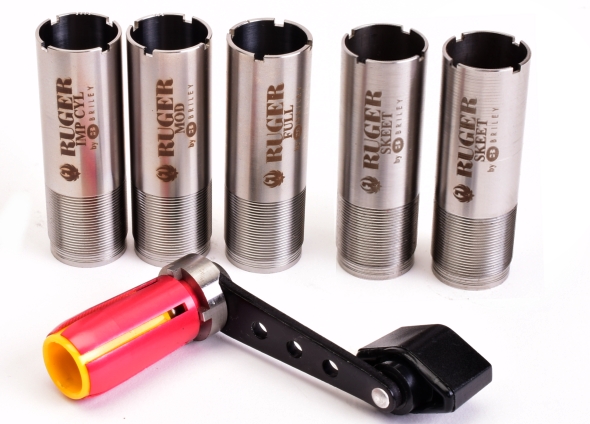 The Ruger Red Label is supplied with 5 Briley chokes: Improved Cylinder, Modified, Full, and two skeet. The tightest chock selected traditionally goes in the second barrel that fires with the assumption the target will be farther away. Packaged with a choke wrench, they are easy and fast to change. The Red Label is not compatible with earlier blued steel Ruger chokes. Barrels and chokes are compatible with both lead and steel shot.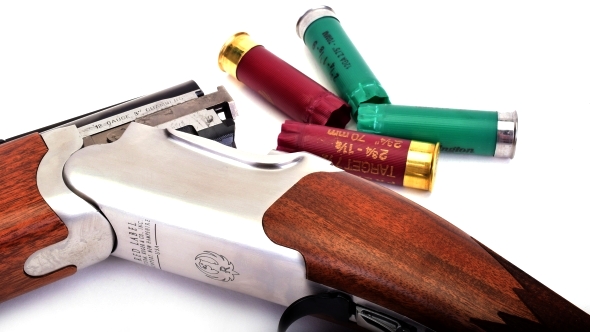 The Red Label has auto ejectors. If you don't believe me, crack that barrel on empties while checking the chambers and you'll have the headstamp from your favorite ammo transferred to your forehead. Ejecting… with confidence is a good thing and you should not lean over the breech to witness the event. That said, the ejectors are tuned to not eject unfired shells.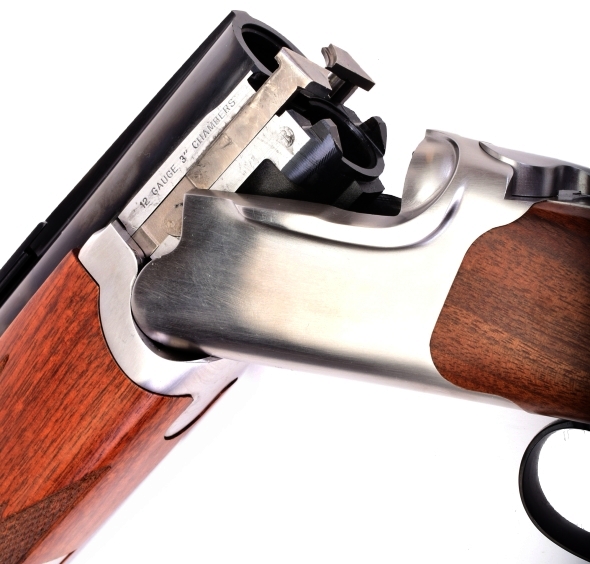 The action must be fully opened to reset and cock the action. Partially opening the action and reloading one fired chamber will result in the second barrel firing when the trigger is pulled and not the first. No guesswork involved as the ejectors will not pop empties out unless the action is opened wide enough to also cock the action. That said, the Ruger does not rely on recoil to reset the trigger. If the first pull results in a misfire, the second pull of the trigger will still fire the second barrel.
Do not put squirrels in a skeet trap…
I wanted to set up the trap and pop some clays to see how the Red Labeled handled and if it might make me look to be a better shot than I am. I also wanted to use the Red Label to solve my end of summer squirrel invasion. For a while, I thought I might combine both activities, but I couldn't get the little buggers to sit still on the trap, even when I duct taping them to the clays.
I installed the skeet chokes in both barrels and shot clays. I don't usually shoot clays, but when I do, it is mostly with an autoloader. Oddly enough, it was much easier for me to track and hit with the Ruger Red Label than it has been with an autoloader. Apparently the muzzle seemed to end up where I was looking and the pattern was wide enough so that very little shift was required for upper or lower to score. I did shoot some patterning target… and some turkey targets, but I can only report that they were full of holes and the disbursement was quite uniform. Low base 2 3/4″ #8 shot was used for skeet, which may or may not be OK for most, but it worked for me.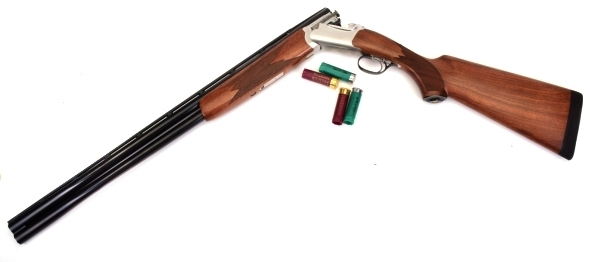 Changing to modified lower and full upper, lower first to fire, Maine squirrels that were preparing for a shingle, vent and roof fest on the shop were easy. And if modified didn't get them where they clung, full got them attempting to jump from branch to branch. I used high base 3″ #6 shot for tree rats. Honestly, I think I will try turkey season with high base 3″ and #4 shot. Why not? It is a gun I can hit with an I can't remember using more than 1 or 2 shots to get the job done.
The Ruger felt good. The high trunnion position noted earlier kept lower barrel muzzle rise to a minimum and once I stopped worrying about one barrel over the other, the Red Label proved to be a quick shooting shotgun. Its appearance is… timeless. I like the modern touch of a stainless steel action, but I also like the blued steel and walnut. I always thought I would get around to buying a nice a double, but for some reason I thought it would be a side by side. Maybe not.
1) "Ruger and His Guns" by credible author R.L. Wilson.