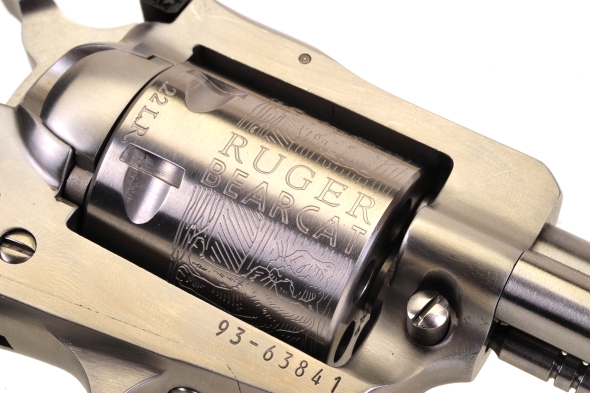 The Ruger Bearcat has been around since 1958; the New Model Bearcat since 2002. Bearcats have been made of aluminum and steel, sometimes a combination of both. A Super Bearcat version has been produced as a stretched cylinder convertible, chambered for the 22 WMR and 22 Long Rifle. The standard Bearcat is currently produced in alloy and stainless steel versions, both with notched frame rear sight and front fixed sight. There is also, however, a history of special production runs.
Lipsey's Specials
Ruger distributor, Lipsey's is offering two unique versions of the Bearcat; Model # 0916 in blued alloy steel with hardwood drips, the other Model # 0917 in satin stainless steel. Both model distinguish themselves from standard catalog models with their adjustable sights.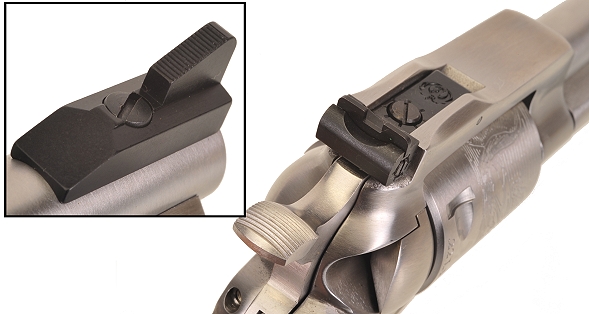 The Bearcat's rear sight is anchored within a channel in the frame and is adjustable for windage and elevation. Each click is equal to a 3/4″ shift at 25 yards or 3″ at 100 yards. The front sight blade is a non-glare 1/8″ ramped blade.
Manufacturer

Ruger

Model

0917

Origin

New Port, NH

Type Action

Single

Frame & Slide

Stainless Steel

Finish

Satin

Grips

Hardwood

Caliber

.22 Long Rifle

Capacity

6
Rifling
1:16″

Barrel Length

4.20″

Weight – Empty

24.0 oz

Overall Length

9.0

"

Overall Height

4

.8″

Front Sights

Ramped Blade
Rear Sight
W/E Adjustable

Sight Radius

6

.0″

Trigger Pull

4 Lbs 9 Oz

Safe Carry
Transfer Bar
MSRP

$635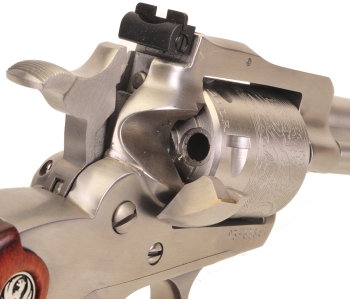 The Bearcat one round at a time. The hammer is pulled to half cock, the loading gate is opened and the cylinder will rotate clockwise to facilitate loading. The presence of a transfer bar prevents discharge without a finger pulling the trigger, so all six chambers of the cylinder can be loaded.
Easy takedown for cleaning and maintenance
With the loading gate open the 1) base pin latch is depressed, the 2) base pin is then withdraw from the center of the cylinder, which allows the cylinder to slide right and out of the frame.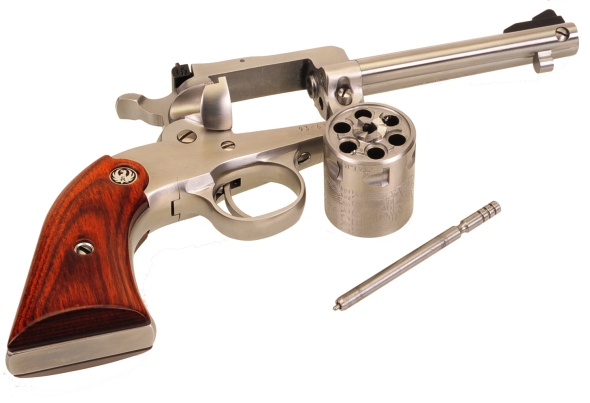 What's in a name?
This diminutive revolver is called the Bearcat and a Bear and Bobcat appear on its engraved, unfluted cylinder. Surely the combination of these two animals make for a scrappy combination… However, a bear is big, a bobcat not so much, so it can get a little confusing for a guy like me who lacks imagination. Fortunately, a bearcat is an animal onto itself. A bearcat, the Southeast Asian binturong, is a ferocious little tree dwelling critter, not unlike a middleweight wolverine… but actually in the mongoose family. It is agile like a cat, but walks flatfooted like a bear. The name fits.
The Ruger Bearcat is compact, light and fast handling. It makes for a heck of a little trail gun or tackle box gun. That said, it is also built solid and finished in easy to maintain stainless. It's a nice looking little revolver.
How does it shoot? Oh, yeah..
With a good deal of extra length in the cylinder to add to that 4.2″ barrel length, the Bearcat is actually pretty quiet in the report department… which I believe is right across from the fishing gear and lantern fuel on Aisle 3. An all steel revolver, recoil is not an issue and those adjustable sights makes it easy to place shots accurately.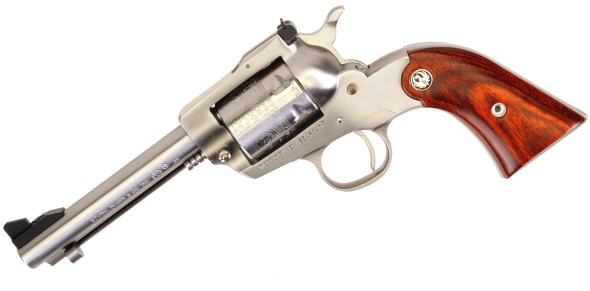 Three types of 22 Long Rifle ammo were run through the Ruger – Remington Target, Remington Cyclone and Remington Golden Bullet. Shooting was done from a rest.
Ammunition

Bullet
Grains
Factory
FPS
Actual
FPS
3 Shot
@ 50 '

Remington Target

40

1150

964

1.8″

Remington Cyclone

36

1280

1099

2.1″

Remington Golden Bullet

40

1255

996

1.9″
We've worked with the Standard model Bearcat a couple of times at Real Guns. Lipsey's approach makes a standard in handguns even better. Check at your dealer for availability.