It seems the Ruger product development process is quite different than many other companies. Most new firearms reflect the personal preferences of a company's executive management or the political clout of a disconnected R&D or penny pinching finance group. Ruger seems to soak up information from customers, as presented in many forms and forums, then actually uses the information to define new and revised products. Subsequently, it is rare to pick up a Ruger firearm and wonder about its purpose in life.
Model

Ruger Gunsite Scout Rifle

Model #
6830
Country of Origin
U.S.A.

Caliber

308 Winchester

Action

Bolt action

Hardware

Matte Black Alloy Steel

Stock

Black

Synthetic

Mag Capacity

10** (AICS Standard)

Barrel

16.1″

Twist Rate

1:10″ RH

Rear Sights

Ghost Ring – Adjustable

Front Sight

Post

Scope Mounting

Ruger System & Rail

Weight

6.25 lbs

Overall length

38″ – 38.5″

Pull Length

12.75″ – 14.25″

MSRP

$1,039

**3, 5 and 10 round available
The synthetic stocked Ruger Gunsite Scout retains the excellent Swiss Army knife approach of the original Gunsite Scout and offers a number of improvements. As an example, the laminated birch stock has been replaced with a textured synthetic stock. Where the original Ruger Gunsite Scout is listed with a 16.5″ barrel that actually measures 17.1″. This version of the Scout has a 16.1″ barrel. These two changes alone result in a 3/4 pound weight savings over the original Scout.
In response to lighter weight, the birdcage flash hider has been replaced with a flash suppressor/muzzle brake which is, no doubt, more useful. For folks who want to remove the brake, a wrench will do the trick, a thread protector is included.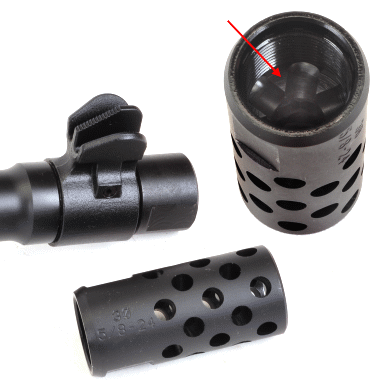 The design of the brake is actually pretty nifty. There is an expansion chamber just ahead of the threads (arrow above), approximately 0.380″ deep, 0.630″ in diameter that that allows gas to flow out through 6 partially sectioned ports. The effect is to disrupt, slow and rapidly cool gases as they exit the rifle's muzzle, which cuts down on mach disk or secondary muzzle flash effect. The center bore diameter for the remaining length of the brake is approximately 0.330″ with 21 ports radiating outward from the bore at 90º angles. The ports are approximately 0.185″ in diameter and 0.240″ in length. The arrangement makes for a significant reduction in secondary recoil.
Initially, we removed the brake when checking accuracy and group size, then reinstalled afterward to spot check results. No meaningful shift in point of impact or group size were noted. Folks who shoot lightweight rifles chambered for the 308 Winchester round will appreciate this brake. It cuts felt recoil to about the same as a lightweight rifle chambered for the 223 Remington. This much reduction in recoil typically improves accuracy of the shooter and makes for a happy shoulder at the end of a day of heavy shooting.
Stock and action sandwich… with no cheese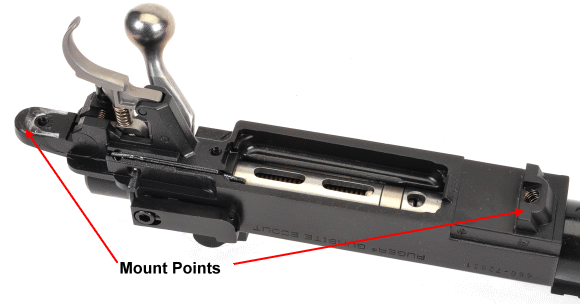 Above, the very flat bottomed Model 77 action in secured in two points, the recoil lug and at the tang as is the case with the laminated stock Gunsite Scout. However, where the action rests directly on the surface of the laminated stock, the action rests on bedding blocks molded into the synthetic stock. The result is very stable support for the action and barrel alignment right down the center of the stock's barrel channel. The barrel floats from barrel shank to the very end of the stock.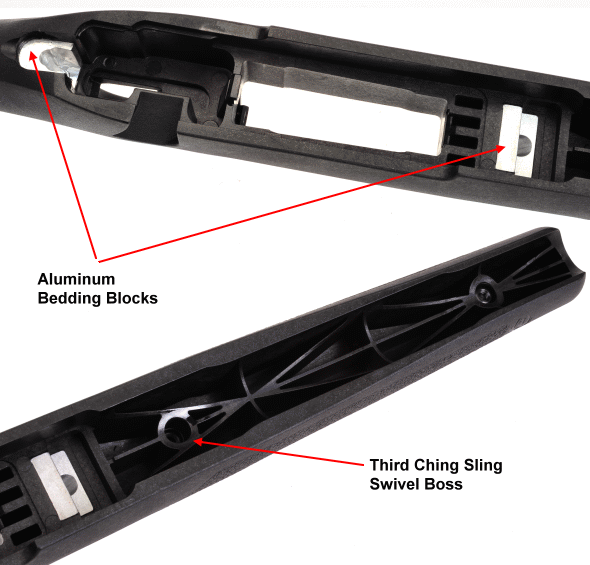 The stock is supplied with 2 swivel studs in conventional locations, however, a third stud boss is molded into the stock for folks who wish to use a Ching Sling. I putting shooting slings on all of my hunting rifles as shooting benches are too heavy to carry into the field, bipods seem to elevate only just slightly below the height of grass and I have no professional hunters shoulder to shoot from. If I wasn't as old as the earth's crust and not napping through most of the day, I would definitely take a run at using Eric Ching's sling design.

A carry over from the laminated stock version, various combinations of supplied spacers can be inserted between the stock and recoil pad to adjust length of pull from 12.75″ – 14.25″. Handy when more than one person will be using the rifle or where seasonal clothing dictates.
Good utility requires versatility
The Ruger Gunsite Scout Rifle adapts well to a variety of sighting systems and shooter preferences. For most situations, the brush guard peep and post sight combination is more than enough. Adjustable for windage and elevation they are fast tracking and allow accurate shot placement. For fans of scout type scope mounts, there is the barrel mounted 15 position Picatinny rail. Easy removal of the rear ghost ring sight permits using the Ruger mount system which makes mounting a scope or electronic sight a simple process.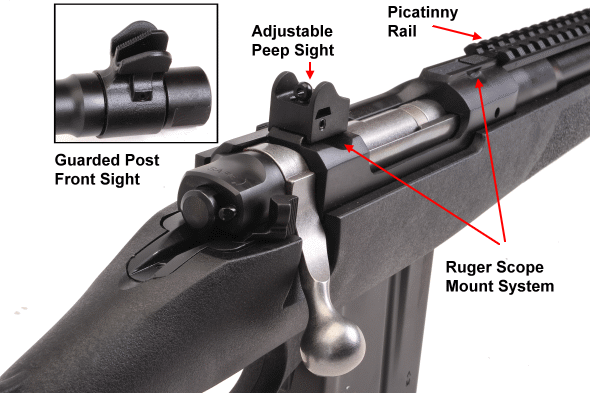 Ruger supplies a set of their medium height rings with the Gunsite Scout, however, tall rings are also available, all in either alloy or stainless steel and for either 1″ or 30mm tube scopes. A scope with up to a 38mm objective lens bell diameter will mount and clear the forward Picatinny rail.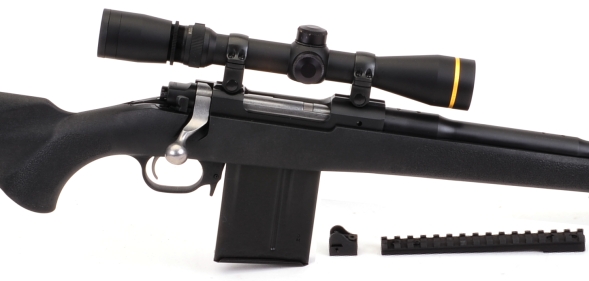 For the sake of measuring rifle accuracy and minimizing eye sight influences, a Leupold VX3 2.5-8x36mm scope was mounted, which happens to have a 42mm objective lens bell. Rather than go to higher rings, 15 seconds or so were expended to pull the rail hex fasteners… which allowed the scope to be plopped into place.
And then? And then? And then along came Jones… Sorry, I miss the Coasters
The Ruger Gunsite Scout was shot with both factory ammunition and handloads, although moderately priced factory ammunition details are probably of greater consequence. The 5/8″ 100 yard group pictured left was shot with Remington Express Core-Lokt 150 grain ammo.
The group's placement relative to the bullseye – I do not zero for each ammo type when checking group size, subsequently point of impact shifts with each ammo type. The result gives me group size data and I don't have to sell office staff blood to pay for cases of ammo.
Muzzle velocity clocked 2,639 fps over the chronograph with the stubby 16.1″ barrel, compared to a Remington rating of 2,820 fps from a 26″ test barrel. The same ammo in a laminated stock, stainless gun with the slightly longer barrel clocked 2,671 fps. I did run some Hodgdon Benchmark based handloads through this synthetic stocked version with approximately the same velocity result, 2,623 fps and approximately the same accuracy. Hornady 168 grain Superformance came in at 2698 fps also with very good accuracy.
So what is the cost of the short barrel convenience? At the Remington test barrel rating of 2,820 fps, point blank range is 246 yards. At the 2,671 fps through the Scout, point blank range is 235 yards. Hornady Superformance extends point blank range to 264 yards with its more efficient bullet shape and enhanced velocity. The point? The Scout delivers solid 300 yard performance in terms of velocity, kinetic energy and trajectory even though it is a very compact firearm.
Conclusion… without jumping to them
The Ruger Gunsite Scout in synthetic clothing remains a very solid utility rifle that can be configured for many application. It would make an excellent wilderness rifle, ranch rifle or defensive rifle. It is adaptable to shooters of all sizes from those young and still growing to us grown up that wish we could stop growing. For folks who need to address use in harsh climate and/or environment, there is the Model # 6829, the stainless steel version of the Ruger Gunsite Scout, priced at $1,099.
Like all of the other Ruger products that grace us, the Scout is well made from durable materials and backed by an outstanding warrantee and the company's customer service. The Gunsite Scout represents a true value in today's market. For additional information, stop by Ruger's website.