I was reading a draft of this article, with its terrific subject firearm, and thought, "Geez, my writing is really crap these days"… which erroneously infers that I haven't written crap on other days. What is probably of greater consequence is the analysis of why on some days I write crap and on other days I can achieve acceptably mediocre results. Part of the uneven performance can be attributed to life's distractions, however, over familiarity with a subject can also cause key qualities to be overlooked, or at least not adequately presented…. which undermines my primary objective of writing; to provide information of substance. So, as you read this, try to focus on the firearm and don't get too tangled up in my underachieving sentences.
Davidson's, a distributor that supplies large quantities of firearms to retail dealers, is offering a 5″ barrel version of the Ruger GP100, the top revolver pictured below. The new revolver is noteworthy because it extends beyond the range of Ruger's GP100 barrel length options of 3″, 4.2″ and 6″ and because the new model revolver also includes all of the excellent design and aesthetic features that have made the GP100 such a popular 357 Mag.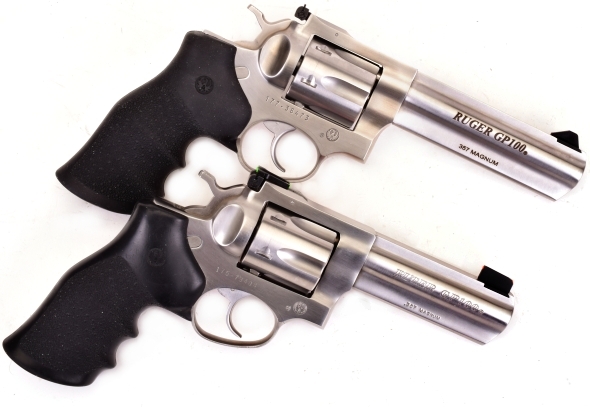 Model GP100

Manufactured

Ruger U.S.A.

Model #

1740

Type Action

Double/Single

Caliber

357 Magnum

Capacity

6

Material

Stainless Steel

Rear Sight

Adjustable

Front Sight

Ramp

Barrel Length

5.0″

Rifling

1:18.5″ RH

Overall Length

10.38″

Overall Weight

43.50 Oz.

MA Approved

No

CA Approved

No

MSRP

$807.68
The bottom revolver, grips worn shiny from use and cleaning, is my personal 4.2″ barrel GP100. It is shot frequently for the sake of proficiency and for factory and handloaded ammunition assessment. FireSights have been installed to better accommodate defensive and field shooting circumstances. Its double action pull is slick and as light as possible without jeopardizing absolutely reliable ignition, its Single action pull is creep free, light and clean breaking. After many rounds of use, it is still a tight gun and shooting it has become second nature. The Davidson version offers the same with an inch longer barrel.
The Ruger GP falls into the medium frame classification, however, it is built like a tank and can handle prolonged use more so that comparable revolvers from S&W or Taurus. I say that only because I have used them all with frequency and, as a commercial consideration, I need to select equipment that will hold up to heavy use and will reduce frequency of costly replacement. The GP100 is also easy to work on and to modify which further serves my purposes.
Features found in all GP100 revolvers…
The GP100 is available with adjustable rear sights. They are well made, can take years and years of getting bumped around and being subjected to recoil. Each incremental click, elevation or windage, results in a 3/4″ shift at 25 yards. The front sight element is a quick release type, removed by depressing a front sight plunger located just above the muzzle in the barrel rib.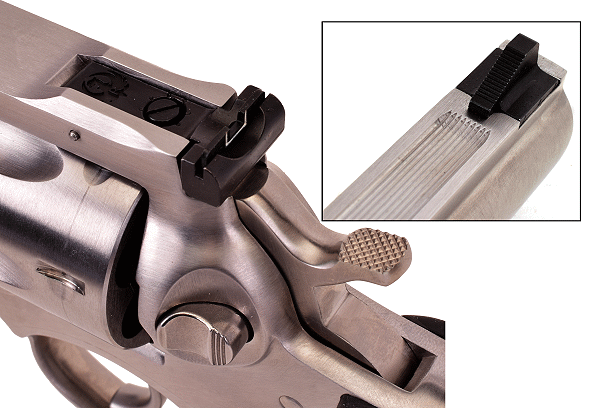 For those who prefer a brighter sight elements that performs even in low light, the Ruger Shop and firearm accessory retailers offer FireSights. Also available from the same sources are selection of differently colored front sight inserts, grips, holsters, and speed loaders.
The GP100, compared to competitors' medium frame revolvers has a thicker frame all the way around, top strap is massive and the crane locks to the frame with a retractable front latch, rather than a lighter duty spring loaded detent ball or plunger at the end of the ejector rod. The cylinder is secured at the front latch, cylinder latch and center pin lock.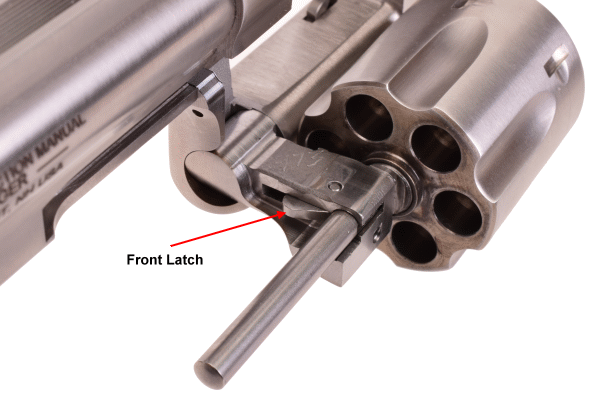 The GP100 has a 1.550″ diameter cylinder, wall thickness is 0.086″ and cylinder length is 1.618″. A S&W medium frame revolver cylinder diameter is 1.560″. This would seem marginally stronger, however, the S&W's locking notches are centered between chambers and cut into the thinnest part of the cylinder wall. Cylinder gap for this particular GP100 measured 0.006″ which is good. Too tight of a gap for a revolver that sees frequent use and typical cleaning can cause crud bind between the cylinder face and the gun's barrel.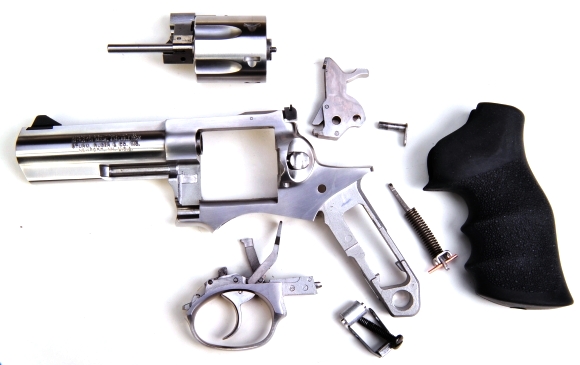 Like most double action revolvers with a side plate, the solid frame GP100 is easy to disassemble, but unlike older design side plate revolvers, it is also easy to reassemble. Like its big brother, the Super Redhawk, the GP100 is a highly modular and reduced parts count revolver. The stub that mounts the grip is strong, but its size permits the use of a grip of almost any form and size to suit the shooter and there is no steel frame to smack the shooter in the hand under recoil. Currently, there are 22 types of grips made by third party vendors and sold through retail.
Between the full length barrel rib and flat top frame, the GP100 is easy to get and stay and target and its bit of muzzle… heft is steadying. Combining the stout frame with a good set of recoil absorbing grips makes the GP100 a relatively soft shooting 357 Mag. The trigger is very clean; 10 lbs 5 oz. double action and 5 lbs 3 oz single action. I shoot the gun double action virtually all of the time as it would make more sense to carry a Blackhawk if single action shooting was a preference.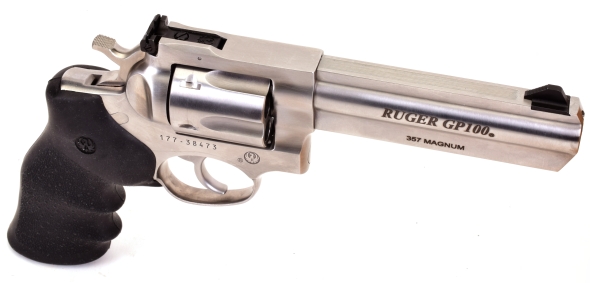 The 5″ barrel increases sight radius which may help some folks shoot this version more accurately than a shorter barrel gun. The 5″ gun also has slightly different balance than the 4.2″ version. Then there is the issue of subjective aesthetics. What it won't do is consistently provide an increase in velocity over a version with a 4.2″ barrel as the cylinder gap in all revolvers tends to minimize differences. 158 grain Hornady ammo was approximately 26 fps faster from the 5″ barrel. However, 180 grain Remington defensive ammo lost 11 fps; the longer a heavy bullet remains in a barrel, the more gas pressure and volume is lost through the narrow cylinder gap.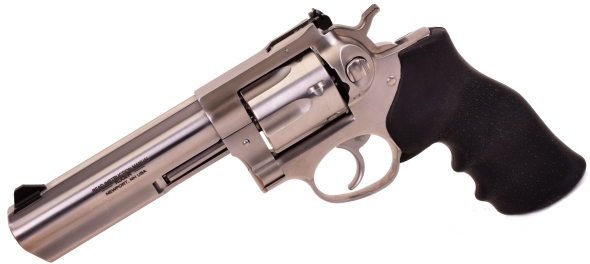 Personally, I will continue to open carry the 4.2″ gun. It stays out of my way and it has become an old friend. Both shoot 3 shot groups under 2 1/2″ at 25 yards, considerably smaller with handloads. For someone who likes this slightly longer barrel version, or even one with a 6″ barrel… the GP100 offers that blend of good looks, reliable function and at an excellent price. Nice revolver and one of my personal favorites.