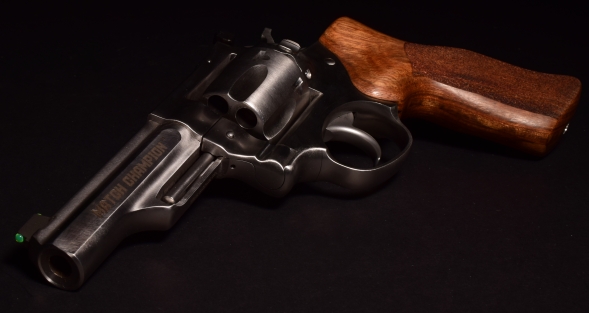 The GP100 Match Champion is an artfully executed firearm design. Subsequently, a presentation of its personality as a form and figure study seems appropriate. Try to think of this as the firearm equivalent of da Vinci's Mona Lisa by moonlight or a picture of a beautiful woman, adrift in a sea of boring articles, bending forward to better display her abundant cleavage for no apparent reason other than to make us happy. If these analogies seems even remotely reasonable, you might want to set aside your appreciation for open source Linux, your obsession with Android apps and all of your hopes of producing a woman on a 3D printer.
The Match Champion in better light…
It could have saved a lot of time and effort…
The GP100 Match Champion starts out where my finessed personal GP100, bottom below, leaves off, even after a lot of trigger refinement and a front and rear sight change. Additionally, the Match Champion has a cut back under lug, slab sided barrel devoid of the complete instructions for living a happy life that appear on the standard GP100 and some spiffily formed and hand filling wood grips that are relieved to clear speed loaders.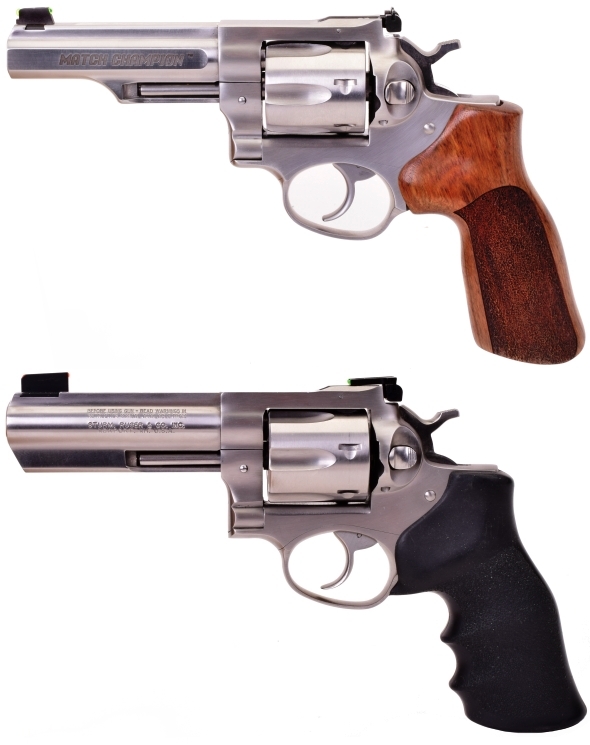 Pictured below, black notations indicate difference between the Match Champion and standard Ruger GP100. Red notations indicate differences between fixed and adjustable sight versions.
The Match Champion front sight dovetail, both fixed and adjustable sight versions, is cut to a smaller Novak .330″ x 65º standard rather than standard GP100 quick change arrangement. The upside is that this opens the door to many more front sight options and changing a front sight blade is still easy. The only comment I would make is that standardization within a product line makes life easier and tends to motivate aftermarket accessories to include a product on their compatibility list.
Marketing versus matter…
The GP100 Match Champion is configured for IDPA Stock Service Revolver competition where it must competes against S&W's Model 686 SSR. To that end, the Match Champion version of Ruger's GP100 has been refined not only in regard to trigger function, sights and grip contour, but also in in regard to weight reduction and balance.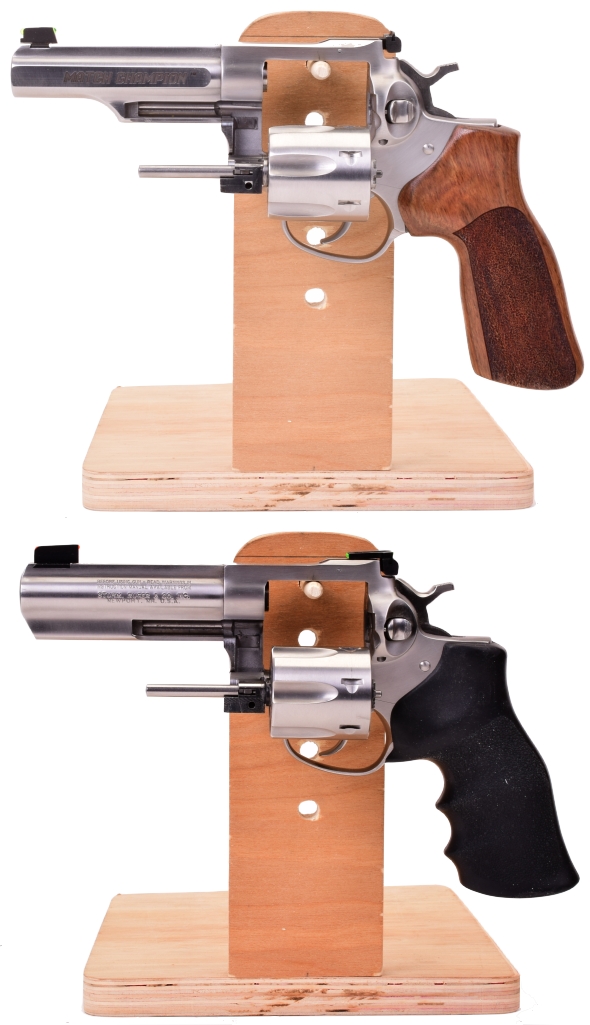 As demonstrated by our ultra high tech CG locator, the standard GP100's center of gravity is located 1.490″ back on frame, 1.600″ back for the Match Champion, which means weight off the muzzle and a little more neutral handling firearm. As far as absolutely weight reduction goes, the standard GP100 scale checks 39.0 ounces empty and the Match Champion 37.8 ounces empty. A difference of 1.2 ounces hardly makes the Match Champion a lightweight version of the GP100, but the small difference significantly enhances balance and handling.
Stout… as pictured in M.C. Escher like perspective
All GP100 revolvers, compared to competitors' medium frame revolvers, are stout. The GP100 has a thicker frame all the way around, its top strap is massive and the crane locks to the frame with a retractable front latch, rather than a lighter duty spring loaded detent ball or plunger at the end of the ejector rod. The cylinder is triple locked at the front latch, cylinder latch and center pin lock.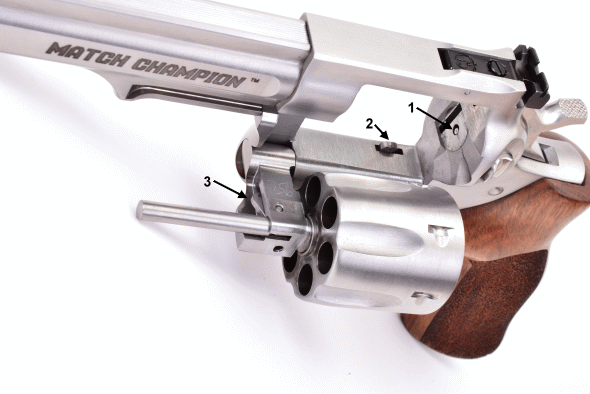 The GP 100 is one of those revolvers that can be shot for many years and it will still check precisely with a match range rod, demonstrating minimal cylinder gap and endshake with a steady diet of 357 Mag ammo. The GP100, particularly the finessed Match Champion, is an easy revolver to shoot double action or single action. For folks with a standard GP100, double action trigger pull can be made relatively light without subordinating reliable ignition.
Shooting personality…
The GP100, in standard or Match Champion form, really tames the 357 Magnum and makes it pleasant to shoot. Loaded with 38 Special ammo, even +P type, recoil and muzzle rise are just not issues. At 10 yards it is easy to cloverleaf 5 shot targets, at 25 yards under or very near 2″ is the norm. The GP100 consumes anything it is fed, including stiff handloads.
Model GP 100 Match Champion

Manufactured

fill in the blanks

Model Number

1755

Type Action

Double / Single

Caliber

357 Mag/ 38 Special

Capacity

6

Material

Stainless Steel

Grips

Hogue Stippled Hardwood

Trigger Pull DA / SA

9 lbs 11 oz / 4 lbs 7 oz

Barrel Length

4.2

Rifling

1:18.75″ RH

Rear Sight

Adjustable W/E

Front Sight

Fiber Optic Green

Type Safety

Transfer Bar

Overall Length

9.50″

Overall Height

6.25″

Width – Cylinder

1.550″

Weight

38.00 oz.

MSRP

$929
Setting aside the issue of competition, the GP100 Match Champion is a good place to begin for even a first time 357 Mag revolver buyer. Typically, experience breeds a need for trigger, grip and sight refinement to keep up with developing shooting skills, so the Match Champion would save a trip to a gunsmith for this type of work.
The Match Champion is priced approximately $150 higher than the corresponding standard GP100 model. A trigger job from a quality smith run about $150. Flat side fluting a barrel and cutting back an underlug runs about $200. An installed fiber optic front sight costs approximately another $50. The costs add up pretty quickly, making the Match Champion a better value for folks whose d4eveloping proficiency will place greater demand on the hardware.
Are there things about the GP100 Match Champion that I don't find exciting? Being picky, I prefer the front / rear adjustable fiber optic sights installed on my personal GP100. Green rear, red front, the sights are very fast, easy to get and hold on target and I am left feeling I can hit whatever is in my sights. Lastly, I would appreciate it is Ruger would subdue some of the model logos. These days every marketing guy thinks every untouched surface is waiting for him to slap on more advertising and in this case, having "Match Champion" broadcasting from a barrel is a bit gaudy on an otherwise very attractive firearm.