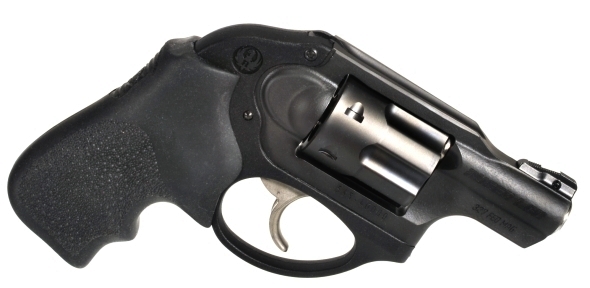 It is possible, after accumulating extensive experience with the 22 LR, 22 Magnum, 38 Special, 9mm Luger, and 357 Magnum versions of the LCR, that I would consider the latest 327 Federal Magnum to be the optimal chamber for this double action revolver. The LCR joins multiple SP101 and Single-Six models also chambered for this cartridge. A joint development effort between Ruger and Federal Ammunition, the 327 Federal Magnum enters its eighth year of production with a good deal of growing momentum.
Ruger LCR 327 Federal Magnum

Manufacturer

Ruger, Newport NH

Item #
5452

Type

Hammerless, Double Action

Caliber

327 Federal Magnum

Mag Capacity

6

Barrel Length

1.875″
Rifling
1:16″

Weight – Actual

17 Oz

Overall Length

6.5″

Height

4.5″

Width

1.3″

Grip Frame
Polymer
Cylinder Frame
Blackened 410 Stainless
Cylinder
Carpenter 465 Stainless

Sight Rear

Integral U Notch
Sight Front
Pinned Ramp

Trigger

Pull – D/A Only
9 Lbs 8 Oz.
CA – MA Approved
No

MSRP

$619.00
There are a few notes I can add to the spec box. The high pressure but compact 327 Federal Magnum adds one more round of capacity to the LCR, compared to the 357 Magnum and 38 Special versions.
With 19.0 grains of case capacity, compared to 25.6 grains for the 357 Magnum, the 327 Federal Magnum is more efficient when fired from a short barrel revolver and loses significantly less velocity as inches are lobbed off barrel length. With 20% less measured recoil than the 357 Magnum, the 327 Federal Magnum is easier to control and shoot with accuracy.
A thousand years ago, industry referred to the interface between machine and human as ergonomic design. In the case of the LCR, the ergonomic design is excellent. Accepting that no compact firearm can provide full shooting hand contact; the swept angle and form of the LCR's grip place the pinky under the butt in a supporting position. The adjacent two fingers firmly wrap around the finger grooves and the index finger points straight down the side of the revolver's trigger. The shooter is left with his or her trigger finger pulling straight into the strongest part of his/her grip. Pointing the LCR forward places the frame's U notch in a perfect angle of alignment with the front sight.

Beyond the LCR's geometry contributing to balanced handling, the polymer grip frame absorbs recoil as does the Hogue Tamer grip. The LCR's camming trigger eliminates the typical double hump, rollercoaster, double action trigger pull, instead replacing it with a short trigger pull that builds slightly, but steadily until release. The hammerless design works for me as I shoot double action revolvers, double action… as intended by design and its absence means one less thing to snag on something.
Ammunition

Type

Bullet
Weight
Grains
Spec.
MV
FPS
Spec
ME
Ft-Lbs
Typical
$/Round
Buffalo Bore
Hard Cast
100
1315
465
1.32
Buffalo Bore
Hard Cast
130
1291
488
1.32
Speer Gold Dot Personal Protection
JHP
100
1500
500
1.10

Speer Gold Dot Personal Protection LE

JHP

115

1300

431

1.09
Federal American Eagle
JSP
85
1400
370
0.53
Federal American Eagle
JSP
100
1500
500
0.53

Federal Hydra-Shok

JHP

85

1400

370

1.07

Rating barrel length 3.062″
The ratings above are as published by the respective factories, utilizing the same Ruger SP101 3 1/16″ barrel test standard. They being provided for relative performance comparisons with live fire 327 Federal Magnum results to follow below.
Like the Patsy Cline song laments…
Borrowed from our early LCR coverage, because I wanted to shoot the subject LCR rather than take it apart, the picture below illustrates generic LCR modular assemblies. Where S&W revolvers disassemble like Humpty Dumpty; can't be reassembled again… often without an embarrassing visit to the local gunsmith, the LCR is a simplified assembly that even I can take apart and, better yet, put back together again. The grip frame has a peg for securing… grips and companies such as Hogue and Eagle make an assortment of grips for folks who can't leave well enough alone.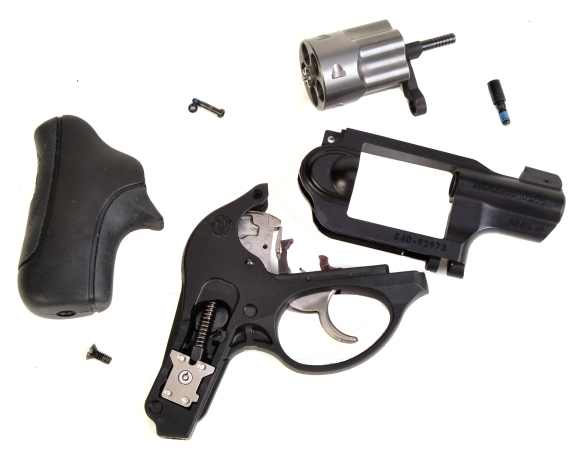 I found it was even more impressive when combined with ammo…
With a supply of Federal Hydra Shok 85 grain Low Recoil and Speer Personal Defense LE 115 grain ammo on hand, the Ruger LCR was shot fast, furious and often. The muzzle climbs, there is a bit of muzzle flash, a slightly sharp report, and just a touch of snapping recoil. There is no wrist jarring usually associated with putting a good deal of ammo through a small frame, airweight 357 Magnum. By the same token, the 327 Fed LCR would not get lost in a gaggle of rimfires. For that matter, it also would not get lost in a gaggle of 38 Specials.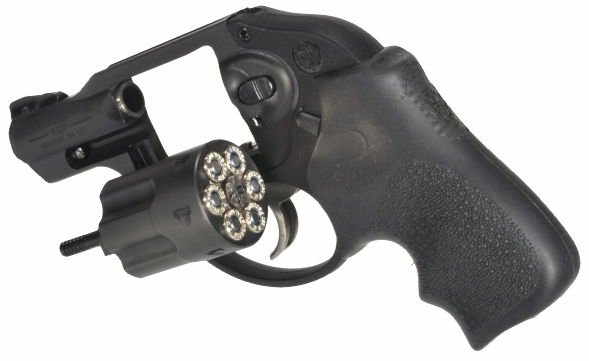 Grip appreciation is very subjective. I am a fan of these Hogue grips; no sting, easy to conceal and they foster a stable hold. Loading is straight forward, ejecting empties took slightly more effort than the LCR 38 Special version, which I would attribute to the 327 Federal's higher operating pressure
For folks who prefer quantified facts to opinionated prose…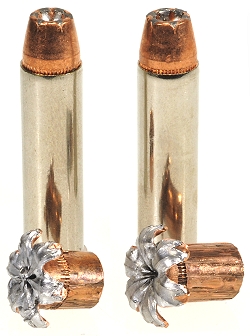 The Ruger LCR was not shot for record at 25 yards… primarily because the range made no sense in application. If mechanical accuracy was of consequence, the LCR would have gone into a Ransom Rest and I would have wasted ammo and time getting it to settle down before generating representative numbers for anyone who brings a Ransom Rest in support of concealed carry.
Shooting offhand at 7 Yards, 6 shot groups well under 2″ took little effort. No doubt there is a gun forum participant who can stay within 1″ at 50 yards… while riding on horseback… at night. For me, U notch sight, short barrel, short grip, 7 yards works for me for empting a cylinder in a short period of time.
From the 1.875″ barrel, Federal Hydra Shok 85 grain ammo rated at 1,400 fps generated 1,275 fps. The Speer Gold Dot LE 115 grain rated at 1,300 fps generated 1,273 fps. Wondering how well those 327 Federal Mag bullets would penetrate and expand at 7 yards, a couple of 16″ Clear Ballistics gel blocks were lined up.
Bullets below not actual size…
The Federal 85 grain went 13″ into Clear Ballistics blocks, weighed 84.8 grains when it stopped, expanding to 0.520″. The Speer 115 grain went 18″ and weighed 114.3 grains when pulled. The 115 grain expanded to 0.546″. Neither bullet tumbled. By comparison, the last snub nose 357 Mag we tested penetrated less in light weight bullets, more in the heavy weights, but none expanded as much or retained as high a percentage of weight as the 327 Federal Magnum.
Are there any other points to make?
Sure. The Ruger LCR is a nicely executed, low maintenance design and a well finished product. Worn on the belt, you hardly notice its there. Pull the trigger and everyone knows its there. Terrific compact revolver with plenty of power and a serious choice for concealed carry or a utility sidearm to wear when hiking or hunting.