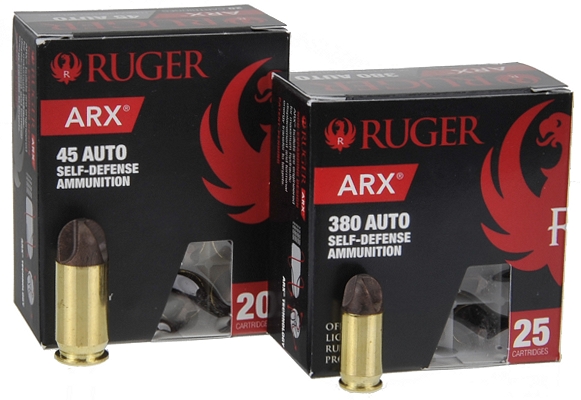 Firearms, cartridges and component design are rapidly and dramatically changing, although much of this change may not be visually obvious. Alloy steel or stainless steel may look the same when blackened, and a special steel alloy and heat treatment used to fabricate a super tough revolver cylinder may look the same as any other revolver. However, in the case of Ruger's new ARX ammunition, it would be difficult to miss the uniqueness of the product.

The center of the new Ruger ARX ammunition's universe is its uniquely fluted, copper and polymer composite bullet. The bullet's light weight, coupled with high velocity, results in high forward and lateral energy transfer for increased lethality. Reduced bullet weight results in reduced recoil which makes it easier to remain on target when multiple shots are fired. The bullet's low mass contributes to controlled penetration even though ARX ammo is not frangible.
Ruger ARX® Published Specifications

Caliber

Bullet  Weight
Grains
Muzzle Velocity
fps
Muzzle Energy
Ft. Lbs.

Availability

380 Auto ARX

56

1315

215

Now

9mm Luger ARX

74

1540

385

Soon

40 S&W ARX

107

1320

414

Soon

45 Auto ARX

118

1350

461

Now
The ARX bullet was designed by PolyCase Ammunition and manufactured through a precision tolerance injection molding process. The composite that forms the bullet is made from a proprietary copper alloy and high tensile strength nylon. All components and ammunition are made in the U.S.. The company is located in Savannah, Georgia.
What a lethal bullet must accomplish in self defense…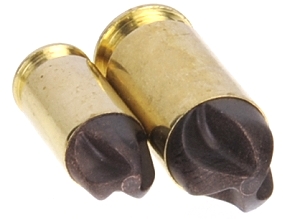 A bullet can stop an attacker only by damaging or destroying the central nervous system or by causing profuse blood loss. To that end, a bullet penetrates and destroys tissue through compression and forms a permanent wound channel. The transfer of kinetic energy stretches tissue to form a temporary wound channel. That kinetic energy also can cause fragmentation; driving bullet and bone fragments outward causing secondary damage to tissue and blood vessels.
The shape of the ARX flutes cause exceptional amounts of hydraulic displacement, effectively transferring energy laterally as well as forward; a small but very intense high pressure hydraulic pump pushing outward from a wound channel. Wherever the fluid is driven, it does further damage to internal organs, the nervous system, muscle tissue and blood vessels; hydrostatic shock. No, not the type that theorizes a shot in the finger will make a toe explode and/or innards turned to jelly. Rather it is the type that has been part of the lethal bullet conversation since World War II, appeared in the April 1942 issue of Popular Mechanics as authored by California gunsmith Ralph Waldo Miller, and is based upon the same principles that allow a pressure washer to clean a boat or water jet machines to cut patterns in thick steel plate.
Or we can just shut up and show the results…
A Ruger LCP in 380 Auto with 2.75″ barrel and an SR1911 in 45 Auto with a 5″ barrel were selected for the live fire checkout. They are each typical within their respective applications.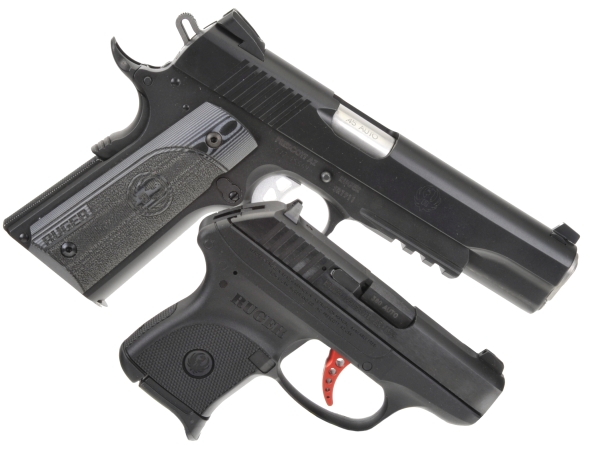 With firearms and ammunition in hand, we set out to get a better understanding of Ruger's ARX performance, while trying to not indulge and/or engage the easily entertained with slow motion images of undulating ballistic gel. For the sake of comparison, we ran two other common types of ammunition along side the Ruger ARX as noted on the tables that follow.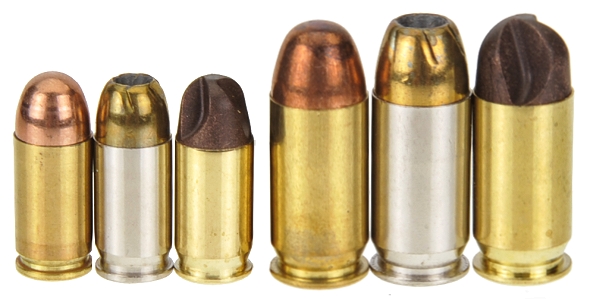 Shots were recorded on a freshly calibrated chronograph. With the exception of the Ruger ARX ammo where we had no prior experience, the other ammo clocked typical fps.
Caliber

Ammunition

Bullet
Weight
Grains
Rated
MV FPS
Rated
ME Ft. Lbs
Recorded
MV FPS
2.75″ Bbl
Calculated
ME Ft. Lbs
380 Auto
PMC Bronze FMJ
90
961

185

861

148

380 Auto

Remington Golden Saber

JHP
102
940

200

803

146

380 Auto

Ruger ARX Self Defense

56

1315

215

1275

202

Caliber

Ammunition

Bullet
Weight
Grains
Rated
MV FPS
Rated
ME Ft. Lbs
Recorded
MV FPS
5.00″ Bbl
Calculated
ME Ft. Lbs

45 Auto

Remington UMC FMJ

230

835

356

830

352

45 Auto

Remington Ultimate Defense

230

875

391

864

381

45 Auto

Ruger ARX Self Defense

118

1350

461

1352

479

–
Non-gratuitous, non-alcoholic Gel-O-Shots…
Most of the time, we run this part of ammo assessment by shooting into a couple of 16x6x6 ballistic gel blocks, recording depth of penetration, noting bullet track through the medium, then measuring and weighing the recovered slug. Here we had an instance where key features are hydraulic displacement and lateral energy transfer, so we took an analog approach to measurement.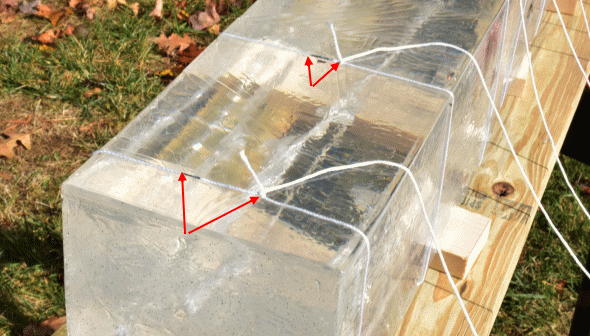 With two blocks back to back for a total of 32″, they were supported on narrow pieces of wood to minimize the amount of influence the supporting boards would have on the gel. Lengths of string were looped around the blocks, secured with a slip knot and indexed at the knot with a black marker. Expansion of the gel block from a bullet's lateral force or hydraulic displacement pulled the string through the slip knot and measurement was taken as illustrated by the red arrows in the picture above. Kite string was selected because it didn't cut into the gel block on expansion and because its low mass offered little resistance and gained virtually no momentum to expand beyond gel movement.
Caliber

Ammunition

Start
Bullet Wt
Grains
End
Bullet Wt
Grains
End
Bullet
Diameter "
Penetration
Inches
2″ Penetration
Lateral
Expansion
6″ Penetration
Lateral
Expansion
380 Auto
PMC Bronze FMJ
90.0

89.6

0.356

20.5

0.0

0.0

380 Auto

Remington Golden Saber

JHP
102.0

99.3

0.570

11.0

0.0

0.0

380 Auto

Ruger ARX Self Defense

56.0

56.0

0.355

11.5

0.5

0.0

Caliber

Ammunition

Start
Bullet Wt
Grains
Recovered
Bullet Wt
Grains
End
Bullet
Diameter "
Penetration
Inches
2″ Penetration
Lateral
Expansion
6″ Penetration
Lateral
Expansion

45 Auto

Remington UMC FMJ

230.0

229.9

0.451

32.0+

0.0

0.0

45 Auto

Remington Ultimate Defense

230.0

230.0

0.740

14.5

0.6

0.2

45 Auto

Ruger ARX Self Defense

118.0

113.4

0.451

15.

5

1.7

0.8

–All shots into gel were from a distance of 10 feet
The 380 ARX did indeed demonstrate hydraulic displacement and lateral energy transfer to a measurable degree. The bullet tracked straight and it did leave a permanent wound channel at least as large as the expanded Golden Saber.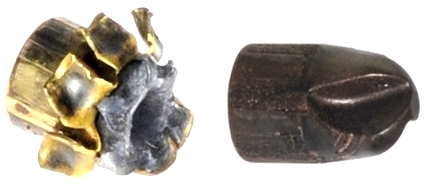 Ball ammo penetrated well beyond the others as it did not expand to increase its frontal area for increased drag. It also demonstrated no measurable signs of lateral energy transfer. Unfortunately, there are many autoloaders that require the rounded ogive of ball ammo to feed properly, reliably. Fortunately, the ARX bullet has a very similar contour and feeds as slick as ball ammo, so owners of these types of autoloaders are no longer stuck with low shock ball ammo as a sole choice.
Snappy recoil can make micro autoloaders chambered for the 380 Auto difficult to shoot. The lighter ARX bullet lessened the LCP's recoil to a noticeable degree, making it easier to shoot with accuracy. The 380 Auto serves a very valid role in self defense, unfortunately, there are few good factory loads within that context. Many have impressive names, but either don't penetrate or don't expand when fired from short barrel guns. The Ruger ARX has no such problems.
The 45 Auto match up kept me out shooting a lot longer than anticipated in an effort to better understand the difference between these two types of approaches to bullet design. If anything, the larger bore comparison amplified the differences between the two.
Over the years, I've migrated to Golden Saber bullets in factory ammo and handloads. I was surprised by the amount of lateral energy and measurable hydraulic displacement the Ruger ARX bullet generated. The Golden Saber made a somewhat larger and more ragged permanent wound channel in the ballistic gel as it tumbled in a straight track and came to rest heel first. The ARX tracked straight, left a cleaner but slightly smaller permanent wound channel, but it really unloaded lateral energy to a much larger and easily measured degree and the ARX penetrated further than the Golden Saber.
There was no measurement of the ball ammo as it blew through 32″ of gel without measurable lateral hydraulic transfer and parked itself somewhere down range, one of the reasons for shooting against a safe downrange backstop. The Ruger ARX offers the same advantages over ball ammo; no over penetration, much greater energy transfer and a similar bullet contour to assure feeding in autoloaders that specify ball ammo for reliable feed. OK, one gratuitous gel-o-shot of Ruger 45 Auto ARX…
Accuracy
I had some concerns that the flutes in the ARX bullet would have a negative effect on accuracy and stability, however, that proved not to be the case, The spinning bullet creates a pressure cone or boundary layer that prevents the flutes from disrupting air flow.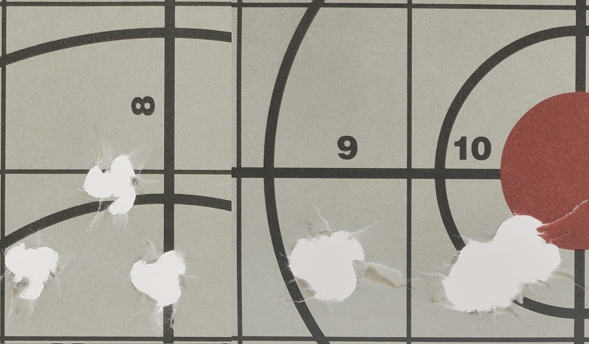 I made the image above a little dark so that the distinctive holes left by the ARX bullets were clearly visible. At 50′ rested, but not Ransom rested,  the little LCP put up a 3/4″ group, the best I've ever shot with this pistol, and the SR 1911 shot a 1 1/8″ group. Very good accuracy from the Ruger ARX loads.
The stigma of powdered metal…
Seeing a composite of powdered metal and poly and I couldn't help but draw some associations with other brand's products that are made to be frangible; break up on material harder than tissue and won't penetrate sheetrock walls. Yes, PolyCase assures customers the ARX product is not frangible in the coming apart sense, but I never could leave well enough alone.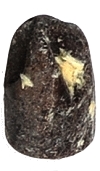 I made up a stack of 4, 1″x10″x10″ pine boards separated at the edges with 1/2″ thick hardwood plywood spacers. No, the intention wasn't to construct a board penetration box, the intention was only to see if the ARX bullets broke up on early impact with a hard surface. They did not. Pictured left, the 380 ARX was recovered at full weight from the last board, sideways, and loaded with chunks of wood the flutes chewed out of the boards.
The 45 Auto version of the ARX was not to be found in the same set up. Again, never an intention of checking pine board penetration, just a check to make sure the copper and poly bullet was not frangible and would not come apart with the first contact with a hard surface. The .45 caliber ARX literally blew the boards apart, putting the two halves together showed a bullet size hole punched through all four boards, suggesting lateral transfer of energy did all of the damage while the bullet stayed intact. There are no associations to draw. The ARX is a bullet of unique design, made with unique materials that performs as stated.
In closing, it's past my bed time
Not wanting to speculate, we posted the Ruger ARX product announcement, along with the developer's comments on the Real Guns Facebook page. We had ammunition on hand, but we wanted to take a little time to figure out how to assess some of the claims made regarding the bullet's performance and its unique personality. While there is a great deal of technical documentation from civilian and military sources to draw from for understanding, not a great deal could be interpreted and articulated for the site, so we constructed test methods everyone can duplicate.
We've worked with a number of uniquely formed bullets from other manufacturers, most the product of bar stock, a screw machine and a vivid imagination where most demonstrated poor performance. One cup nose solid, touted as intended for the biggest and most dangerous game, could not penetrate 7″ of plain ballistic gel without making an abrupt left turn and exiting test medium, where the application called for yards of penetration.
In the case of the Ruger ARX ammunition, what looks very different overall, is actually a composite of very familiar, very sound and very mature design principles. What makes ARX ammunition work so well, is the thought process that put these elements together to form a product. Ruger ARX ammunition is priced approximately the same as other premium defensive ammo; approximately $22 for 20 rounds of 45 Auto ammo and $19 for 25 rounds of 380 Auto ammo.