Fall – winter has been start – stop for a month; each cold snap the leaves turn and fall, each warm spell creates an opportunity to prepare before first snow and to clear the backlog of shooting and testing requirements before it becomes three foot long legs attempting to traverse four foot deep snow cover. So I was hammering away at 45 Auto loads, factory and handloads and got to thinking about the clean 1911 type that was getting a work out, a Ruger Talo Deluxe Checkered G10.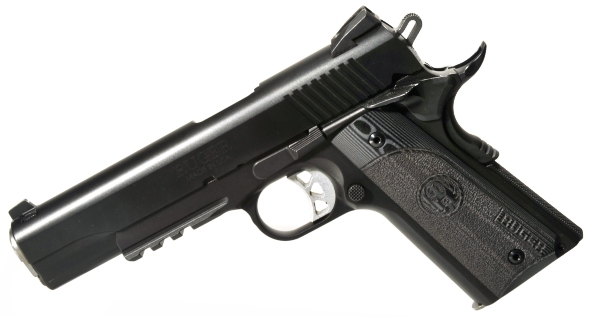 SR1911 Model # 6715 is one of four limited production models offered by Talo and available through Talo wholesalers, The pistol is a stainless steel SR1911, with black nitride finish, an under rail and deluxe checkered G10 grips. The black nitride finish is nitrogen and carbon diffused into the surface of the stainless steel, it is not a surface coating. Black Nitride increases wear-resistance, fatigue resistance, corrosion resistance, and lubricity. For folks who have an aversion to shiny stainless steel firearms, me, and embrace the faint and distant memory of blued firearms, me, the Black Nitride finish holds aesthetic appeal.
G10 is a material; multiple layers of woven fiberglass cloth with an epoxy binder processed into a high-pressure thermo set plastic laminate. It's almost like owning a new Corvette, but of greater importance, in the event of a nuclear hit you may be reduced to fine gray cinder within the outline of a human form, but your pistol's grips should be good to go. Yes, they add a techno-modern look to the pistol for young people who don't want friends to know they are carrying a firearm that was designed over one hundred years ago and they don't slip and are impervious to the elements and solvents.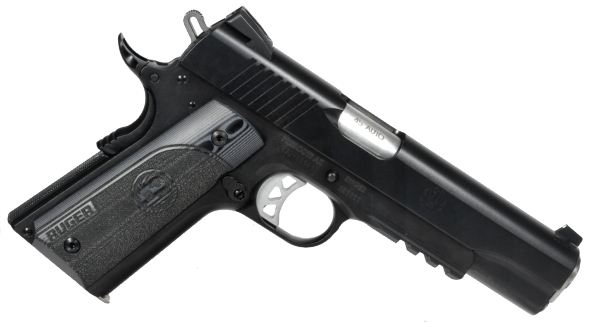 And yet more semi gratuitous imagery
The sights are a good selection for self defense or competitive shooting applications; a low profile three dot Novak sight system. Front and rear are dovetail amounted, the rear is windage drift adjustable. As is the case with all Ruger SR1911 types, there is a light Commander type hammer, light weight long trigger to reduce trigger bounce, a raised beavertail grip safety to protect the shooter's hand and assure appropriate release. There is also an under rail for mounting lights, sights and anything else and owner can think to hang on a Picatinny rail.
Caliber

Ammunition

Bullet
Weight
Grains
Rated
MV FPS
Rated
ME Ft. Lbs
Recorded
MV FPS
5.00″ Bbl
Calculated
ME Ft. Lbs
50′
3 Shot
Group"

45 Auto

Remington UMC FMJ

230

835

356

830

352

1.3

45 Auto

Remington Ultimate Defense

230

875

391

864

381

1.0

45 Auto

Ruger ARX Self Defense

118

1350

461

1352

479

1.1

Additional ballistic gel penetration results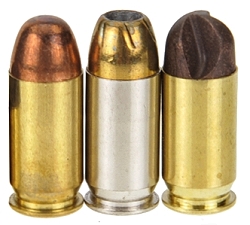 Live fire handling and performance is solid. It is a well balanced firearm with an excellent grip angle that contributes to recoil management. Since the refinement of 1911 type commercial pistols in the 1980s and 1990s, accuracy of this design has greatly increased, as has reliability of feed and cycling.
While the SR1911 is a 70 Series type and sans trigger plunger linkage, the Ruger SR1911 certainly reflects all of the enhanced gun standards of performance. Subsequently, the SR1911 handles any type of commercial 45 Auto ammo it is fed, regardless bullet type, it cycles cleanly and it places bullets on target as expected.
In more quantifiable terms…
Ruger SR1911

Model #

6715

Manufacturer

Ruger
Point of Origin
Prescott, AZ

Type

Single Action Semi Auto

Caliber

45 Auto

Magazine Capacity

8+1

Barrel

5.0″
Rifling

1:16″ RH

Overall Length
8.7″
Overall Height
5.5″

Overall Width

1.3″

Weight Oz.
39.0 oz.
Sight Radius
6.75″

Trigger Pull – Actual

4 Lbs 7

Oz.

Sights – Dovetail Mount
Novak Low Profile
Slide Material
Stainless Steel – Nitride
Frame Material
Stainless Steel – Nitride

Grips

Checkered G10

Safety

Thumb

MSRP

$919

–