It is that time of the year again. My wife and I went to the Christmas tree farm down the hill and wandered the rolling hills in search of the perfect tree or until a nap was needed. We finally found what we felt was a beautiful Balsam Fir, full and just the right height. So my wife grabbed and held it while it screamed green murder and I cut its feet off with a bow saw. Disposing of the body was easy enough. We just tossed it unceremoniously into the back of the truck and hauled off for home where it was immediately transformation into a tastefully decorated Christmas Tree… Its destiny from the day it was planted, to become a symbol of peace on earth and good will to men. Context is everything.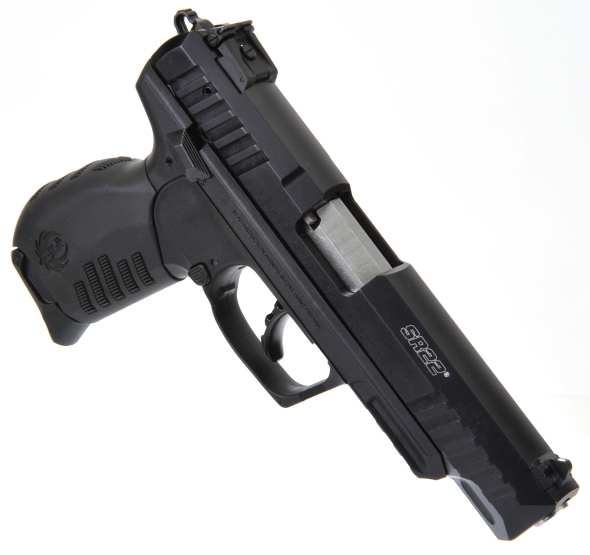 The SR22 has always been a spiffy rimfire pistol; accurate, durable and easy to service and maintain. We have one at home that we use for family bragging rights target competition and for the effective and sometimes abrupt removal of yard pests. My only issues with our pistol is that the 3.50″ barrel length makes for a relatively short sight radius and it is a little muzzle light. Now that I am older than tree bark, I can use the advantage of a longer sight radius and perhaps a bit more muzzle heft to settle down an after two cups of coffee sight picture.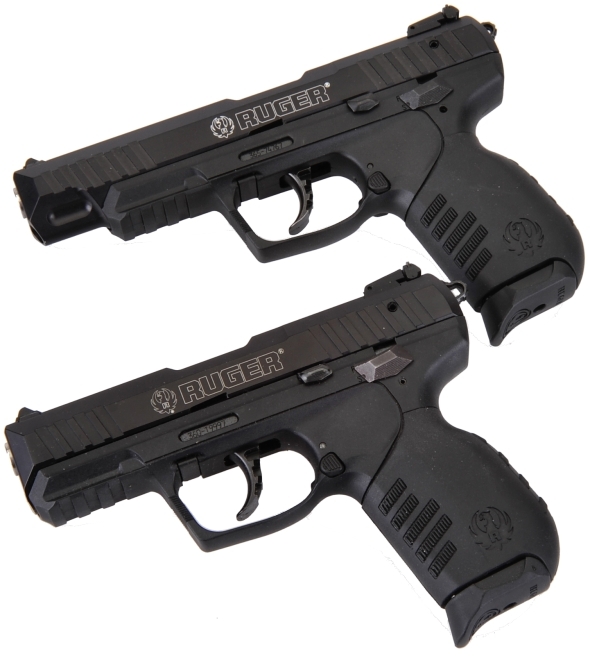 The standard length and longer barrel versions share a common frame and fire control parts. The sight systems is also the same. The difference is in the length of the slide, barrel and guide rod and the longer slide has extended forward gripping surfaces.
Ruger's SR-22

Model

3600
3620

Manufacturer

Ruger
Ruger
Point of Origin
Mayodan, NC
Mayodan, NC

Type

DA/SA Autoloader
DA/SA Autoloader

Caliber

22 LR
22 LR

Magazine Capacity

10
10

Barrel

3.5″
4.5″
Rifling

1:16″

1:16″
Overall Length
6.40″
7.4″
Overall Height
4.9″
4.9″

Overall Width

0.97

"

0.97″
Weight Oz.
17.5 Oz.
18.7 Oz.
Sight Radius
5.5″
6.5″

Trigger Pull –

Pounds
8.4 DA 4.5

.SA

8.2 Lbs 4.3 Oz.
Sights
3 Dot Adjustable
3 Dot Adjustable
Slide Material
Anodized Aluminum
Anodized Aluminum
Frame Material
Polymer
Polymer

Grip Contour Inserts

Interchangeable
Interchangeable

Thumb Safety

Yes – Decocker
Yes – Decocker

Key Lock

No
No

Loaded Indicator

No
No

MA Approved

Yes
No

CA Approved

No
No

Magazine Disconnect

Yes
Yes

MSRP

$

415

$

439

–
Some additional details
The SR 22's controls are well laid out and within a thumb swipe or push while gripping the pistol… although I did have an uncle with freakishly short thumbs, but that is another story. The dovetail front sight mount is pretty nifty in that you can flip the sight around to change between white dot and plain black blade. The large trigger guard will clear most gloved fingers and the straight cut trigger guard makes for a good finger hold in a two hand hold.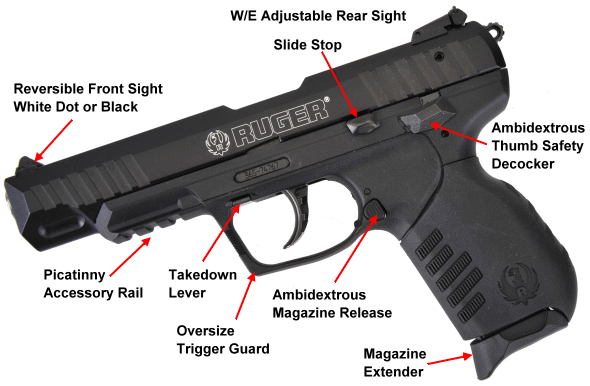 The SR-22 does not come in a hard case, however, it does come with a soft case, two magazines, a differently contoured grip sleeve and flat and finger extended magazine floor plates.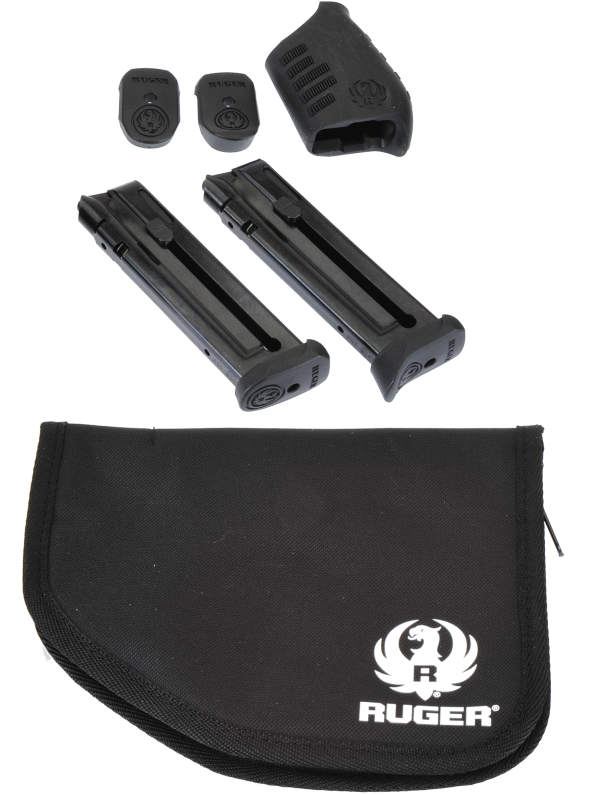 Below – For the mechanically challenged who grouse incessantly about the Mark III's takedown complexities, the SR22 should bring Ruger redemption. In short form, Pull down a catch, pull back and raise the slide, release forward and off. Yes, there are some other procedural instructions contained in the manual, but all minor. The barrel is anchored to the frame by a socket head screw which is accessible through the trigger guard.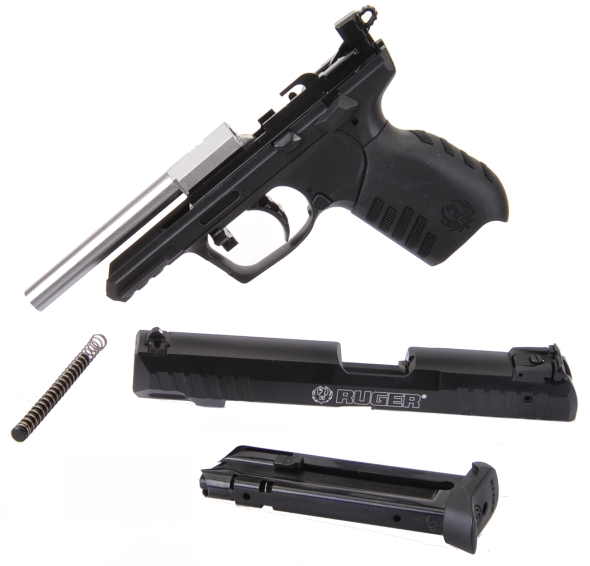 Performance and shooting impressions
The SR 22 long slide was shot from a shot bag and offhand. The larger curved grip sleeve, for me was more comfortable and steadying and the longer sight radius was an obvious benefit. Shooting single action the trigger pull was short, light and crisp. Decocking a loaded gun and shooting the first round double action was a bit more challenging; long, progressively heavier and a hard let off.
Ammunition

Bullet
Weight
Grains
Rated
FPS
3.5″
Barrel
FPS
4.5″
Barrel
FPS
50′
3 Shot
Group "

Eley Subsonic LCHP

40

1040

877

893

1

Remington Target RN

40

1150

923

960

5/8

Remington HV Golden Bullet

40

1255

985

1021

1 1/8

Winchester High Velocity RN

40

1300

981

996

1 1/4
The light aluminum slide cycled reliably, ejecting empties, chambering and locking open even with subsonic ammo, a trail common to every SR 22 regardless barrel length I've handled. The sight adjustment stays put and is precise, however, now that I've seen FireSights are available, I will order a set as soon as I am wrapped up here. They are great against virtually against any backdrop. Actually, the Ruger shop has a number of accessories for the SR 22 3.5″ and 4.5″ from laser sights to holsters.
Now I can't make up my mind. I like the short barrel version. It's light, compact and a good pistol for training young shooters. I like the long barrel version because it is accurate enough to get my attention and to make me look forward to target practice. Good product. Good company.