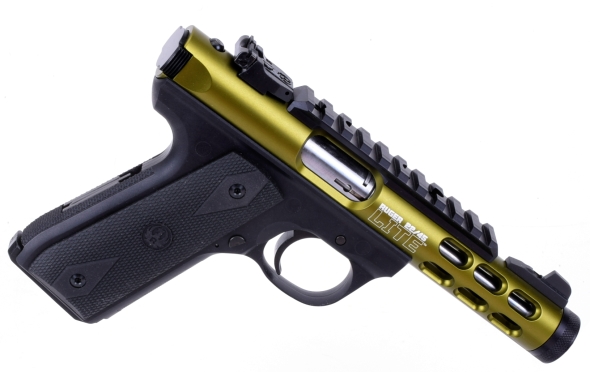 Ruger 22/45 LITE

Manufacturer

Sturm Ruger
Model #
3912

Type

S/A Autoloader

Caliber

22 LR

Mag Capacity

10

Barrel Length

4.4″
Rifling

1:16″

Threaded Muzzle

1/2″x28

Weight

22.70 Oz
Receiver
Aluminum
Grip Frame

Zytel® Polymer

Overall Length

8.50″
Overall Height
5.50

"

Width

1.00

Sights

Adjustable + Rail

Safety

Thumb + Internal Lock

Magazine Disconnect

Yes

Loaded Chamber Indicator

Yes

MA Certified

No

California Approved

No

MSRP

$515

Nominal Weights & Measures
For folks who may not be aware, the Ruger 22/45 Lite is a series firearm. Approximately once each year, a model with revised aesthetics is released and a prior model is retired. This year the aluminum alloy receiver's ventilation hole count was reduced, the circular holes have been replaced with elongated slots and the anodized color has been changed to a metallic olive drab… which is anything but drab. A removable rail is included and preinstalled.
The Ruger 22/45 Lite is a solid representation of Ruger's ability to innovate and evolve. At just twenty-three ounces, the Ruger 22/45 LITE weighs ten ounces less than the standard Model 22/45 and is approximately half the weight of a Mark III target model. Ruger got to that light weight by fitting an aircraft aluminum receiver to the Model 22/45's Zytel® Polymer frame. The receiver also serves as a ventilated shroud covering a pencil thin barrel. The muzzle end of the LITE has 1/2-28 threads to accommodate suppressors, compensators and brakes. The thread are covered with a thread protector when not in use.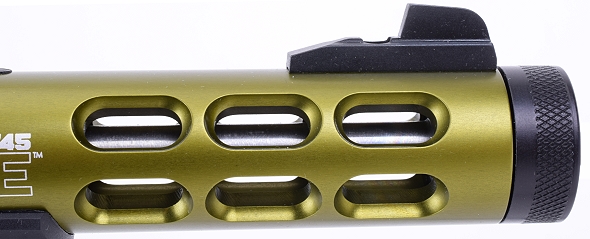 The Ruger adjustable sights present an excellent sharply defined sight picture. Adjustment is predictable and sight adjustment stay's put. I did try a rail mounted rail mounted red dot sight and a handgun scope. Both mounted securely and shot well, but for my applications they are probably not necessary and they do add a good deal of bulk to the package. This Model 22/45 is shipped with rail installed, but it is a simple task to remove the three securing screws and the rail.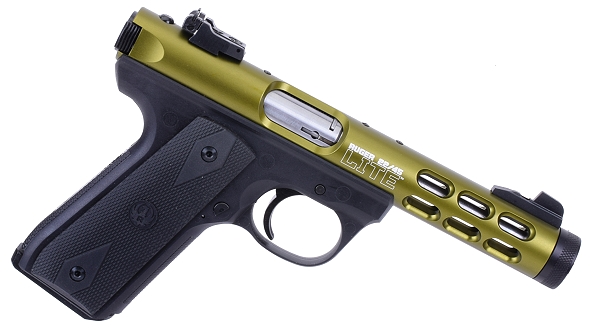 Aftermarket weight reducing aluminum receivers are a popular but costly accessories for rimfire autoloaders. By packaging the Model 22/45 Lite with an aluminum receiver for only $50 more than the price of the steel version of the 22/45, a customer can save $250 – $350 over the cost of an aftermarket conversion. With Ruger doing the assembly, there is the further assurance of a proper fit and the 22/45 is covered by a Ruger factory warranty.
As safe as you would like it to be…
Some folks crow about safety features as though they never existed before and now lawyers are installing them on firearms. Bull. Even John Browning's creations have multiple safety devices, four at last count on the 1911; thumb, grip, trigger, out of battery. The Ruger 22/45 Series has a manual thumb safety, a key lock that an be ignored if desired and a loaded chamber indicator, which is passive and certainly fine with me.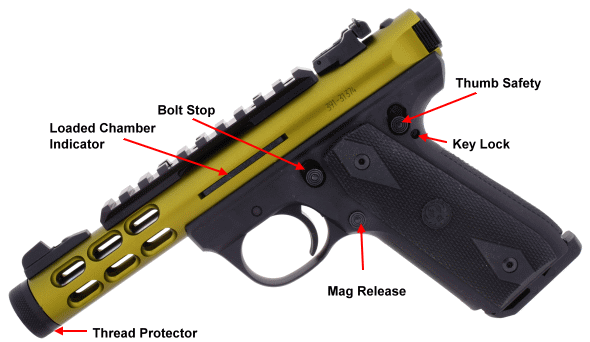 The layout of controls is good. Bolt stop, mag release, thumb safety are all within a thumb swipe. In the course of shooting, no surfaces or controls get in the way. The 22/45 feels intuitive in operation. As a final note on safety devices, the Ruger 22/45 is a good pistol for training new shooters.
Suppressing the subject at hand…
The Ruger 22/45 Lite pistol will no doubt predominately be used without a suppressor in place. However, as noted in product literature and in the product's user manual, the Lite's threaded barrel feature is specifically intended to accommodate a silencer for suppressed operation. Subsequently, a Advanced Armament Corps Aviator2 dedicated 22 rimfire silencer was installed. Despite being 6.44″ long, the silencer is only 1.0″ is diameter and weights only 4 Oz. After a magazine or two, the silencer mass isn't noticed, just the dramatic noise reduction.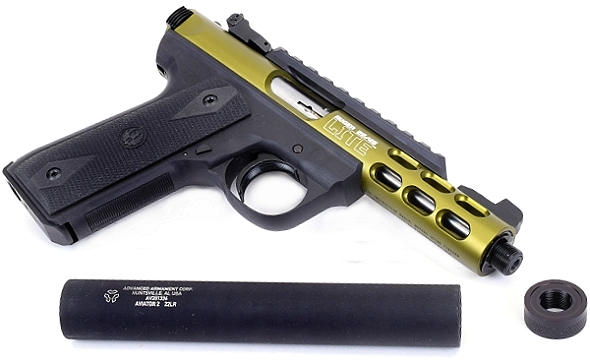 For a small of cartridge, .22 rimfire is not very quiet and the shorter the barrel, the higher the exiting sound pressure. A 4″ barrel handgun, just 0.4″ shorter than the subject pistol, has a sound pressure level of 155 dB. The Aviator2 silencer cuts this by a whopping 41dB to a level of 114 dB. With suppressor in place and shooting subsonic velocity ammunition, there is no sharp supersonic muzzle crack, just a subdued "clackity, clack" of mechanical parts cycling. Suppression is kind to shooter's ears and near neighbor's weekend barbeques.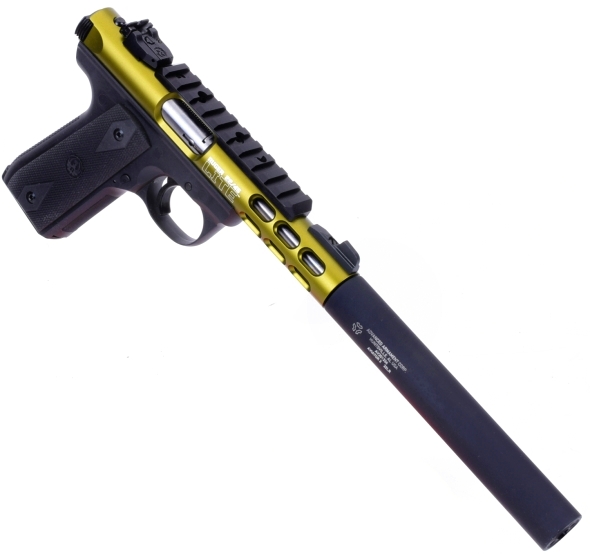 The Ruger 22/45 Lite was fired with three types of rimfire ammo as indicated with the Aviator2 suppressor in place as velocity was statistically unchanged from unsuppressed. –
Ammunition

Bullet
Weight
Grains
Rated
FPS
Rifle
Recorded
FPS
Pistol
50′
5 Shot
Group"

Remington Subsonic

38

1050

7

91
1.1

Remington Target

40

1150

93

8
0.9

Remington Golden Bullet

40

1255

104

7
1.3
Only one type of ammo was factory rated subsonic, below 1150 fps at sea level, all were subsonic when pushed through the short 4.4″ barrel. None generated a sonic wave's sharp crack, all were subdued, the slower the more quiet. Accuracy was excellent and the 22/45 Lite cycled with all ammo with the bolt locking open on empty. The trigger has a clean, 5 pound pull, the 1911 like grip angle will be comfortable for most shooters.
But I don't own a silencer…
Suppressors aren't for everyone as some regions have more or less zombies than others and the need for noise abatement varies. Without a silencer, what's left is a lightweight, very accurate and reliable rimfire autoloader that can be carried all day and be instrumental in training new marksmen as well. The Ruger 22/45 Lite also happens to be a nicely finished and attractively packaged firearm that is sure to instill pride of ownership. Supplied with pistol, rail, 2 magazines, and soft case.