Seems that product names are drifting into descriptions and descriptions are drifting into narratives, some names longer than the little snippets I write. Ruger has it right; not so sure about Vortex's use of the word "Crossfire", but what would a name be without a little drama…. dun, dun, dun, dun – dun, dun, dun, dun as expressed by a little Beethoven.
I think if I were to be teaching young shooters how to hunt or how to shoot a rifle, beyond basic training with a metallic sighted rimfire, the Ruger American would have to be at the top of my list for a number of reasons. Moderate cost, easy operation, good balance, inherent accuracy, a high degree of reliability, durability, good stock geometry… a natural hunting rifle.
Shopping for a new Maine or Texas hunting rifle for deer or hogs it would probably be THIS American Rifle. I think if I were looking for a good rifle to proof my 243 Winchester handloads… not proof the rifle, which is a quite different thing, and validate handload performance it would be THIS American Rifle. All which suggest reasons for spending time examining the package and shooting it and documenting the results.
We have previously covered the following Ruger American models so please feel free to check these for design and feature detail that also applies to the subject firearm:
Ruger American Rifle
Ruger American Compact
Ruger American Predator Rifle
Ruger American Rimfire Rifle
Ruger American Rifle Magnum
Ruger American Rifle With Vortex Crossfire II

Company

Ruger

Point of Manufacture

New Hampshire, USA

Item #

16931

Type of Action

Bolt Action 3 Lug 70º Lift

Caliber*

243 Winchester

Magazine Capacity

4

Magazine Type

Flush, Detachable, Rotary

Barrel Length

22″

Barrel Material

Alloy Steel – Cold Hammer Forged

Barrel Finish

Matte Black Oxide

Rifling Twist Rate

1:9″ RH 6 Groove

Receiver Material

Alloy Steel

Stock Type

Black Synthetic

Length of Pull

13.75″

Drop at comb

5/8″

Drop at heel

3/4″

Trigger Guard Material

Integral To Stock

Front Sight

N/A

Rear Sight

N/A

Scope Accommodation

Pre Mounted Vortex

Trigger Pull

3 To 5 Lbs

Weight of Firearm

7.2 Lbs

Overall Length

42.0″

Safety

Tang

MSRP

$639

* Also available in 270 Winchester,
30-06 Springfield and 308 Winchester.
Some Hardware highlights…
The magnum American rifle utilizes a single stack detachable magazine rather than the flush fitting rotary magazine employed on this model. The magnum configuration may have been the result of a large belt diameter of magnum cartridges and a need to preserve magazine capacity. Personally, I like flush magazines. The clean underside of the rife doesn't get in the way of whatever odd manner I end up holding the rifle when I need support for a shot and it is one less thing exposed to brush and weather as my sturdy, yet low to the ground frame keeps me in contact with both.
The three lug bolt head provides a shallow 70º lift for good scope clearance and the larger surface area of engagement for greater strength. A cartridge case head is recessed for better containment, the sliding extractor allows for a solid bolt face with nothing residing in the recess other than the plunger type ejector. Ruger American below left, next to a twin lug Remington Model 700.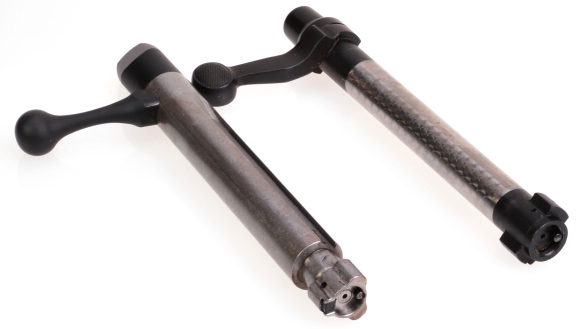 The bolt is full diameter, or about the same as the diameter of the bolt lugs. The Ruger American's bolt throw is very smooth, as the bolt rides on its major diameter rather than receiver slots that accommodate a two lug bolt design.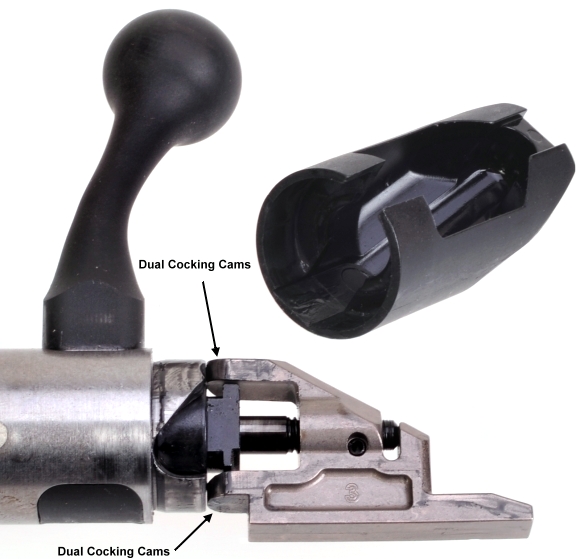 The American has two cocking cams which reduces the effort required to cock the assembly; increased bearing surface area, greater mechanical advantage and balanced loading of adjacent contact surfaces. No, I have no idea what that means either, but the use of the term "adjacent contact surfaces" is pretty exciting. Substance is greatly overrated. The thing is, cocking effort is light.
The American Rifle trigger, foreground, is adjustable for pull weight. The American Rifle's trigger is adjustable from three to five pounds in half turn increments, over six complete turns. Additionally, a trigger release lever, hinged into the face of the trigger, effectively blocks the trigger unless the shooter has completely depressed the release lever.
Ruger's Power Bedding™ System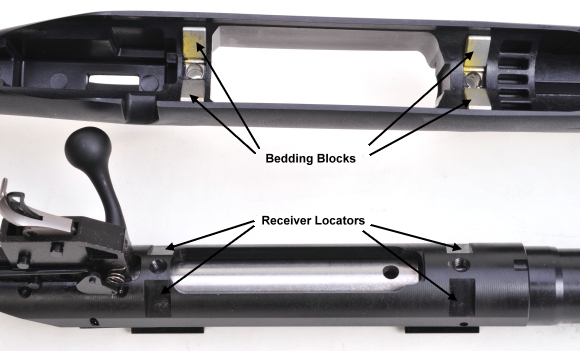 The Ruger American has a round bottom receiver, rather than the traditional Ruger flat bottom… almost. Ruger's Power Bedding®, integral bedding block system locates the receiver into position in the stock for repeatable accuracy vertically, radially and longitudinally and free-floats the barrel. The inside of the stock is reinforced with radial ribbing and egg crate making the whole assembly rigid.
The Vortex Crossfire II Riflescope
Vortex Scope Spec

Model

Crossfire II 3-9×40

Point of Origin

China

Reticle

Dead Hold BDC

Magnification

3x-9x

Objective Lens

40mm

Objective Bell Diameter

1.9

Ocular Lens Diameter:

35mm

Eyepiece Diameter

1.7

Finish

Matte Black

Focal Plane

Second

Main Tube Size

1″

Field of View Feet L/H

34.1-12.6 feet/100 yards

Eye Relief H/L

3.8″

Click Increment**

1/4 MOA

Adjustment Range W/E

60 MOA

Parallax Set

100 Yards

Length

12.0

"

Weight

15

Oz.

As packaged with American rifle.
We've worked with Vortex Scopes before, the last a Viper HS LR model that performed well. The Crossfire II is a Vortex value product, but still full featured and nicely made and more than enough scope to get the job done. The Crossfire II 3-9×40 certainly has enough magnification for the cartridge, eye relief is generous, the optic are bright and the compensating reticle is useful if the owner calibrates to his or her individual firearm and ammunition and power setting.

The vertical below the crossed hairs reticle subtentions, the little tic marks on the cross hairs, represent holdover values of : 1.5 MOA, 4.5 MOA and 7.5 MOA regardless the range, however, MOA value is only true when the scope is at a 9x setting. At that magnification, as long as the distance is known, not only can a precise hold over be determined, but so can the size of a target. I think this is a better choice than a first focal plane reticle for most people and situations as the apparent reticle size remains constant, thin, which makes it easier for use at a distance. A first position focal plane reticle grows with magnification, so subtention scale is true across the magnification range, however, cross hairs get as 2x4s. Ruger made the right selection. Pictured bellow with tower caps removed –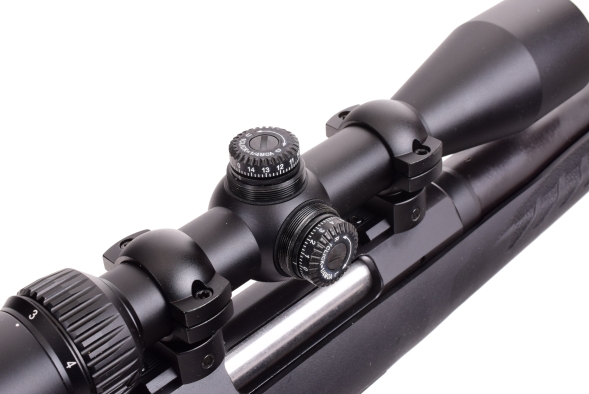 I think it is safe to assume that most people will just use the intersecting cross hairs for sighting in and aiming and save the rest of the possibilities for impressing friends and anyone else they can corner at the range, Which is why it is important to note the scope has exterior multi coated optics to cut reflection and promote light transmission, the one piece machined aluminum tube is O ring sealed to keep out debris and small animals, the scope if nitrogen purged to prevent fogging, and the turret adjustment settings can be reindexed to zero after sighting in to facilitate field adjustment. If you read all of that and thought blah, blah, blah, at least note that the Vortex scope carries a life time parts and labor warranty.
The 243 Winchester Cartridge
The 243 Winchester is a deer slayer, I have no doubt. It is particularly so for folks on a budget who can't afford to waste money on inflated egos, or mature folks who know who know how to shoot and appreciate the bonuses of light recoil, long reach, modest ammunition costs, and long barrel life. Decent ammo and a hit to the vitals and deer drop in their tracks.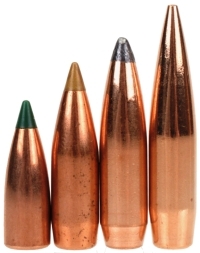 There approximately 53 factory loads for the 243 Winchester and approximately 96 component bullet types with a sampling of weights from 55 to 105 illustrated, left. A necked down version of the 308 Winchester, the 243 Winchester has been with us since 1955 and apparently not going away any time soon.
Berger 105 Grain 301 Yards Point Black Range
Yards
0
100
200
300
400
500
Velocity – fps
3000
2831
2669
2512
2360
2214
Energy – ft.-lbs.
2098
1869
1660
1470
1299
1143
Momentum – lbs-sec
1.39
1.32
1.24
1.17
1.10
1.03
Path – in.
-1.5
2.6
2.3
-2.9
-13.6
-30.5
Above, in rough cut form, the 243 Winchester is hardly a slouch, close up or well down range.
Now we'll take a short break and round up a proper selection of bullet and see if we can't handload some ammunition worth of the Ruger American Vortex Crossfire II combination and shoot it alongside some factory ammo for the sake of comparison.