The Ruger No.1 has graced the digital pages of Real Guns® on numerous occasions, chambered in a variety of cartridges from the diminutive 222 Remington to the behemoth 450/400 3″ Nitro Express. Once offered by Ruger in a variety of chambers and configurations, the No.1 became an annual issue of limited editions and, now, the Ruger No.1 is available only as a Lipsey's distributor exclusive product.
The Ruger No.1 is the antithesis of the AR rifles I own, build and shoot. Designed as offensive and defensive weapons, for me they are firearms dedicated to self defense that demonstrate their best qualities under ominous circumstances, circumstances forecasted with a strong sense of cynicism.
The Ruger No.1 carries the intent of a day at the range or the satisfaction of putting food on the table. Its creation was for a useful purpose, it's destiny fulfilled in service of sustenance. The No.1's greatest show of malevolence is in dispatching varmints or harvesting fur. The Ruger No.1 is the America I miss. The AR is the America I live in.
Brief History of the Ruger No.1
The No.1 is an under-lever, falling block, single shot rifle. Early examples of hammerless, under-lever falling block rifles are the 1871 Martini-Henry and the 1872 Farquharson-Metford. Falling block rifles chambered for large bore nitro express cartridges were used extensively as firearms of choice on safari. In fact, the first big game rifle Walter Bell used in Africa was a .303 British Farquharson and later a .350 Rigby chambered Greener Farquharson2).
The Ruger No.1 is patterned after the Farquharson rifle, right down to the sweeping flourish of the under-lever and the raised stock panels aft of the receiver. The Farquharson, in turn, was patterned after the earlier exposed hammer Alexander Henry. Both Bill Ruger and contributing gunsmith-stock maker Lenard M. Brownell designed the No.1 to emulate these early European firearms with the hope of creating a modern classic.
The first production Ruger No.1 rifles shipped in September of 19661). Sturm, Ruger & Co. Inc. promoted the rifle as being efficient; the No.1 action is approximately 4.5″ shorter than that of a bolt action rifle. Subsequently the No.1 can have a longer barrel while maintaining the same or less overall length as other firearm types.
Firearm

Barrel
Length
Overall
Length

Ruger No.1 Standard Sporter

28″

44.50″

Weatherby Mark V

26″

46.62″

Ruger No. 1 Tropical

24″

40.50″

Winchester Model 70 Magnum

24″

44.75″

Ruger No. 1 International

20″

36.50″

Remington Model Seven Short Action

20″

39.25″

Marlin 336 30-30 WCF

20″

38.50″
Recognizing the 257 Weatherby cartridge's lot in life is high velocity and long range hunting, the Ruger company had the wisdom to configure the subject No.1 with a 28″ barrel. The two to four inches in barrel length over other brands, including Weatherby, results in more complete powder burn, higher velocity and a 10% to 15% reduction in muzzle pressure for enhanced accuracy.
The second proposition put forward by Ruger in 1966 was that the No, 1's single shot configuration challenged the skills and marksmanship of the hunter; a fair statement. For folks with experience hunting and shooting, who have enough presence of mind to take considered shots, the No.1 offers a valid test of a hunter's skills.
Utility, versatility and adaptability
The under-lever falling block design in standard form is characterized as inherently strong, slick in operation and very reliable which makes for an exceptional firearm, right out of the factory box. However, the same qualities also make the Ruger No.1 a potential for something more. At Real Guns®, some Ruger No.1s are wired with strain gauges and accelerometers for use in handload development. No. 1s are frequently used for Real Guns wildcat cartridge development. The first of was our "55 rounds to the pound of smokeless powder" 358-378 RG, the 378 Weatherby necked down to 0.358″. The Ruger No.1 action handles large case diameters, modern pressures, barrel changes are straight forward and there is no feed mechanism to limit the imagination.
Some chambers we've applied to the Ruger No.: L-R, 7mm Remington Magnum, 358-378 RG, 375 H&H and 416 Weatherby. The action can be bored to accommodate a larger barrel shank for even larger cartridges.
A good deal of machinery in a slick wrapper
Ruger No.1 Sporter Weight

Company

Sturm, Ruger & Co.

Point of Manufacturer

Newport, NH

Model #

11386

Type of Action

Under Lever – Falling Block

Caliber

257 Weatherby

Magazine Capacity

Single Shot

Barrel Length

28″

Barrel Material

Blued Alloy Steel

Rifling Twist Rate

1:10″ RH

Receiver Material

Blued Alloy Steel

Stock Type

2 Piece Straight Comb

Stock Material

American Walnut

Length of Pull

13.50″

Drop at comb

0.50″

Drop at heel

0.75″

Trigger Guard Material

Steel

Front Sight

None

Rear Sight

None

Scope Accommodation

Ruger Mount System

Trigger Type

Factory Adjustable

Weight of Firearm

7.3 Lbs

Overall Length

44.50″

Safety

Thumb 2 Position

*MSRP
$1,449.00*

*Lipsey's Distributor Exclusive MSRP
The focus of this article is the Ruger No.1 and 257 Weatherby Magnum combination, as we have covered the details of the rifle type in previous coverage. Mechanically, the No.1 keeps its complexities well hidden below its metal and walnut surfaces. If this is of interest, I'd suggest reading some or all of the following:
"Ruger's No. 1 Tropical 450/400 3″ NE Parts I & II"

"Ruger No. 1 and the T.L. Moyers Trigger"

"Ruger's No.1 International 7x57mm Parts I & II"

"Ruger's No.1 Light Sporter Parts I & II

"Ruger No.1 358-378 Wildcat Custom 7 Parts"
Some of the material is a month old, some a decade old, but all remain applicable to the current No.1 design and may better illustrate the No.1's flexibility.
Below are a couple of the images that appear in the referenced articles. The Ruger No.1 is stout. Checkout the beefy receiver and large breech block that are keyed together and combine to seal the back of the No.1's chamber. A rifle with clean and graceful lines that locks closed like a bank vault.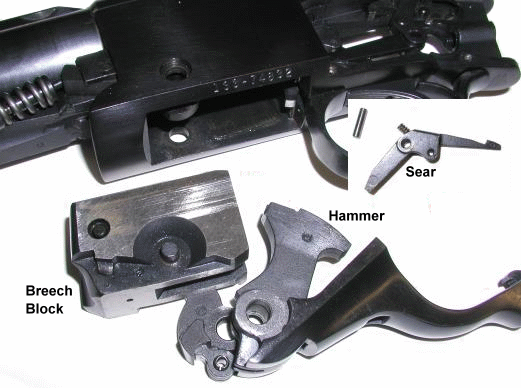 In addition to what is tucked away between the walls of the No.1's action, the ejector and mainspring hardware are enclosed under the rifle's forearm. The result is a clean look with easy access for tasks such as changing the rifle between ejector and extractor handling of fired brass.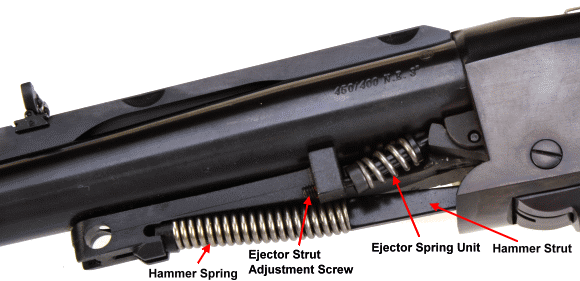 Why ejector or extractor? When hunting, it is good to make sure the chamber is cleared with ejection to facilitate reloading and follow up shots. When shooting more specialized chambers, extraction saves the trouble of bringing is a search party to find $10/round brass.
The 257 Weatherby Magnum in the world of 25 caliber cartridges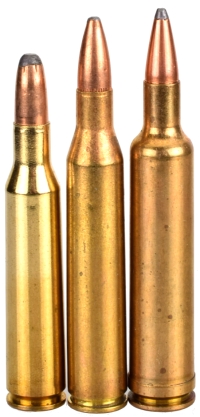 Roy Weatherby introduced the 257 Weatherby magnum in 1944. Roughly 72 years ago, a cartridge was designed and produced that remains the fastest .25 caliber production cartridge. In context, when the 257 Weatherby arrived,, World War II was raging and allies were invading Normandy. Total federal spending was $91.3 billion and the level of unemployment was 1.2%.
Cartridge
Production
Date
Ammunition
Bullet
Weight
Muzzle
Velocity
M.E.
Ft-Lbs

257 Roberts

1934

Federal Premium +P

120

2780

2060

25-06 Remington

1969

Remington Express
120
2990

2383

257 Weatherby

1944

Weatherby
120
3305

2918
The Weatherby generates approximately 50% more power at the muzzle than the Roberts, however, the advantage is not universal. At 100 yards in our exceptional New England woodland, the Roberts would have slowed to 2,569 fps and kinetic energy would have dissipated to 1,758 ft-lbs. Realistically, the bullet would have either hit a deer or a tree before traveling 40 yards. In any event, there is sufficient power to kill even a Maine moose cleanly with the right bullet selection and those 100 yard ballistics.
The Weatherby extends the Roberts' 100 yard level of performance out to 300 yards and the Roberts' 300 yard performance out beyond 500 yards. The 25-06 Remington splits the difference between the Roberts and the Weatherby by delivering Roberts' 100 yard performance levels at 200 yards. The 25-06 Remington doesn't offer much less in the way of recoil and perceived muzzle blast than the Weatherby, but it is significantly less expensive to shoot and it is available in many more types and brands of firearms than either the Roberts or the Weatherby. Each round brings a different level of performance and the progression is not insignificant.
257 Roberts +P – 271 Yard Point Blank Range
Yards
0
100
200
300
400
500
Velocity – fps
2780
2553
2338
2134
1941
1759
Energy – ft.-lbs.
2059
1737
1456
1213
1004
824
Momentum – lbs-sec
1.48
1.36
1.24
1.13
1.03
0.93
Path – in.
-1.5
2.7
1.6
-5.9
-21.1
-45.5
Time of flight – sec.
0.0
0.1
0.2
0.4
0.5
0.7
25-06 Remington – 290 Yard Point Blank Range
Yards
0
100
200
300
400
500
Velocity – fps
2990
2753
2527
2313
2111
1919
Energy – ft.-lbs.
2382
2019
1702
1426
1187
981
Momentum – lbs-sec
1.59
1.46
1.34
1.23
1.12
1.02
Path – in.
-1.5
2.6
2.1
-3.9
-16.3
-36.6
Time of flight – sec.
0.0
0.1
0.2
0.3
0.5
0.6
257 Weatherby Magnum – 318 Yards Point Blank Range
Yards
0
100
200
300
400
500
Velocity – fps
3305
3051
2811
2583
2366
2160
Energy – ft.-lbs.
2910
2480
2105
1777
1491
1243
Momentum – lbs-sec
1.75
1.62
1.49
1.37
1.26
1.15
Path – in.
-1.5
2.4
2.5
-1.7
-11.2
-26.9
Time of flight – sec.
0.0
0.1
0.2
0.3
0.4
0.6
Sure, everything is great until the little car pulls up and clowns begin streaming out….
Performance comes with a cost. After years of flame cutting barrels through use, it became obvious that there was some relationship between case capacity, bore diameter and gas velocity that dramatically influenced barrel life. So we started tracking barrel dimensional changes over the shooting life of a barrel, or at least degrees of progressive throat erosion, and came up with this formula for placing cartridges into barrel wear and tear context. The same formula also works to gauge cartridge efficiency, the velocity return on powder charges. The results are expressed as a relative index or Real Guns Barrel Burner Index:
The BBI ratings: 257 Roberts +P 12.6, 25-06 Remington 16.7, 257 Weatherby 20.9.
A Roberts barrel is good for approximately 7,000 rounds with accuracy, the 25-06 Remington for approximately 4,000 rounds and he 257 Weatherby in the neighborhood of 3,000 rounds. Yes, there are many variables that influence those number including barrel alloy, type of ammunition and whether or not the shooter has a preference to shoot reasonably or until the barrel glows red. Still, shooting 60 rounds per season, even the Weatherby is good for 50 years of hunting.
I inserted a closing pictures to road block further writing
With Burris Veracity scope mounted and a shelf full of handloading components to weed through, we'll take a break and comeback with some live fire results. The temps are forecasted up, so this should be a few good days outdoors.