I'm hiding from my wife. She recently returned from a trip to Texas where she visited with our eldest son, our daughter-in-law and contracted the flu from our youngest granddaughter. My wife is a baby hugging nurturer, so it was only a matter of time. But that was only part of the story.
Within the context of "misery loves company", teasing my wife about having the flu while I did not, caused her to become very.. huggy and to always place herself in my close proximity as she hacked and coughed and wheezed. So here I am, at my desk in the shop with nothing but the light from my computer's display to give away my position, awaiting my wife's imitation of Jack Torrance from The Shinning.
Game.. Kill it or impress it to death?
The intent of this 270 Winchester chambered Ruger Hawkeye is to hunt quarry from varmints to moose and to do so out to quite distant ranges. Subsequently, the standards for performance used in this narrative are predicated on that application.
Hawkeye Standard Rifle

Company

Sturm, Ruger & Co.

Point of Manufacturer

Newport, New Hampshire

Item #

37121

Type of Action

Bolt Action

Caliber

270 Winchester

Magazine Capacity

4

Magazine Type

Top Load – Hinged Floorplate

Barrel Length

22″

Rifling Twist Rate

1:10″ RH

Hardware

Blued Alloy Steel

Stock Material

Walnut

Length of Pull

13.5″

Drop at comb

1.4

"

Drop at heel

1.7″

Overall Length

42 3/4″

Weight of Firearm

8 Lbs

Metallic Sights

None

Scope Accommodation

Ruger Proprietary

Trigger Type

Nonadjustable

Trigger Pull

5 Lbs 9 Ounces

Safety

3 Position Wing

MSRP

$979
The Hawkeye brings no fanfare. It is Monte Carlo-less, cheek piece-less and fancy walnut-less. Drop is minimal for scope bent geometry. The recoil pad is cartridge appropriate and checkering patterns are aptly positioned.
There is no excitement under pressure associated with operating the safety as it is parked right there at the end of a shooter's thumb with its short, silent three positions of operation.
There is no cost reduction attempt under the guise of weight reduction with a polymer or aluminum floorplate; the bottom metal is steel from trigger guard to floorplate and the floor plate is secured with steel latch pieces.
The Hawkeye stainless steel bolt has a full length, non-rotating, claw extractor for controlled round feed and positive extraction. The ejector is a simple but reliable blade type. The twin lug configuration yields a 90º bolt lift. The short, dog leg bolt handle is right there to grasp, but it is tucked out of the way of brush and it provides additional clearance at the ocular end of a scope. The bolt is released for removal by pulling out on the hinged bolt stop on the left side of the receiver.

Flipped over, the deep checkering patterns and hinged floorplate are visible. The Ruger logo is tastefully etched into the floorplate and it is a pretty nifty look. The floorplate release is inset into the front of the trigger guard where it is out of the way of a wandering trigger finger and can be depressed even with gloved hands.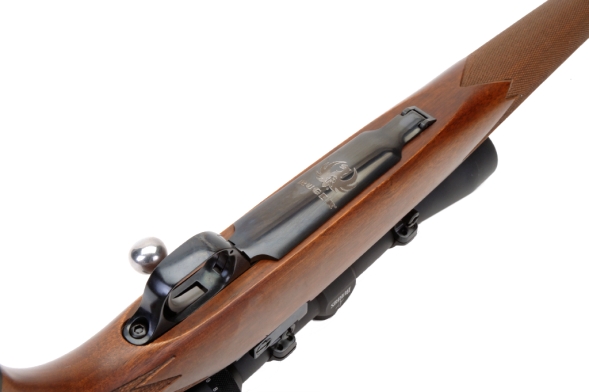 The Hawkeye utilizes the Ruger proprietary scope mount system; the receiver bridge is machined front and aft to accept Ruger rings. The system eliminates the need for separate bases and the Ruger rings clamp securely. Medium rings are supplied with the Hawkeye which, at first glance appear a bit high with a 40mm objective lens scope, but pulled to the shoulder intersecting cross hairs fall central to line of sight even with my stubby neck.
The scope is a basic Burris Fullfield II 3x-9x-40mm. It is a $200 scope I keep in a large box with about 20 other scopes of different brands and specs. The coated optics produce good imagery, the nearly 4″ of eye relief is good enough even for hard kickers, adjustments are precise and they stay put, and it has a simple and useful reticle. I use it in cold, high heat, fog and in arid settings. Nothing wrong with buying expensive optics and leaving the price tag on if you so desire, but they are rarely required.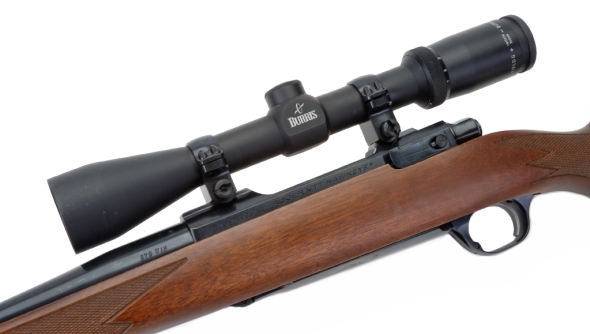 There are only a couple of things I would like to see finessed on the Hawkeye. The first would be the inclusion of an adjustable trigger similar to the trigger on the Ruger American. The pull on the subject rifle was clean, it was just heavy and I had no where to go with it that I would suggest to the average gun owner. Shipping the 270 Winchester with a 24″ barrel would better tap the round's potential.
This Ruger Hawkeye is a 270. What kind of 270? Oh shut up, you know what I mean…
Once upon a time there was one commonly known 270, the 270 Winchester. Developed in 1923 by Winchester and introduced to the public in 1925, the 270 Winchester was one of a number of necked down and hot-rodded versions of the widely popular 30-06 Springfield that appeared in the early…ish 1900s.
L to R – The 6.8 SPC of 2003; yet another attempt to improve the lethality of the M4. The subject 270 Winchester of broad popularity. The 2001 270 Winchester Short Magnum, arguably the best of the WSMs. The 1943 270 Weatherby Magnum for folks with a need for speed. Ballistically, my favorites are the latter two. For availability of ammunition and firearms, the 270 Winchester is preferred. The 6.8 SPC makes a terrific book mark when I'm researching, so let's just pretend it isn't here.
The 270 Winchester is a truly useful round, for both long and shorter range shots, with approximately 87 component bullets available in weights ranging from 90 grains to 180 grains available. The lightest weight is certainly light enough for larger varmint hunting, coyote as an example, but way to much for cartridge for prairie dogs. The mid range bullet weights offer enough power and reach for deer, antelope and sheep hunting. The upper bullet weight range; elk and moose and not in the least bit marginal.
Personally, I would reserve the 160 and, certainly, 180 grain bullets for 270 Magnums. Velocity drops into the 2,400 fps range for the 270 Winchester at these bullet weights, but bumps to 2,800 fps in the magnum versions of the 270. I would also avoid 6.8mm labeled bullets. While they are 0.277″ in diameter, they are made for the 6.8 SPC making their construction and cannelure placement incorrect for the 270 Winchester.
Recoil generated by the 270 Winchester is modest in sporting weight rifles. Muzzle blast is not exceptional for a centerfire rifle. Fired from a seven pound rifle, 130 grain to 150 grain loads will generate between 23 and 25 ft/lbs of recoil, or approximately 6 ft/lbs less than a 180 grain 30-06 Springfield and approximately 10 ft/lbs more than a 105 grain 243 Winchester load. The 270 Winchester rates a 15.7 on the Real Guns barrel burner index, which is actually relatively modest.
The long and winding road…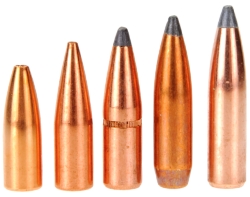 The plan is to check out the Ruger Hawkeye with factory ammunition in deer hunting weights and then add some handloads based on the five bullet posing to your left.
Bullet

Weight
Grains

Type

Length

Sierra Varminter #1800

90

HP

.852

Hornady #2720

110

HP

1.008

Hornady Interlock #2730

130

SP

1.108

Sierra GameKing #1845

140

SPBT

1.190

Nosler Partition #16323

150

SP

1.262
I'd classify the first two bullets as varmint class, the next two as medium game, deer, construction and the last as Bullwinkle ready. We'll make sure enough ammo is loaded to qualify accuracy and velocity and maybe chart some of the exterior ballistics.