The plan was to collect evaluation data from the Ruger 10/22 Takedown Lite, but the day somehow turned into a shootout, showdown with my wife. She is THE most competitive woman I know, but I think she let me win in deference to Father's Day.
For folks who scream anti gun slogans, I have to say they are a bit surreal, both the slogans and people. Firearm ownership isn't about crime and criminals, it is about a long married, mature couple spending time together in the backyard of a quiet rural home, laughing and enjoying one another's company.
We have been fortunate to live in a place so tranquil that that the sound of a passing car in the evenings has not been heard for over a decade. The sky is clear. We can roll out the telescope without concern for polluted skies, and take photographs of distance galaxies. When we read in the evenings, the screened French doors are left open onto the farmer's porch so we can keep cool.
We never feel a fear of living in isolation, no fear of intruders from outside harming us, as a life time of firearms and firearm use means we would be no one's victim. It is because we can defend ourselves that we can live a relaxed and peaceful life.
When anti gun politicians seek to disarm the general public, rather than curtail crime and successfully prosecute high risk criminals, they just turn law abiding people, like my wife and I, into victims and amplify the results of terrorism.
Ruger's 10/22 Takedown Lite
The 10/22 Takedown Lite is one of twenty three Takedown models offered by Ruger, standard models or distributor exclusives. The models differ in barrel material, length and profile. Stocks are wood, laminate and synthetic. Some are shipped with metallic sights, some with a rail, magazine capacities ranges from ten to twenty-five rounds. In short, something to suit just about an potential auto loading, rimfire buyer. The Lite adds more.
In addition to being available in black, red, green, and blue, the Lite has a barrel sleeve fabricated from 6061 aluminum, with holes machined on the forward section to reduce weight and to aid in cooling. The barrel is cold hammer forged and terminates at the muzzle end with 1/2″-28 thread to secure brakes, flash hiders and suppression devices. Twist is 1:16″.
Supplied with one ten round rotary magazine, the Takedown Lite also accepts BX-15 and BX-25 round magazines. The Lite does not have metallic sights, but it does come with a Weaver rail that accepts popular Weaver and Picatinny rings. Both a low and high comb stock module are included and both rifle and accessories pack up compactly and neatly in a durable backpack style, padded Nylon case.
Black is standard Ruger catalog, color versions are distributor exclusive models: Red – Gallery of Guns, Blue – Lipsey's, Green – Sports South. MSRP is $659 across the board. These are available for purchase by any FFL retailer, through the indicated distributors.
Pictured, left, The Ruger Model 10/22 Takedown Lite in Red with a Leupold VX-3 2.5-8x36MM and Ruger Silent-SR.. silencer. In this case, the low comb stock module has been installed.
A nicely put together package…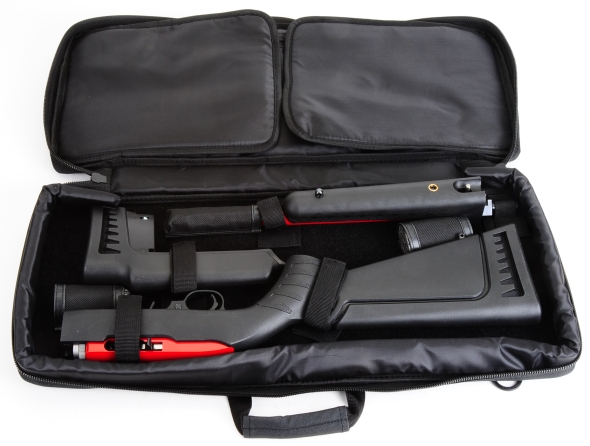 Pictured, the backpack case included with the Takedown Lite securely holds the buttstock and receiver, barrel assembly, accessory stock module insert. Additionally there are places to secure a scope and silencer, and three zipper pouches in the top with room for lots of accessories.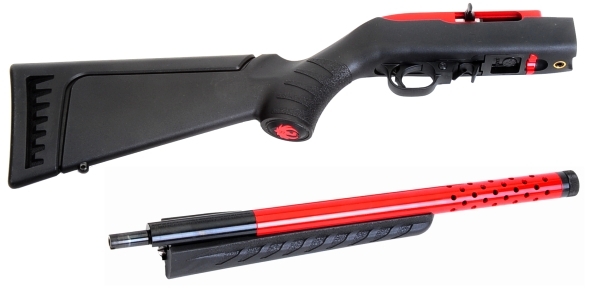 Takedown mechanism detail… From a prior Takedown review
As a practical matter, the barrel assembly is removed by releasing the locking lever and twisting the barrel counter clockwise approximately 45°. Installing the barrel assembly only requires inserting the barrel into the receiver at the same angle of rotation and twisting it clockwise until it is aligned with the receiver and the locking plunger pops into place.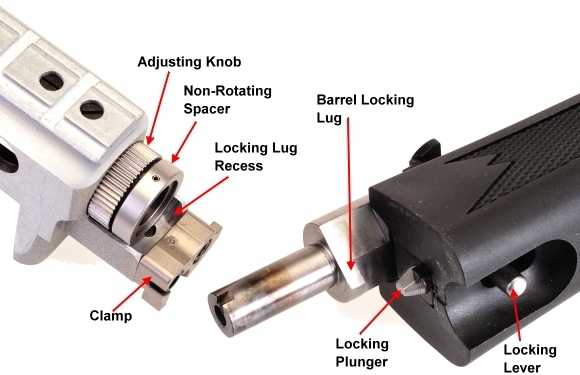 There is one step that is necessary only the first time the rifle is assembled or, perhaps, after a very large number of assembly/disassembly cycles. Once the barrel is installed, the adjusting knob is rotated counterclockwise until it is tight. Then the barrel assembly is removed and the adjusting knob, which provides adjustment tactile feedback in the form of clicks, is rotated counterclockwise one or two additional clicks and the barrel is reinstalled. This fine adjustment assures a tight lock up between the barrel and receiver assemblies. The adjusting knob requires no further attention during subsequent take down – reassemble cycles.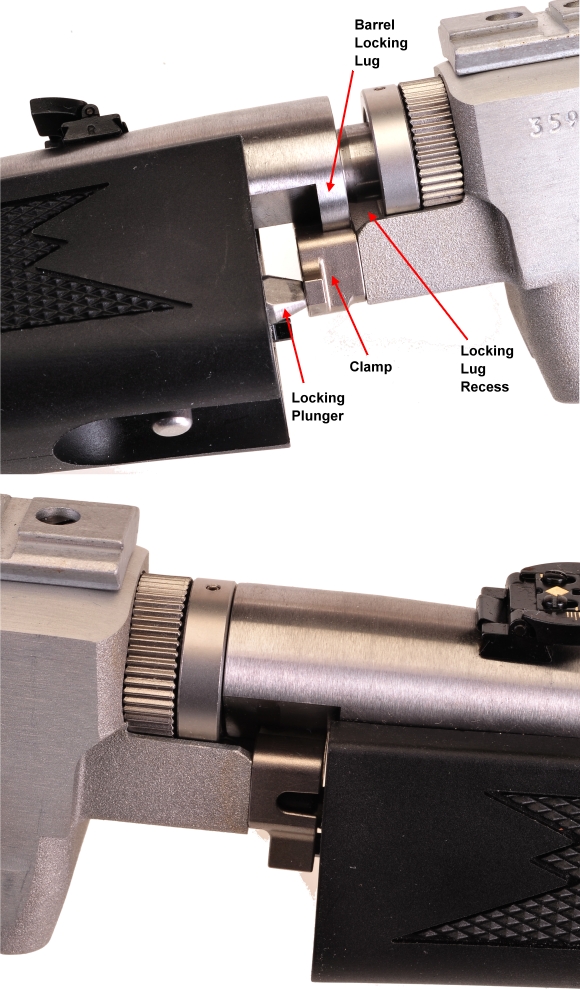 Above, top image is forearm rotated 45° counterclockwise to align flat on barrel to clear the clamp. Bottom image, barrel fully inserted and rotated to vertical alignment with the receiver and the barrel lug engaged and secured between the spacer and the clamp.
Model

Ruger 10/22

Takedown Lite
Model #
21154
Manufactured
Newport, NH

Caliber

.22 Long Rifle

Action

Auto loading

Operation

Recoil Actuated

Receiver/Barrel Sleeve
Satin Red Aluminum

Stock

Black Synthetic
Rotary Magazine

Capacity

10

Barrel Length

16.1″

Barrel Material

Hammer-Forged Alloy Steel

Twist Rate

1:16″ RH

Muzzle Threads

1/2″-28 Threads

Sights

Clean
Drilled & Tapped for Scope
Scope Base Included
Safety
Crossbolt

Weight

4.5 Lbs

Overall length

34.62″

Take Down Length

20.0″

Pull Length

13.90″

MSRP

$629

Nominal Weights and Measures
The Takedown Lite is an accurate firearm and capable of tight groups. If the barrel adjusting knob is set correctly, the fit between barrel and receiver will be a tight and the rifle will hold zero when the barrel has been removed and reinstalled. Shooting three shot groups at 50 yards, pulling the barrel and reinstalling resulted in no point of impact shift of measureable significance. If the adjusting nut was deliberately not set tightly, group sizes opened, but the first shot after reinstalling the barrel was still not exceptional to that increase in groups size.
If upon reinstalling a barrel it is found that the first shot is exceptional to group size, Ruger recommends checking the adjusting knob setting. If that does not work, firing a settling shot or alternatively manually cycling the bolt a couple of times to drive all of the associated parts home is recommended.
Within the half dozen or so Ruger 10/22 Takedown models I have assessed; mechanical examination and live fire performance, I have not found either of the prior fixes necessary, but then I would never hunt with a rifle of any type that hasn't been checked for zero even after just transport and I would never start a range session without a couple of warm up shots. Problems are where people insist on finding them.

The weight savings over a comparable 10/22 with an unvented barrel, but same length and construction, is just under a pound or approximately a 15% rifle weight reduction. The colors are a durable powder coating that cleans easily, is impervious to cleaning chemicals and appears to be quite scratch and pressure mar resistant.
Yes, I did eventually get around to shooting the Lite…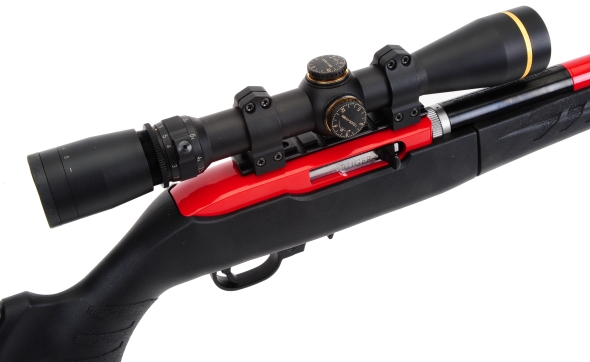 For the sake of precision, the Ruger was matched up with a small objective 8x Leupold scope. However, in deference to cross winds and Maine woodland ticks, range was limited to a maximum of 50 yards, which I believe is a fair test of a 22 LR rimfire.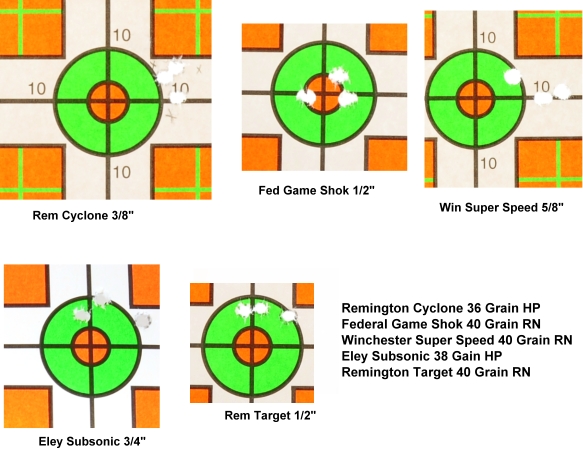 Round after round, the rifle cycled and fired without a hiccup. 1300 fps Winchester Super Speed or Eley Subsonic below 900 fps, slow or rapid fire. No attempt was made to zero each ammo type as the bullseyes only served as a point of aim, not intended point of impact only group size. From my vantage point, accuracy… or as the new Ministry of NRA Truth calls it, precision, was absolutely acceptable for small game hunting and recreational target practice.
If there was one thing that would improve function, it would be an upgrade of the trigger assembly. The standard trigger pull checked just under 6 lbs and there was a good deal of creep. Over travel was virtually none existent. I am not a trigger diva, so time and use tend to cause me to adapt to virtually any trigger, but the BX accessory trigger pull at 2.5 lbs to 3 lbs with a clean break would be nice.
Silence please….
Silencers may even outstrip firearms when it come to raising irrational fears. Known to anti gunners only through horrific movies that were the product of a video game playing twelve year old, silencers conjure images of shadowy criminals, ghostly assassins and Al Capone… sometimes all at the same time. But then silencers also helps me to avoid annoying my neighbors and to protect what is left of my relic hearing. The Ruger Silence-SR is a good one and at a good price.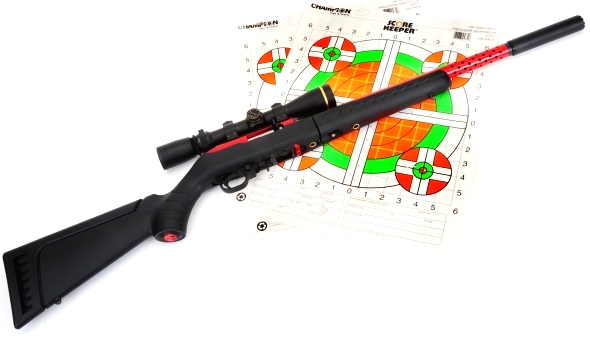 In concert with the subject suppressed rifle, supersonic ammunition was about as loud as a high velocity air rifle. The subsonic ammo was quiet enough for me to hear the firing pin strike a cartridge rim, just before the minor clackity-clack of the bolt cycling. Sure takes the edge off of a long range day, which makes it a training friendly combination where the coach doesn't have to scream into a shooter's ear. Take the silencer off and the rifle is as reliable and accurate. Basically what we have here is a reliable, accurate rimfire in a configuration that suits many applications.